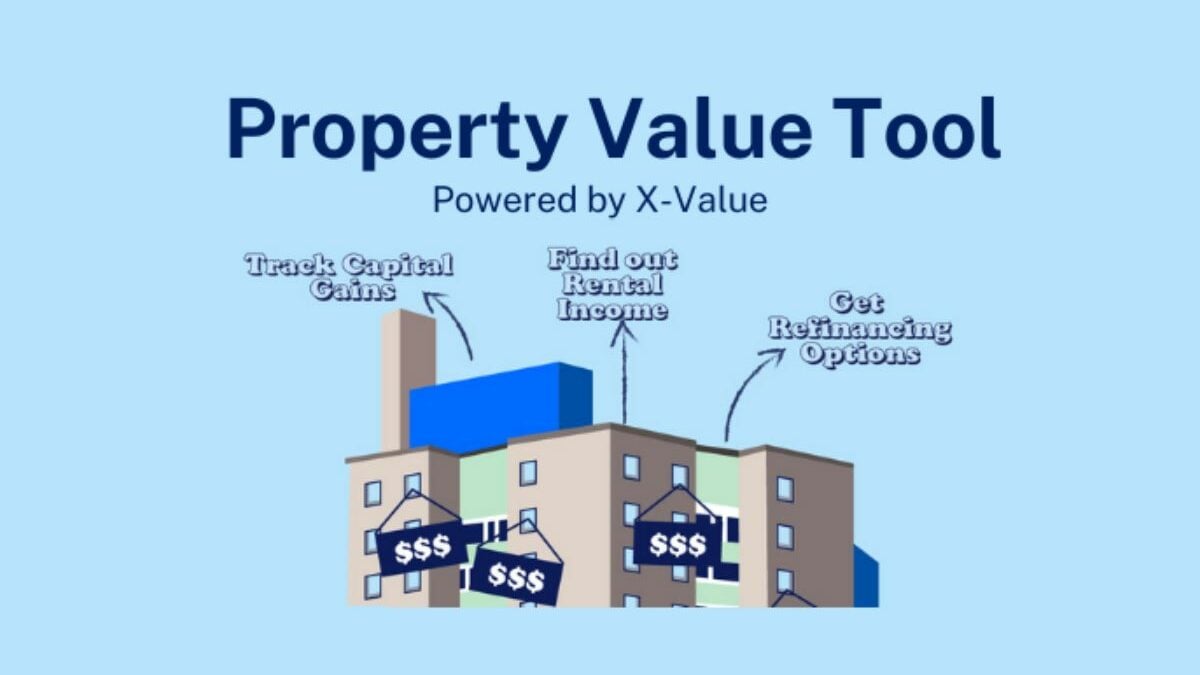 Ever wondered how much your property is worth? Or what about the value of the property of that rich aunty you visit every Chinese New Year?
In the past, the closest you can get to a valuation would be to scour listing sites like 99.co and SRX to see recent transactions in your neighbourhood as a gauge. The other alternative is to pay an accredited property valuer to inspect and furnish you with a valuation report – which can be a hassle, and not to mention cost you money. The good news is that we're here to make things simpler!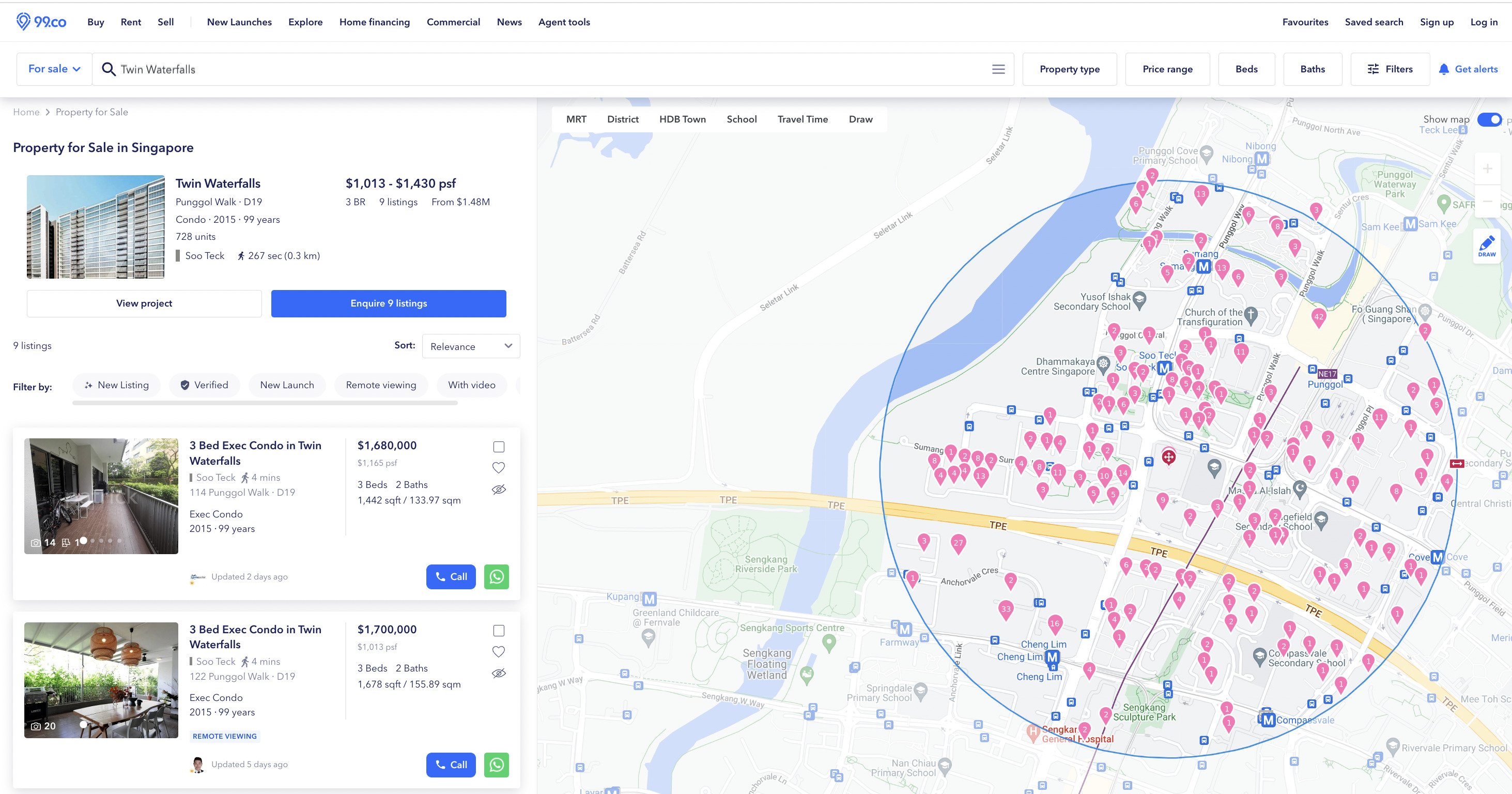 Introducing our newly revamped 99.co Property Value Tool!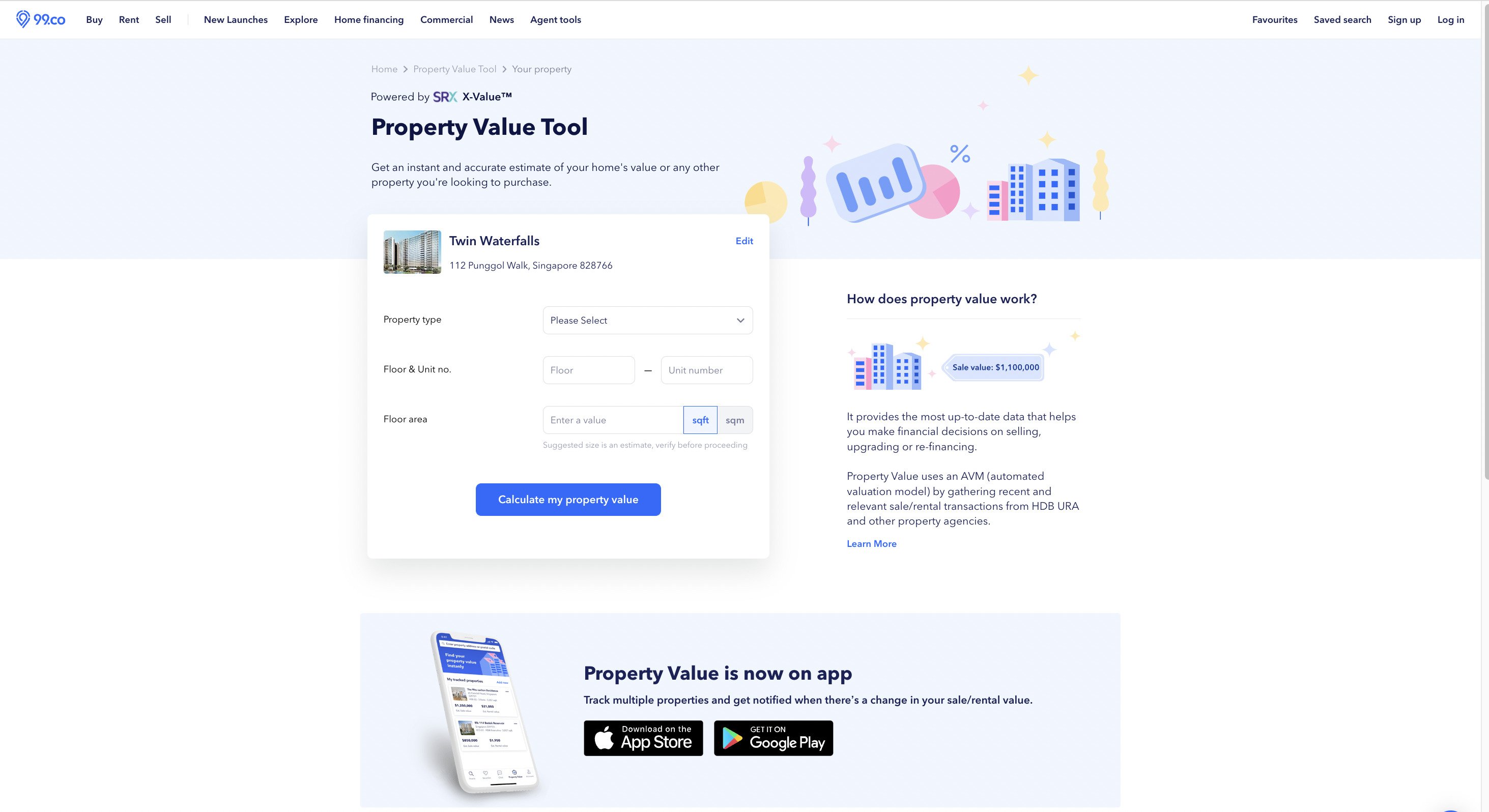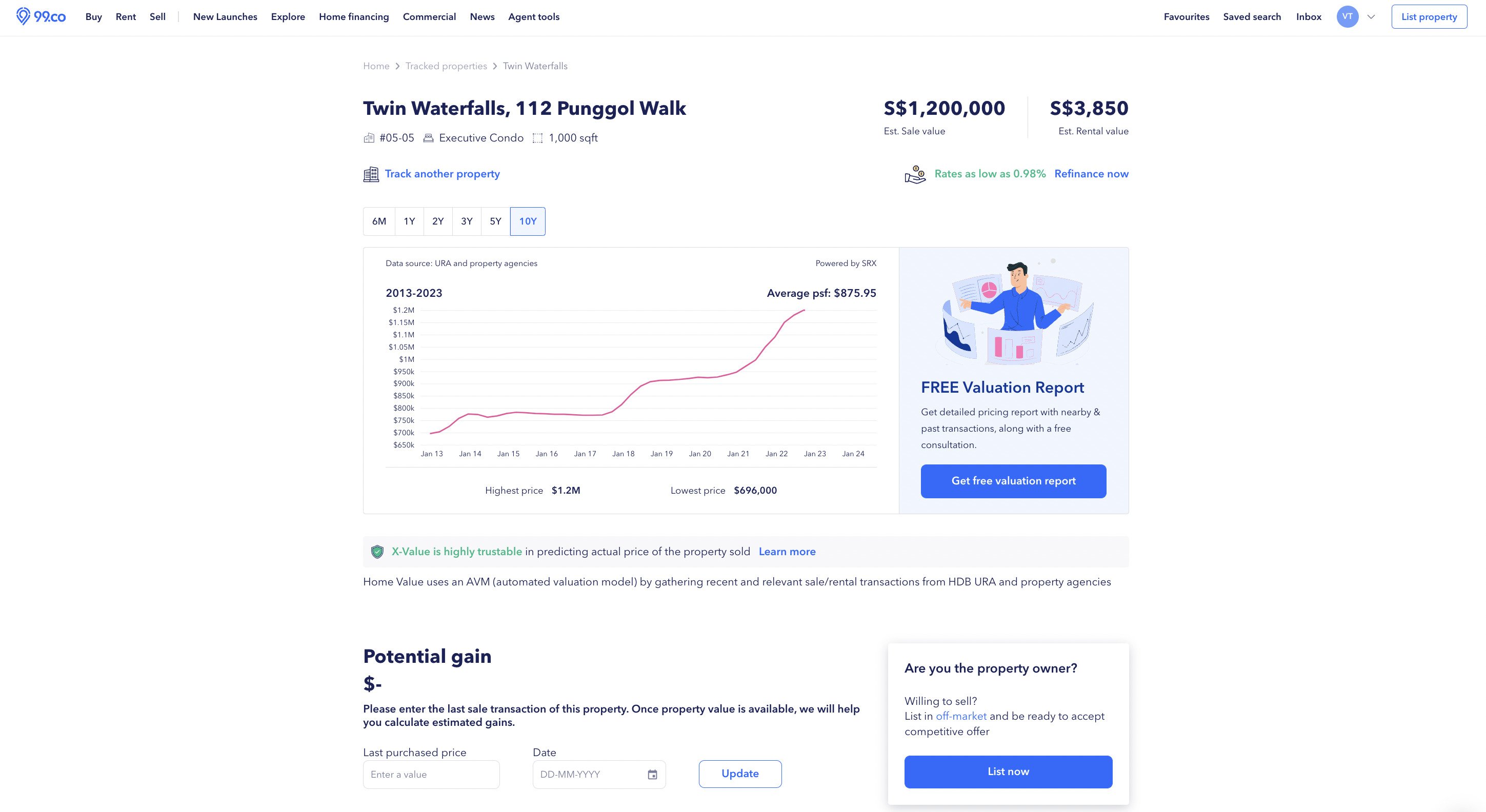 You're probably wondering, how did we derive this estimate? Is it accurate?
First, we know getting an accurate valuation for any property isn't easy, but there are general patterns that propel a property to command a higher cost. These include proximity to amenities, floor area, floor level and tenure, among others: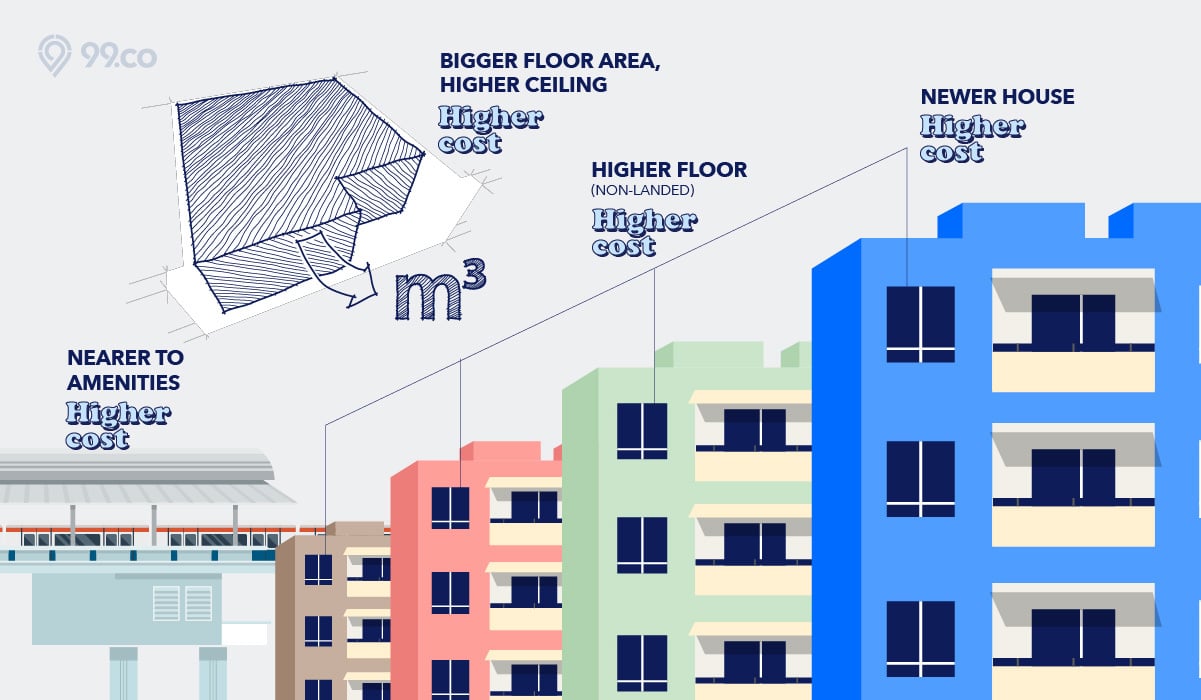 With so many variables, it's difficult to pin down the exact value of a property, right? Thankfully, SRX, a subsidiary of 99 Group, was the first to introduce a concept known as X-Value since 2014.
The X-Value tool automates valuation calculations and serves as a guide of reference for prospective buyers and sellers. Short of paying for a certified appraisal, X-Value is as close as it gets to having a good gauge of your property's value for free.
We've since integrated our X-Value algorithm into our new 99 Property Value Tool to make it even simpler for you to use.

How reliable is our Property Value Tool?
Our Property Value Tool calculations are based on different machine learning models with the aim to find patterns in time, location and property attributes before determining property transaction prices.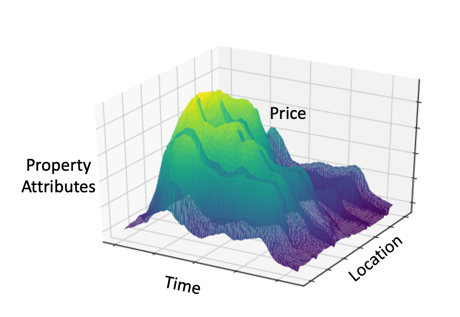 These machine learning models periodically refresh themselves to stay relevant to current property prices. This means you can rest assured the value that's generated is the most accurate and updated version we have according to our live data sources.
How accurate is the value you see?
We've spent years refining the algorithm for our Property Value Tool. To date, our algorithm usually gives a less than 2-3% deviation of the property value from the final transacted price. This means you can trust the value we show you and expect up to a 2-3% difference in the final price the property will transact at.
We are also the first in the market to introduce value for HDB Minimum Occupation Period (MOP) homes. You no longer have to sit and wait to see what your neighbours are transacting at before knowing what your possible gains are for your BTO unit.
So what are you waiting for? Sign-up and track your property home value for free today.
HDB flats hitting MOP this year
131B Lorong 1 Toa Payoh
Singapore 312131 · D12
2
2
$630,000
365B Sembawang Crescent
Singapore 752365 · D27
3
2
$620,000
785D Woodlands Rise
Singapore 734785 · D25
3
2
$678,000
78 Lorong Limau
Singapore 320078 · D12
3
2
$825,000
95B Henderson Road
Singapore 152095 · D3
2
2
$820,000
95C Henderson Road
Singapore 153095 · D3
3
2
$1,200,000
216A Boon Lay Avenue
Singapore 641216 · D22
4
3
$828,000
95B Henderson Road
Singapore 152095 · D3
2
2
$698,000
216A Boon Lay Avenue
Singapore 641216 · D22
4
3
$699,000
216A Boon Lay Avenue
Singapore 641216 · D22
4
4
$738,000
Old condos that are at least 15 years old
Knox View
21 Lor M Telok Kurau · D15
3
2
$2,000,000
The Arcadia
235 Arcadia Rd · D11
4
4
$4,700,000
Citylights
90 Jellicoe Rd · D8
2
2
$1,750,000
Mera Springs
81 Carlisle Rd · D8
3
3
$2,800,000
Aspen Heights
261 River Valley Rd · D9
4
3
$3,550,000
Bedok Court
299 Bedok Sth Ave 3 · D16
3
2
$2,360,000
Hazel Park Condominium
21 Hazel Pk Terrace · D23
3
3
$2,350,000
The Lakeshore
29 Jurong West St 41 · D22
2
2
$1,230,000
The Serenade @ Holland
371 Holland Rd · D10
3
4
$2,700,000
Aspen Heights
261 River Valley Rd · D9
3
2
$3,150,000
If you found this article helpful, 99.co recommends Here's how to make your home-selling journey smoother, according to property agents and 5 renovation tips and trends that can destroy your property's resale value.
Looking to sell your property?
Whether your HDB apartment is reaching the end of its Minimum Occupation Period (MOP) or your condo has crossed its Seller Stamp Duty (SSD) window, it is always good to know how much you can potentially gain if you were to list and sell your property. Not only that, you'll also need to know whether your gains would allow you to right-size to the dream home in the neighbourhood you and your family have been eyeing.
One easy way is to send us a request for a credible and trusted property consultant to reach out to you.
Alternatively, you can jump onto 99.co's Property Value Tool to get an estimate for free.
If you're looking for your dream home, be it as a first-time or seasoned homebuyer or seller – say, to upgrade or right-size – you will find it on Singapore's fastest-growing property portal 99.co.
Meanwhile, if you have an interesting property-related story to share with us, drop us a message here — and we'll review it and get back to you.