Originally, the circuit breaker period—Singapore's version of a Covid-19 lockdown—was supposed to last only four weeks from 7 April to 4 May. That was until the government decided midway to extend the restrictions by another month until 2 June, ordering non-essential business venues such as new launch condo showflats to remain closed.
Initially, a fair number of property agents were up in arms. "How else were buyers going to purchase properties without being able to view in-person?"
But those marketing newly launched condominiums began to sense an opportunity, and so did developers of these uncompleted projects. Using a combination of technology (virtual, 360-viewings), buyer discounts and marketing nous, they began closing deals.
Why were there still buyers for new launch condos during the CB?
It's not (just) because of discounts. The truth is that homebuyers have fewer qualms about buying new launch condos without any physical viewing, because there's no actual unit to inspect and assess.
"Unlike resale, new launch buyers know they will be 'first owners'. They won't have to deal with wear and tear of any previous occupants, and the defects liability period puts them at ease," says an agent we spoke to.
In total, 433 newly launched condominium units were sold during the first 48 days of the circuit breaker period (7 April to 24 April), compared to just 289 resale transactions during the same timeframe.
Putting that in percentage terms, new launch sales during the circuit breaker made up 60% of total condo sales, up from 51% in Q1 2020.
And, remarkably, the ten best selling projects accounted for a massive 63% of the total new launch units sold. Just what is it about these projects that made them 'immune' to the effects of Covid-19? Let's take an in-depth look at the top 5:
#1: Parc Clematis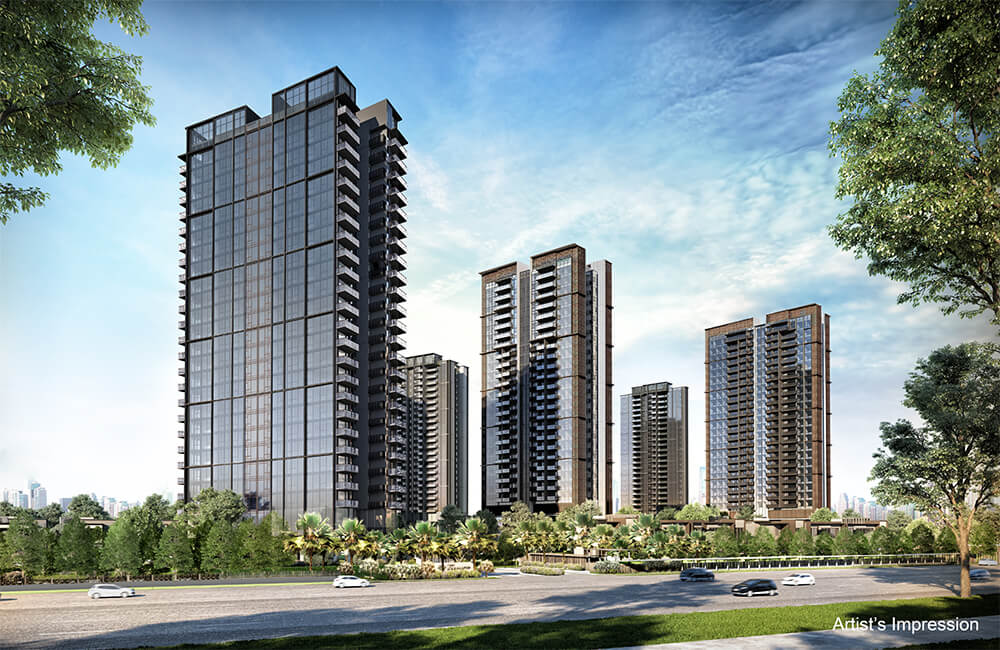 Location: Clementi
Developer: SingHaiyi Group
Expected TOP: 2023
Total units: 1,468
Units sold during circuit breaker: 47
We've spoken about Clementi's potential upside in an earlier article, but there are some real perks about the development itself that has motivated buyers to snap up more than 600 units so far, between the project's launch in August 2019 and the start of the circuit breaker period.
Foremost in buyers' minds will be the development's walking-distance proximity to Clementi MRT station and also the accessibility to both AYE and PIE for motorists. Parc Clematis is also situated within a private landed neighbourhood and a two-minute walk to the well-regarded Nan Hua Primary School.
Then there's also the extensively landscaped grounds and the approximately 400,000 square feet of facilities that SingHaiyi promises. Pools feature prominently, with a massive beach pool that measures roughly 80 by 30 metres, three 50 metre lap pools, and several smaller pools. Maintenance fees work out to be roughly $300 a month for a 3-bedder.
What really drew buyers during the CB: The truth is that for SingHaiyi, this was one of the more lucrative collective sale opportunities for developers during the last en bloc fever, and winning the bid was a really big feather in its cap.
With Parc Clematis, SingHaiyi has added more than 1,000 units to the site, ensuring profit by volume while being able to pull buyers in with discounts when the situation calls for it.
During the circuit breaker, SingHaiyi is offering buyers attractive discounts via its agency project teams, ranging from $10,000 for 1-bedroom units to $60,000 to penthouse units. The discount is valid until 1 June 2020*.
[Interested to find out more? Check out the
Parc Clematis condo page
on 99.co]
*The developer reserves the right to change/withdraw the promotion at any time and with no further notice. 
#2: Treasure at Tampines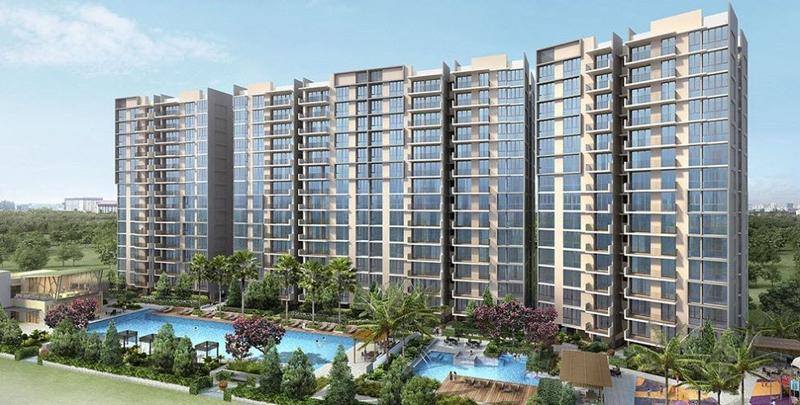 Location: Tampines/Simei
Developer: Sim Lian Group
Expected TOP: 2023
Total units: 2,203
Units sold during circuit breaker: 46
Treasure at Tampines is Singapore's largest condo to date, by the number of units. With 46 units sold during the circuit breaker, the development has reached a significant milestone of 50% units sold since its launch in March 2019. (In the first quarter of 2020, Sim Lian sold 216 units.)
Situated in a mature estate, the development has been attracting a steady stream of buyers drawn to the location (within walking distance to Simei MRT station and Eastpoint Mall). Being close to Changi General Hospital and within a 10-minute Grab ride to Changi Airport also appeals to investors.
According to Sim Lian, there are 128 facilities within the condominium, including 11 swimming pools, age-specific facilities such as a climbing wall, and clubhouse with nine function rooms and 24-hour gym that's 240 sq metres in floor area to cater to the number of residents in the project.
What really drew buyers during the CB: All said and done, we believe it's the jaw-droppingly low maintenance fees—roughly $190 for a 3-bedder unit—that's proving the main draw for buyers.
[Interested to find out more? Check out the
Treasure at Tampines condo page
on 99.co]
#3: The Florence Residences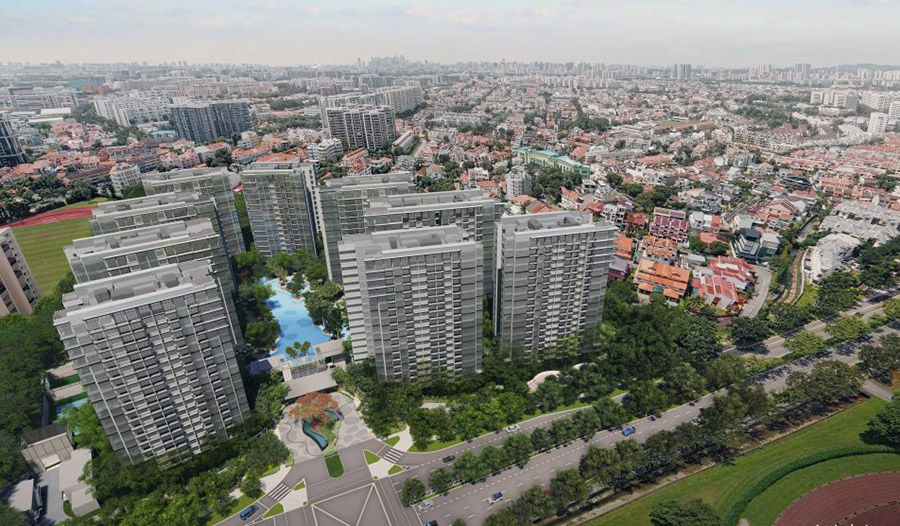 Location: Kovan/Hougang
Developer: Logan Property
Expected TOP: 2023
Total units: 1,410
Units sold during circuit breaker: 43
According to developer Logan Property, The Florence Residences "is built to evoke the feel of an exclusive private club" with its 128 facilities that include a vast pool designed to resemble multiple natural lagoons. There's even a MMA-style sparring ring under a pavilion with punching bags.
The Florence Residence is within walking distance to Kovan MRT, and surrounding amenities such as the Kovan Hougang Market & Food Centre, Heartland Mall and a wide selection of eateries along Upper Serangoon Road and in Kovan Hub. If residents drive, they aren't far away from the CTE and KPE expressways.
In 2029, the completion of the Cross Island Line (CRL) Phase 1 will form an interchange with the existing North East Line at Hougang MRT, which will likely kickstart the town centre's transformation into a larger transport and commercial hub. (There's ample undeveloped, commercial-zoned land in Hougang Central for that to happen.)
What really drew buyers during the CB: We noticed that one-bedroom units in The Florence Residences, which only make up 15% of the units at the condo, sold exceptionally well during the circuit breaker period.
In fact, nearly half of the purchases (21 out of 43) during this period were for the smallest unit sizes in the development, measuring just 44-45 square metres (474-484 square feet).
What's the appeal of shoebox-sized units at The Florence Residences? Check out the the project's page on 99.co to find out more.
[
Recommended article:
The FULL list of 2020 New Launch Condos in Singapore (+ Analysis)
]
#4: Parc Esta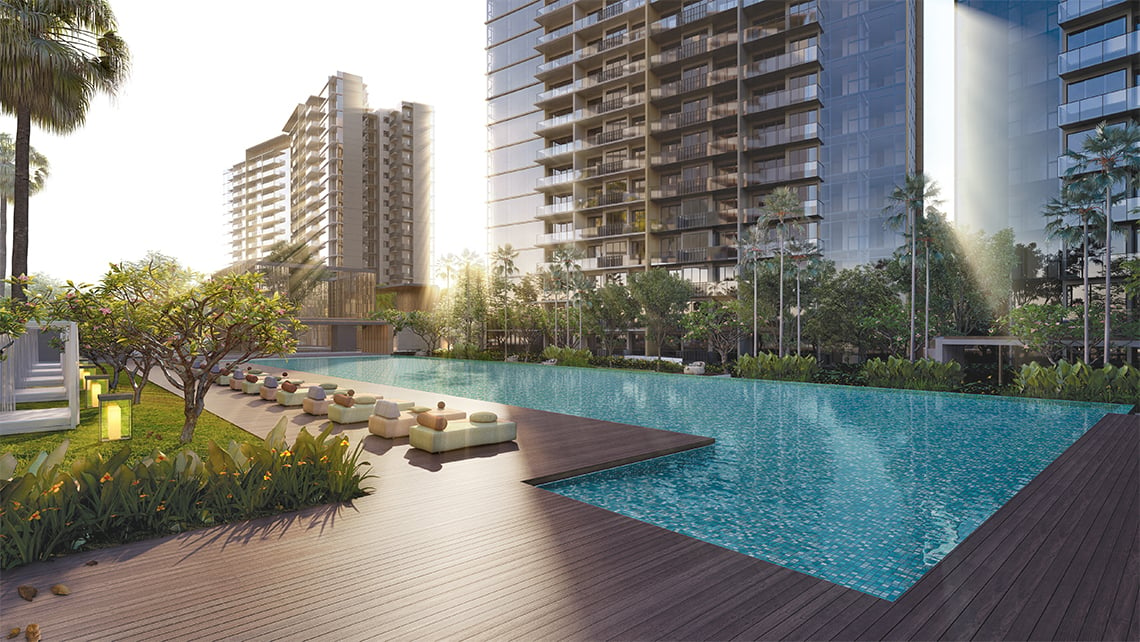 Location: Eunos/Paya Lebar
Developer: MCL Land
Expected TOP: 2023
Total units: 1,399
Units sold during circuit breaker: 34
Located right opposite Eunos MRT station and a stone's throw from the newly transformed Paya Lebar, Parc Esta has consistently sold well and has only around 220+ balance units left at the time of writing. The majority of the remaining units are of the three-bedroom and four-bedroom configurations, which is ideal for families as well as investors eyeing tenants from the thriving Paya Lebar Central.
According to MCL Land, facilities within Parc Esta is distributed across three zones: East Parc, Grand Parc and West Parc. The zones are seamlessly connected but each has its own focus. For instance, East Parc is where most facilities for residents with serious sporting intent (e.g. the tennis court and a 50m lap pool) are located, whereas West Parc is reserved for play and enjoyment for kids and adults alike.
Other than recreation within the condo, Parc Esta is also located a short drive away from East Coast Park and lifestyle precincts like Katong and the Singapore Sports Hub. According to the URA Master Plan, Paya Lebar will undergo further commercial development to become a regional CBD in the coming years.
What really drew buyers during the CB: During the circuit breaker period, Parc Esta has been doing something that other new launch condos have frequently struggled to do: sell the bigger units.
Out of the 34 units sold in that period, 17 were three-bedroom units or larger. The median floor area of the units sold at Parc Esta was 84.5 square metres (910 square feet).
On retrospect, this should be unsurprising; the East Coast area has always been popular with families. Also, even as the new Paya Lebar amenities have opened, MCL Land has kept Parc Esta's current price point between $1,600 and $1,650 psf unchanged since its Q4 2018 launch.
Even without a circuit breaker discount, buyers are savvy enough to recognise a good deal, even in the midst of a recession.
[Interested to find out more? Check out the
Parc Esta condo page
on 99.co]
#5: The Tapestry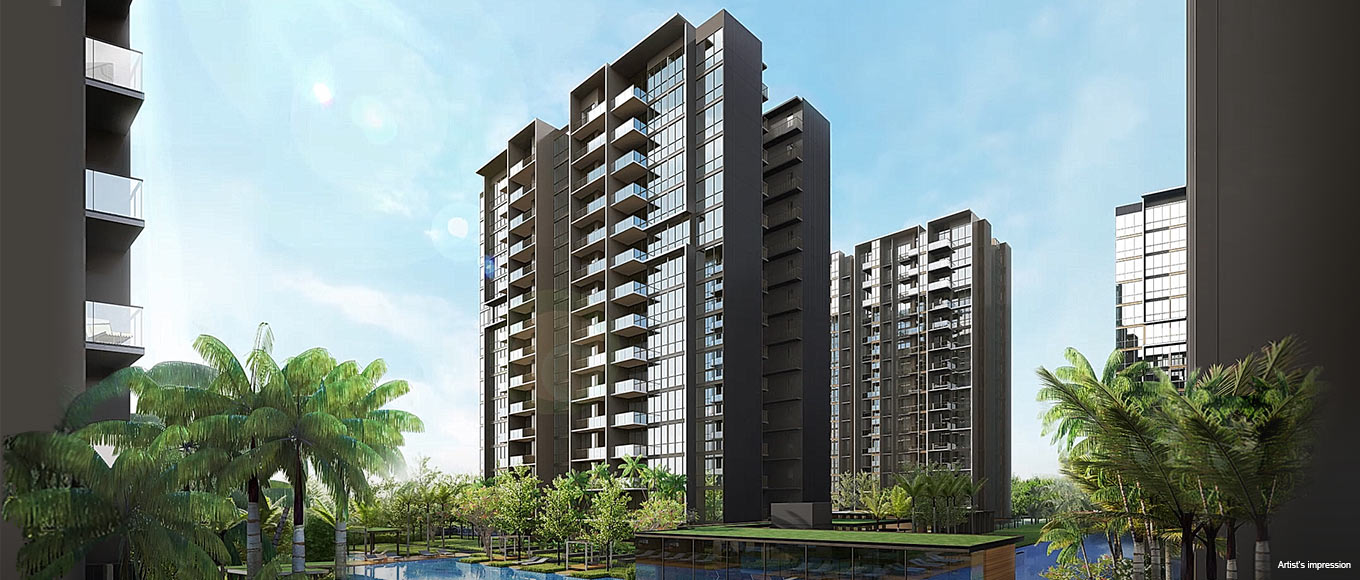 Location: Tampines
Developer: CDL
Expected TOP: 2022
Total units: 861
Units sold during circuit breaker: 23
The Tapestry was launched in March 2018. Spurred by a brand-name developer behind the project, buyers have since snapped up 86% of the units, including 23 units bought during the circuit breaker.
To differentiate The Tapestry from the handful of new condo developments in the Tampines Ave 10 area, CDL has focused on adding value to the development through its facilities, which include a seldom seen infinity pool measuring 100 metres in length, as well as a 50m lap pool.
A compelling proposition for family buyers is the inclusion of a childcare centre within the development. Kids will also have an adventure playground and play pool all to themselves. Meanwhile, one of the more unique facilities at The Tapesty is the Pets Cabin, essentially a dog run with several pet-friendly play features and a place for pet loving residents to mingle.
Meanwhile, CDL has promised that The Tapestry will include a concierge (a service seldom seen in a mass-market condominium) that will assist residents with the arrangement of services such as hiring a private chef or pet groomer.
What really drew buyers during the CB: According to agents we spoke to, some of the buyers who bought a unit at The Tapestry this year were initially holding out for an executive condominium (EC), but either lost out on the ballot or felt that prices were too high for an EC.
These buyers were ones who had already viewed the showflat at least once, and did not require any more viewings.
Additionally, the track record of developer CDL, as well as the superior fittings and furnishings that The Tapestry offers, convinced buyers to put their money down.
[Interested to find out more? Check out the
The Tapestry condo page
on 99.co]
Here's the rundown of the best selling new launch condos during the circuit breaker period!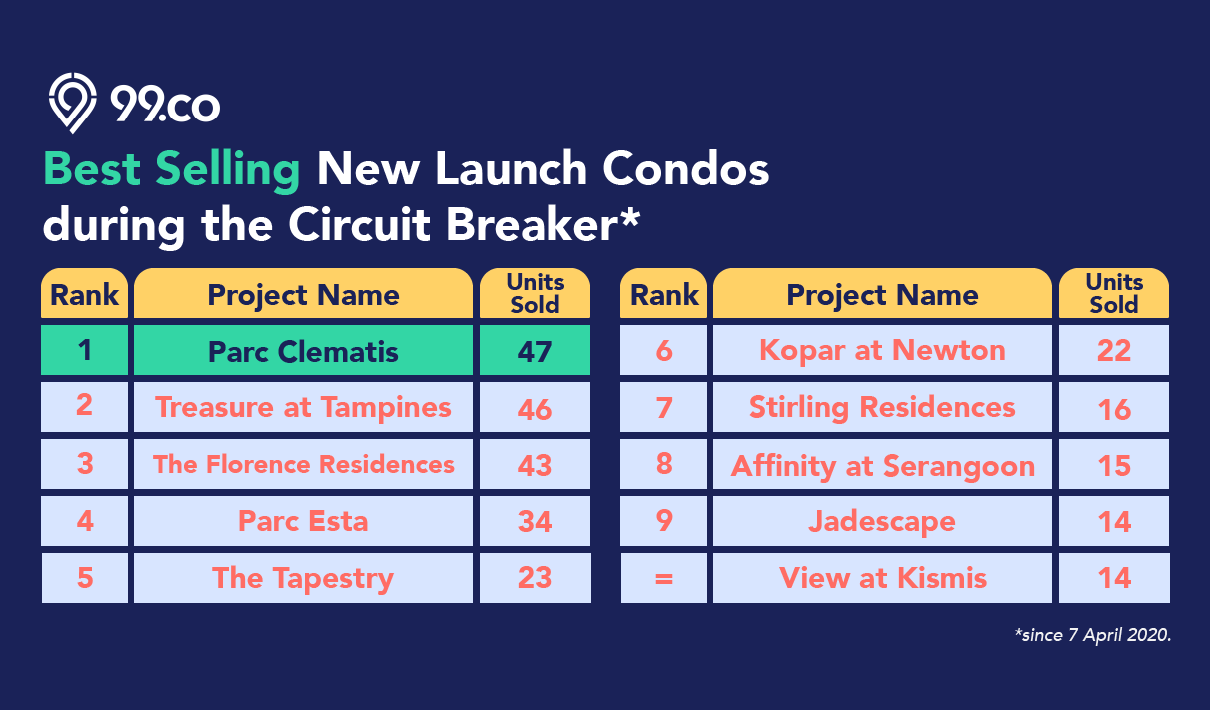 Stay tuned for more articles on new launch condos on 99.co as we enter the post-circuit breaker period!
If you liked this article, 99.co recommends Negative Sale: How selling your HDB/condo can put you in debt instantly and Why are Executive Condos located so far away?