Aljunied
Tags:
Residential
Suburban
Bustling
Well served by 5 MRT stations – Aljunied, Paya Lebar, Eunos, Macpherson and Dakota, residents in this neighborhood can easily access the rest of Singapore with the East West Line and Circle Line. A popular district for educational institutions, Cedar Primary School, Geylang Methodist Primary School and Eunos Primary School are all situated here. Other schools include MacPherson Secondary School, Maha Bodhi School, Manjusri Secondary School and Canossian School, a special school for the deaf. On top of present industrial complexes and the Paya Ubi Industrial Park, the development of Paya Lebar Commercial Hub and Paya Lebar Industrial Park will bring more job opportunities near home in the future. More citizens can look forward to residential options with the completion of condominiums such as Tre Residences, Sims Urban Oasis, and Suits @ Eunos. Existing apartments include The Waterina, Crystal Dew, Le Reve, Everitt Green, The Sunny Spring and Simsville condominium.
Summary
Aljunied is a sub-urban neighbourhood located in the central area of Singapore, drawing close to the Eastern neighbourhoods like Paya Lebar and Kallang. The area took its name in 1926 from its agricultural roots, succeeding the legacy of Syed Sharif Omar bin Ali Al Junied, who used to own plentiful land in the area. 
Today, Aljunied is sprawling with housing estates, educational institutions, and cultural landmarks. Despite its evolution to meet the needs of contemporary lifestyles, the area still retains some of its rustic charm. Aljunied also stands adjacent to Paya Lebar, a newly revitalised central commercial hub, owing to the Singaporean government's decentralisation strategy. 
Aljunied also stands rooted in Singapore's history having served as a hangar-building for Japanese soldiers during the Japanese occupation. The teeming coconut trees in Aljunied were said to provide exceptional camouflage for the covert operation.
Aljunied - Stay
As one of Singapore's oldest areas, Aljunied has a strong, vibrant history of housing. Some of the earliest estates that Aljunied saw were The Macpherson Homes and Happy Avenue estates, both of which were private housing estates. The estates typically comprised two-storey terrace houses.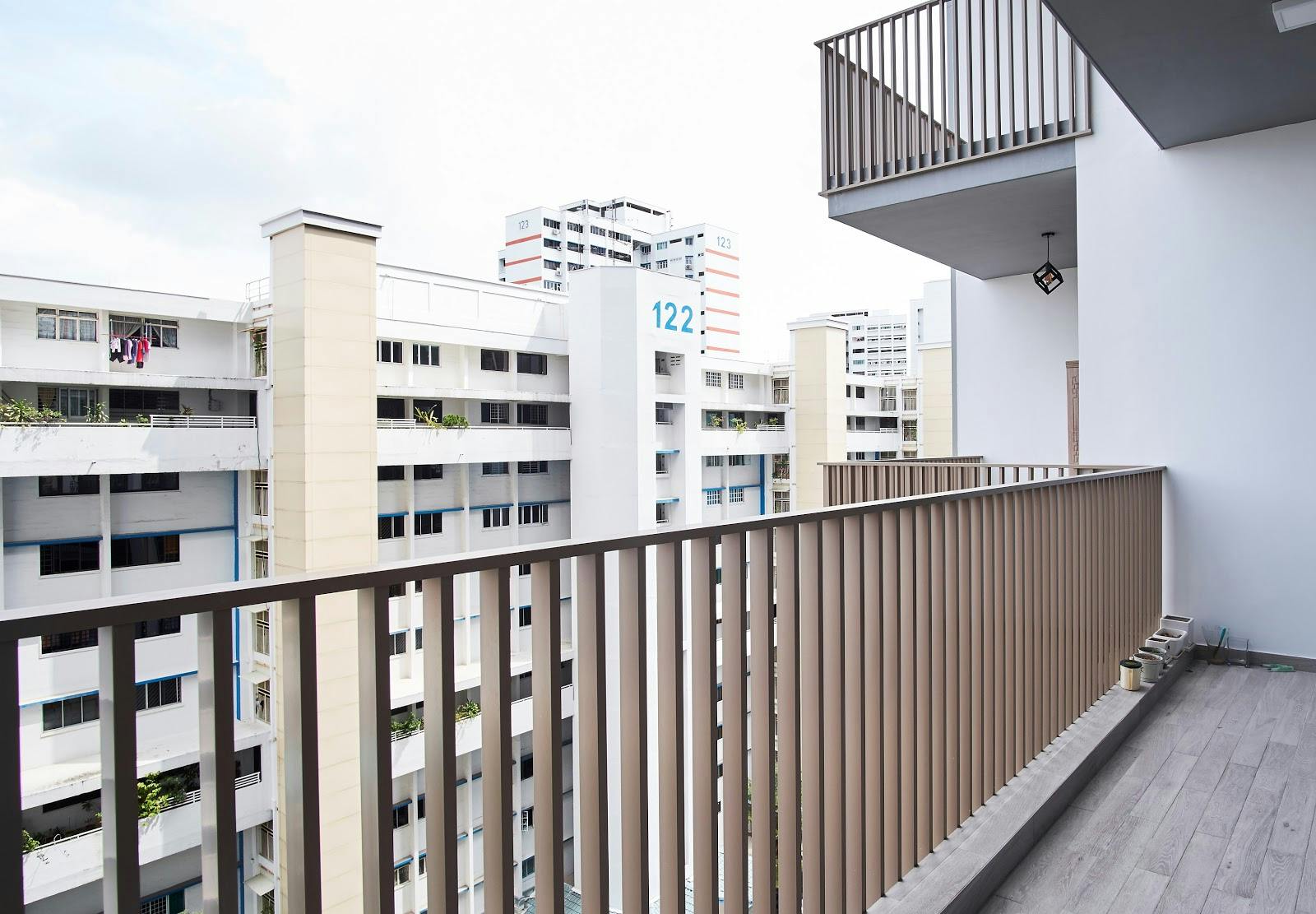 The expansive Aljunied is home to more than 40,000 residents, with numerous HDB options, such as Aljunied Crescent. Private living options are also plentiful, with plenty of land occupied by condominiums and landed properties. Condominiums like Penrose and TRE Residences offer quality living to residents of Aljunied. 
Aljunied is also known for its expanse of affordable hotels and hostels that offer some interesting living options for tourists, backpackers, or locals who are looking to spend a night or two food hunting in the area. Some of these hotels are also part of renowned chains, such as Hotel 81 Aljunied, Fragrance Hotel Aljunied, and Reddoorz Aljunied (renamed from Lemon Grass Hotel). 
Adjourning to a hostel room just to sleep probably won't get anywhere near as riveting as sleeping in a spacious capsule pod. Backpackers could consider staying at the hostel CapsulePod@Aljunied to sleep with astronomical style and a tight wallet. 
Aljunied - Eat
If you're visiting Aljunied, you're in for a real treat with the many local Chinese cuisine haunts populating the area. Most of them are long-standing establishments with a specialty dish that has stood the test of time. 
Rochor Beancurd at Aljunied sells the most refreshing soya bean drinks and dessert, which you can slurp down with a side of golden-brown you tiao. 
Perhaps it's time to tick one thing off the bucket list with a common local delight, frog porridge! G7 Frog Porridge has had a long-standing reputation for its frog dishes. Their take on the meat that tastes like chicken has attracted foodies from Singapore and beyond. 
One of Singapore's most famous seafood establishments, No Signboard Seafood also stands in Aljunied. The restaurant has served hot favourites like their White Pepper Crab since their existence in the 1970s. 
If you're looking for more of a one-stop-shop, there are also some food courts in Aljunied. One option is to head to Sims Vista Market & Food Centre, where you can have a bowl of wanton mee, or a well-loved range of handmade Teochew kuehs. 
The area is also well known for its array of fruit stores, where patrons indulge in the local delight of durians. Numerous stores are dedicated solely toward serving durians, decked with seating and boxes of tissue paper for patrons to clean themselves with. One of such shops is The Durian Prince, which sources durians on a daily basis from Tangkak and Pahang in Malaysia. Prices of various durians are updated on a daily basis on their Facebook page, so willing patrons can whet their appetite even before arriving.
Aljunied - Drink
Aljunied has a strong, safe nightlife culture, owing partially to the variety of food options there, many of which open only in the evening. If you're looking to take your night easy with a couple of drinks, Aljunied is where it's at! And 99.co has hand-picked a few of these watering holes that you definitely shouldn't miss out on.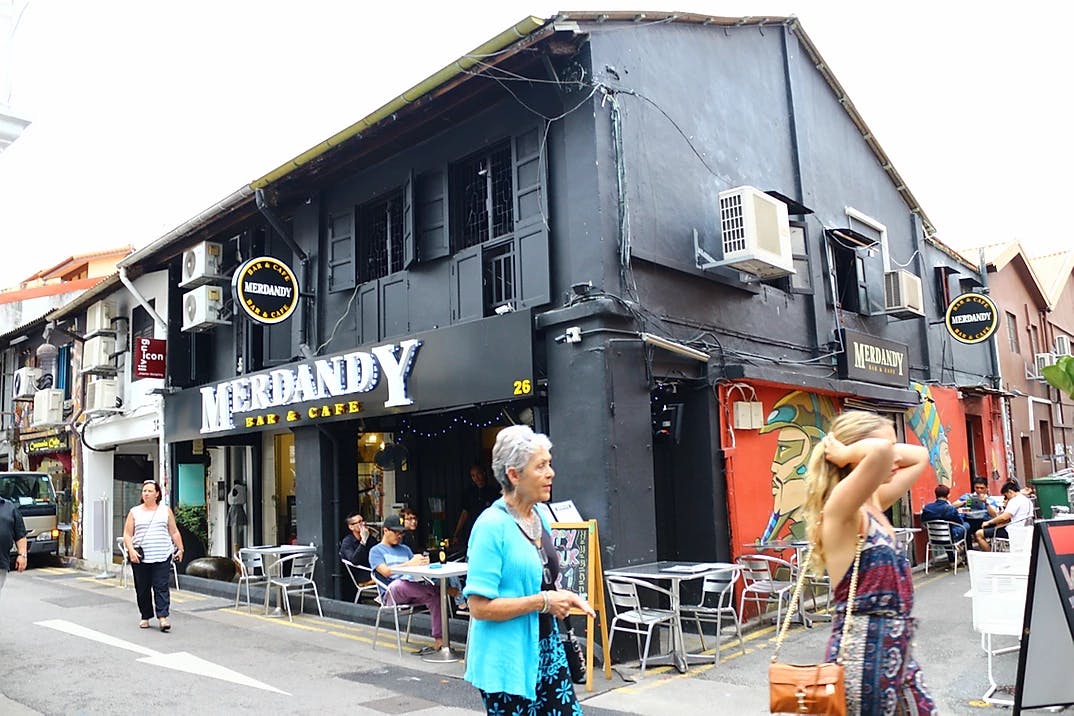 The Guillemard Road stretch has at least two great places. Tuckshop is a bar that promises only chill vibes, and if you'd rather the cahoot, Merdandy Bar & Cafe is a sports bar that never gets too loud. 
More familiar options are also available, like at Stickies Bar @ Aljunied. The bar is known for cheap beer towers and Beer O' Clock, where any glass of house poured liquor or pint of draught beer is priced in accordance to the time. $2 beer at 2 PM? There's no better excuse to be day-drinking.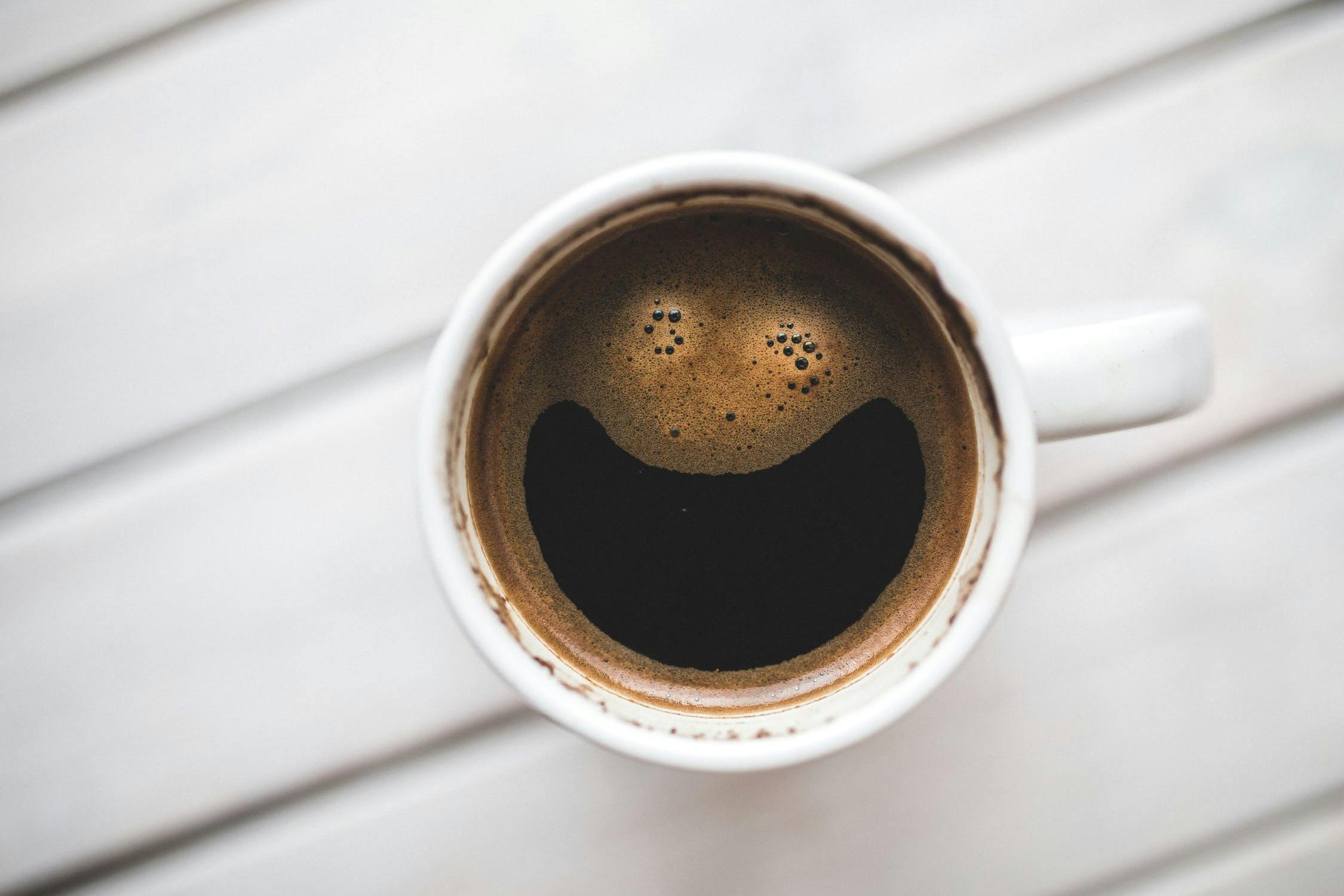 If you're looking for a drink without any alcohol in it, visit one of Aljunied's cafes. Brawns & Brains at Guillemard Road offers a carefully curated selection of roasted coffee beans and brunch foods, like open-faced toast with crispy bacon.
For a more authentic Singaporean cafe experience, Keng Wah Sung Cafe could satisfy anyone's palate. As one of the oldest coffee shops in the country, the cafe has perfected the art of golden brown kaya toast, with a side of boiled coffee and two half-boiled eggs. The 70-year-old cafe has stolen the hearts of many Singaporeans and tourists in their search for the perfect breakfast. 
Aljunied - Shop
While there are no shopping malls in Aljunied per se, the malls in surrounding vicinities are some of Singapore's most populous malls. Paya Lebar Square at Paya Lebar, City Square Mall at Farrer Park, and the entirety of Bugis Street are all mall districts that can be reached in 15 minutes from Aljunied, with numerous public transport options. 
On the other hand, Aljunied can guarantee a truly affordable shopping experience, right from the distributors who sell items at prices that you won't need to bargain for. The Joy Land at Upper Aljunied Lane sells a variety of household items at more than 60% off their retail prices. Much like The Joy Land, there are numerous other showrooms and warehouse-style shopping options at Aljunied. Fullhouse is one of such other options that specialises in modern furnishing solutions. 
Aljunied - Play
Within the Happy Garden Estate sits the tranquil Aljunied Park, one of Singapore's National Parks. The community of Aljunied can be seen with at this park daily for relaxation and play with their family and pets. 
Tread a little further toward Kallang at Stadium MRT Station, demarking the Indoor Stadium and OCBC Arena. There's plenty of fun to be had in the area, which is decked with food, entertainment, and numerous adrenaline-boosting fun activities. The OCBC Arena offers a variety of recreational activities, including water sports like pedal boating! 
The surrounding area at Stadium MRT Station also holds some of the most fun activities. The Kallang Leisure Park has a large ice skating rink constructed to match competition standards. The Kallang Wave Mall is also home to Climb Central, an indoor rock climbing gym with easy-to-use safety set-ups so that anybody can climb, whether rocks or boulders.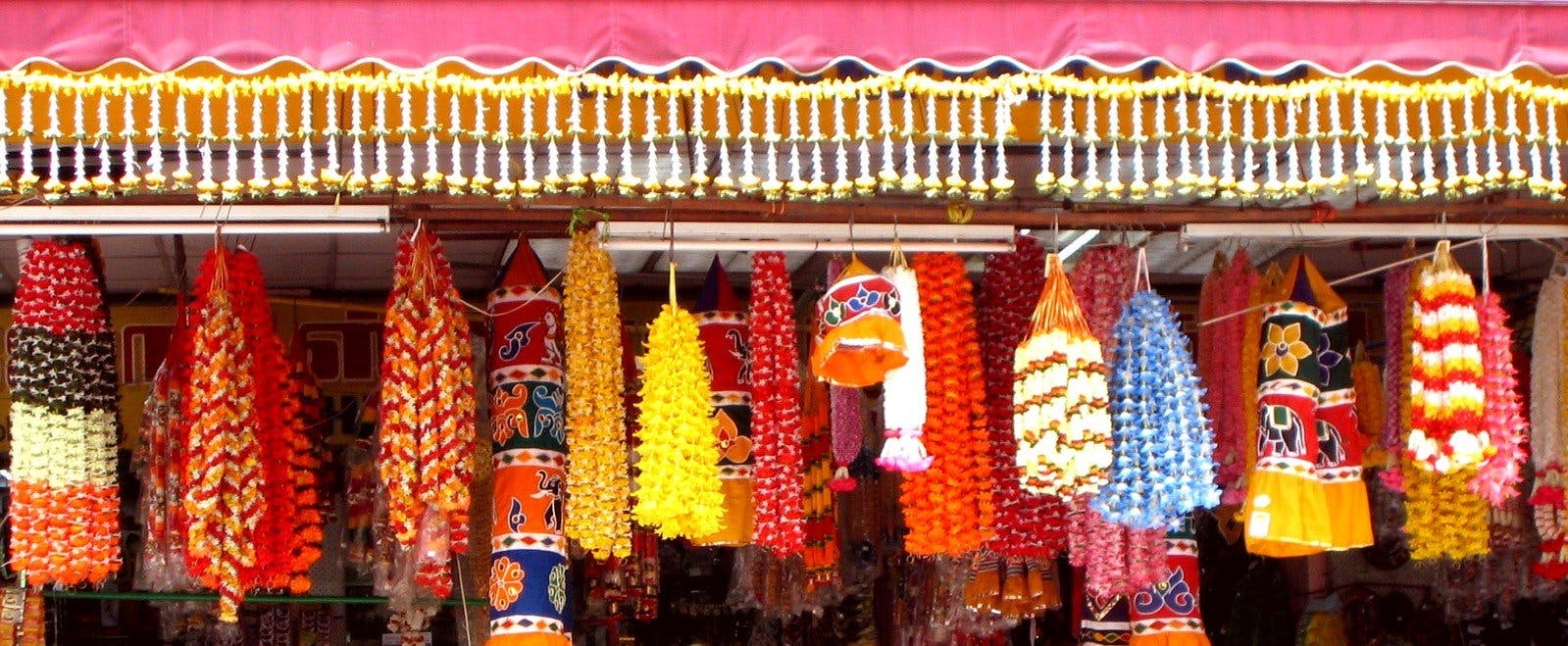 Aljunied is also a bus ride away from Little India, where you can head to explore and learn more about the vivid Indian culture. Streets are adorned with gorgeous murals, stalls selling fresh produce, and a number of gold merchants. Little India is also home to Mustafa Centre, which is known colloquially as a 24-hour shopping paradise that sells just about anything. 
Aljunied - Learn 
There are five major schools in Aljunied. Affiliated schools Geylang Methodist Primary School, and Geylang Methodist Secondary School are right next to each other. Broadrick Secondary School and Kong Hwa School are also in the area.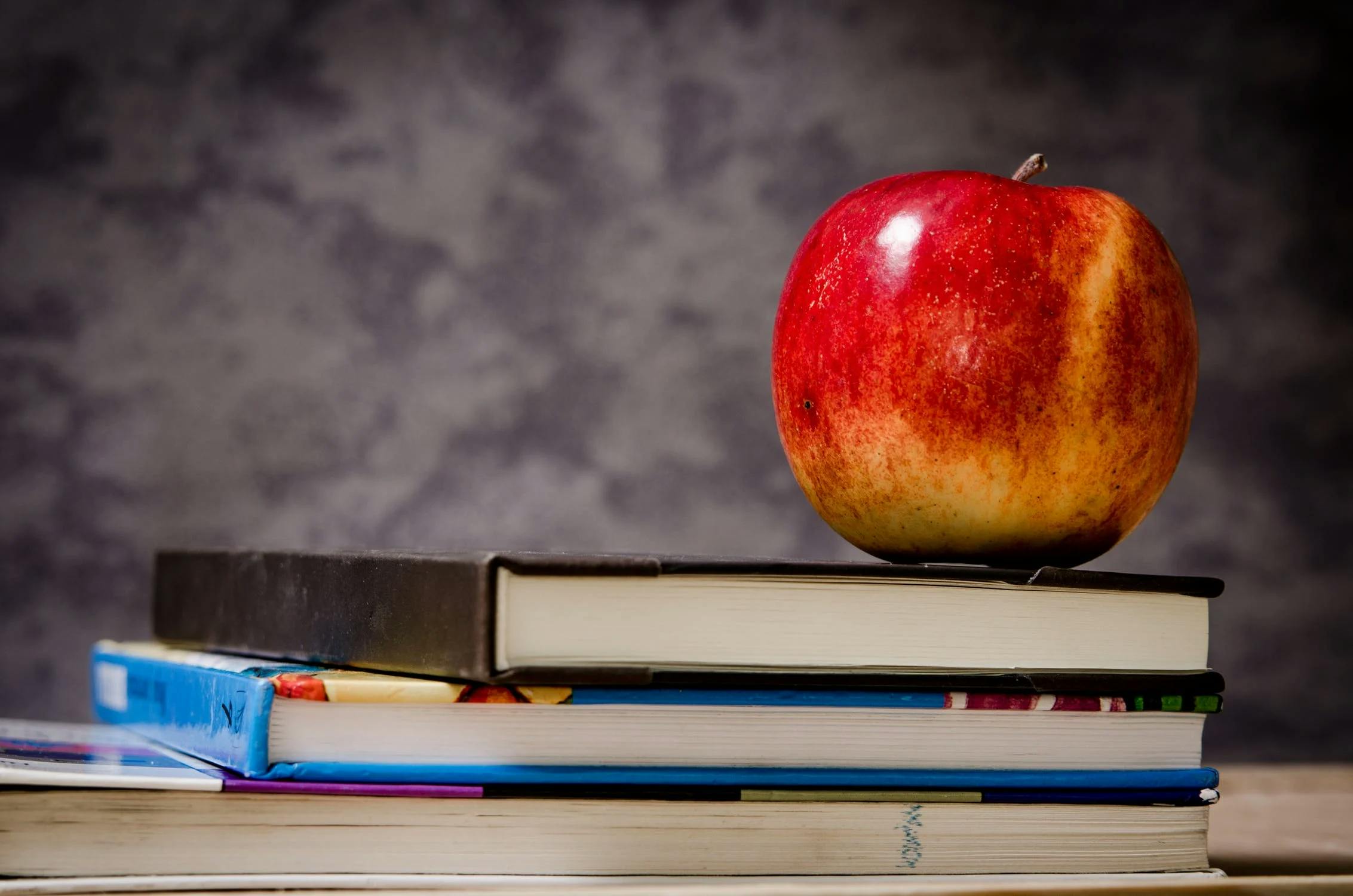 There are also other schools in Aljunied that extend toward the outer areas of Aljunied, like the Macpherson-Aljunied area and the Geylang area. To name some of them, Cedar Primary School, Eunos Primary School, Maha Bodhi School, Manjusri Secondary School. School for the deaf Canossian School is also one of the options available to residents of Aljunied. 
To immerse your children with a great head start, EtonHouse International School @Broadrick (East Coast) is known for its bilingual immersion programme in Mandarin and English for pre-school and primary levels, and offers a vast array of second language programmes too.
Aljunied also has its share of tuition centres, where parents can send their children to have a peace of mind until they've gotten off work. These enrichment centres offer subjects of multiple disciplines, mostly within the syllabi of Singapore's education system. MYEC Tuition Centre is a boutique tuition centre near Aljunied that offers enrichment, Primary, Secondary, and JC programmes to classes limited to five students. 
Aljunied - Move
Aljunied is a highly accessible area that flanks many bustling areas. Aljunied MRT Station on the East-West Line offers connectivity to Bugis in four minutes, further extending toward business districts such as City Hall, Raffles Place, and Tanjong Pagar. 
Aljunied MRT Station is also just a stop away from Paya Lebar MRT Station, which is an interchange that links toward the Circle Line. The Circle Line grants access to areas of Singapore like Marina Bay and Harbourfront. 
Major roads expressways like the Pan Island Expressway (PIE) and the Kallang-Paya Lebar Expressway (KPE) are in close proximity to Aljunied. Other major roads in Aljunied are Sims Avenue, which is a one-way major road connecting Kallang Road to Jalan Eunos, and Geylang Road, which links many of Singapore's eastern suburban areas with the CBD area. 
Aljunied - Public Library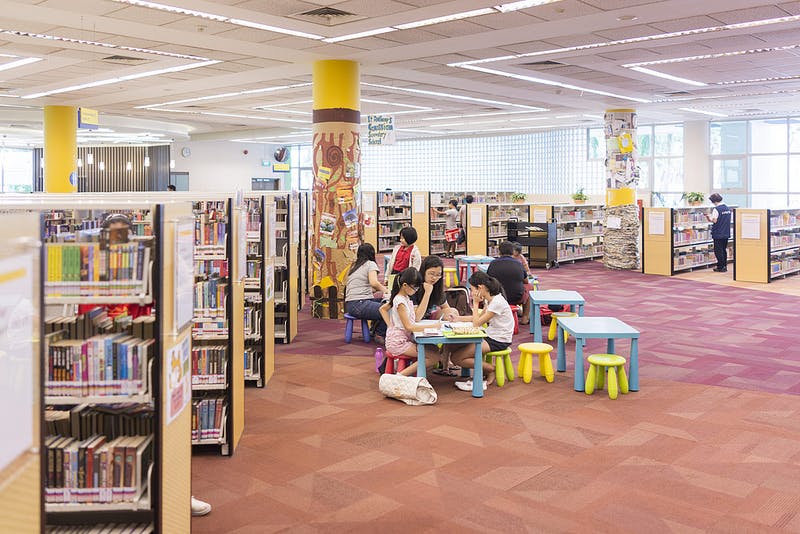 Serving residents in the Geylang Neighbourhood, Geylang East Public Library is located near the Aljunied MRT Station, at 50 Geylang East Ave 1 precisely. With a nature-themed look and a floor area of 3,817 square metres, the library has over 250,000 items for its collection. The collection mostly consists of English children's books, but the three-storey library is also the first public library in Singapore to have a special thematic collection on cookery and food-related literature. 
On top of that, Geylang East Public Library has joined Jurong Regional Library and Toa Payoh Public Library to become a host of smart work centres. These Singapore's library-located smart work centres are aimed at allowing residents to work nearer their homes, thus promoting work-life balance and productivity. The centres have rooms for meetings, with a secured wireless internet as well as video-conferencing, copying, and printing facilities.
Parks and Gardens
Within the Happy Garden Estate sits the tranquil Aljunied Park, one of Singapore's National Parks. The community of Aljunied can be seen at this park daily for relaxation. If you are looking for lush greenery to have leisure time with your dearest family and friends, it is the perfect place for you to go. The park has plenty of large grassy areas for games as well as an outdoor playground for young children. It is also a suitable place for your morning exercise, for it provides a quiet open space where you can get a dose of fresh air. 
Besides, the nearby Geylang East Park is also a lovely spot for people to get away from the bustle and hustle of the city. The park is located beside Geylang East Swimming Complex along Aljunied Avenue 1. The park has picnic facilities with recreational activities for all ages, making it a great place for kids and families to engage with nature and outdoor leisure. On top of that, Geylang East Park has an outdoor fitness station, covered shelter, multi-use game area, and kids playing equipment. The park has parking space as well, adding more convenience to the visitors with vehicles. 
Sports Facilities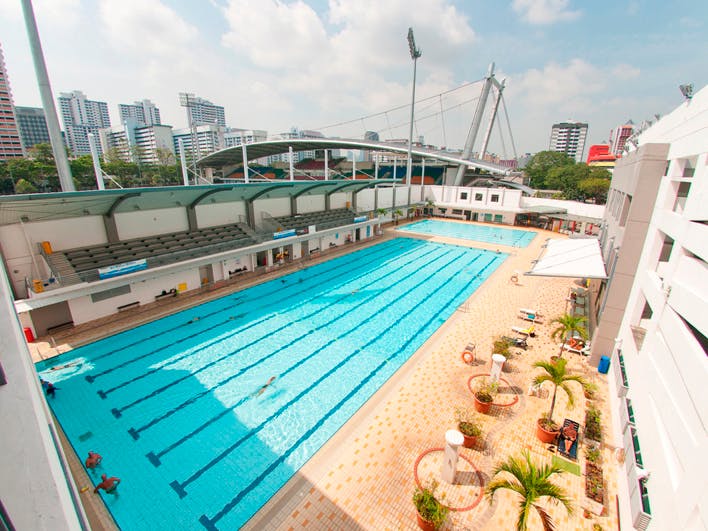 Geylang East Swimming Complex is one of the swimming pools located in the Central Region of Singapore. Located at 601 Aljunied Crescent, it is a comprehensive swimming facility that has a convenient location, certainly a crowd favourite for the residents in the vicinity. Surrounded by great food spots and lifestyle options, visitors can always consider Geylang East Swimming Complex if they are interested in taking up swimming lessons. You can get swimming lessons here as well throughout the week. The swimming complex has a competition pool (1.20m to 1.80m), a teaching pool (1.00m to 1.10m), and a wading pool (0.50m). The opening hour is 8:00 am to 9:30 pm daily including public holidays. However, it only opens from 2:30 pm to 9:30 pm on Mondays. 
Shortlist folder is empty
Search for listings to shortlist