Sales of new condos spike for a month during the circuit breaker, and everyone loses their minds. Well, calm down for a second. While it's good news that new launch condo sales in May 2020 were good, it's a bit dramatic to be yelling about how the property market is back on track. Let's anlayse things a little: It wasn't doing badly before the Circuit Breaker either, you know? This could just be continued momentum. Anyway, here's a more realistic outlook:
May 2020: The month where new private home sales "rebounded"
Project Name
Units Sold
in May 2020
Median PSF Price
in May 2020
% of Project Sold
to Date
Treasure at Tampines
56
$1,360
53%
Parc Clematis
55
$1,599
46%
The Florence Residences
54
$1,513
47%
Parc Esta
45
$1,680
87%
Jadescape
27
$1,733
65%
The Tapestry
23
$1,325
88%
Stirling Residences
22
$1,910
78%
Affinity at Serangoon
21
$1,565
68%
Piermont Grand (EC)
17
$1,128
64%
Kopar at Newton
16
$2,307
26%
Source: URA, 99.co
The optimism that's in the air is from last month's new private home sales: Developers managed to move a total of 484 new units, up almost 75% from April. What makes it an especially big deal is the timing: May was in the middle of the circuit breaker period, when showflats were all locked down and property agents couldn't even arrange viewings.
In addition, the number of foreign buyers could be picking up. The number of new condos bought by Permanent Residents and Non-Permanent Residents was up 71.4% month-on-month, from 42 units in April to 72 in May.
While all of this is a good sign however, we should note some important details:
First, sales seem to be supported mainly by the large number of smaller units, with lower quantums. Transactions of units below 800 square feet (sq ft) were up 70%, from 199 units in April to 319 units in May. We could just be seeing movement of the lowest-hanging fruit, as developers often try to quickly sell off smaller units with low quantums first (they give the impression of stronger sales, while pushing up the average price per square foot).
Accordingly, transactions of all private home sales below $1 million (excluding ECs) rose from 23.6% to 28.7% month-on-month. It appears that for both new and resale private homes, it's the lower priced units that buyers are snapping up.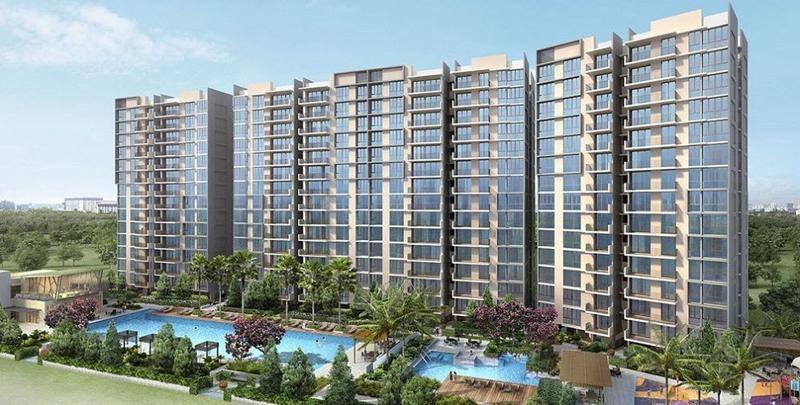 So, it might be appropriate to question whether buying power can be sustained in the months ahead, especially when the small, lower priced units are all snapped up and what's left to clear are regular-sized condos. A worsening economy could see buyers unwilling or unable to commit to more regular priced units.
Second, one month is a very short time frame to pick up anything meaningful. If we take a broader view, such as looking at sales year-on-year, the volume of new private home sales is still less than half that of 2019. In May last year, developers moved 952 new homes.
To be certain that we're back on track, we'll need to see if sales numbers return to previous levels when showflats do reopen.
However, there's still cause for optimism without being overly dramatic about May's numbers.
While it remains too early to declare that we're back on track, there are number of converging factors that might indicate a faster recovery on the cards. Key among these are:
The Fed's commitment to lower rates until 2022
Property may be seen as a safe haven during the downturn
Foreigners have shown a willingness to buy even sight unseen
There are a significant number of flats reaching their MOP this year
#1: The Fed's commitment to keep rock-bottom rates until the end of 2022
The United States Federal Reserve (the Fed) can influence the Singapore Interbank Offered Rate (SIBOR). This is significant as many home loans are pegged to the SIBOR rate.
Due the Fed's rate-cut earlier in March (to a rate of 0.25%, or near zero), SIBOR has also plummeted. The current one-month SIBOR rate is 0.25%, down from around 1.74% in January.
Now, the Fed has also announced its intention to keep rates low till at least the end of 2022, making home loans much more affordable to Singaporeans in the short-term. This will be especially pleasing to investors, who want to maximise capital gains; their interest rates right now can be below 1.3%.
#2: Property may be seen as an attractive safe haven during the downturn
We have seen incidents in the past where, in the face of downturns, some investors will liquidate more volatile assets like equities, and allocate their capital toward property instead.
Going way back to 2008, for example, we saw a situation where the Global Financial Crisis caused interest rates to plummet (see Point 1), and investors rushed into property, causing a rapid recovery and even eventual overheating. While the current situation is different—in that it's an epidemic rather than a financial crash—the "flight to safety" remains a common response.
This is especially true given that some traditionally safer investments, such as the bonds market, will be showing very low yields given the rock-bottom interest rates. This further increases the allure of property as an investment.
#3: Foreigners have shown a willingness to buy without physical viewings
Around $20 million worth of transactions in May came from the sale of six units in Marina One Residences that Chinese buyers purchased from abroad. They really didn't care about coming down to visit.
As such, travel restrictions—which the market widely assumed would slow foreign property investment—may not come to affect foreign buyer activity by a whole lot. There are also strong imperatives for foreigners to invest in Singapore; these range from the effects of a depreciating yuan, to rising tensions between the US and China.
For many of these buyers, Chinese nationals especially, a virtual tour will suffice. After all Singapore's developers have a stellar reputation, and our authorities are like watchdogs that ensure residential developments are built to high-standards.
Here's where resale properties might lose out. Because they're second-hand, buyers almost always want to inspect the premises in-person before buying. This also explains why new condo sales have been performing well during the circuit breaker, while the same cannot be said for resale condos.
Comparison of New Sale vs Resale Non-Landed Private Residential Units Sold (Excluding ECs)
| Units Sold/Month | March 2020 | April 2020 | May 2020 |
| --- | --- | --- | --- |
| New Sale | 660 | 277 | 486 |
| Resale | 610 | 278 | 126 |
Source: URA, 99.co
#4: There are a significant number of flats reaching their MOP this year
As we mentioned as far back as 2019, there are some 50,000 flats that are reaching their Minimum Occupancy Period (MOP) this year.
A significant number of Singaporeans use their HDB flats as an initial "stepping stone" toward private property. They're more inclined than ever to do so, in the face of resale flat values falling for around seven consecutive years. Upgraders already started moving into the market at the end of last year (see the above link), and we do expect the trend to continue.
This is especially in light of developers giving selective discounts, the lower interest rate, and the volatility of other investment alternatives right now.
All said and done, the true test will likely come in the next quarter.
It's hard to put too much weight on any single month's figures right now, given how many variables are at play from a macro perspective. Signs of whether the property market is "back on track" will be much more obvious by the end of the next quarter, when the repercussions of the circuit breaker and Covid-19 are truly felt.
Do you think the Singapore property market turned a corner? Let us know your thoughts in the comments below.
If you liked this article, 99.co recommends How a deep recession could impact the property market in Singapore and Will the retail bloodbath affect the residential property market in SG?
Looking for a property? Find the home of your dreams today on Singapore's most intelligent property portal 99.co! You can also access a wide range of tools to calculate your down payments and loan repayments, to make an informed purchase.