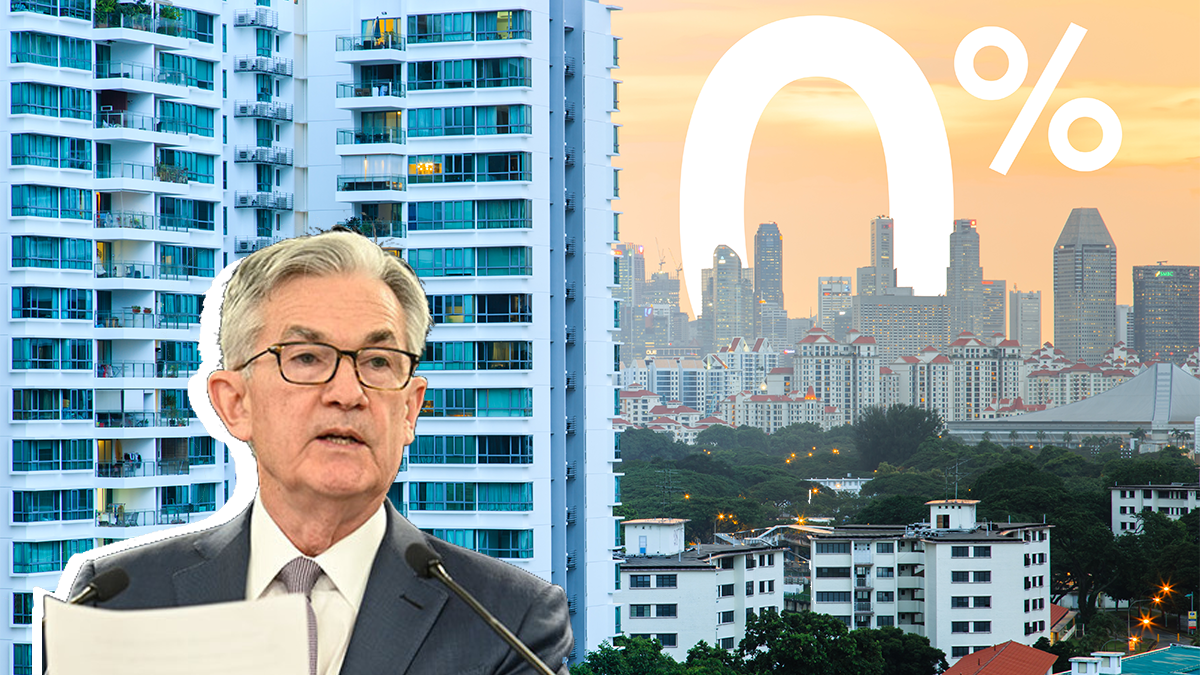 Home loan interest rates in Singapore are likely to remain at current lows for the next two years or even longer, after US Federal Reserve (Fed) chairman Jerome Powell announced on 10 June that it would hold Fed interest rates at "near zero" and maintain that level until at least the end of 2022.
At time of writing (June 2020), interest rates for floating rate home loans in Singapore are hovering between the 1.25 and 1.5% range, depending on the package.
The reason for holding Fed interest rates near zero is to stimulate the coronavirus-hit US economy, which is projected to shrink by 6.5% in 2020. "We're not even thinking about thinking about raising rates," Powell said. "What we're thinking about is providing support for the economy. We think this is going to take some time."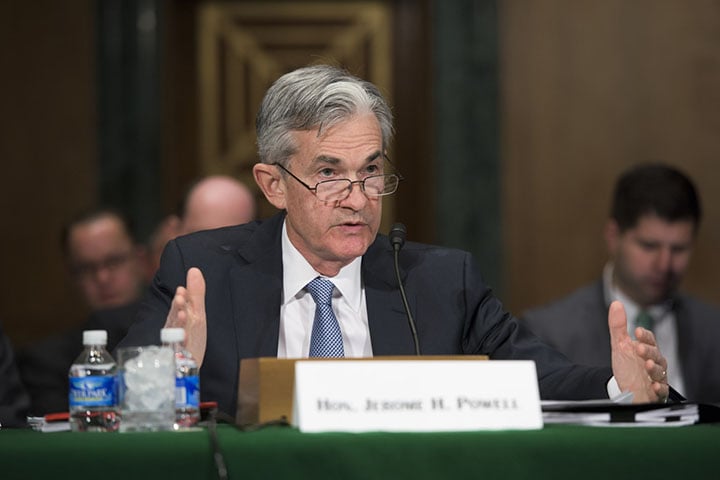 Along with Powell, Fed officials unanimously predicted that interest rates would remain at or near zero (0-0.25%) until the end of 2021, while all except two predicted that the rates would remain through to the end of 2022.
As Fed interest rates and interest rates in Singapore are highly correlated, the interest rates of floating rate home loans, especially those pegged to the SIBOR, will similarly remain low until the end of 2022.
"For the next two to three years, the US economy is unlikely to recover to the point where home loan interest rates can start to hike," said Paul Ho, Chief Mortgage Consultant at iCompareLoan. "The low interest rates could go on for even longer by up to five years while unemployment recovers."
SIBOR, short for the Singapore Interbank Offered Rate, reflects how much it costs banks to borrow from each other. It is the mostly commonly used benchmark to set mortgage interest rate levels in Singapore.
SIBOR interest rates had begun falling in March 2020 following two Fed rate cuts in response to the Covid-19 pandemic. Since late-May, the 1-month SIBOR rate has reached a level not seen since the period of 2011 and 2013 (during which Fed rates were also at/near zero). The 3-month SIBOR rate, which averages out the rates from the past three months, is expected to follow suit.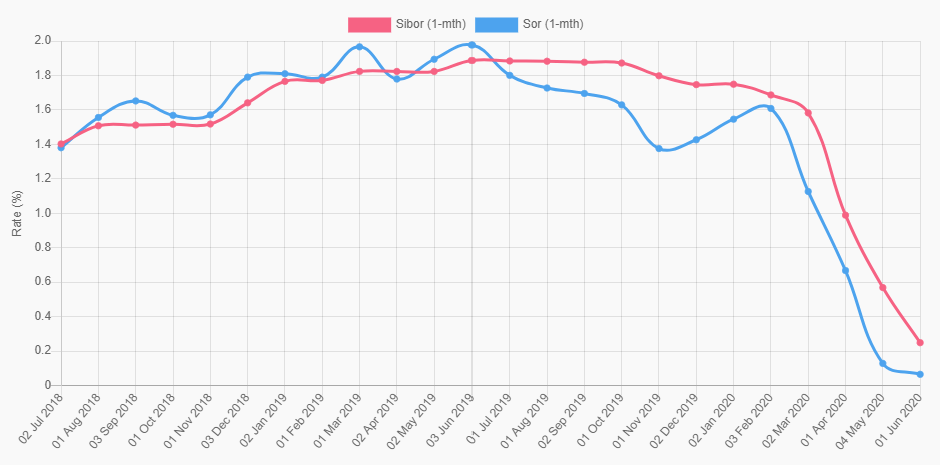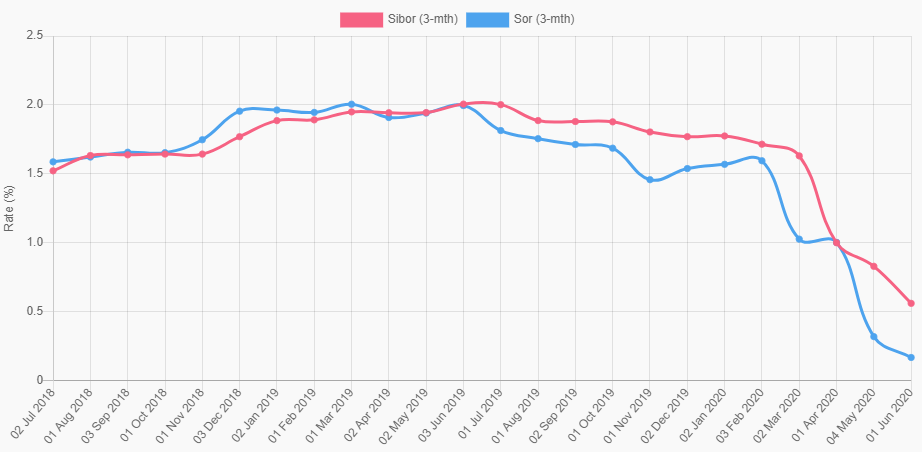 Will home loan interest rates really fall like the SIBOR?
Even though the SIBOR might be dropping like a stone, this doesn't mean that home loan interest rates will fall by a similar magnitude. Paul noted that local banks have been increasing their spread on floating rate home loan packages since March 2020, when SIBOR started to fall.
The spread refers to the additional interest rate that a bank would charge borrowers, on top of the cost of lending the money (i.e. the SIBOR interest rate). Paul cited United Overseas Bank's 3-month SIBOR home loan package as one example. In March 2020, UOB's spread for the first year of the three-year lock-in was 0.28%. This subsequently increased to 0.5%, 0.63% and 0.85% in April, May and June respectively.
"A 3-month SIBOR home loan with an 0.85% spread equates to 1.4% interest rates currently," said David Baey, CEO of Mortgage Master. He pointed out that if the 3-month SIBOR were to reach the lows of 2011-2013 (about 0.25 to 0.3%), home loan borrowers would be looking at an interest rate of 1.2% per annum.
HSBC, meanwhile, offers a home loan package tied to the 1-month SIBOR, which is more volatile and responsive to changes in the external interest rate environment. The bank also raised its spread as the 1-month SIBOR fell, from 0.45% for March/April to 1.0% for May/June. The current interest rate for that package stands at about 1.25% for May/June.
In light of the Fed's announcement to hold interest rates near zero for the next two to three years, David added that there is now little to no reason for buyers and homeowners to take up or refinance to 3-year fixed rate home loans.
Banks, in the meantime, are trying to lure customers away from SIBOR packages with new offerings. DBS, for example, is offering a 5-year fixed rate package that guarantees a flat 1.5% interest rate. "The economy might pick up after three years, and interest rates could start to rise again by then, which would make a longer fixed rate package feasible on hindsight," said David.
Noting that there are still borrowers out there who are "leaning towards fixed rate loans" for their stability, David concluded that longer fixed rate packages could hold enough appeal to buyers and homeowners averse to interest rate fluctuations and bank spread increases.
Which home loan package will you pick and why? Share your thoughts in the comments section below.
If you found this article useful, 99.co recommends 4 Must-Knows Before Refinancing into a Low-Interest SIBOR Home Loan and 4 sneaky ways a bank can exploit you when taking a home loan
Looking for a property? Find your dream home on Singapore's largest property portal 99.co!
New launch alert! Welcome to Grand Dunman
About Kyle Leung
Content Marketing Manager @ 99.co
Looking to sell your property?
Whether your HDB apartment is reaching the end of its Minimum Occupation Period (MOP) or your condo has crossed its Seller Stamp Duty (SSD) window, it is always good to know how much you can potentially gain if you were to list and sell your property. Not only that, you'll also need to know whether your gains would allow you to right-size to the dream home in the neighbourhood you and your family have been eyeing.
One easy way is to send us a request for a credible and trusted property consultant to reach out to you.
Alternatively, you can jump onto 99.co's Property Value Tool to get an estimate for free.
If you're looking for your dream home, be it as a first-time or seasoned homebuyer or seller – say, to upgrade or right-size – you will find it on Singapore's fastest-growing property portal 99.co.
Meanwhile, if you have an interesting property-related story to share with us, drop us a message here — and we'll review it and get back to you.
Join our social media communities!
Facebook | Instagram | TikTok | Telegram | YouTube | Twitter