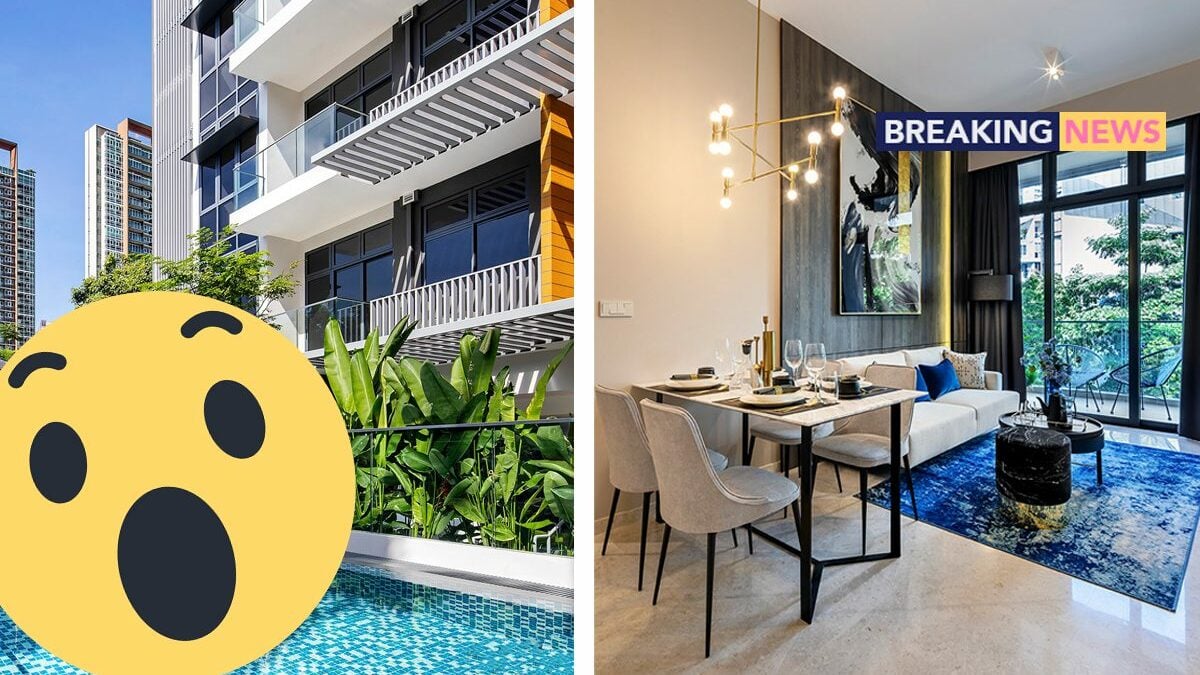 Just three days after launching an unexpected fire sale, Prominent Land, the developer of a freehold District 10 condominium 38 Jervois, managed to sell all of the project's 16 remaining units.
The promotion for 38 Jervois began on 1 June 2020, with Prominent Land offering a steep 13 to 24% discount of the original list price for buyers until 14 June. The project had received its Temporary Occupation Permit (TOP) back in March 2019.
Buyer response to the discounts was overwheming. On 3 June, the developer declared that all 16 units have been sold. This was also the first time since June 2019 that the project has recorded at least one sale.
"A diverse group of buyers": Project head
Explaining why all 16 units were snapped up in a matter of days, Tracy Teo, head of the 38 Jervois project team from ERA Realty, told 99.co that the discounts offered by the developer were not the sole factor.
"The price is definitely a big draw, coupled with a great location in District 10 and freehold status," she said. "Buyers in the market all recognised that this is an awesome buy."
The discount also attracted a diverse group of buyers, from HDB dwellers to private property owners, Tracy added. "The buyers bought mainly for investment, although a few were planning for their own stay."
ERA was the exclusive agency for marketing 38 Jervois.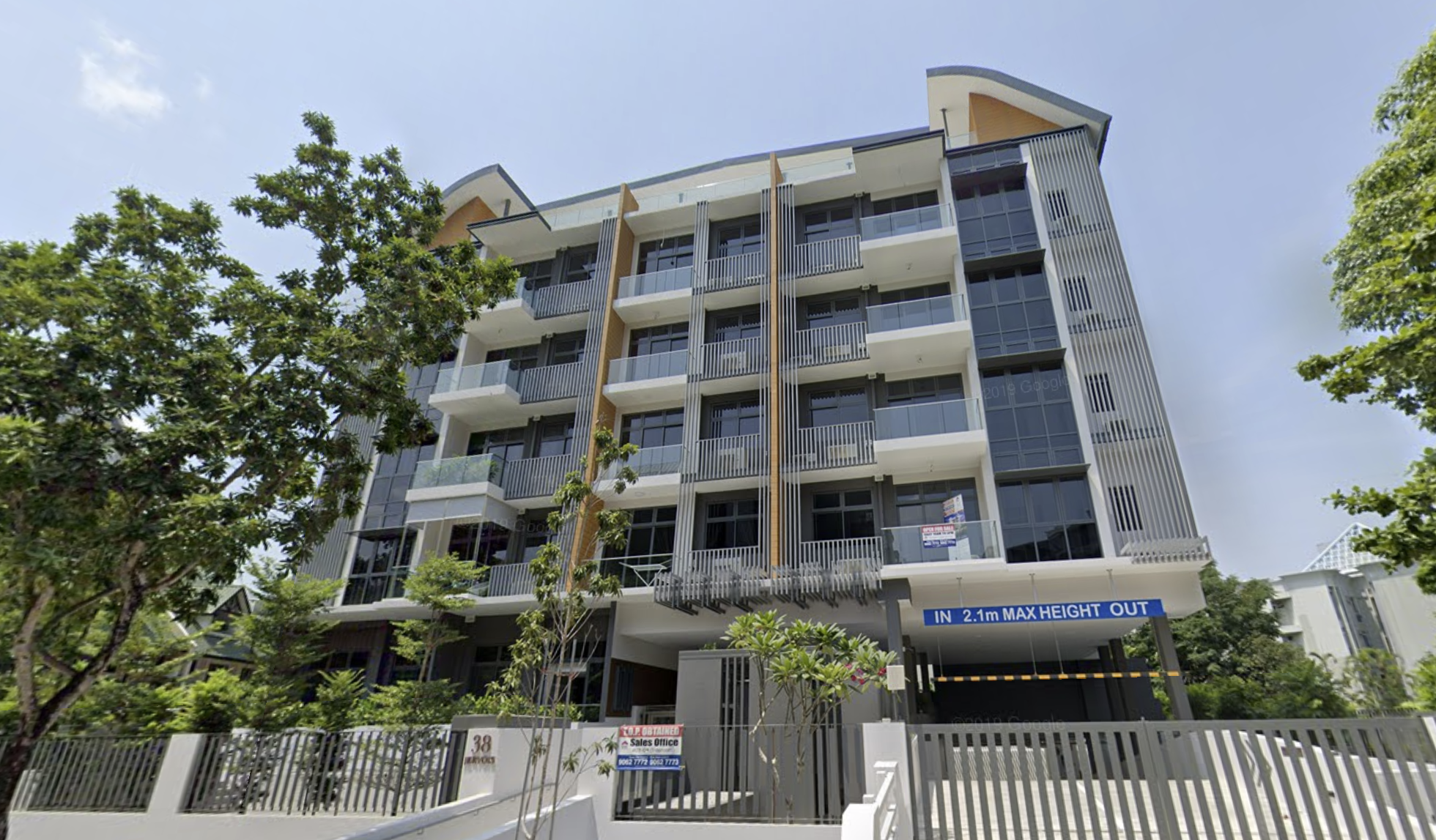 Promotion was 'all or nothing'
In a Business Times article published on 3 June, Prominent Land revealed that the rationale for launching the fire sale—with discounts totalling $7.1 million—was primarily to avoid paying a $4.8 million Additional Buyer's Stamp Duty (ABSD) due this year.
Managing Director and Founder of Prominent Land, Joni Lim, also told the paper that she and her team decided to sell the remaining units quickly "to move on from this project as we also have got new opportunities coming up."
The promotion had one condition attached: Buyers looking to purchase a discounted unit were told that transactions will only go through if all 16 units are taken up. The reason for doing so is because the ABSD has to be paid even if one unit is left unsold, according to government rules on taxation.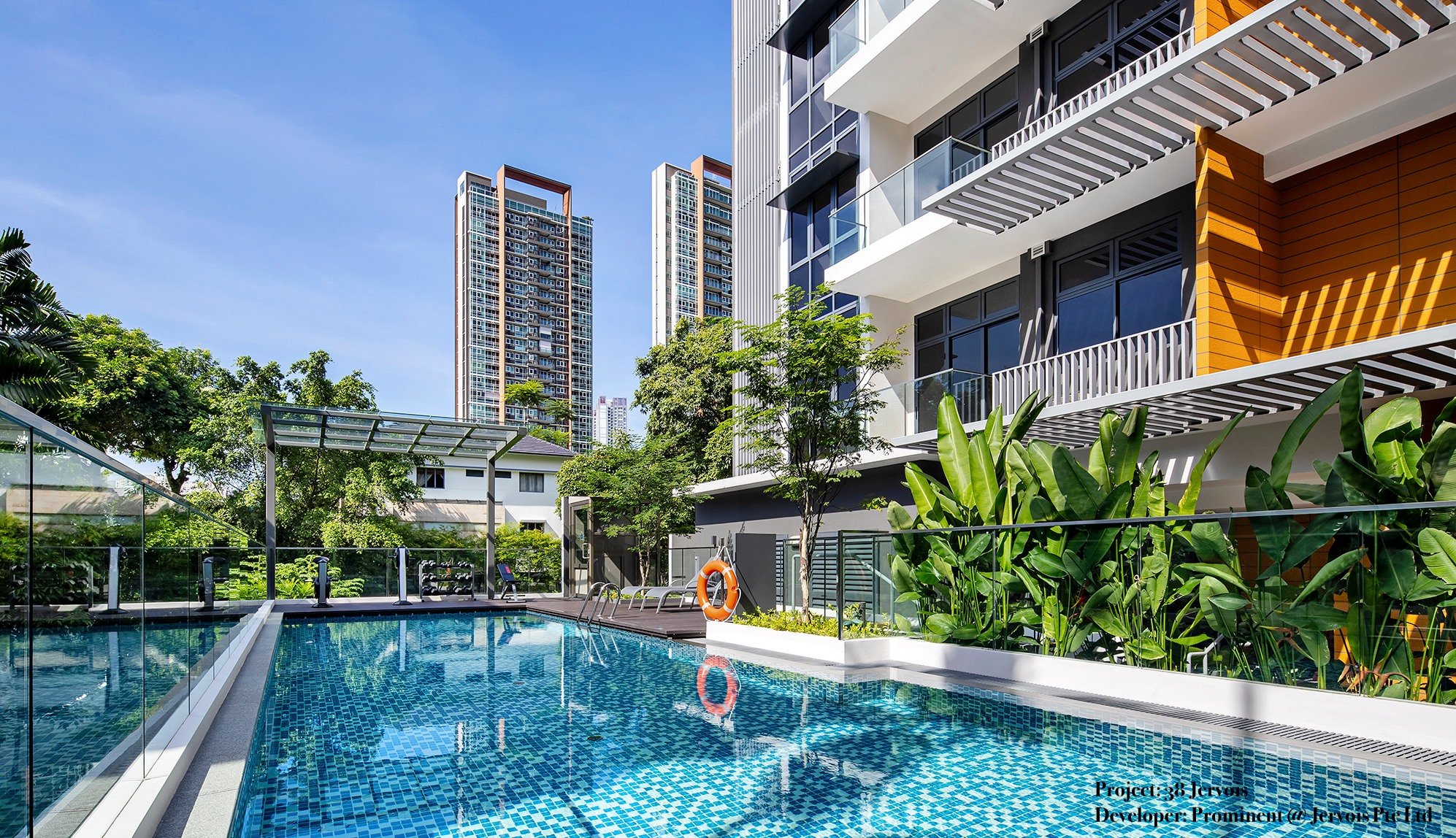 Developer has Covid-19 to thank for ABSD extension
Located at Jervois Road in District 10, the 27-unit, five-storey 38 Jervois had originally sold 11 units since its launch in late 2016, with only one sale recorded in 2019.
As the original deadline of February 2020 loomed, Prominent Land had decided initially to pay the ABSD upfront. This was because the developer had earlier intended to hold onto the condo's unsold units for long-term rental income, with the possibility of turning it into a co-living business.
Then, during the Covid-19 circuit breaker period, the government announced that it would be extending developer ABSD deadlines by six months.
Upon hearing the news, Prominent Land changed their plan; they successfully applied to the Inland Revenue Authority of Singapore (IRAS) to have the paid-up ABSD refunded to them, in lieu of the new August 2020 deadline.
Shortly afterward, Prominent Land launched the fire sale promotion for 38 Jervois for the 16 remainder units, which consisted of the 2-bedroom, 2-bedroom + study and 3-bedroom unit types.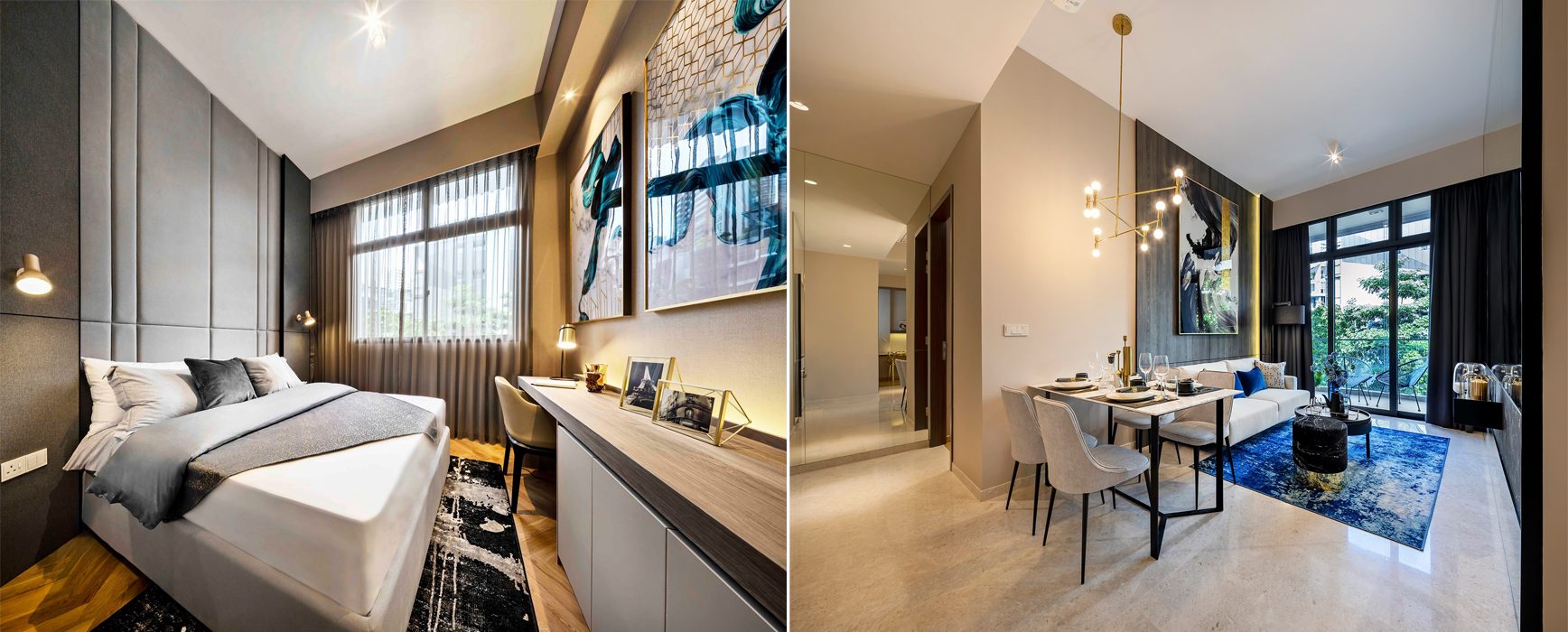 Biggest discount worth nearly $550,000
For the fire sale, the smallest discount, in number terms, was $275,000 for a three-bedroom, 818 square foot (sq ft) fully-furnished and decorated showflat unit. This unit was sold at a discounted price of $1.82 million, or $2,223 per square foot (psf).
The biggest discount, at $547,320, is for a three-bedroom, 915 sq ft unfurnished unit on the fourth floor. The unit was sold at a discounted price of $1.92 million, or $2,102 per square foot.
Just last year, a 915 sq ft unit on the second floor and with the same configuration transacted for $2.28 million, or $2,492 psf.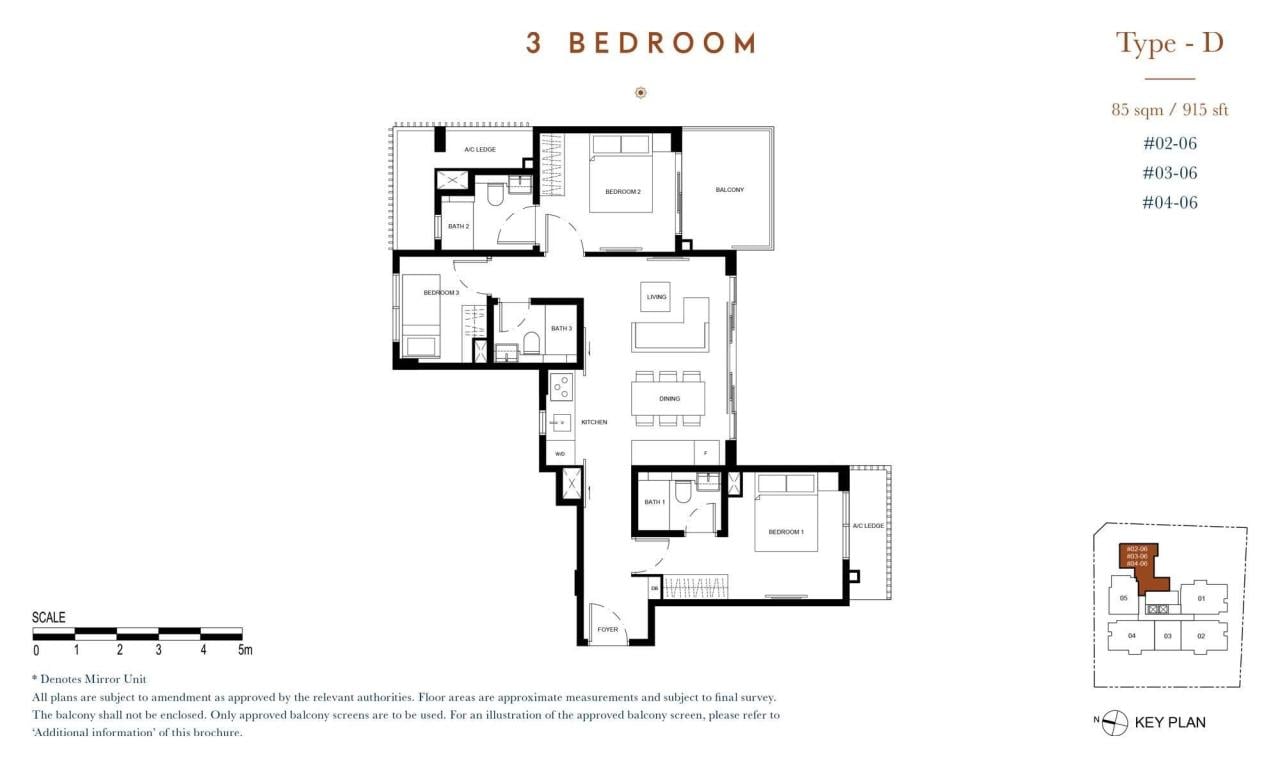 If you missed out on this, it's unlikely you'll encounter a fire sale of a similar magnitude by a developer in the coming months, said Tracy, citing that most projects "still have time before reaching TOP."
About the neighbourhood
The condo itself was previously a bungalow sited on a generous 1,378 square metre (sq m) plot of land. Back in February 2015, Prominent Land bought the site for $25 million to develop its first boutique condo project.
38 Jervois is located in a predominantly landed and low-rise neighbourhood in Singapore's prime District 10. Newly launched condos in the area include the 55-unit Petit Jervois by luxury developer SC Global (TOP: 2022), and the 45-unit Jervois Prive, the maiden project by Midas Land.
So far, Petit Jervois has seen two out of its units sold at a price of $2,892 psf (November 2018) and $2,801 psf (July 2019) respectively. There has yet to be a buyer for Jervois Prive, which is priced in the $2,700 to $3,000 psf range.
Resale prices of freehold condos in the Jervois Road area, in particular, differ vastly from that of new launches, mainly given their age difference. The chart below illustrates the price difference: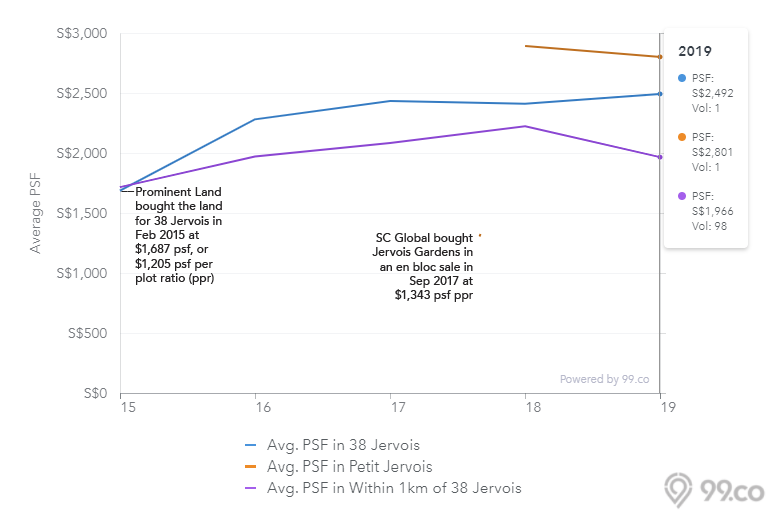 The most transacted freehold resale condos in the Jervois Road area include One Jervois (TOP: 2009), Sheares Ville (TOP: 2004), Jervois Lodge (TOP: 1997) and Dormer Park (TOP: 1993).
Want to keep up with the latest insights in the property market? Follow us on Facebook!
If you liked this article, 99.co recommends These new launch condos kept buyers coming during CB. Here's why and How a deep recession could impact the property market in Singapore
Looking for a property? Find your dream home on Singapore's most intelligent property portal 99.co!