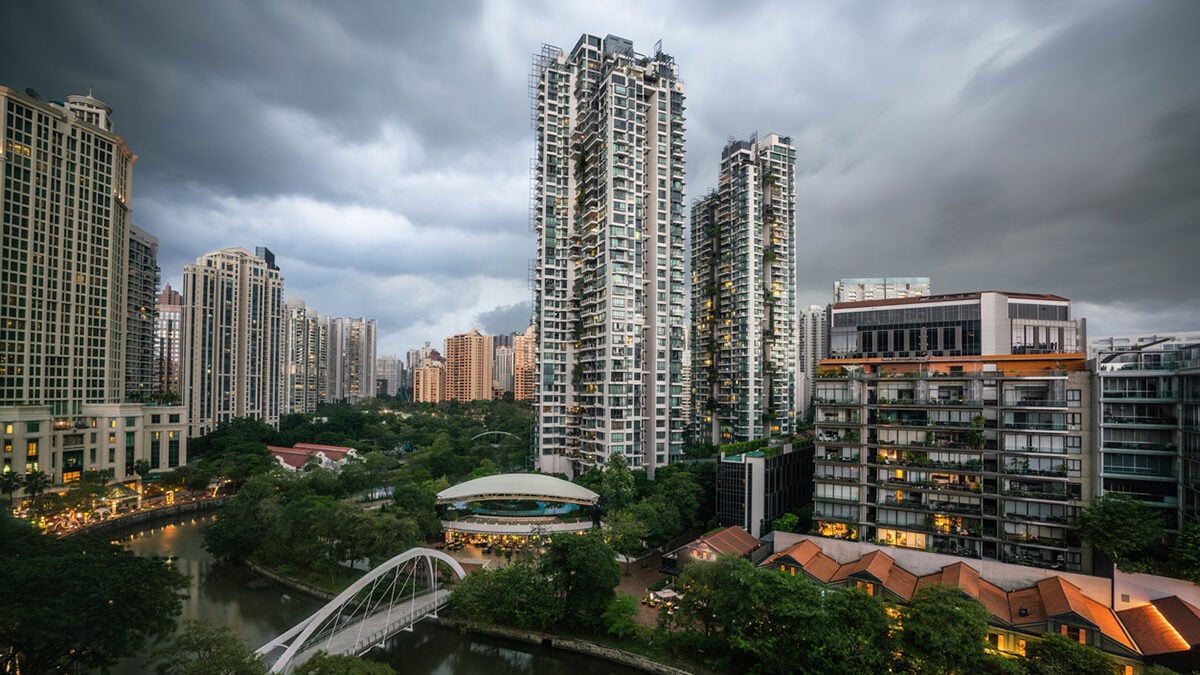 Recessions do affect rent, and that's pretty much where most experts and analyst-types stop agreeing. While we know recessions can cause rents to go down, it's not true across all properties; and the extent of the impact is never quite certain.
Why is it so hard to say for certain if rent will go down during a recession?
Property isn't the most reasonable or predictable asset, even at the most boring of times.
Your neighbour's house might sell for $100,000 more than yours, because he found someone who likes the rattling of windows as the MRT roars past. Your rental income might go up during a recession, because your tenant decides she likes the neighbour's dog. Or you might be able to buy a perfectly good condo for way below valuation, because the current owner's husband insists it's haunted.
There are so many different factors in what affects rent and value—many of which are emotional—that it's more or less impossible to pinpoint any one cause as the reason for falling rental income, vacancy, etc. All that we have to work with are generalised assumptions, and correlations.
With that caveat in mind, let's have a look those correlations:
The rental index does go down with recessions, but it's been trending downward anyway
From the above chart, you can see how the rental index correlated with the Global Financial Crisis in 2008-9, which was the last recession.
However, it's worth noting that the rental index has steadily dipped after around the last property peak in 2013. This suggests that, outside of a recession, there are ongoing factors pulling down rental rates. Here's how it looks on 99.co data: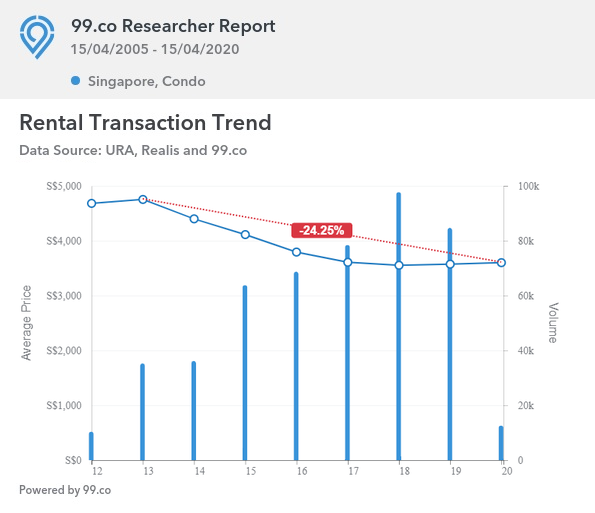 From our end, we've seen rental rates for condos decline by about 24% since the last property peak, recession or not.
Now it's not hard to predict that rental rates will fall even more sharply this year or the next, as a result of the Covid-19 outbreak: this much is common sense. People are less willing to travel abroad to work (and most governments have strict restrictions against this anyway).
There's also the fact that many businesses may have to scale back, cut costs, and manage losses.  Expats will have to take, or are already taking, paycuts. A significant proportion of the 150,000 to 200,000 forecasted retrenchments in 2020 are likely to happen to non-locals.
"What will happen is that there will be unemployment in the private sector, especially for the foreign segment of the population, because a lot of the [government's] policies are not geared towards them, so they might be unemployed and have to leave the country," said Prof Sumit Agarwal, professor of finance, economics and real estate at the NUS Business School.
That said, it can be hard to distinguish between the impact of the recession and ongoing issues that depress rental rates. Some of these issues likely include:
We have fewer foreigners coming in to work, particularly those who are holding E-passes (E-Pass and PEP holders are higher income earners, and are more likely to rent private housing) due to tighter restrictions on permits
Expatriate packages have been shrinking, so foreign tenants who do rent condos/private property are more price sensitive than before
Singapore has a property supply glut, and it's not just in private housing. With a record number of HDB flats reaching MOP this year and the next, we could see more resale flats going up on the rental market. The higher supply could translate to falling rents (it remains to be seen).
Bearing in mind these other factors, here's how a recession is likely to impact rent
The luxury segment could bear the initial brunt
Those who buy in a recession (assuming prices fall) might find better rental yields
Tenants may start looking for shorter leases
Landlord faces greater risk of leases being broken
Less demand in temporary accommodations from upgraders
1. The luxury segment could bear the initial brunt
A more detailed description of this can be found in our article last year, which still remains relevant.
Luxury or prime region condos, like those in the Core Central Region (CCR), are almost exclusively rented out to affluent expatriates; it's rare for local Singaporeans or PRs to rent such properties. As such, these properties see a more direct impact, when companies replace expats with locals, or cut back on expat hiring and go lean.
Also, tenants will downgrade. Specifically, expats with smaller housing packages may decide to go for more modest options, such as properties on the city fringe (i.e. the Rest of Central Region, or RCR). This is especially likely to happen here since Singapore is a small and well-connected island so being a bit further off the city might not mean a big sacrifice in terms of accessibility and convenience.
It also reasonable to say that, because that expats that remain might lower their budget for housing, landlords with properties in the RCR or even the Outside of Central Region (OCR) will be "better off", getting some of those spillover demand from the CCR, and be more resilient to falling rents.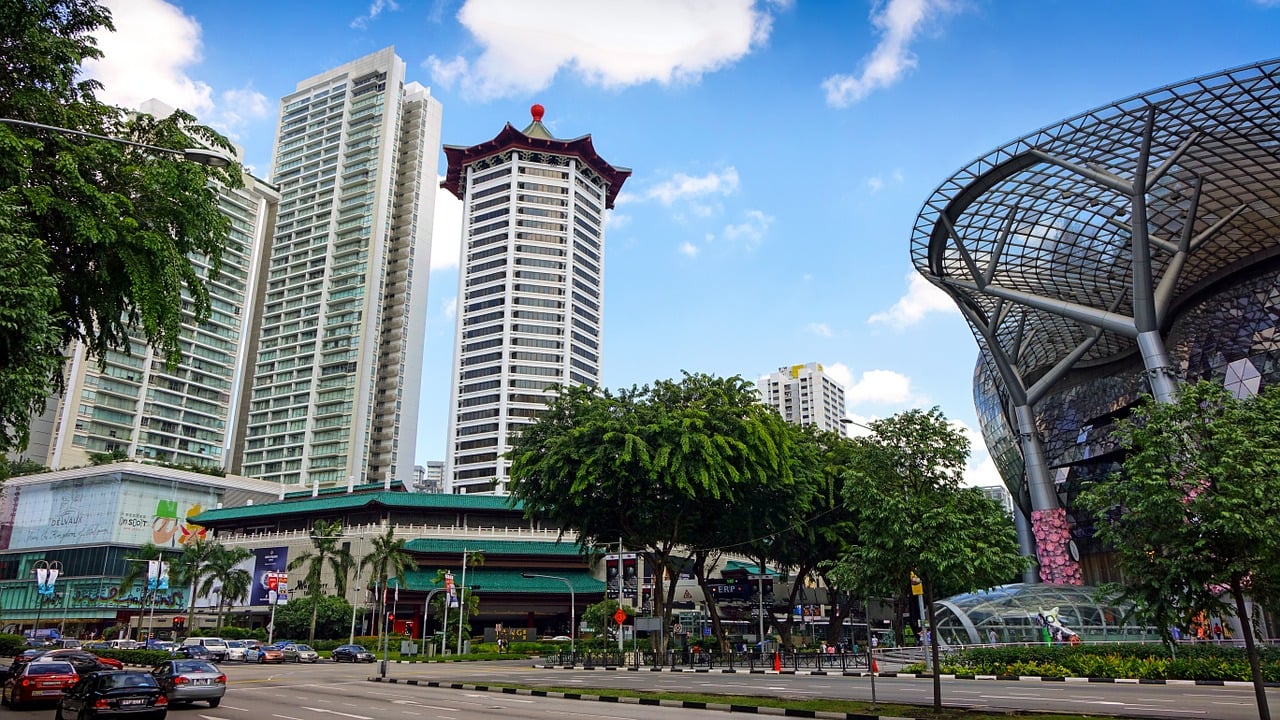 2. Those who buy in a recession might find better rental yields
This really comes down to your luck in finding a good unit, at a good price. But property auctions are expected to rise, in the face of a Covid-19 recession.
If you can purchase a fire sale unit (i.e. units sold at discounts, because the seller can't service the mortgage), the lower price can still translate to decent rental yields right now; and it will get even better once we're out of the recession.
This does require a certain level of acumen though; there's also a risk that you might buy and face vacancies or low rental income because of the recession. That would make your property asset a liability, until the recession is over. Talk to a qualified financial professional, to do a risk assessment.
3. Tenants may start looking for shorter leases
In difficult economic situations, tenants tend to opt for shorter leases (unless you charge very low rent that they want to lock in). This is often due to uncertainty involving their financial situations; they may not be sure whether they'll remain employed or, for business owners, whether their companies in Singapore will continue to be viable.
Another batch of tenants may opt for shorter leases because they expect rates to go down. Once the lease is ending, they believe they can scout around for cheaper options, or persuade you to charge less. Singles and couples, in particular, are less "sticky", meaning they're more ready to pack up and move the moment they find a cheaper option, as opposed to families.
Note that this mean you may see higher leasing volume, even though your rental rate is the same or lower (because your tenants are signing more, but shorter, leases).
4. Landlord faces greater risk of leases being broken
A Tenancy Agreement typically includes a diplomatic clause, allowing the lease to be broken if a tenant leaves his/her job (we describe it in detail in this earlier article). You should be prepared for the risk of this happening and stomach the occasional vacancy should a tenant leave suddenly.
As an interesting aside, this is less likely to happen with student tenants. Most have to stay on to finish their degree, Masters, etc., regardless of the recession.
5. Less demand in temporary accommodations from upgraders
While most tenants are foreigners, some locals do rent as well. This is most common among Singaporeans who are waiting for their BTO flat or condo to be completed.
While this is already a small group (compared to the overall market), we may see even less of them during a recession. This is because, in uncertain times, people pull back on home buying decisions; those who already have HDB flats may rethink their decision to upgrade to a condo, especially when their jobs are at risk.
This eliminates even more prospective tenants from the pool.
Overall, most landlords will see rent go down during a recession; but it's not universal
There are always exceptions.
Not all tenants are experiencing the risk of job loss or lower income, and must rush to find a cheaper unit; there are always some businesses that do exceptionally well during a recession (we're looking at you, supermarkets).
Even for prime region properties, there are some tenants who are so well-heeled, $6,000 a month is an amount they can forget they spent. In fact, one common argument for CCR properties is that you can attract these types of tenants, as your property's location and prestige can't be copied by more mass-market developments.
Ultimately, individual landlords can come out of a recession with entirely different experiences. The important thing is to have holding power, and with home loan deferments now possible and interest rates at bargain-basement levels, most savvy and diversified property investors should be able to weather the storm ahead.
Is your rent being affected by the recession? Voice your thoughts in our comments section or on our Facebook community page.
Looking for a property? Find the home of your dreams today on Singapore's largest property portal 99.co! You can also access a wide range of tools to calculate your down payments and loan repayments, to make an informed purchase.
Upcoming Freehold Condo Launch: The Arcady @ Boon Keng
About Ryan Ong
Looking to sell your property?
Whether your HDB apartment is reaching the end of its Minimum Occupation Period (MOP) or your condo has crossed its Seller Stamp Duty (SSD) window, it is always good to know how much you can potentially gain if you were to list and sell your property. Not only that, you'll also need to know whether your gains would allow you to right-size to the dream home in the neighbourhood you and your family have been eyeing.
One easy way is to send us a request for a credible and trusted property consultant to reach out to you.
Alternatively, you can jump onto 99.co's Property Value Tool to get an estimate for free.
If you're looking for your dream home, be it as a first-time or seasoned homebuyer or seller – say, to upgrade or right-size – you will find it on Singapore's fastest-growing property portal 99.co.
Meanwhile, if you have an interesting property-related story to share with us, drop us a message here — and we'll review it and get back to you.
Join our social media communities!
Facebook | Instagram | TikTok | Telegram | YouTube | Twitter