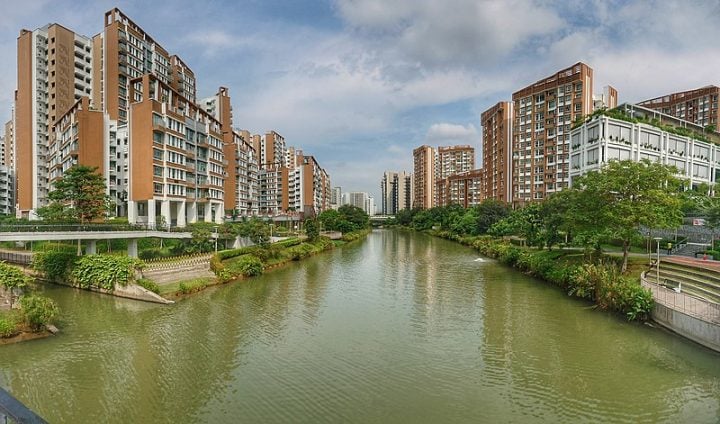 These days, flats are seen as roofs over our heads rather than "retire rich in Thailand" investment packages. But we know some of you still have an eye toward upgrading, so we looked at overall flat appreciation over 15 years, in all the HDB towns:
Appreciation of flats across HDB towns since 2004:
Top 5 HDB towns
#1. Central – 189.4% (from $214,407 to $620,474)
#2. Queenstown – 156% (from $214,886 to $550,229)
#3. Bukit Merah – 145.4% (from $232,690 to $571,1o2)
#4. Bukit Timah – 129.8% (from $354,500 to $814,925)
#5. Bishan – 110.4% (from $300,537, $632,320)
Other HDB towns
Clementi – 108.9%
Kallang / Whampoa – 104.6%
Geylang – 103.5%
Serangoon – 91.7%
Ang Mo Kio – 84.1%
Hougang – 82.8%
Bedok – 77.6%
Bukit Batok – 76.7%
Punggol – 76.5%
Bukit Panjang – 75.9%
Tampines – 74.4%
Jurong East – 73.6%
Toa Payoh – 72.9%
Yishun – 71.8%
Sengkang – 71.2%
Marine Parade – 70.1%
Pasir Ris – 69.5%
Jurong West – 67.2%
Sembawang – 50.3%
Choa Chu Kang – 49.7%
Woodlands – 49.7%
While many of the top spots aren't surprising, it's worth noting that Clementi comes very close to its neighbour Queenstown. Clementi might even come out on top in a few years: this is because the nearby Jurong Lake District and International Business Park will bring in more employees, and there's likely to be some spillover benefits.
It's also worth noting that the two other towns with appreciation of over 100 per cent are Kallang and Geylang, both neighbouring towns; and apart from developments like the Kallang Sports Hub, the two are under 10 minutes' drive to the CBD.
But let's take a closer look at the top five:
1. Central
In the central region, five-room flats were the main winners, appreciating 195 per cent over 15 years. Again, not a big surprise given how scarce and in-demand such units are. Smaller flats, such as three-room units, still managed to almost double in price (about 97 per cent increase over 15 years).
The question is, how likely is this to continue? Singapore is beginning to decentralise, with Jurong, Paya Lebar, Punggol, etc. each becoming individual business hubs. The future of Singapore may not be in the shape of a single, centralised area, which everyone rushes in and out of at 7am or 7pm. And with coming decades, the combination of decentralised business hubs, and lease decay, can make this area lose some of its luster.
That's likely to be far in the future though, and owners of central flats can still look smug.
5. Queenstown
People sneer at Queenstown as the "old folk's town", because of the large elderly population (what do you expect? It's the oldest HDB satellite town). But Queenstown is one of the most desired locations in Singapore. It's about a 10 minute drive to the city centre, so residents are a short distance away from the Esplanade, Orchard, the CBD, etc.
Until the day comes when Singapore is truly decentralised, you can expect Central and Queenstown to stay at the top of the list. And in case you're wondering, four-room flats seem to be the top winners in Queenstown, up around 114 per cent (that's about $700,000).
3. Bukit Merah
Four-room flats are the top winners in the Bukit Merah area, up around 120.7 per cent since 2004. They outpace the appreciation of even their five-room counterparts (up just around 97 per cent over the same time period).  In more recent years, one of the biggest contributors to appreciation here is our hipster community.
Tiong Bahru – birthplace of the famed Tiong Bahru Bakery – is the Singaporean equivalent of Williamsburg in Brooklyn. Once an older and more run-down area, it's been revived with avant-garde boutiques and trendy diners. We're not sure how the older residents feel about that, but it's great for resale flat values.
4. Bukit Timah
The main thing to know about Bukit Timah is that it has a ridiculous number of elite schools:
Raffles Girl's Primary School
Henry Park Primary School
Methodist Girls' School
Hwa Chong Institution
Nanyang Girls High School
National Junior College
Ngee Ann Polytechnic
That's one of the main reasons so many families want a home in this area. Bukit Timah also has an affluent demographic given that the area clusters a lot of landed properties and high-rent condominiums. Rental demand is solid, by the way, because it's one of the few places that's distinct from the concrete jungle of Singapore. The views appeal to foreigners, who can't stand the urban density of say, Orchard.
5. Bishan
Bishan's strength is its proximity to central Singapore, and in how developed the amenities are. Upper Thomson, Marymount, and Bishan East are all subzones in this area. Junction 8, Bishan North wet market, and Bishan Sports Centre (where the 2010 Youth Olympics was held) provide a ton of convenience; residents living in Bishan can stay in their town for months without feeling a need to venture out.
Also, Bishan is a common "second alternative" for those who can't get the resale flats they want in more central areas.
An interesting quirk about Bishan is that three-room flats appreciated way better than their bigger counterparts. These units have appreciated from about $170,000 in 2004, to about $374,000 today. That's an increase of around 120 per cent, whereas four and five room flats here saw increases of only about 90 per cent.
Looking for a property?
Find the home of your dreams today on Singapore's fastest-growing property portal 99.co! If you would like to estimate the potential value of your property, check out 99.co's Property Value Tool for free. Also, don't forget to join our Facebook community page or Telegram chat group! Meanwhile, if you have an interesting property-related story to share with us, drop us a message here — and we'll review it and get back to you.
Note that this content may be reproduced in edited form on our content partner sites. They include AsiaOne and Yahoo South-East Asia but are not limited to these.