If you haven't already heard, an e-scooter rider is suing a condo developer for negligence after an accident at the condo's basement carpark. He had hit a raised portion of the floor, which caused him to fly off his e-scooter and fracture his spine.
We don't know why anyone would think that riding an e-scooter in a basement carpark is a good idea, but we do know that every condo has its hidden hazards. While raised kerbs can indeed be dangerous in some cases, there's something in every condo you might not know about — that can kill you if you fall prey to it.
In June 2017, a 14-year-old British teenager went for a swimming lesson at a pool at a private leisure centre in Valencia, Spain. After the lesson, he stayed behind to play in the water. He saw a vent at the bottom of the pool and, out of curiosity, lifted off the its cover and proceeded to sit on it.
Bad move. Turns out that the vent is the pool's water purifying inlet, which draws in water at a tremendous rate every second. The moment the teenage sat on the uncovered vent, he became stuck underwater.
A bad horror movie
Now here's where it gets way worse. Struggling to free himself, the suction of the filter inlet begun ripping his intestines out of his body like a B-grade horror movie. Fully conscious of what was happening to him, the teenager realised he might be dying in the worst possible way.
Just then, an alert trainer spotted the struggling teenager in the depths of the pool. Ordering the mechanism to be switched off at once, the trainer jumped into the water to save the boy. In the meantime, other helpers dived under water to breathe oxygen into the boy's lungs.
In what must have seemed an eternity later for the teenager, emergency services arrived and rushed the disembowelled boy to the hospital. He underwent a four-hour operation to save his life and was put into the intensive care unit, with part of his intestines gone.
He survived, but there have been people in similar cases who weren't so lucky. In 2007, a 6-year-old girl was similarly entrapped and disemboweled in her local pool. She passed away after fighting for nine months, through 16 surgeries that included a liver, small bowel and pancreas transplant.
Tragedy in a Singapore condo
Called pool entrapment, these mishaps have happened on our shores as well. In 2006, a 39-year-old German national, described as a diver and strong swimmer, was apparently sucked to the bottom of the swimming pool at Goldenhill Park Condominium. Victim of a broken plastic suction drain grating, he was dead by the time rescuers extricated him.
It turned out that a similar incident had happened in the same condo a few months before the mishap. A boy had been entrapped in a separate pool's suction drain. He was fortunate to escape with only back injuries.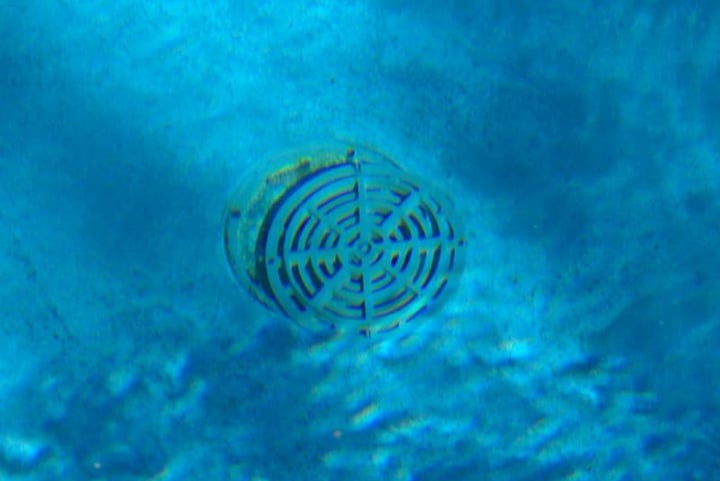 What you must do
From today onwards, if you intend to take a dip in a condo pool, or any pool for that matter, first do a visual check of any covered vents in the pool when you get in. If you spot an anomaly, get out of the pool immediately, call management, and warn anyone else who is in the pool or about to step in.
Signs of danger include broken or displaced vent covers (even if only by a little) and abnormal bubbling from a vent. Do not, under any circumstance, attempt to rectify a displaced vent cover. And spread this message to neighbours and your loved ones.
Another thing you can do is to keep yourself updated with regards to any planned or ongoing maintenance work, as well as defects within the condo. You can do so by reading the Management Circular, usually put up at the notice board at the ground floor lobby of each block.
Ultimately, when it comes to safety in a condo compound, it is the responsibility of all residents, not only the developer or the Management Committee. Be it a broken gym machine, a dangerous blind spot or a faulty lift, we can all play a part in keeping our estate safe — and potentially save someone else's life.
Voice your thoughts in the comments section or on our Facebook community page.
If you found this article helpful, 99.co recommends Why it pays to be involved in your condo's management council and Guide to buying a new launch condo in Singapore
Looking for a property? Find your dream home on Singapore's largest property portal 99.co!