Buying your first condominium is a big step, and you shouldn't be worried about the cost when the time comes. Well we say you shouldn't, but believe us, you will — the size of the bank loan is heart-stopping. If you've hit these milestones though, you can feel a lot more secure. (Yes, even with the recent tightening of the loan-to-value limits.)
Save up six months' worth of your salary, before you even think about buying
In the worst-case scenario, such as getting retrenched, six months of your salary can buy you time. It prevents situations such as being forced to sell your condominium fast (which forces you to incur the Seller's Stamp Duty and often means a financial loss), or being forced to extend your loan tenure to afford repayments.
Even if you can't get back on your feet in six months, it at least means you have time to sell your condominium at a better price.
You've paid down your debts to almost zero
When you apply for a home loan for your condo, you'll face a restriction called the Total Debt Servicing Ratio (TDSR). This restricts your total monthly loan repayments – inclusive of your home loan – to 60 per cent of your monthly income.
So if you earn $5,000 a month, your maximum loan repayment is $3,000. If you already pay $2,000 a month for your car loan, personal loans, education loan, etc., then your home loan is capped at a repayment of $1,000 per month.
That means having to make a bigger down payment, take a longer loan tenure, or both.
Aggressively pay down your debts, in the year preceding your home loan application.
You've saved up 20% of the property's value in your CPF or bank account
With the tightening of loan-to-value (LTV) ratio in July 2018, buyers taking their first home loan now have to fork out 25% upfront — 20% from CPF and minimum 5% cash — as downpayment, instead of the previous 20% (15% CPF and minimum 5% cash).
Now we understand that many first-time buyers were aiming to have just enough CPF and cash funds to meet the old limit. Now that the goalposts have shifted, you'll need more CPF funds (or cash) to afford the downpayment. For a $1 million property, this means an additional $50,000 from your CPF Ordinary Account or bank account, which could delay your purchase or force you to choose a cheaper property/unit.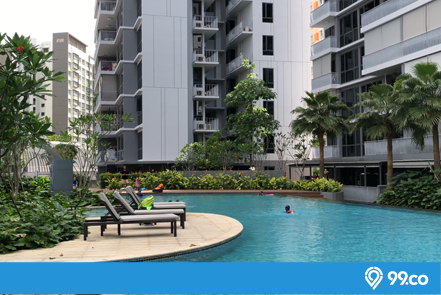 You've budgeted for the hefty maintenance fees
Condo maintenance fees are far more expensive HDB conservancy fees (around $70/month for a four-room flat). Most condo maintenance fees range from $250 to $350 per month, with some high-end condos even reaching four-digit monthly fees. The amount you'll pay is based on your share value, which you can check here.
In any case, note that many condominiums collect conservancy fees on a quarterly basis – so don't be shocked if you need to fork out over $1,000 each time the bill arrives. So, factor in maintenance fees when buying a condo and adjust your overall budget accordingly.
You've set aside a sufficient sum for the ABSD (if you're buying the condo before selling your HDB flat)
HDB to condo upgraders now have to pay an Additional Buyers Stamp Duty (ABSD) of 12% on the price of your condo unit — if they buy the unit before selling their HDB flat. This is because the purchase counts as a second property.
If you fall under this category and your condo purchase is a joint purchase as a married couple (and at least one of you is a Singapore Citizen), you're entitled to a ABSD refund on one condition: you sell your flat within six months of the date of purchase (for a completed condo) or Temporary Occupation Permit, or TOP, date (for an uncompleted condo).
So, one thing is to make sure you've got the cash ready, the second thing is to make sure you initiate the sale of your HDB flat well in advance — given the lukewarm HDB resale market — to make sure you don't miss the deadline for your ABSD refund. Our recommendation is to seek the advice of a property agent.
Your credit score is in the "AA" range
According to the LTV limit, a bank can lend you up to 75% of the condo's purchase price or valuation, whichever is lower. However, this percentage is subject to your credit rating.
If your credit is anything below AA, there's a chance you won't get the full 75%. You might be offered 70% financing instead, for example, which means you'll need a much bigger downpayment.
If you want to mend your credit score, the simplest way is to take a small loan, and then pay it back reliably. Over time, your score will increase. Oh, and of course, stop paying any loans or credit cards late.
Do this about a year before your loan application.
Your credit report can be purchased from the Credit Bureau of Singapore (CBS), for around $6.
You're properly insured
Sometimes, all it takes is one medical emergency to derail your condo-ownership plans. This is especially true if an accident or illness occurs close to the time at which you buy, saddling you with debt and probably pushing the limits of your (remaining) financial ability, after the hefty downpayment and renovation costs.
So, before you commit to buying a condo, make sure you're properly covered by insurance to prevent any last-minute disasters. Further down the road, be wary about accidents and illnesses rendering you unable to pay off the home loan (purchase a Mortgage Reducing Term Assurance as soon as you buy the condo, for example).
You're ready to cope if the interest rate rises
There's no perpetually fixed interest rates for Singapore home loans. At most, rates are fixed for a short time (often three to five years), before reverting to a floating rate. Your home loan rate, five to 10 years from now, will probably be much higher.
This means two things:
First, you must be prepared to cope if the interest rate rises. This means you need to save diligently (see point 1).
Second, you must do your homework on how and when to refinance a home loan. It's up to you to keep monthly repayments low, as the bank won't help you by telling you someone else is cheaper. Speak to an independent mortgage broker for help.
You have retirement plans that accommodate the new cost
Don't mindlessly empty your CPF savings on the house, with no thought for the future. Too many Singaporeans assume that, at retirement age, they can sell the condo and downsize, and live off the proceeds.
Never make this assumption; you don't know what the property market will be like when you retire, or what your specific property value will be when it's that old, or what new taxes the Singapore government might have implemented by then. Your retirement plan should account for the condo, it shouldn't be the condo.
Voice your thoughts in the comments section or on our Facebook community page.
If you found this article helpful, 99.co recommends 9 tips for picking a great resale unit and 4 reasons a private property may be more affordable than most Singaporeans think.
Find the home of your dreams today at Singapore's largest property portal 99.co!