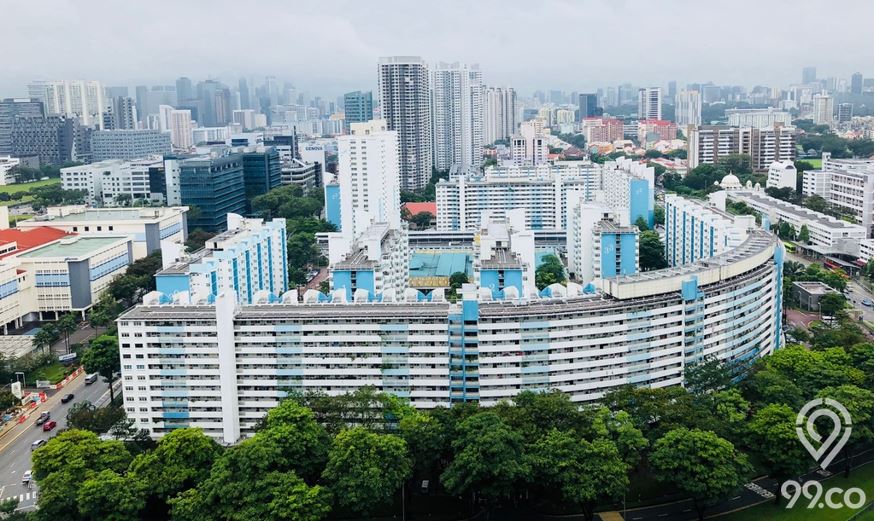 In Singapore, most properties only have a 99-year lease. But that doesn't diminish demand for old houses – in fact, some people are even more interested in them. You could say old houses in Singapore are like cheese: they get finer with age, and also tend to smell like them. Here's what you need to look for if the house is 20 years or older, besides a really good air freshener:
If you're buying to rent it out, remember the clock is ticking
Once a property has 40 years or less remaining, its resale value drops substantially. Banks will reduce financing to 60 per cent of the property value, and buyers will be faced with bigger down payments. Besides simple affordability lowering the price, buyers will also demand discounts given the higher maintenance costs of old homes.
Once the property has 30 years or less remaining, loans are usually not possible; buyers are also unable to use their CPF monies to buy the property. And while tenants don't care how much time is on the lease, rental incomes can fall faster than the rusted lighting fixtures.
All this means that the clock is ticking. You have a limited time to recoup the cost of your investment. If you're uncertain, crunch some numbers with your wealth manager – get a professional to determine if it's really a good fit for your portfolio.
Check the condition of the facilities
Condo management councils vary widely, in terms of their competence. Some can keep a pool pristine even after 30 years. In others, the pool is off-limits because the bacteria has now spawned indigenous life forms.
For home owners, you just need to check if things meet your comfort level. For investors, you need to consider how much a tenant will pay for the facilities – a gym with mostly non-functional equipment is a non-amenity, as are saunas with the temperature of a Swedish winter.
Combine this with point 1 – remember the rental income must recoup the cost of your property purchase, and fast.
Check if repeated en-bloc attempts have been made
The last thing you want is for an en-bloc to happen, within one to three years of your buying the unit. Remember you're still liable to pay the Sellers Stamp Duty (SSD), which is 12 per cent of the property value on the first year, eight per cent on the second year, and four per cent on the third year.
If you fork out S$50,000 for renovations, and then get slapped with 12 per cent SSD, you might find the en-bloc sale is actually a losing proposition for you.
Bear this risk in mind, if you see the property has been subject to repeated en-bloc attempts over the past few years. Also, get a sense of how…polite those en-bloc attempts were. The neighbours might be at Cold War status, after the last attempt (that turns council meetings into a leading source of migraines).
Check the traffic and parking at peak hours, if you're driving
Good news: old properties tend to be in mature areas, which have loads of amenities.
Bad news: the area with the most amenities also draws more people, which can turn the roads outside the property into a giant car park. You might find it takes 15 minutes just to crawl 500 metres out of your property, at peak hours.
Also, note that parking facilities at certain places – like the nearby hawker centre and market – could be a complete nightmare. These places may have been around when the population wasn't as dense, and they may not have expanded accordingly. You could end up driving in circles while  getting hangrier (hungry + angry), and that will ruin the taste of your "nearby" fishball noodles.
(Bedok North market, we're looking directly at you).
Ask about the last few renovations and maintenance efforts
Get a sense of what usually breaks, and how much it costs to fix it. Older homes generally have more problems than new ones. Right off the bat, we can tell you some of the common issues are:
Sagging doors – Many houses built between the 1970s and 90s used elaborate carved doors, which are also heavy. These tend to sag to one side, as the hinges give way. The doors will be difficult to close, and replacing them costs between S$400 to S$700 each.
This also tends to happen with cabinetry – you'll usually have to replace the entire unit, so bear in mind the cost.
Mushrooms – This tends to happen with wooden flooring, particularly near the toilet; but you may also see it in door frames. Plucking away the mushrooms does nothing – mushrooms grow from deep "roots" (mycelium), and they're more or less impossible to kill through conventional methods.
You'll probably have to rip up all the affected wood, so factor in the cost when buying.
Agents will rip away the mushrooms before a viewing of course, so look out for any old or rotted wood. Always lift up carpets and rugs that are placed near wet areas, like toilet and kitchen doors.
Electrical wiring – This isn't an existing problem per se, but one that tends to happen after you move in. Singaporeans in, say, the 1970s used less electricity than Singaporeans today (they didn't have 62,000+ devices to plug in and charge every night, for example). The higher electrical loads that your family demands may cause problems, before an electrician rectifies it.
Weak water pressure, or foul smell from the pipes – Pipes corrode, and the low water pressure usually suggests leaks. If you're lucky, a plumber can fix this for a few hundred dollars. If you're unlucky, there's a problem with a main pipe, and the repair cost will be much steeper.
Also, make sure the bathtubs, sinks, and toilet bowls drain properly.
Alway turn on the faucets to check that they work, when viewing the house.
Water heaters that don't work – Always check if the various water heaters work. These are one of the most common faulty appliances, in old houses. Also, note that water heaters in kitchens are a fairly recent thing (common in condos since the early 2000's only). In older houses, you'll probably have to install one.
If you found this article interesting, 99.co recommends the 7 deadly sins of Singapore property buyers and the big leasehold debate.