One of the late Lim Kin San's major ideas for the HDB-building process was to require that they be built to set specifications and measurements. This accounts for why neighbourhoods as far away as Clementi and Bedok, can still look pretty much identical to one another. But besides looking alike, the experience of growing up in HDB flats are surprisingly similar too. Here's a look at some of the more uniquely Singaporean things you would have seen if you'd grown up in any HDB estate.
Karung Guni Man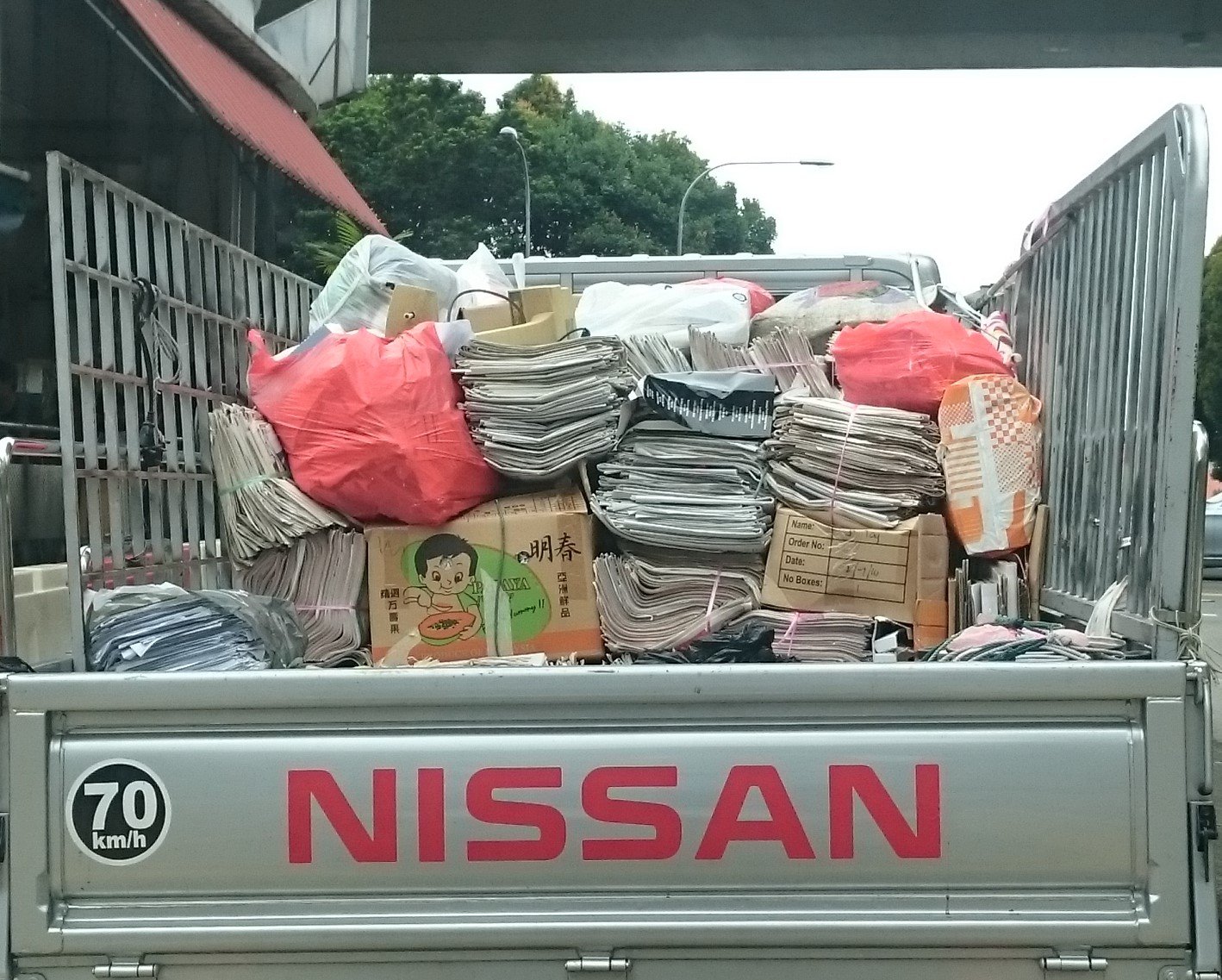 Source: Mokkie
Ah. The Karung Guni Man.
Who amongst us hasn't been woken up (far too early!) by the honking and loud cries of "karuuuuuuung guuniiiiiiiiiiii", followed by the hurried shuffling of family members as they gathered old newspapers and other odds and ends to palm off to him?
Unfortunately (though maybe not for your beauty sleep), the karung guni trade is fast dying out in Singapore, facing stiff competition from newer, more technologically savy recycling and waste disposal firms, and it may well soon go the way of the Ting Ting candy man.
Void deck Malay weddings / Chinese wakes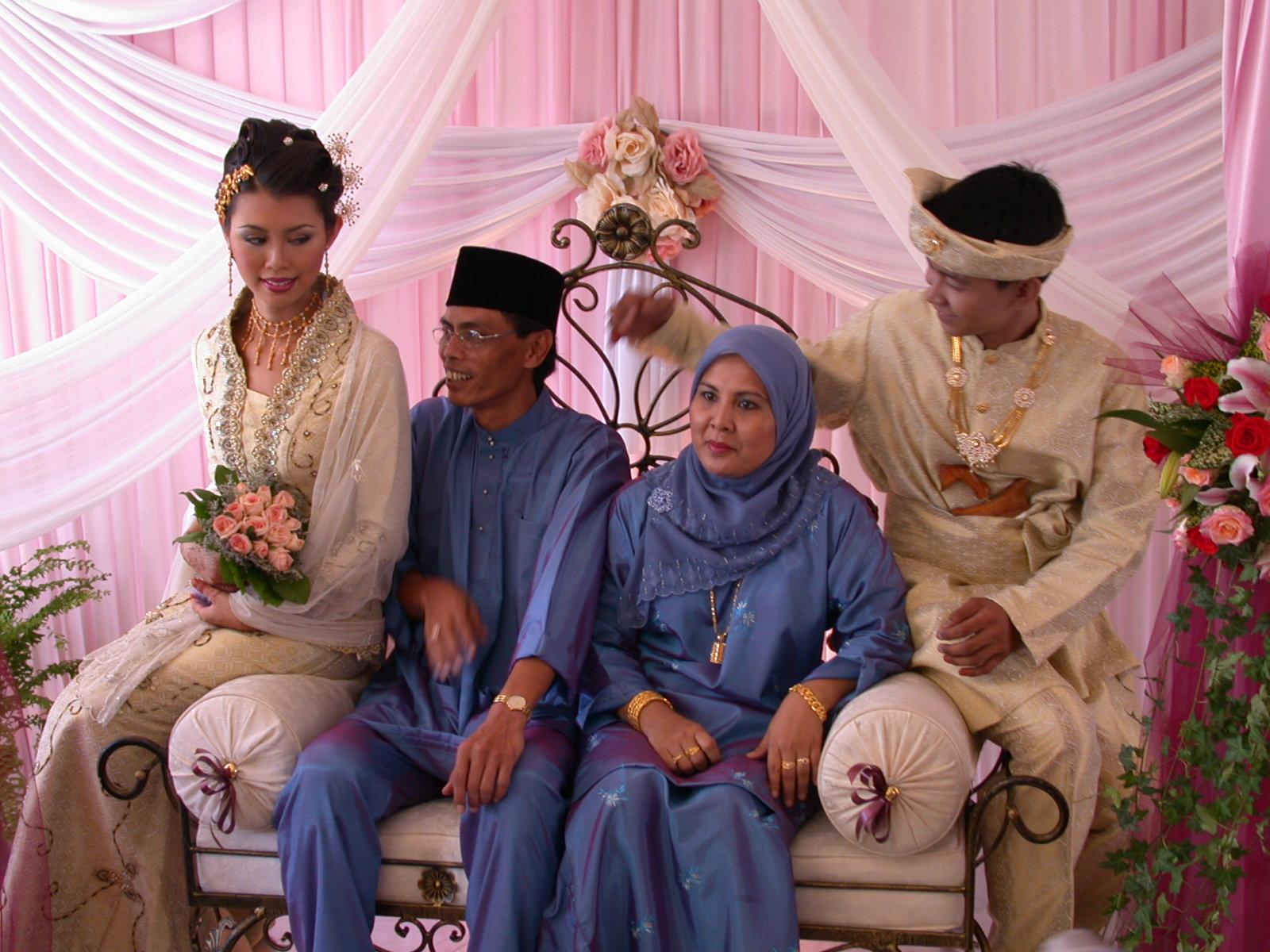 Source: madaboutasia
The void deck commonly plays host to both Malay weddings, as well as Chinese wakes.
One venue. Two very different types of events.
And while it may seem odd to foreigners unfamiliar with our culture that events on such extremes of the spectrum can be held in the same venue, it's become so much part of the fabric of our uniquely Singaporean society that nobody really bats an eyelid.
Kids playing at the void deck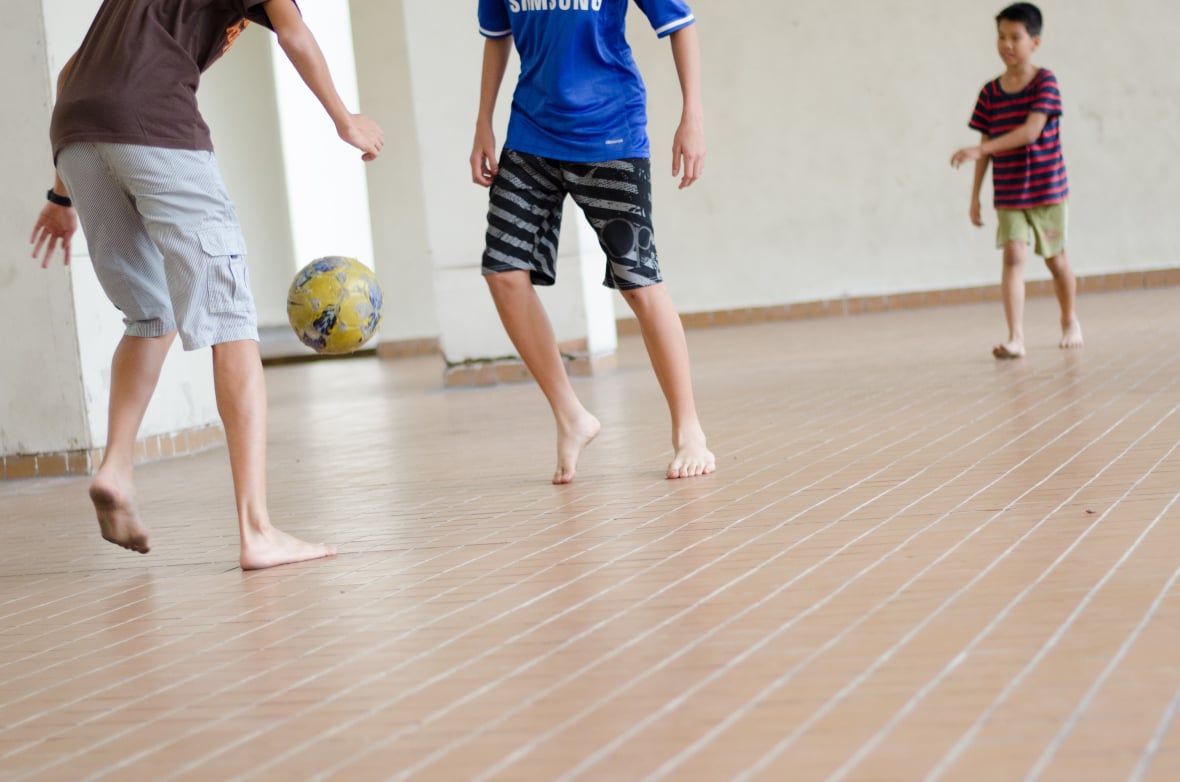 Source: ThePottersHand2011
Granted, most kids these days are probably playing football on their X-Boxes rather than on an actual field, but there's still a handful that actually still go out of the house to get their exercise!
Whether it's football, a game of catch or a round of badminton, you'd no doubt have grown up seeing (or being part of) the group of kids playing together at your void deck.
Tai Chi-ing senior citizens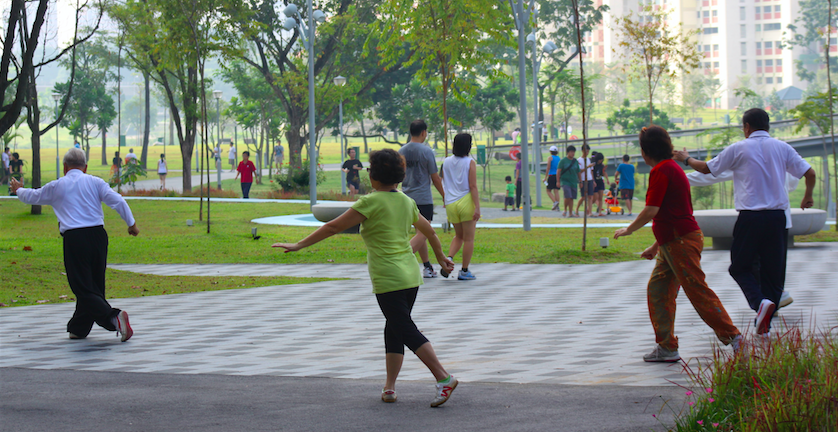 Source: Atelierdreiseitl
If you've ever been confused by what appears to be a group of elderly residents swatting flies in slow motion, you're not alone. They're actually practicing Tai Chi (an ancient form of martial arts), meant to keep them strong in mind and body.
It seems almost a prerequisite that each HDB estate have at least one group of Tai-Chi practicing elders!
Green Van Man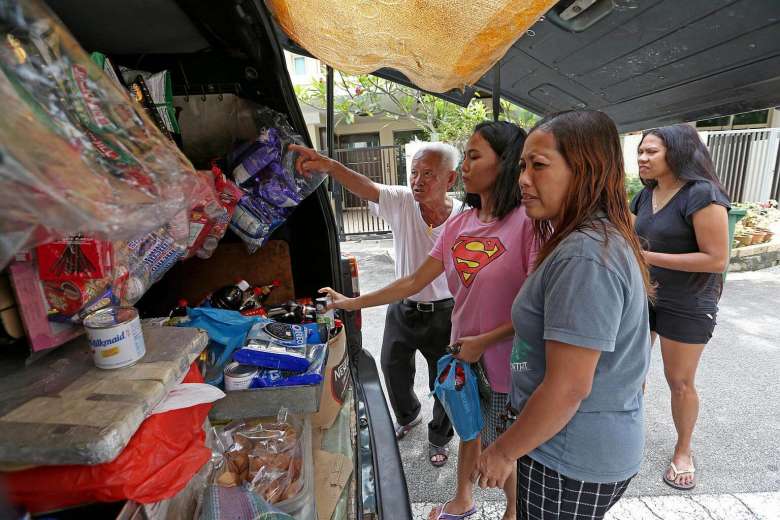 Source: ST Photo – Wang Hui Fen
I might be giving my age away here, but one of my favourite parts of growing up in an HDB estate was the arrival of what we called the "Green Van Man" (though the name might differ according to the colour of the van that visited your estate).
Without fail, we would all break away from whatever it was we were doing (most often a game of Catch at the playground) as soon as we heard the short, sharp honks of the Green Van Man's small rubber horn. Once the back of the van was opened, revealing a treasure trove of sweets, chocolates and toys…let's just say it's no wonder I was a chubby child.
Concrete Chinese Chess Tables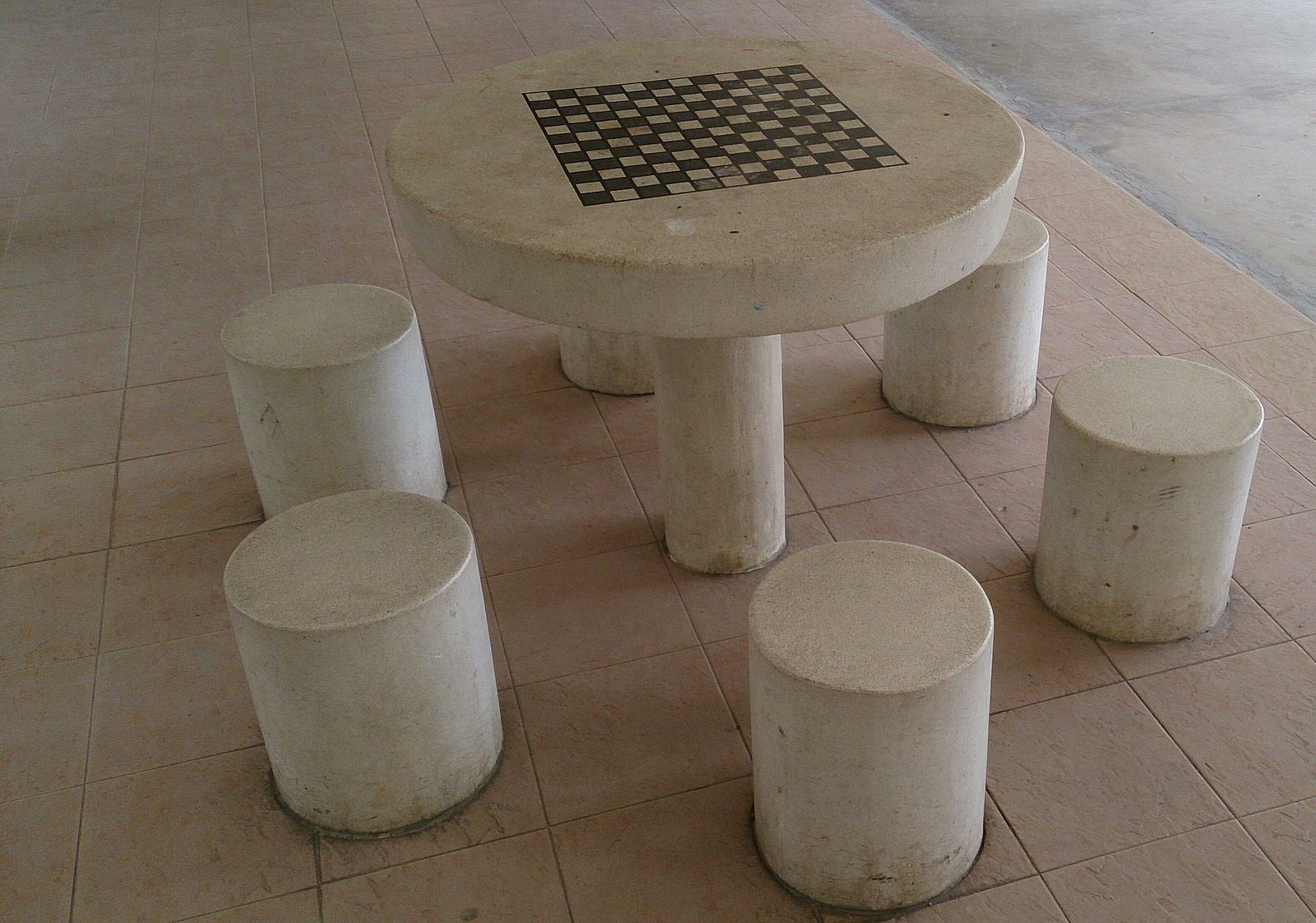 Source: ProjectManhattan
Yet another uniquely Singaporean staple that's going the way of the dodo are the Chinese chess tables that dot void decks of older HDB estates. These consist of a concrete table with a chessboard drawn or tiled onto it, and about 6 concrete stools surrounding it.
It probably would have been great for a game of chess, but it seemed to always be used more for Singaporeans' first obsession: eating.
Mamak Shops
Source: Maksym Kozlenko
Mamak (or Mama) shops are also a uniquely Singaporean institution. Located at the void deck of HDB estates, they're the one-stop-shop for residents, whether they're looking for a carton of eggs or a badminton racket.
Again, facing stiff competition from chain stores like NTUC and Sheng Siong, we're seeing less and less of these friendly, neighbourhood shops so go support them before they're gone altogether!
Are there any other things you remember growing up with and think should be on this list? Share them with us in the comments section below!