Want to plan your renovation budget but have no idea what kind of costs to account for? Fret not, we have compiled a price guide with estimated costs of the various renovation works for you.
This is the only price guide you will need for your budget planning. Pair this hand in hand with the home projects further breakdown we have in our app to get a rough gauge on your total renovation cost.
1. Flooring and Tiling
Looking to replace your interior's existing flooring with parquet or homogenous tiles? Different flooring materials have different costs, not forgetting the cost of labour which includes foundation and laying of tiles. Total cost depends on size of area as well as type of flooring or tiles chosen.
Marble: $10 – 15 per square feet (psf)
Laminate: $3.50 – 4.50 psf
Vinyl: $6 – 7.50 psf
Ceramic or Homogenous tiles: $3 – 15 psf
Parquet: $7 – 14 psf (depends on short or long length strip)
Granite: $10 – 20 psf
Labour: $3 – 10 psf
Average cost for HDB apartment (3-5 room): $6000 – 9000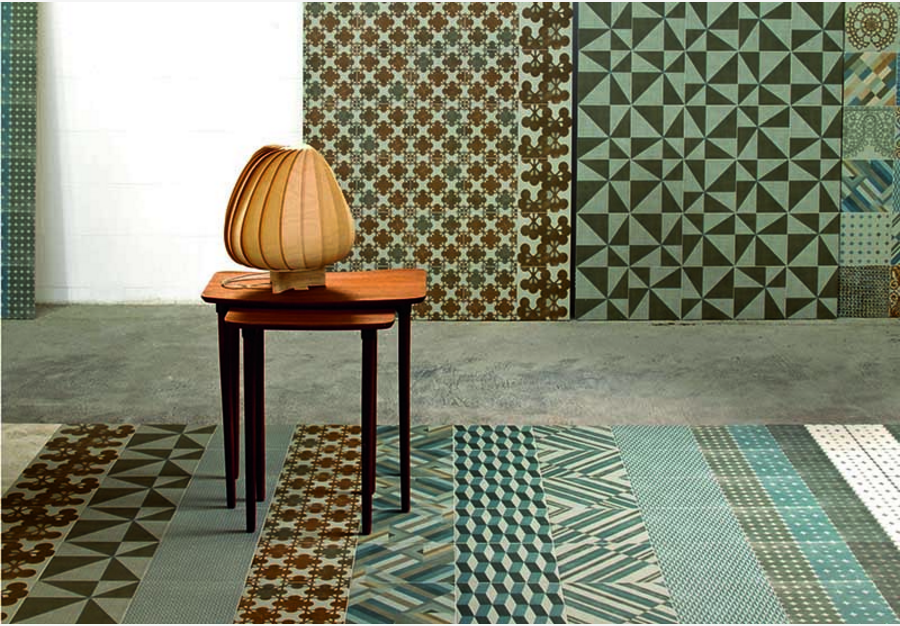 RICE Tiles
2. Hacking of Walls
Be it partial or full demolition, hacking of walls is common during renovation works. This could be to combine two rooms into one, open up the space in an area or replace existing wall with other partition materials such as glass. Costs depend on the size, thickness and amount of hacking needed.
Editor's Tip: Hacking of certain walls require a permit and prior approval so be sure to check to check with your HDB or condo management.
Hacking of one wall panel: $40 – 60 per foot run
Average cost for multiple hacking work in an HDB unit: $2000 – 5000
Editor's Tip: Remember to check with your contractor if quotation includes haulage and clearing of debris.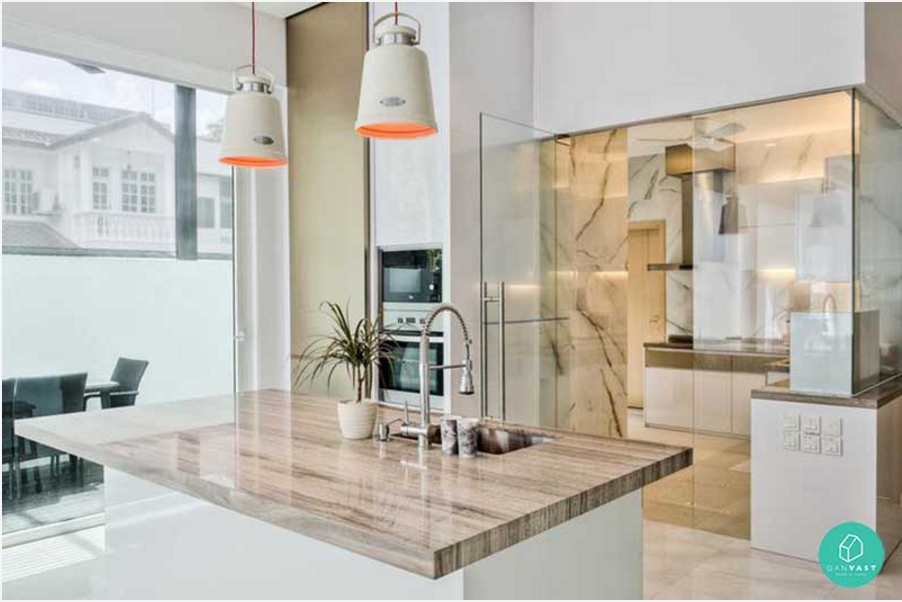 Interior Designer: Blackjack Interior
3. False Ceiling
False ceilings are a great way to elevate the overall look for your house and also conceal service lines and cables. Many homeowners use them in living rooms or bedrooms to install recessed lighting. Costs vary depending on area covered, however ultimately the cost depends on the design homeowners are looking for.
For HDB: (Height of 8.5 feet)
False Ceiling: $4 – 10 psf
For Condo and Landed properties: (Height of more than 8.5 feet)
False Ceiling: $6 – 12 psf
Interior Designer: Living Gaia
4. Carpentry Work
Carpentry is essential in an interior as it is typically the first thing a person notices when they walk into your newly renovated home. From the kitchen to the bathroom, carpentry is needed in every part of your house. The cost for carpentry depends on the materials used and the amount of workmanship required.
Living Room
Shoe cabinet: $250 – 350 per ft. run
TV console: $150 – 300 per ft. run
Settee with storage: $120 – 160 per ft. run
Display cabinet: $220 – 500 per ft. run
Kitchen
Kitchen cabinet: $110 – 180 per ft. run
Kitchen top: $75 – 180 per ft. run
Bedroom
Wardrobe: $200 – 350 per ft. run
Bed Frame: $700 – 2000 per set
Bedside table: $200 – 350 per set
Study Room
Study table (with drawers): $150 – 300 per ft. run
Suspended table (without drawers): $90 – 150 per ft. run
Book cabinet: $220 – 500 per ft. run
Bathroom
Vanity table: $120 – 150 per ft. run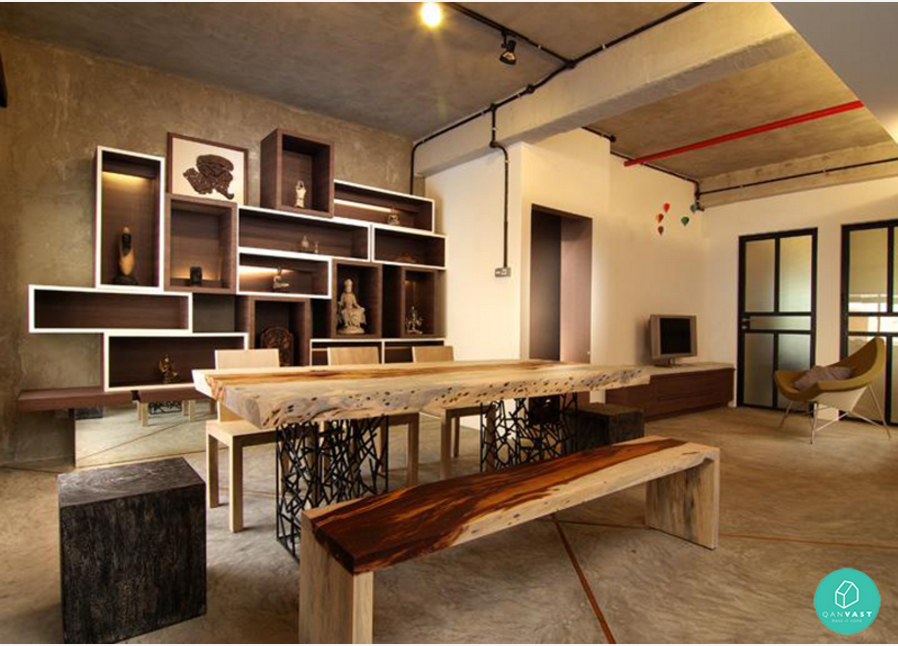 Interior Designer: Project File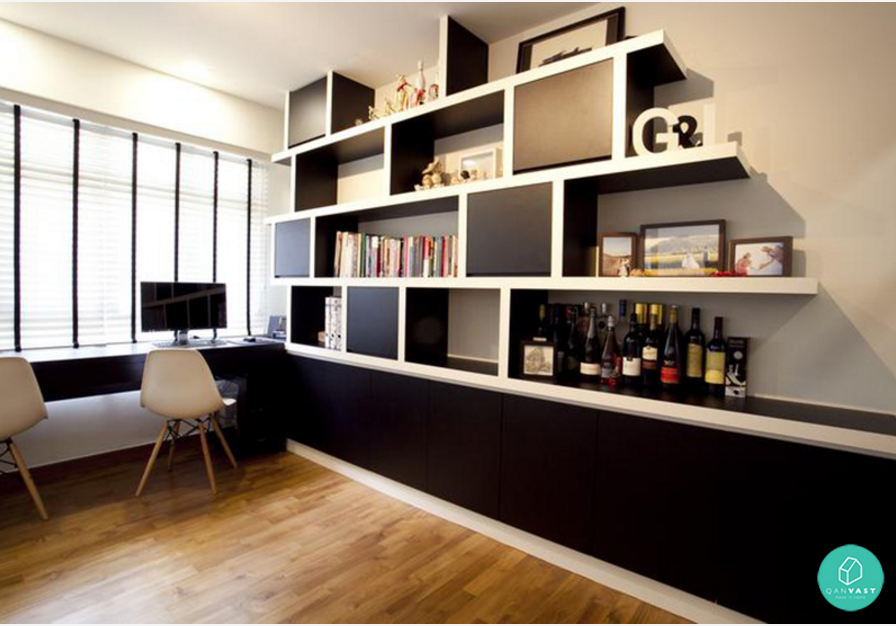 Interior Designer: Voila
5. Paint
Just like women adorn themselves with makeup, paint beautifies your home. The colours, shades and style of painting you choose add character and bring your interior to life. Surface area and painting costs are directly proportional so the size of your home will determine cost of painting. Costs may differ based on type of paint chosen as well.
HDB (3 Colours + White (Ceiling)): $1000 – 1700
Condo (3 Colours + White (Ceiling)): $1100 -1900 *
*Costs listed are excluding primer and sealer. Consider getting sealer and primer to help paint last longer.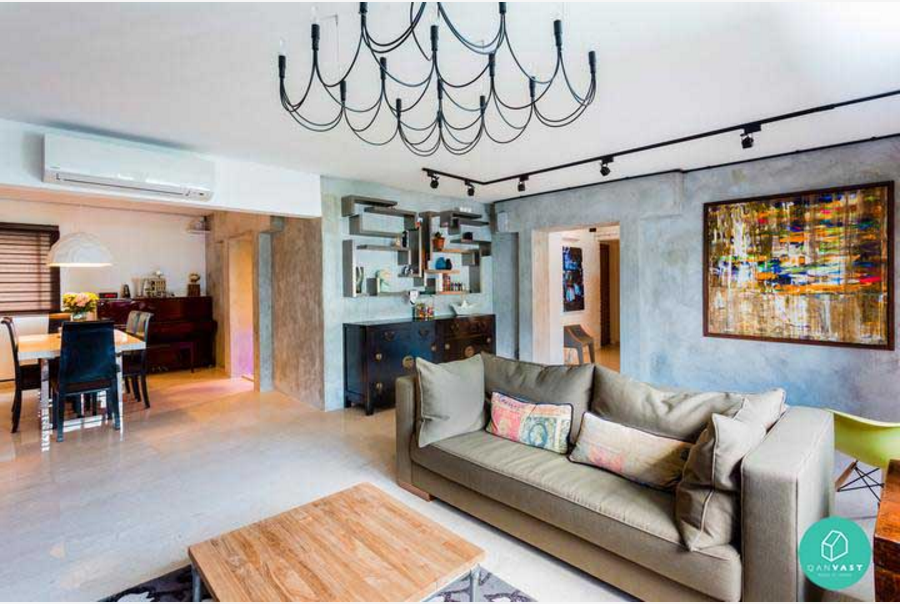 Interior Designer: Co. Prozfile
6. Feature Wall
A feature wall acts as a statement piece in a space and is a great way to add another dimension to your interior. While craftstone feature walls are popular amongst Singaporeans, there are several other materials you can experiment with to create that eye-catching wall. Of course, costs depend on material chosen as well feature wall area.
Using Craftstone: $60 – 80 psf
Using Wood/Stone Looking Tiles: $15 – 30 psf
Using Solid Core Wood and High Quality Laminate: $20 – 40 psf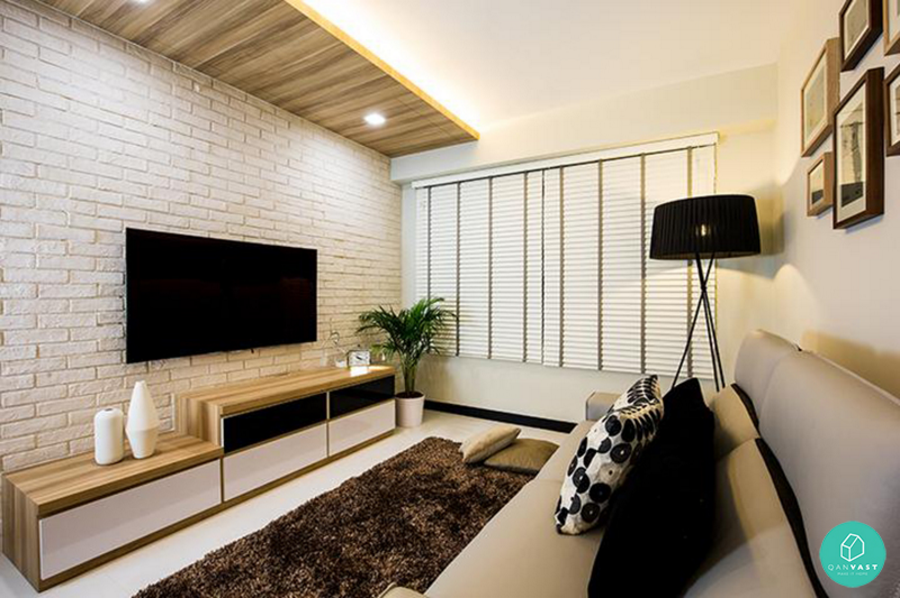 Interior Designer: Thom Signature Design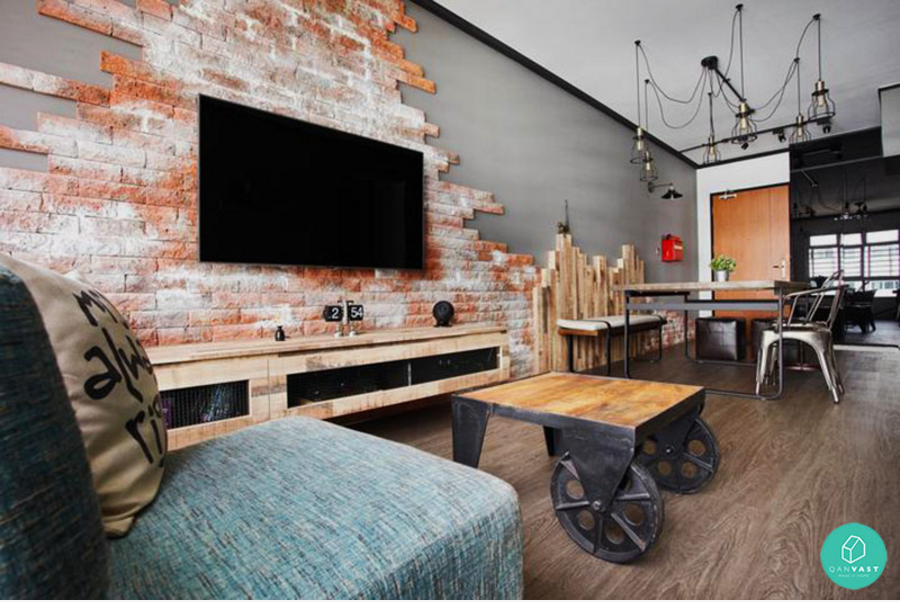 Interior Designer: FSI
7. Electrical Re-wiring
Electrical costs ultimately depends on the amount of work required in your house such as the number of power points, lighting points and cable points. Concealment of wires and plastering will also affect pricing for electrical work. Since prices differ from electrician to electrician, we have included a range of costs to allow more accurate budget planning.
Editor's Tip: Remember to check with your electrician if costs include concealment and plastering work.
13amp Power Point (single): $80 – 90 per point
15amp Power Point (double): $70 – 160 per point
Lighting Point: $45 – 70 per point
2-Way Switch: $100 – 150 per piece
Install Water Heater Point: $120 – 150 per point
Telephone Point: $80 – 140 per point
SCV Point: $130 – 180 per point
Installation of Lights: $8 – 20 per light
Installation of Pendant Lights: $15 – 30 per light
Installation of Ceiling Fan: $40 – 55 per fan *
*All prices indicated do not include concealment and plastering work
8. Plumbing
During bathroom renovation, plumbing is one of the prominent costs incurred. Our guide includes installation costs for bathroom necessities. Price for bathroom products such as toilet bowl and basin depend on quality, size, type and brand.
Install Water Heater: $100 – 150
Install Toilet Bowl: $120 – 150
Install Wash Basin and Tap: $50 – 100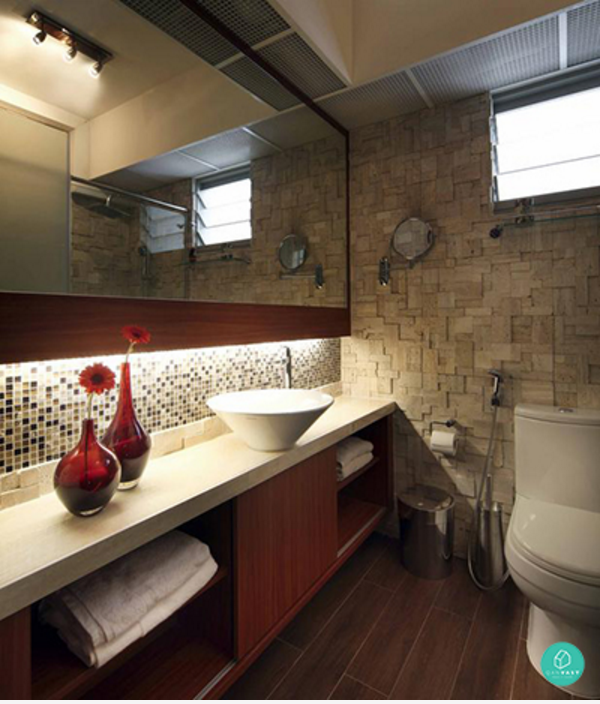 Interior Designer: Boon Siew D'sign
Disclaimer: Costs are based on estimates from various sources and interior designers. Prices may differ from place to place depending on merchant, quality and type of work required.
---
This article originally appeared on Qanvast.
Ready to find a home you'll love? Go to 99.co!