Effective from 17th Nov 2015, as part of our continued efforts to make finding a home in Singapore a transparent and reliable experience, we have halted accepting and removed existing direct Landlord/Seller listings.
We're deeply sorry if this causes frustration. We're doing this because we want to make sure that we offer the best possible experience and sadly, it's no longer possible for us to support landlord listings.

Our goal is to be a platform for all participants in the property market – renters, buyers, landlords, sellers, agents – to make it a more efficient, transparent marketplace that is a win for all.  

What we have observed and learned over the last year of operations is that, while there are genuine sellers/landlords who are motivated to put up their own properties for rent or sale (and this would mean more interesting choices for buyers and renters), there are also a lot of abuse in an open-listings system where everyone can list items without a strong verification process in place.
Why did we remove it? – Scams

The truth is, there is no bullet-proof way for us to prevent scams, if simply let anyone sign up for an account to post listings – something we found out the hard way.

Over the last 6 months, we have blocked over 100 scammers uploading fake listings, who's intent might be to cheat the consumers of their advance payment for rental or deposit, etc. In order to prevent this, we have full time staff to manually screen around 500 landlord submitted listings each week, to make sure that they are authentic as far as we can tell. And even then – many tend to slip through the crack because they look real and can only be discovered as scams when you enquire.

What's worse is that these listings are often priced at very attractive rates for the quality and location of the apartment, so they are often the ones that get the most views and enquiries,such as this one below.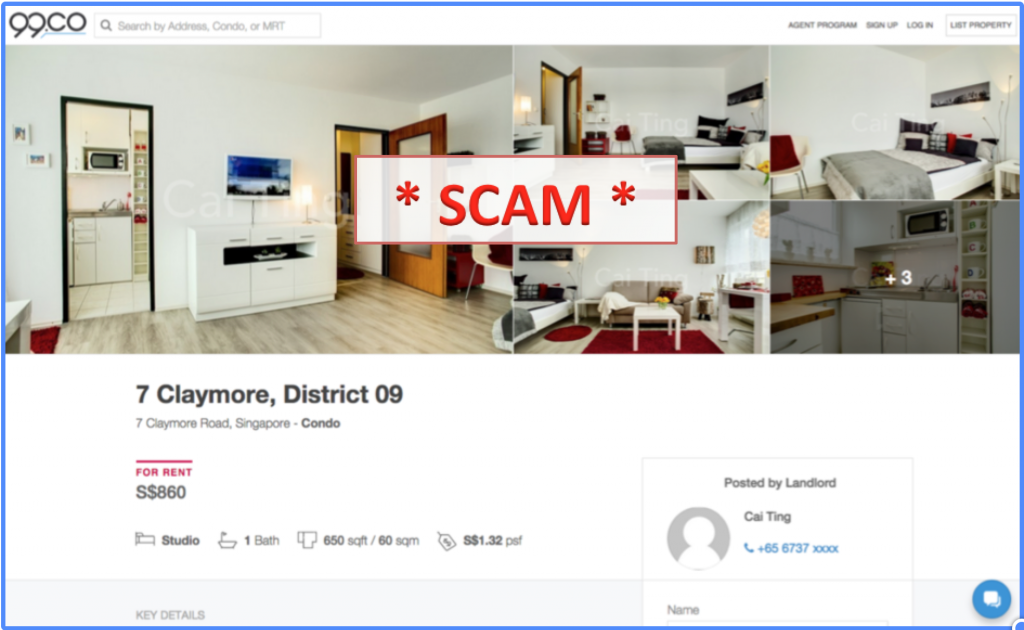 We are very grateful for the many consumers who spotted them and immediately flagged them as scam listings, so we could remove them. However there are many more who would spend a lot of time enquiring about them, being hopeful to find a wonderful home at a great price, only to grow suspicious when they can't view the apartment and eventually disappointed when they realise these are scams.

We have had several close calls of home seekers almost wiring money to scammers, but fortunately, we have not had a case of actual fraud or loss due to scam listings thus far, but it is bound to happen if we let scam listings to continue to live on 99.co.

This is not to say that listings and information put up by agents are always accurate, but since each agent is individually registered, they would be accountable to their listings, and because they are repeat users posting property day-in day-out, we could design product and user experiences to incentivise agents to improve the quality and accuracy of their listing over time.

In our goal to make sure every listing is real, reliable, accurate and responsive, we have decided to remove all direct listings for now, until we find an effective way to ensure that all direct listings are authentic.

Shouldn't landlords/sellers get a chance to market their own properties?

Of course! This is the age of internet where information flows freely – there are a million ways to post anything you own for sale online nowadays. We recommend that in this interim period you put it up on other marketplaces, such as Carousell or Gumtree.

Unfortunately for now, on 99.co, we will not be providing landlord listings until we find a way to efficiently verify landlords and property information in a scalable way. We are very open to any ideas you might have too. Do drop us a note at hello@99.co if you have any suggestions!

What's the best way to rent out or sell my property?

We realised that many landlords/sellers who want to market their property on their own do so because frankly they don't know an agent whom they trust to do a good job. After all, if an agent can help you get a good buyer or tenant faster, at a better price, instead of letting the property sit vacant, and do all the work for you, there is no reason not to use one – the challenge is how to find a good professional one who is worth the money. 

A good agent not only handles all the painful processes, they would also invest their time, effort, network and resources in helping you market the property in various ways, and they may even have a stable of customers or referrals they can match to your property as well. In our experience dealing with thousands of agents over the last year – we have met very good agents and others who has some room for improvement, and we believe the good ones can really help landlords and sellers tremendously.

Thus we are launching a pilot program to find a good agent to help sell or rent out your property. 
Get started here –

For Landlords/sellers – Rent out/Sell my property for me

The agents we would recommend would go through an interview with 99.co and we would ensure they are capable of helping you sell your property.
Thanks for understanding. Email me at darius [at] 99.co if you've got any questions!

Darius
CEO, 99.co