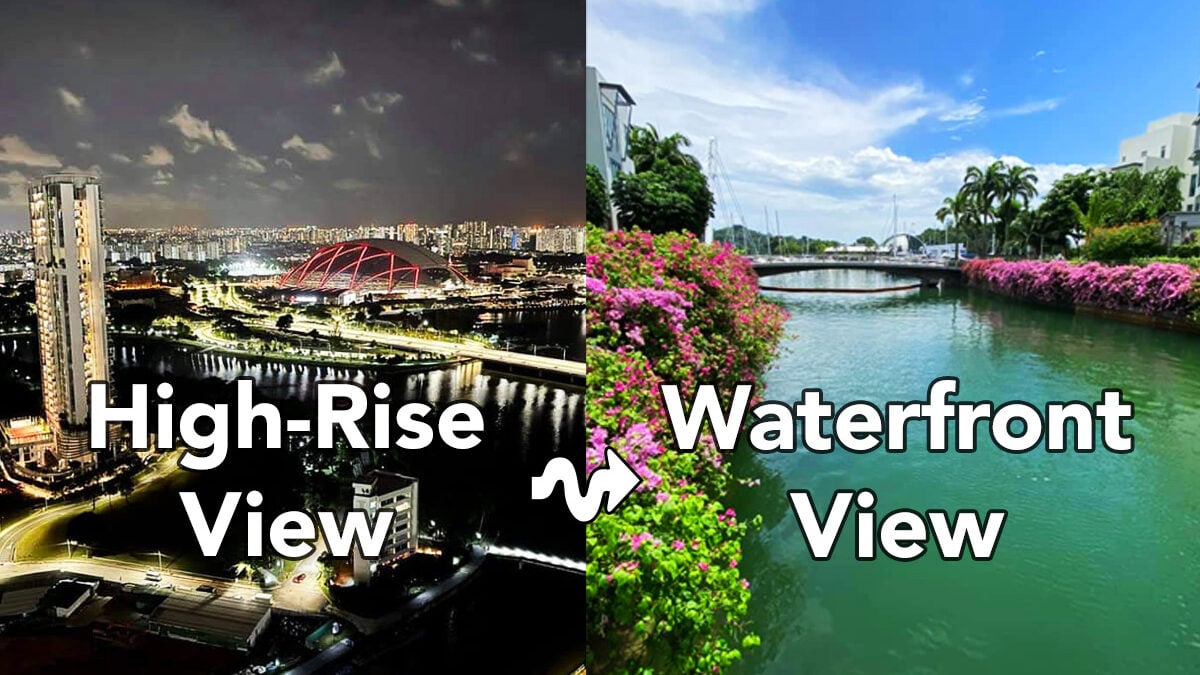 When Priscilla and Philip, who are both in their 40s, got married in 2020, they were renting a 2-bedroom condominium apartment in Lavender. Being on the 32nd floor, they had an amazing view of the Kallang River, the Singapore Sports Hub and most of the landscape beyond.
However, being newlyweds, they also wanted to own their first home together.
"We are individuals who enjoy our 'me-time' as much as our 'Us-time'," Priscilla said. "Having our own rooms to enjoy our different hobbies, pastimes or work was something we both agreed was a key consideration for our new house. We have no prior experience buying in Singapore though Philip owns an apartment in London."
So it came as no surprise that as they embarked on their home-buying journey, they knew they may not find a home with a similar high-rise view they were enjoying at the time. What they didn't expect though is that it would be one on a much lower floor instead.
In search of a matrimonial home
As their previous house was very near to the Kallang Riverside Park, Priscilla's husband would go for dragon boat sessions and the couple would take their evening walks by the river. It was a blissful neighbourhood that continually kindled their romance as husband and wife. So when they started searching for a home, that would naturally be on their criteria.
"We also wanted to have convenience (walking distance to the train station, hawker centre and other food places), minimum 3 bedrooms and at least 1200-1300 sqft."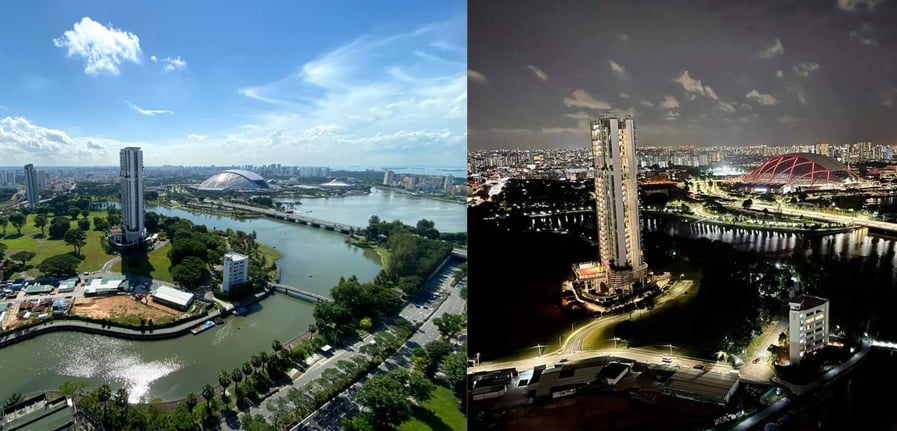 Priscilla and Philip spent months searching for the right unit with the help of their property agent. "We viewed properties in several areas, including Redhill, One-North, Rochester and Clementi. We wanted to be near the city but not right in the CBD.
"We made a couple of offers for different properties but were somehow unsuccessful, either due to prices or timing. Many units had sitting tenants who were months or even years from the end of their lease. But we reminded ourselves to be patient and not be too disappointed when an offer didn't work out. We continued to do research and spent many weekends and some evenings on weekdays viewing houses."
Their patience was rewarded eventually.
"During our search, Philip mentioned that it'll be great to be near a river, park or the sea. As he goes to Sentosa every weekend for canoeing, he suggested looking around the Keppel Bay area." The suggestion was also timely, as they had former colleagues who live at the Caribbean At Keppel Bay condominium.
The development was completed in 2004 and has a 99-year lease. Spread across 23 blocks, it has 969 units of 2, 3 and 4-bedroom apartments with a maximum of 10 floors.
"We asked our property agent if there were available units there for viewing. The Caribbean At Keppel Bay is also within walking distance to Vivo City, Harbourfront Centre and Seah Im Food Centre. We can also walk to Labrador Park, Sentosa, Mount Faber Park etc. It ticked all our boxes."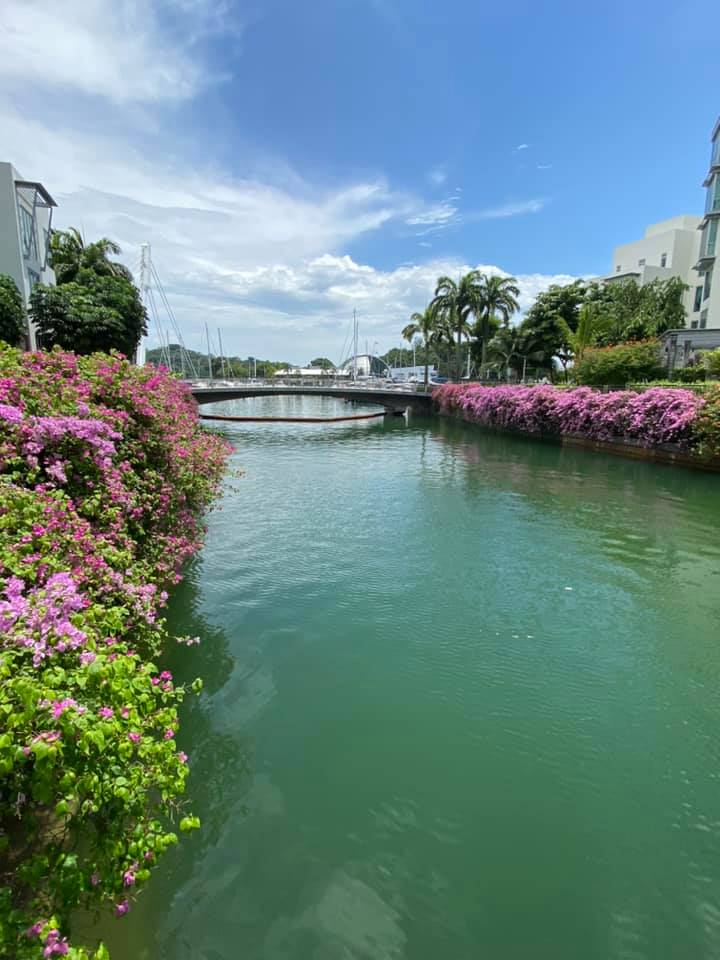 So instead of looking for a high-rise apartment, Priscilla and Philip traded their high-floor city view for a calm and beautiful waterfront view. The apartment they eventually got is a 3+1 bedroom resale apartment with 1,335 sqft of space. In the current market, a 4 room unit costs between S$3m-5m.
"We loved this property at first sight. It is surrounded by nature and lush greenery. With its sea-facing tranquillity, there's a lovely sea breeze and the great waterways right up to the entrance of our block."
Move-in and renovations
After securing the resale unit, the couple had to do renovations before they could move in.
"There were definitely some anxieties throughout the purchasing and renovating process – everything from finding the right property agent, the right ID, a tonne of paperwork, packing and unpacking etc.
"We didn't bring any furniture or appliances over from our previous place, so we had to look for and buy almost everything in the house from scratch. We spent a lot of time shopping for the essentials like mattress, furniture, fridge, oven etc. Due to the pandemic, some of our furniture could not be delivered on time. We only just received our sofa a couple of weeks ago, despite placing the order in May 2021."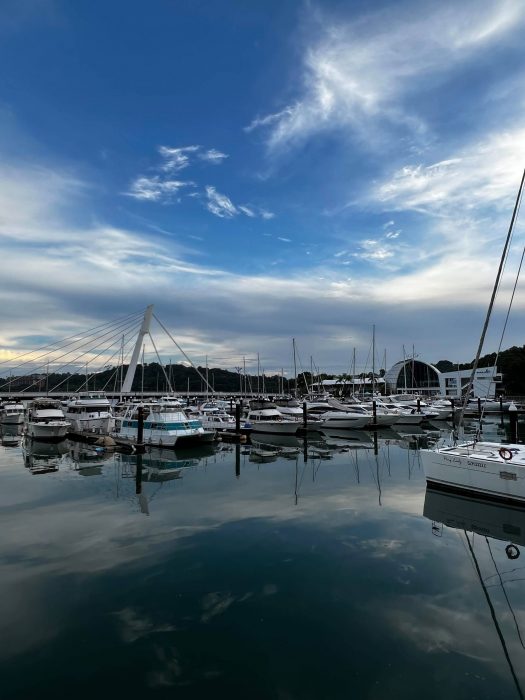 Priscilla admitted that they underestimated the time it would take to find their home and renovate it. The pandemic also didn't help, which added more pressure not just on their interior designer and contractors, but on the couple as well.
"Our last place was a rental and we had to move by an agreed fixed date. When the renovation was delayed due to Covid, we had to move into a service apartment while trying to find a large enough space at the new house to move our packed boxes for storage.
"Having an agent was very helpful for logistics and negotiations. However, as a buyer, we have to put in the hours searching property listings, shortlisting and sometimes providing suggestions to the agent ourselves. Doing some homework on our part definitely gave us a better chance of finding our dream house."
In September 2021, when the renovation was about 95% complete, Priscilla and Philip moved into their new home.
Settling in and enjoying the view
Now that their apartment's fully completed, the couple is extremely thankful.
"My husband loves our little balcony. He enjoys sitting with his coffee and watching the sunrise on the horizon. We just have to look out and there's the view of the waterways.
"My personal favourite feature in the house would be my custom-built floor-to-ceiling bookshelf. Although it is not as big as I would like and not as fancy as those seen on Pinterest, it is one of the main features of our living room. Most of our friends and family also seem to like our open concept kitchen."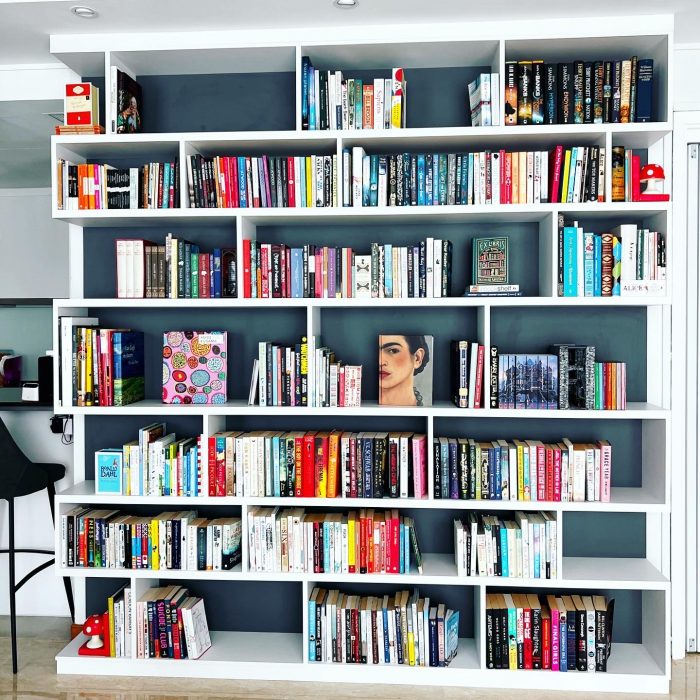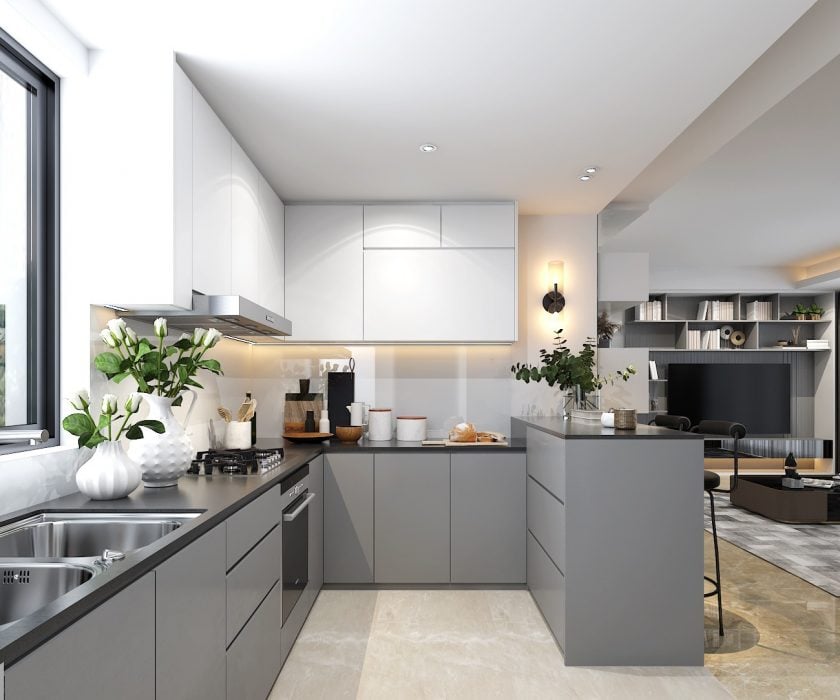 "We also each designed our own rooms and spaces for our hobbies. Mine is a little home art studio for me to create art and paint. He spent his free time in his room playing computer games and watching his favourite shows so he has a large Everdesk and multiple screens. We also enjoy having our own private lift lobby! It gives us a lot of privacy."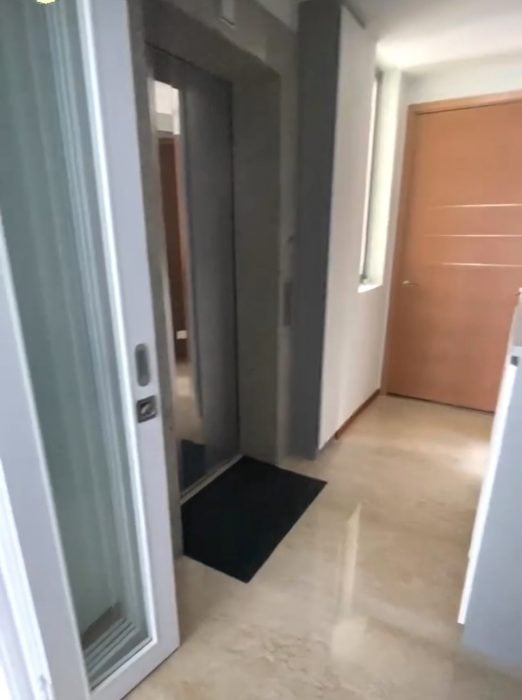 As for the next stage of their home-buying journey, Priscilla has this to say: "Enjoy our place for at least 5 years! Moving is a very tiring process! There are some amazing units in neighbouring condos with larger balconies that we can dream about…"
Insights to Share?
Have an earlier time frame
If you are buying a resale unit and have a timeline in mind, such as having to move out of your current place on a certain date, start searching earlier rather than later. Although nobody could have predicted Covid, we wished we had started our search and renovation earlier.
Research into plans for the surrounding areas
You really don't want to move in, only to realise there will be major construction going on opposite your unit. Imagine the loud drilling, noise and dust when you are working from home. Our previous place had 3 constructions going on at the same time and it was extremely inconvenient and annoying.
Do a lot of checks
If you are looking at a slightly older or more mature property (the Caribbean is about 18 years old), there are a lot more things to look out for. One advantage is there is a longer transaction history to refer to for price patterns. If it's a fairly large estate, then it is important to check if the management is competent in the maintenance of the overall condo environment as well as the facilities.
Inside the unit, check for leaks – it is quite common in older condo units. Make sure the problem or issue can be controlled and rectified during renovation.
Start searching for an ID and contractor early!
Everyone has heard or knows of friends who have horror stories about renovating a new house. We researched by asking around among our friends and read reviews online. We met and discussed the renovation project with 6 different IDs. Ultimately we were very fortunate to find a really understanding and patient ID, Clive from iDID who understood our different needs and style preferences.
Account for unexpected expenses in renovation
We had a budget. We blew our budget. Definitely, a lesson learned for us. Remember to put aside additional miscellaneous budgets. Somehow, there will always be small items that require an additional budget and they add up to quite a bit!
–
Properties for sale at Caribbean At Keppel Bay
Caribbean At Keppel Bay
40 Keppel Bay Dr · D4
4
4
$4,200,000
Caribbean At Keppel Bay
46 Keppel Bay Dr · D4
2
2
$1,700,000
Caribbean At Keppel Bay
46 Keppel Bay Dr · D4
3
3
$3,000,000
Caribbean At Keppel Bay
46 Keppel Bay Dr · D4
4
4
$6,500,000
Caribbean At Keppel Bay
40 Keppel Bay Dr · D4
4
4
$4,200,000
Caribbean At Keppel Bay
44 Keppel Bay Dr · D4
3
3
$2,700,000
Caribbean At Keppel Bay
46 Keppel Bay Dr · D4
4
4
$4,980,000
Caribbean At Keppel Bay
12 Keppel Bay Dr · D4
4
4
$4,000,000
Caribbean At Keppel Bay
46 Keppel Bay Dr · D4
3
3
$3,200,000
Caribbean At Keppel Bay
46 Keppel Bay Dr · D4
3
2
$2,398,888
–
Do you have a home-buying journey to share? Let us know in the comments section below or on our Facebook post.
If you found this article helpful, check out Couple overhauls 2-storey Jalan Besar penthouse, converts master bedroom into bar with beer-on-tap and From city-living to Sentosa Cove condo: How a family's love for golf made them uproot for a "resort" lifestyle.
Looking for a property? Find the home of your dreams today on Singapore's fastest-growing property portal 99.co! If you would like to estimate the potential value of your property, check out 99.co's Property Value Tool for free. Also, don't forget to join our Facebook community page or Telegram chat group! Meanwhile, if you have an interesting property-related story to share with us, drop us a message here — and we'll review it and get back to you.