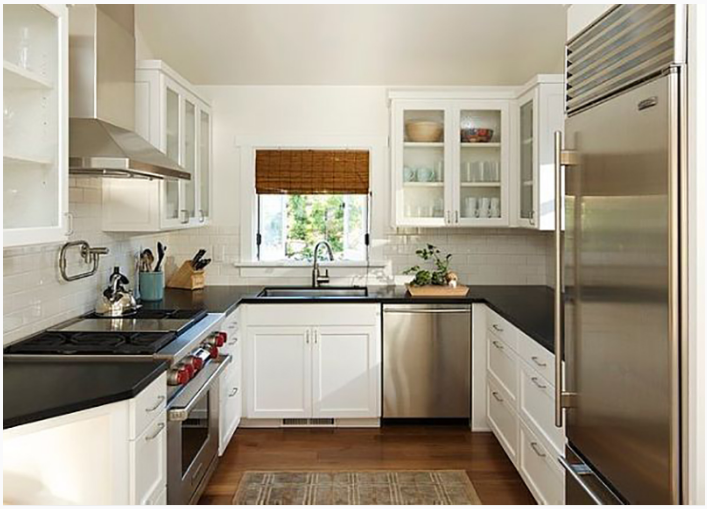 When you're cooking, it's nice to be able to go from refrigerator to sink to cooktop and oven with ease. No matter what size your kitchen is, it's helpful to observe the concept of a work triangle, the shape you should follow when assigning the positions of the three working points in your kitchen: the cooking area (cooktop and/or oven), wash area (sink), and food storage (refrigerator, freezer, and pantry).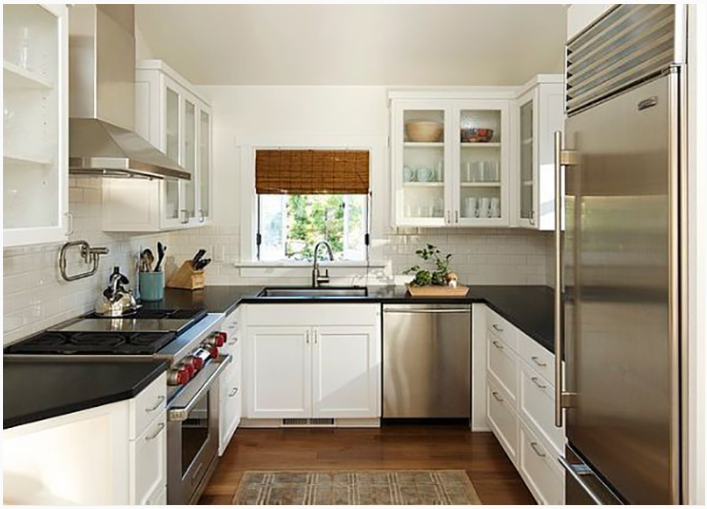 The concept basically means that the distance between work areas should not be too near or too far from each other. If you must be technical, the work areas should be within at least four feet from point to point, leaving enough space for food prep, for one, as well as elbow room and foot traffic.
Simply put, arrange your kitchen layout in such a way that you won't have to walk too far to get from one worktop to another, have enough prep space, and follow a smooth, functioning flow throughout the room.
While this isn't a strict rule everyone should and must follow, it helps one design the natural flow between work areas. This is especially useful with spacious kitchens having many worktops (or more than one cook, for that matter), or very small or oddly-shaped kitchens. Many of today's kitchens also have more than one work triangle, so considering the concept of a triangle may help in eliminating any obstacles between the different worktops.
Below are some of the most basic kitchen work triangles for a narrow galley kitchen, a G-shaped kitchen, a kitchen with a centre island, an L-shaped kitchen, and a U-shaped kitchen.
Galley Kitchen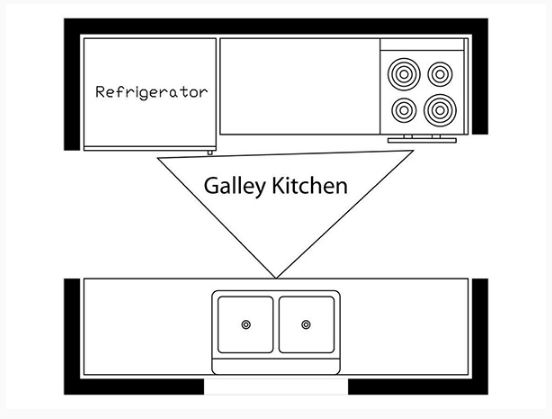 A galley kitchen is normally found in narrow or rectangular spaces, where the worktops are evenly distributed on either side.
In this simple galley kitchen by Samlo Design Group Pte Ltd, the cooktop, sink, and dishwasher are on one side, with space flanking both for food prep. The refrigerator is on the other side, fronting the cooking range.
Before this kitchen's redo, it lacked prep space because the refrigerator cut between the sink cooktop and separate dining table on one side, and the sink did not have enough storage space above and underneath. Now, a long counter serves as both prep and dining area beside the cooking range, and the ref was moved next to the ref and sink, which now has a dishwasher and upper cabinets.
G-Shaped Kitchen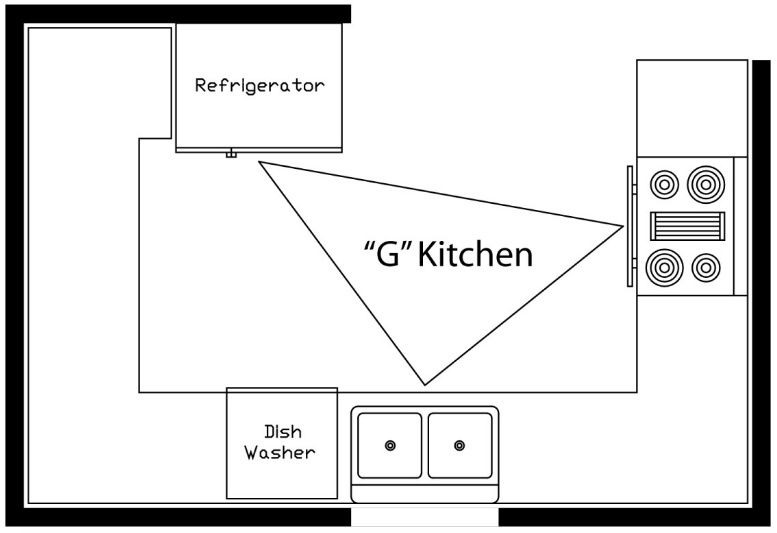 A G-shaped kitchen literally mimics the shape of the letter G, with its short arm usually reserved for a small peninsula. The peninsula is used either as a worktop (for a sink or a cooking range), or as a dining nook and added prep space.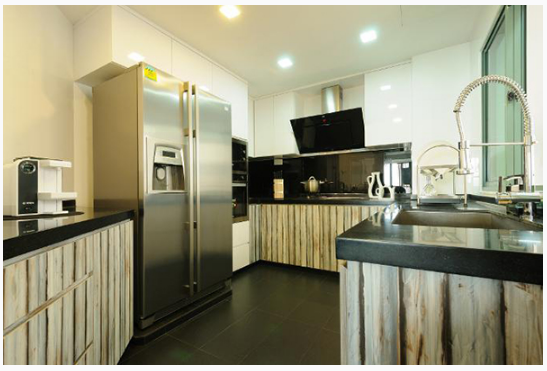 i-Bridge Design Pte Ltd designed this G-shaped kitchen to have a wide sink with its single-lever pullout faucet on the kitchen's short arm, and the cooktop, refrigerator, cupboards, and prep counter on the long arm.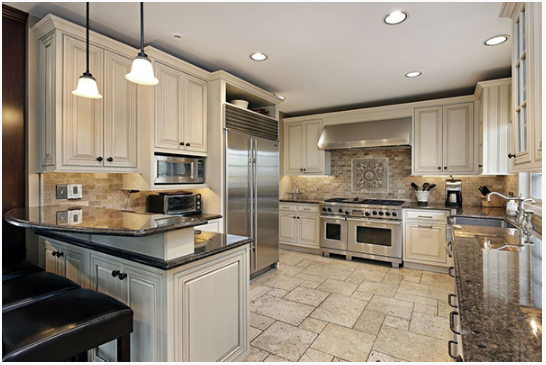 This large G-shaped kitchen has lots of prep and storage space, and a raised counter serves as a buffet or breakfast nook.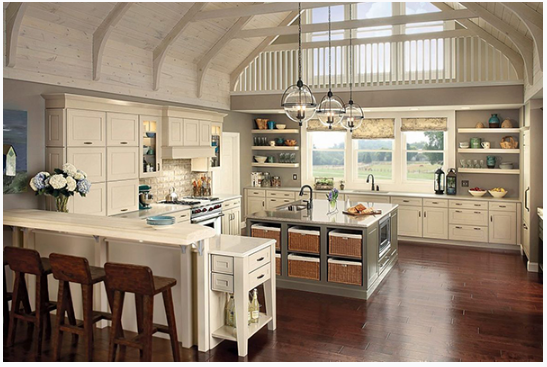 Doesn't this look like the kitchen of your dreams? There is so much room to move within the kitchen, and the peninsula allows for an even more breezy flow in and out of the area. This would be perfect for entertaining guests, or perhaps having cooking parties.
Kitchen with a Centre Island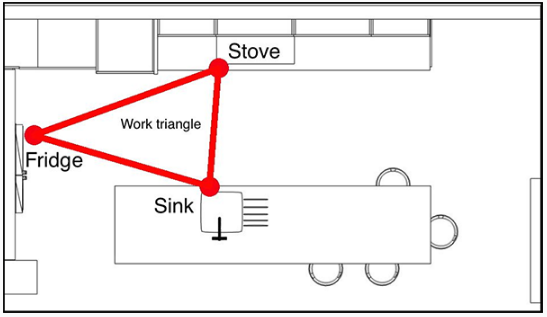 Kitchens with center islands are often used in homes with lots of space. The island either serves as a worktop or as prep area. In many times, seating is added as a breakfast nook, or for entertaining. This layout shows a work triangle for when the island is used as a worktop, in this case, the wash area.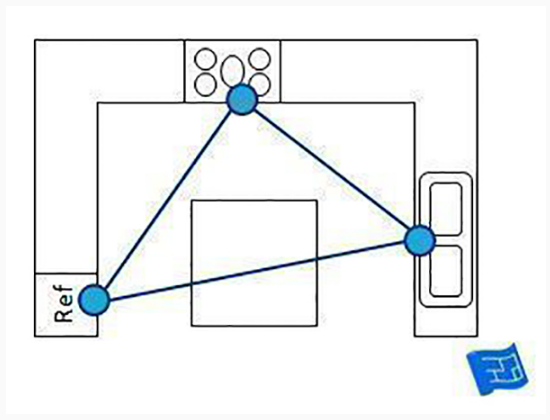 In instances where the island is not a worktop, designers must make sure that the island is positioned in a way that does not impede the work flow, or that it does not increase too much the number of steps one must take from point to point.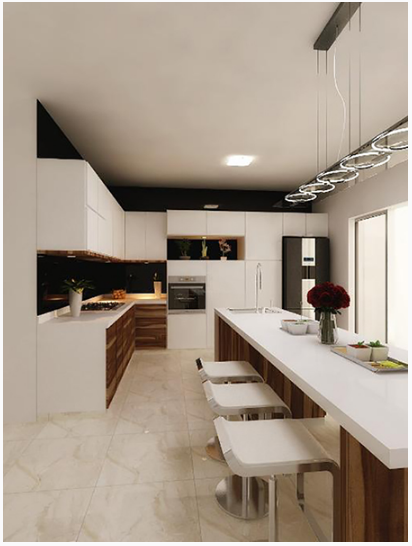 A kitchen with a long island is great for spaces where the kitchen and dining areas need to be integrated. Here, the sink is on the island, which can also serve as additional food prep space.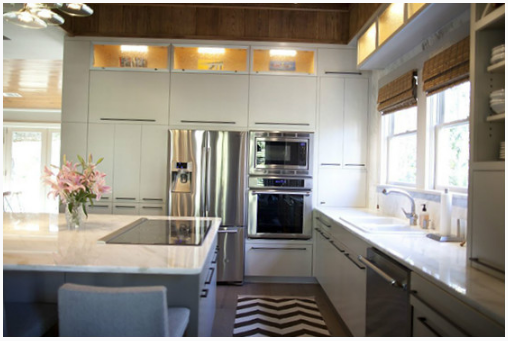 How about entertaining guests while cooking up a storm by having the cooktop incorporated into the centre island?
L-Shaped Kitchen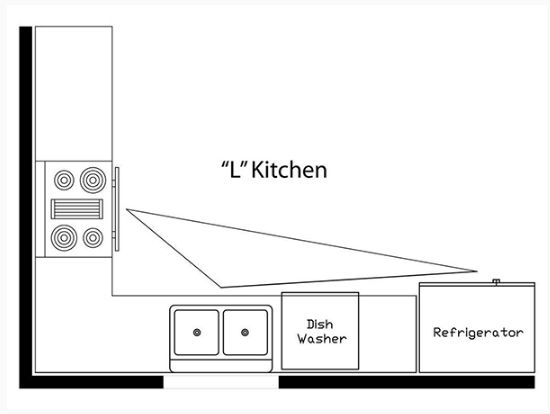 An L-shaped kitchen works in corner spaces, and allows traffic to flow through the kitchen without obstructing the work areas.
Flush-to-the-ceiling upper cabinets and base cabinets share space on one arm with the sink and cooktop, ensuring that everything the cook needs—plates, pots, stored food—is within arm's reach.

Here's another spacious kitchen following the L-shaped work triangle, with a freestanding, butcher-block centre island serving as an additional prep counter and storage space.
U-Shaped Kitchen
Copying the shape of a U, this type of kitchen works well in both small and roomy spaces.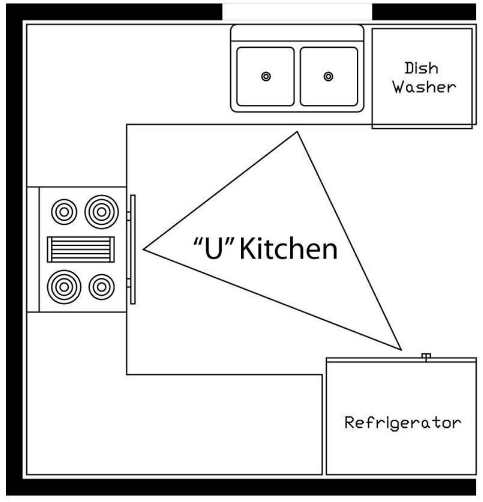 Even with the limited square footage in this kitchen, the U-shaped layout allows for a smoothly functioning workflow.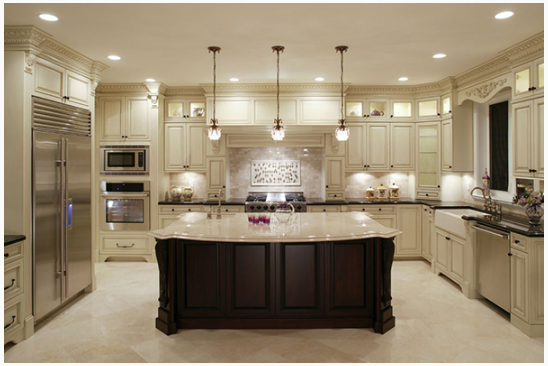 Generously sized, U-shaped kitchens have more than enough space for large centre islands. While this kitchen already has a sizeable sink on one side, an additional prep or bar sink on the island helps the cook prep and wash food on one area, as well as cuts the distance between refrigerator to sink.
Click here for more kitchen layouts.
About Cromly
Cromly is an online platform for daily ideas and inspirations on home and living, featuring a wealth of interior design projects, ideas, products and articles. We passionately engage homeowners every day through our sections: Stories, Design, Shop, Catalogue, and Inspiration. Our brand philosophy—Better Homes Every Day—is aimed at the average yet discerning and design-savvy homeowner who is increasingly looking online for affordable solutions and inspirations for their homes.
Looking to sell your property?
Whether your HDB apartment is reaching the end of its Minimum Occupation Period (MOP) or your condo has crossed its Seller Stamp Duty (SSD) window, it is always good to know how much you can potentially gain if you were to list and sell your property. Not only that, you'll also need to know whether your gains would allow you to right-size to the dream home in the neighbourhood you and your family have been eyeing.
One easy way is to send us a request for a credible and trusted property consultant to reach out to you.
Alternatively, you can jump onto 99.co's Property Value Tool to get an estimate for free.
If you're looking for your dream home, be it as a first-time or seasoned homebuyer or seller – say, to upgrade or right-size – you will find it on Singapore's fastest-growing property portal 99.co.
Meanwhile, if you have an interesting property-related story to share with us, drop us a message here — and we'll review it and get back to you.
Join our social media communities!
Facebook | Instagram | TikTok | Telegram | YouTube | Twitter