With numerous viewings, mountains of paperwork and massive financial obligations — you can't really buy a property without breaking a sweat. A good way to complicate things even further is buying property without engaging a property agent (ie. buyer's agent).
But if this is your decision, there's always 99.co — Singapore's largest property portal — and these 9 things you must do to help you find your ideal HDB resale flat, condo or landed home without a property agent, while avoiding possible landmines and lasting regret.
1. Stalk your shortlisted home like a high school crush
Your Buyer's Agent will usually scout the neighbourhood of a property you're interested in — if he/she doesn't already know it by heart. If you go without one, you'll need to do your own legwork.
Drop by at different times of day to check the traffic and noise levels (both human activity and road traffic). Two important timings are at 8am, during the morning rush hour, and 7pm, when most people get home from work. You may find the roads are too congested, or that noise levels are too loud for your liking.
If viewing a high-rise apartment such as a HDB flat, go to the same floor as your interested unit at 9 to 10pm to check for road noise.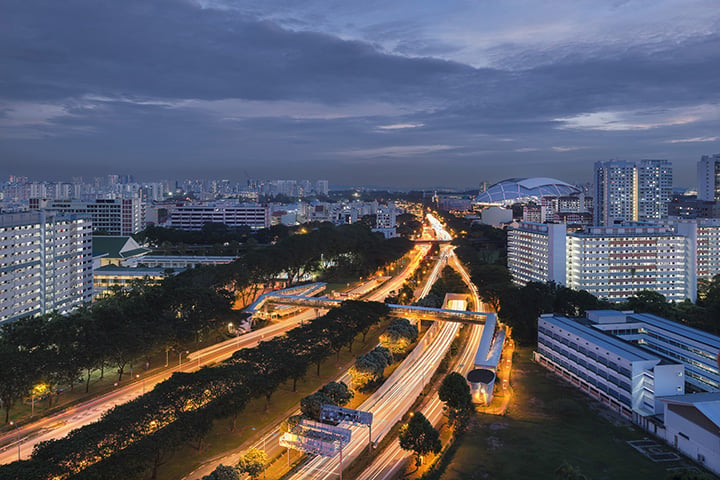 If you have time, drop by on weekends. Again, note the crowd and noise levels; a tranquil park might just become a bustling picnic spot for domestic workers on Sundays.
If there's a major mall nearby, you might also want to swing by on weekends. The crowd could get so bad you might not want to visit the mall. Or you might find barely any signs of life at a mall nobody wants to visit because the tenant mix is bad. In short, visit the amenities that'll have a big say on your quality of life if you live there.
2. Become an eagle-eyed defects detective
One of the most common complaints, when it comes to resale units, is maintenance. New buyers may fail to spot problems like corroded pipes, hidden cracks (check behind mirrors and paintings), or non-functioning water heaters. It's way too easy for a seller to conceal wear-and-tear (e.g. by doing temporary patches before a viewing), and too easy for buyers to miss signs of concealment.
This is one of the main reasons we advise new buyers against skipping the property agent. You might know to "check thoroughly", but some things just aren't easy to spot. You might also be sidetracked during the viewing and neglect to ask certain questions or check specific aspects of the home.
So, if you're going without a Buyer's Agent, at least get someone smart (say, a professional handyman or just a savvy friend with a higher grade than you in university) to view the unit with you. All of this should be done before you make your offer and sign the Option to Purchase (OTP) as the option fee is non-refundable.
3. Make sure you get what you intend to pay for
You should insist on a written and signed inventory, or some documentary confirmation, that the items you see in the unit is what you get. This should be agreed upon and signed, before you sign and secure the OTP.
Bearing in mind that built-in items — such as air-conditioning, ceiling fans and built-in wardrobes — are included in a unit's valuation, seller's have no business removing these items. But some sellers still try to pull a fast one after signing an OTP that doesn't have an accompanying inventory.
What these nasty sellers do is to try to extract last minute concessions. They may first tell you that they're selling the place fully-furnished, but later claim back possession of an antique desk, or a state-of-the-art ceiling fan for use in their new home, and so on.
So, before you make an offer for a unit, always clarify what's included and what's not. You also need to be prepared to handle such disputes when going without a Buyer's Agent, which can be emotionally draining.
4. Question your own identity (for HDB resale flats)
We don't mean doubting yourself, it's just that buyers of HDB resale flats should check their eligibility status for each unit they're looking at. You see, there are certain requirements to buy an HDB flat, such as your citizenship status, a particular block's ethnic/racial quota, and so forth. While 99.co's HDB Sale Quota search filter has made things easier, don't hesitate to contact the Seller's Agent directly to clarify.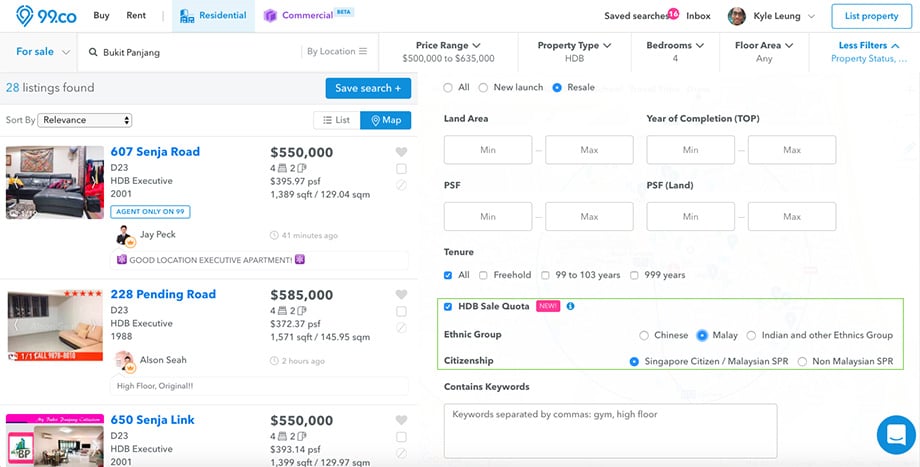 To make absolutely sure about your eligibility of buying a resale flat based on your personal circumstances (e.g. citizenship, ownership of private property), use HDB's comprehensive eligibility checker.
If you're buying a HDB resale flat, always be sure to get your HDB Loan Eligibility Letter (if taking a HDB loan) or an approval-in-principle (if taking a bank loan) before you sign anything, such as the OTP. Otherwise, you could find that you're eligible for far less than the amount you need, and you will have no option but to give up your deposit.
5. Make full use of the legal support you already have
The property agent isn't the only one who knows how property sales work. When you buy a house, you also pay a conveyancing fee to a law firm. And guess what: those lawyers have a very good idea of how the paperwork has to be handled. They're also the ones you can turn to, regarding your rights as a buyer.
Since the law firm charges you between $2,500 to $3,000 in conveyancing fees, you may as well put them to work. Throw your paperwork questions at them, and ask them to protect your rights as a buyer by inserting or revising any needed clauses in the OTP.
If you're worried that the seller might be hiding defects, for example, tell this to the law firm and ask how the contract can be tweaked to help you.
6. Be an informed negotiator
Without a buyer's agent advising you, it's up to you to make sure the listed price for a property is fair. The 99.co property search portal can help you do that; scroll to the bottom of every listing and you'll see a table of past transactions for the condo development/HDB block. This will help you arrive at a reasonable offer figure that's aligned to market value.
You can also check URA's transaction records or HDB Map Services for past transactions for private properties and HDB resale flats respectively.
7. Harness the power of Google
For condos and landed properties, run a Google search on the name and address of the development and look out for mentions of the property or its developer. Red flags include news articles about the developer being sued, conflicts between residents (you don't want to live in the middle of an en bloc war, trust us) or the Management Committee having to be thrown out or taken to court.
Note that many of these complaints don't appear as articles, but often as forum or Facebook posts. Use Boardreader to search forums, and input a condo's name into the Facebook search box to search Facebook.
8. Check the URA Master Plan
Don't take the seller's word for it, when they say there will be a big mall, tech park, hawker centre, etc. nearby. Many sellers are prone to exaggerating such details. To get an idea of future developments in the area, check the Urban Redevelopment Authority (URA) Master Plan before you make your offer.
Since you don't have a property agent to research the area, your next best bet is to check the publicly available URA Master Plan. The Master Plan will give you an idea of how the area will be developed, over the next few years.
To find out how to read the URA Master Plan: read the article URA Master Plan for Property Buyers: How to understand it
Note that major amenities that are yet-to-be-completed may often pose an inconvenience during the construction stage. For example, a new MRT station may be a giant, noisy, dirt pit for five years before it starts being a convenience.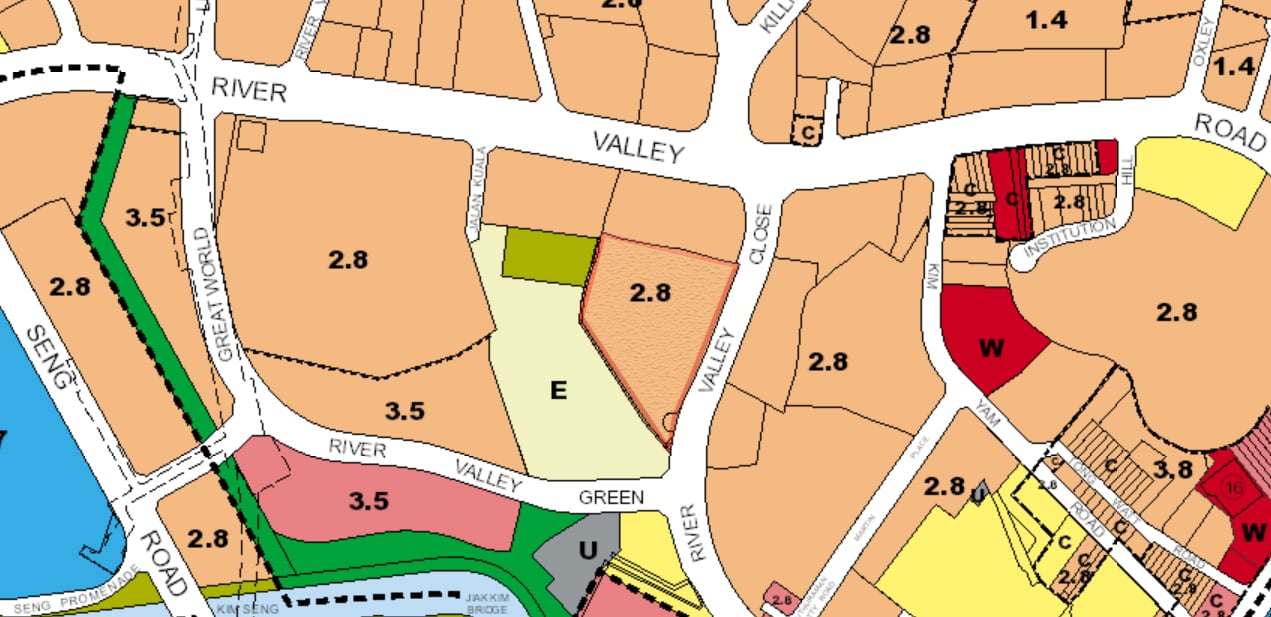 9. Consider getting a prepaid phone line
A property search can get complex very quickly. You'd want Seller's Agents to get back to you quickly and be responsive, but that might prove a distraction to work and/or family time if these calls are all made to your existing personal line — especially if you don't bother with saving the names for every property agent you contact.
So, the ideal arrangement for DIY buyers is to get a separate, temporary prepaid mobile line for communications with Seller's Agents. (You can use your old/spare phone for this.) Buyers have told us that doing so enables them to focus on their property search in a more organised way (much like an actual property agent), which can make the difference between closing a deal and missing out on their dream home.
Buying property without an agent: Is it for you?
Ultimately, finding the right home without a property agent is a time and energy consuming process. We've heard of many buyers who first started off intending to buy a home without a Buyer's Agent, only to do an about-turn a couple of fruitless — and sometimes frustrating — months into their hunt. Sure, you might have to pay your agent a commission, but if you're making the biggest purchase decision in your life, having a trusted advisor may be worth its weight in gold.
Voice your thoughts and share your home-buying experiences in the comments section or on our Facebook community page.
If you found this article helpful, 99.co recommends How property buyers should react to the ABSD increase and The Pink Guide to Buying and Renting Property in Singapore.
Looking for a property? Find your dream home on Singapore's largest property portal 99.co!