Sometimes, there's no way to resolve a dispute with a tenant. We've heard some horror stories: tenants who don't pay rent for months, tenants who advertise your property on Airbnb, tenants who pack the place with foreign students who, when confronted, are apparently all his relatives. Well as a landlord, you can exercise your right to terminate the lease.
First, an important note on leases versus licenses
When we talk about tenants, we usually refer to someone to whom you've given a lease. That is, a legal right to use the property as if it belongs to them, for a specified period subject to certain conditions. Such Lease or Tenancy Agreements must be declared with the authorities which the tenant will have to pay stamp duty on.
This is different from a licence. Unlike a lease, a licence does not give any "property rights" to a licensee – he is allowed to stay in, say, a hotel room by the hotel owner but he can be asked to leave anytime for no reason whatsoever (of course, hotel bookings are subject to certain contractual terms which will protect the consumer from unfair or unreasonable practices).
Thus, as the landlord, the Lease Agreement governs the relationship between you and your tenant. It is worthwhile to read the standard Lease Agreements your property agent may use to ensure that it covers all the various scenarios you have in mind. For example, is it a condition of the lease that there should not be any pets? Or is there a prohibition against smoking in the apartment?  
Some hotels ask guests to sign a warranty that they will not smoke in the non-smoking rooms and if they do so, they undertake to pay for the costs of having to remove the smoke smell from all the bedsheets, upholstery, carpet etc. in the room). If you are renting out an HDB flat, you should ensure that it is a term of the lease that other than the persons listed as occupiers in the Lease Agreement, no one else should be staying in the flat, permanently or temporarily. And to provide that a breach of this term will result in immediate eviction.
This is to prevent the tenant from causing you to breach HDB rules on renting out premises to illegal immigrants and the rule against renting out HDB flats or rooms inside to tourist or for short-term rental of less than 6 months (in serious cases, HDB can forfeit your HDB flat and home owners have gone to jail for renting out their property to illegal immigrants – unwittingly or otherwise).
URA's recent new ruling which came into effect on 15 May 2017 also does not allow more than six unrelated tenants in the same private apartment (to prevent landlords from cramming in 20 foreign workers into a tiny apartment or HDB flat).
So, how do you evict a tenant before the expiry of the Lease Agreement?
Give written notice to the tenant
You should always begin by giving written notice of your intention to terminate the lease. This depends what you had provided for in the Lease Agreement. Usually, there will be such termination clauses inside. Typically, the Lease Agreement provides for notice to be served at least 30 days before the date that you want the tenant gone. However, you can evict a tenant earlier, if your Lease agreement provides for such a scenario, typically on the occurrence of a specified event, for example, if his work permit is revoked.
Send snail mail as well as an e-mail so that there is a paper trail or evidence that you had informed the tenant formally to move out by a certain date. Legally, things may not work in your favour if your "notice" was swear words shouted into your phone.
Make sure you've clearly specified the breach committed, any compensation sought, and actions to be taken by the tenant
The notice has to be served under section 18 of the Conveyancing and Law of Property Act. The act states that:
A right of re-entry or forfeiture under any provision or stipulation in a lease, for a breach of any covenant or condition in a lease, shall not be enforceable, by action or otherwise, unless the lessor serves on the lessee a notice specifying the particular breach complained of and, if the breach is capable of remedy, requiring the lessee to remedy the breach, and, in any case, requiring the lessee to make compensation in money for the breach, and the lessee fails, within a reasonable time thereafter, to remedy the breach, if it is capable of remedy, and to make reasonable compensation in money, to the satisfaction of the lessor, for the breach.
To summarise the word salad, you need to include three things in the notice you serve. These are:
Specify exactly what the tenant did wrong i.e. a breach of which term in the Lease Agreement

What the tenant needs to do to fix the breach (if it is something which can be remedied)

The compensation you would like if the breach caused loss or damage
You can kick the tenant out if and when the tenant fails to fulfil the conditions you set out. But the devil is in the details here, and we're not qualified to give legal advice; so it's best to seek the help of a lawyer.
But note that you generally can't evict a tenant before serving this notice.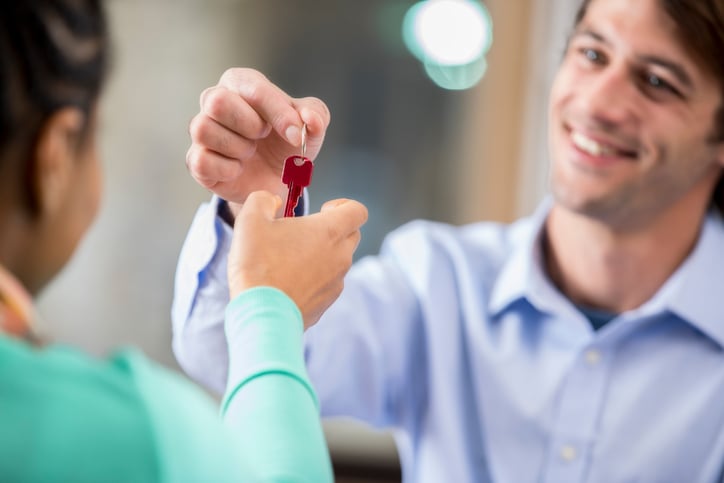 If your tenant is in arrears, get a writ of distress
If your tenant owes you back rent you will have to make a decision on whether you want to terminate the lease (check your Lease Agreement; typically, it provides for you to terminate the lease if the rental is not paid by a certain date, for example, within 7 days of the beginning of each month) or you want to keep the tenant but force him to pay up.
You will have one or two months of rental security deposit from which you can deduct the back rent, but it may be wiser to keep these monies for the joint inspection when the lease expires so that you can use it for repairs and any back rent then (Let's face it – tenants sometimes fails to pay the rent for the last month or so).
If you decide to keep the tenant but you want him to pay up the back rent, you can get a writ of distress from the courts. You will need to engage a lawyer to do this.

A writ of distress allows you to claim up to 12 months of arrears, although there's no fathomable reason why you'd wait that long to do it. Once the writ is sent, along with a notice of seizure of goods, under the law, you can take the tenant's stuff to pay for the rent. If they don't still don't pay up the back rent within five days,you're within your right to sell off those goods.

For stubborn tenants, this is a good way to motivate them to move out.
However, there may not be anything of much value in the property, especially if it is furnished by you, to "distress" i.e. seize and sell. This type of action may be more appropriate for commercial landlords as the tenant may have goods which are intended for sale – which will incentivise the tenant to pay the back rent in order to get their goods released.
You may be able to go to the Small Claims Tribunal instead of hiring a lawyer
If you are lucky, you may be able to get away with going to the Small Claims Tribunal (SCT) instead of having to hire a lawyer to get the rental arrears or to evict your tenant. Under very limited circumstances, the SCT can hear your case. You can see what the criteria are by checking their website.
Use your common sense and not harassment tactics
Do use your common sense when trying to evict your tenant. Does he look like the Incredible Hulk's brother? Does he know where you live? Can he call your phone number incessantly and at 3 am? If he will not leave without a fight (literally), it may be best to leave it to the professionals i.e. get a court order and let the lawyers handle it.
It is best for you or your agent to talk to the tenant nicely and try to come to an agreement on when he can move out. Don't forget, he can take the next plane out of Singapore never to be heard from again after smashing everything in your apartment; leaving you standing in the middle of your wrecked kitchen which looks like Hurricane Katrina had just ripped through it while holding only a 2 month security deposit in your hands (or no deposit at all if the tenant did not pay any rent in the last 2 months).
And in case we need to say it, don't use silly harassment tactics.
That includes things like:
Changing your bank account details, so your tenant's cheque bounces and you can claim they didn't pay rent

Changing the lock while they are out (you know they can hire a locksmith too, right?)

Cutting the power and water when the tenants are a family, and have young children to look after
There's nothing to stop your tenant taking legal action of their own against you, and possibly winning, if you don't play by the book yourself. If you are on the right side of the law, why is there a need to use such tactics?
We cannot emphasise this enough – it is better to ensure that all the important terms are in the Lease Agreement from the start to prevent headaches later. it will make your life so much easier when you need to tell the tenant to move out (he will argue but he cannot beat the clear written words in the Lease Agreement) or if you have to take legal action to force him to move out or pay back rent (you spend less on legal fees if you have a clear cut case).
Check out other rental related articles here: 5 Singapore neighbourhoods for renters on a budget and Should young Singaporeans rent their first home?
Find the rental home of your dreams today at Singapore's largest property portal 99.co!