Buying a property is a major decision all of us face at some point in our lives. It is very likely to be the biggest ticket item we'll ever purchase and we want to make sure we are armed with the most up-to-date information and best practices to make the home-buying process as smooth as possible.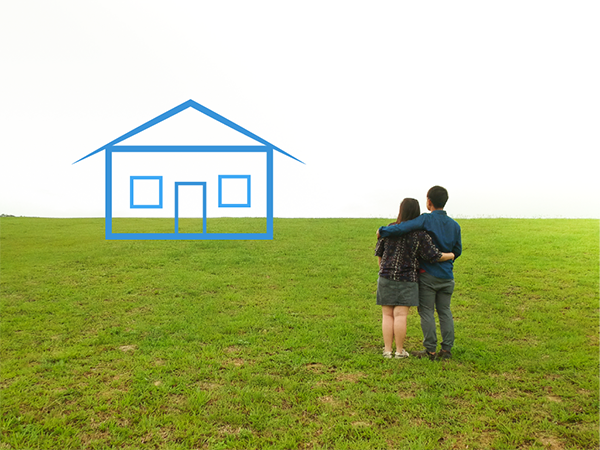 Engaging a property agent is part and parcel of the whole home-buying or renting journey. In many cases, we know of property agents who forge such strong bonds with their clients that the professional relationship grows into friendship.
Indeed, engaging a property agent who has a good sense of what you are looking for in a home, and is able to assist you in making sound decisions, makes for a happy property consumer. Today, 99.co speaks to a few home buyers about what they felt was important to them during their property journey. Check out the 6 important steps they took: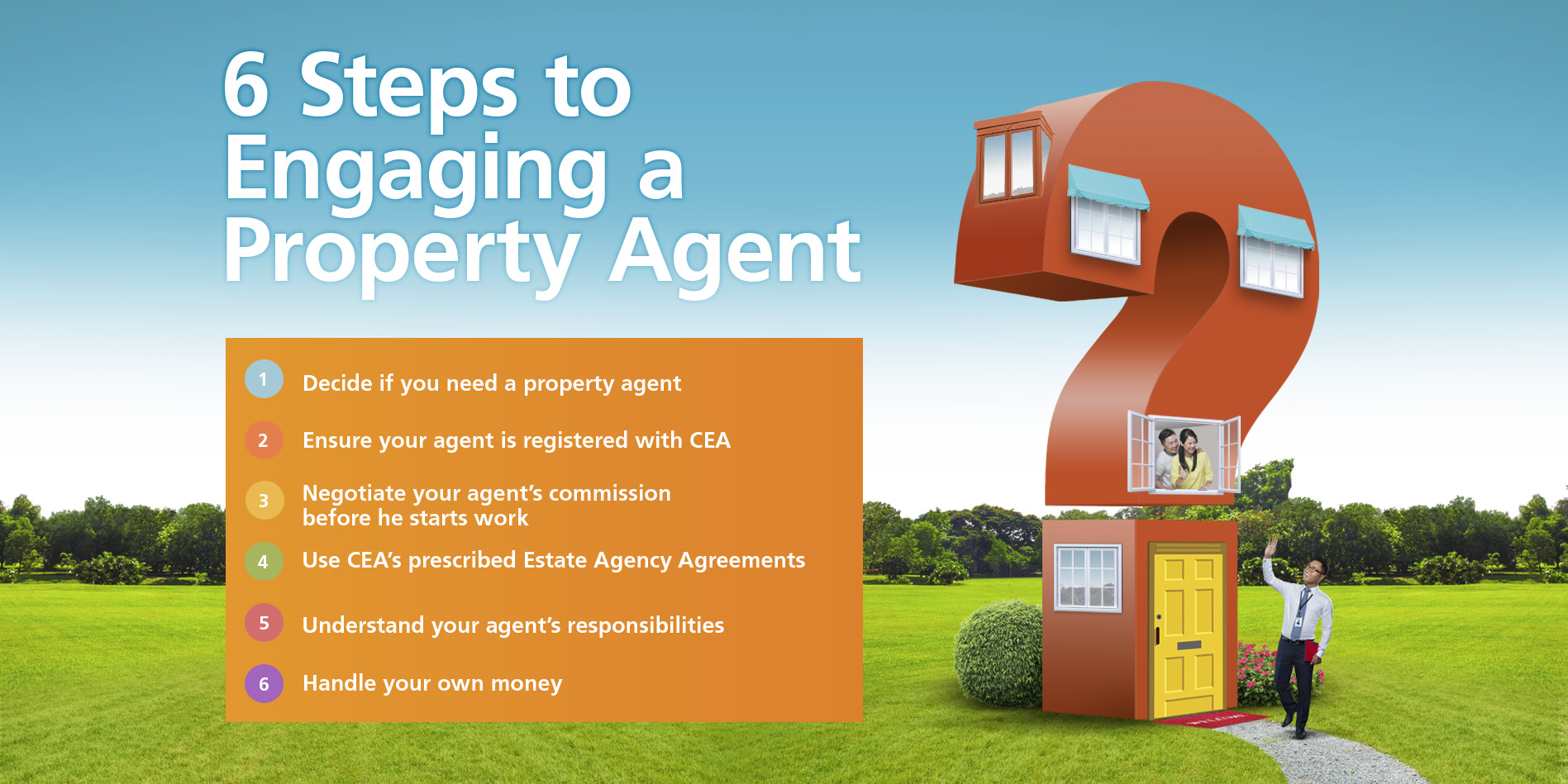 1. To engage, or not to engage a property agent: that is the question
"My work takes me overseas most of the time and my duty roster changes from month-to-month. I need an agent to help organise and plan my viewing appointments so I can fully utilise my time when I'm back in Singapore. Also, I need my agent to liaise with other agents as I may not be contactable all the time," Carol, 28, Flight Stewardess.
"I have chosen to sell my HDB flat on my own as HDB conducts resale seminars to help people like me understand the processes involved in selling my own flat. As I have four school-going children, every cent counts and if I can save some money from doing it on my own, I am quite happy to make the extra effort," Teck Ann, 40, Operations Manager
Hot tip: Working (or not) with a property agent is a highly personal decision. The needs and requirements of a property consumer differs from person to person. Think about your own familiarity with the various regulations and processes involved in the property transaction too. Taking all factors into consideration, go with the decision that works best for you based on your work responsibilities, budget and amount of time available to dedicate to your property needs. If you aren't confident of handling the transaction yourself, consider engaging a property agent to help you.
2. Ensure that your property agent is legit – i.e. registered with CEA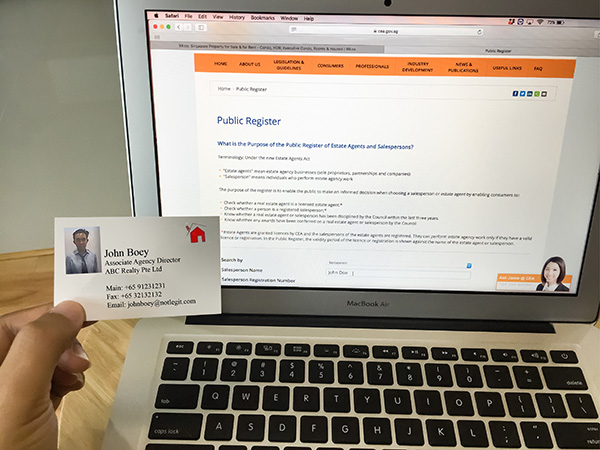 "Working with a property agent is like a box of chocolates, you never know what you're going to get!" muses Shan, 32, Branding Executive.
Hot tip: For starters, you certainly can know what you're going to get and if your property agent is a registered agent by doing a search at the Council of Estate Agencies' (CEA) Public Register. There have been previous cases of individuals who were charged for conducting estate agency work without being licensed and registered by CEA. Do yourself a favour by checking out the legitimacy of your property agent before sealing the deal with him or her.
3. Deciding on a commission structure before the property agent starts any work
"Time is a precious commodity and my time is better spent at work. I was happy to give my marketing agent a commission of 2.5% of the sale price because she went the whole nine yards when it came to marketing and selling my landed property. She handled everything from arranging for repairs to be done, the property to be painted and even the staging of the house. The icing on the cake was that she managed to sell the property above my asking price!" Cassandra, 45, HR Director.
Hot tip: Commission rates are not fixed; they are determined by market forces and it is up to you to negotiate and agree on a commission percentage with your appointed agent BEFORE he or she starts work on your property transaction. This is to prevent future misunderstandings so that both of you are very clear on the terms of commission from the get-go. You should also be fair to your agent and take into account the amount of work he or she has to do and honour the agreed commission when the work is done. You should also check if GST is included. Only GST-registered property agencies are allowed to charge and collect GST. 
"I'm not trained in law and don't have access to legal documents. I'm very glad for the easy-to-understand and downloadable forms, which can be found on the CEA website. The forms were easy to use and fill up for the convenience of both my agent and I," Mrs Leong, 40, Teacher.
"Being new to Singapore, I'm glad that I had easy access to an agreement I could sign with the property agent who was helping me search for a rental property when I first arrived in Singapore. As this was my first time in Asia, I wanted to make sure that the rental process was a hassle free one and would strongly urge all other tenants to have the proper agreements signed to avoid future misunderstanding," Miguel, 35, Banker.
Hot tip: It's highly recommended to put things in black and white for official documentation purposes. It pays to be extra kiasu and careful at times, especially when it comes to important events such as buying or selling a property.
5. Know what your agent's responsibilities are
"When I rented my first place in Singapore a few years back, I was not familiar with how things worked in the local property scene. I approached the agent who was marketing a rental unit I had my eye on to represent my interest in the rental transaction. I was surprised when he turned me down. He later explained that he was the landlord's agent, so he could not be the tenant's agent at the same time as it is against regulations. Actually, it makes perfect sense – as a tenant, I would want a cheaper rent while the landlord would want to get a higher rent. If an agent were to represent both parties, he'll be pulled apart!" Ravi, 32, Software Engineer.
Hot tip: The agent cannot straddle two ships and be appointed by both landlord and tenant or the seller and buyer, at the same time.
6. Handle your own money at all times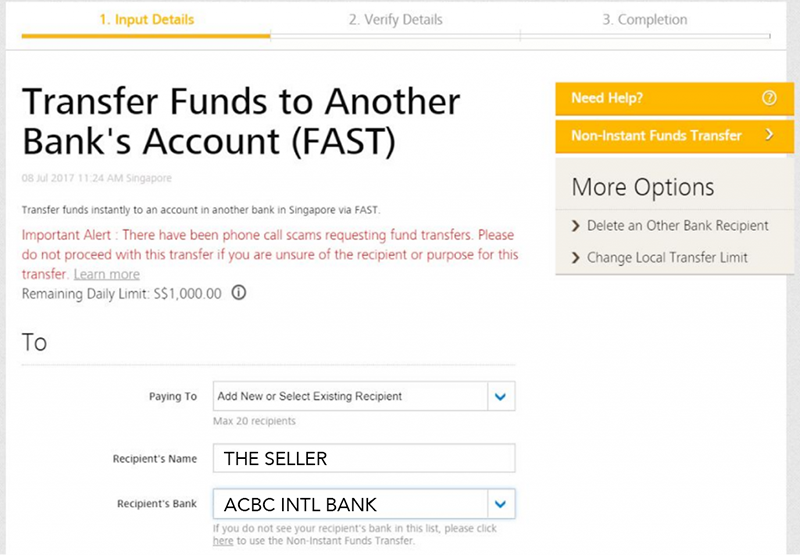 "I was out of the country when the buyer agreed to my offer on the HDB flat. I was really anxious to seal the deal and wanted the agent to take the $800 option fee from my parents who were in town. To my surprise, my agent Julie refused to do so – she informed me that the correct course of action was either to write out a cheque or do a bank transfer directly to the seller. It was only then that I learnt that agents are not allowed to handle certain money related to property transactions. To protect the interest of both the agent and person she represents, all monetary transactions should be handled by self." Kate, 36, Accountant.
Hot tip: Money is a sensitive issue and it's for everyone's good that the transaction is kept between buyer/seller and tenant/landlord. Also, as much as possible, pay the payee directly using verifiable payment modes such as crossed cheques and bank transfers. If you're paying cash, ask for a receipt.
To learn more about engaging a property agent, check out the Happy Consumer video below! The events and characters (Johnny Boey and Madam Tan) depicted in the video are entirely fictional. In real life, Madam Tan's behaviour towards Johnny Boey is unacceptable and so not cool! A little respect goes a long way towards forging a warm and amicable relationship with your agent.
This story was sponsored by the Council for Estate Agencies (CEA). CEA requires property agents to be registered and have the right skills before they can work with clients. Visit www.cea.gov.sg/happyconsumer to find out more.