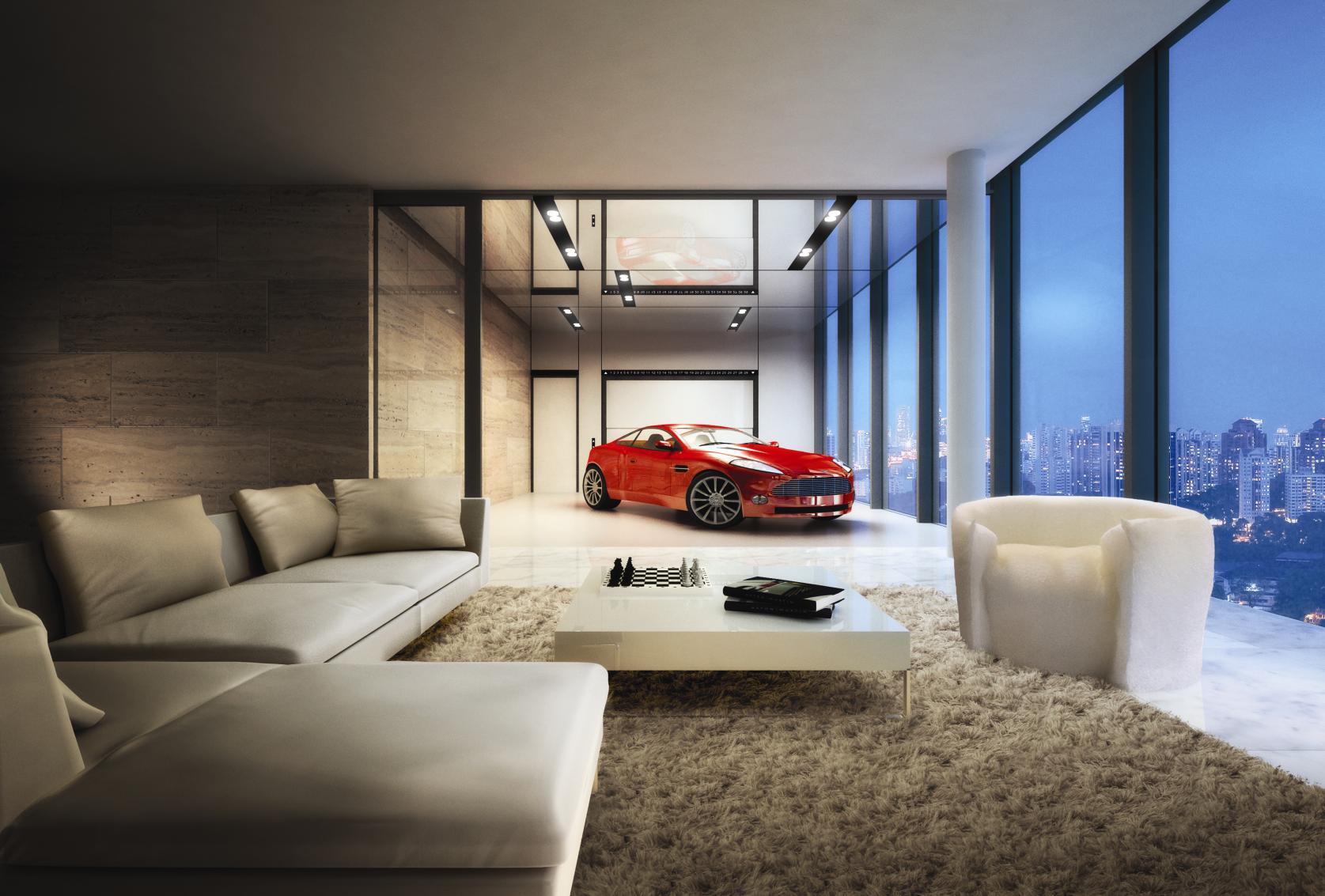 Let's face it – there is something indescribably irksome about the rich. Whether it is the cars they own, the brands they wear or the lavish lifestyles they enjoy, we are in equal parts in awe and envy when we read about them. True, the rich can be a little out of touch with the rest of society, and nothing speaks volumes of their spending power as much as luxury property floor plans do. While the rest of us may not have the opportunity to reside in, or pay the mortgage of, a super penthouse or mansion in our lifetime, we can still get an inkling of how they live from their luxury property floor plans.
TwentyOne Angullia Park (Yes, the Jho Low one) 
In 2015, the news reported that the notorious Malaysian billionaire Jho Low purchased two high-end apartments in Singapore, one of which is a 7,718 sq ft triplex penthouse at TwentyOne Angullia Park. Because of its large size and central location, the property cost Mr Low a grand total of S$42.9 million, a whooping S$5,560 per sqft, making it one of the priciest properties ever sold in Singapore.
In case you do not already know, Jho Low is named as the mastermind behind the 1MDB financial scandal across the causeway. As a result, $120 million of his assets have since been frozen, which most likely would include the aforementioned unit. Nevertheless, it does not stop us from taking a look inside (and possibly try to imagine what kind of dealings happen there).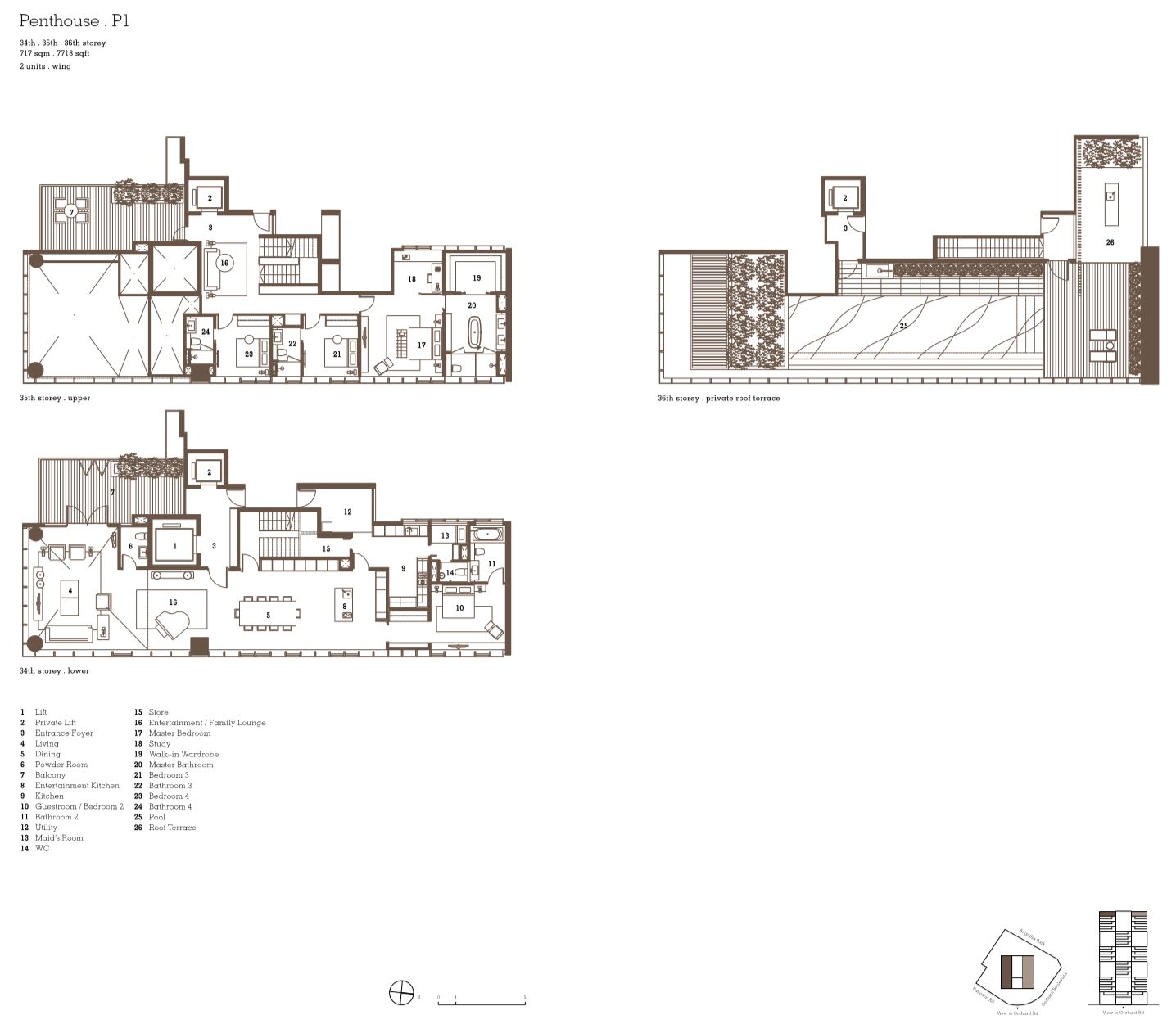 The unit covers three floors on the 34 – 36th level of the building and is surprisingly modest in terms of number of bedrooms and bathrooms – 4 each. It does come with exclusive features only present in luxury properties such as a private lift, a family lounge area large enough to fit a grand piano and a rooftop terrace with a pool. Interestingly, it also has a space called an "Entertainment Kitchen" which we think is a fancy name for a bar.
2. Wallich Residence (Tallest building and residence in Singapore)
While Jho Low's (former) property may have raised eyebrows for its hefty price tag, it certainly isn't the largest. That distinction goes to Wallich Residence' (formally known as Clermont Residence) five bedroom super penthouse located in Tanjong Pagar. Covering three floors as well, its floor area totals a jaw-dropping 21,108 sq ft – around the size of 18 5-room HDB BTO units. Because of its size, market analysts have estimated that it comes with a $50M price tag.
Wallich Residence is also the tallest building in Singapore, part of the iconic Tanjong Pagar Center development by Guocoland, and the Super Penthouse is the tallest residential unit, standing at 290M, in Singapore you can buy at the time of this article. Talk about unblocked view (in a pool).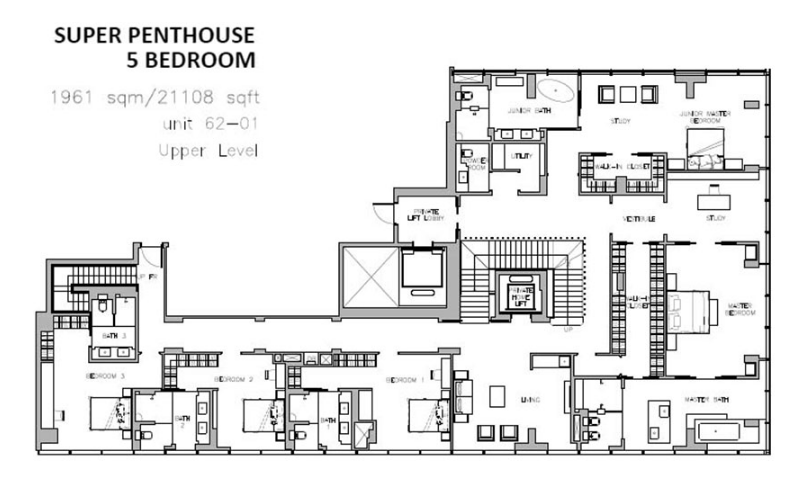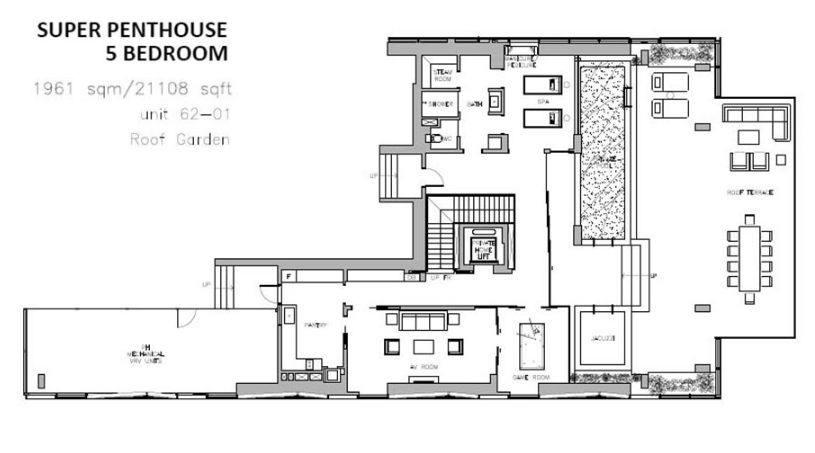 The other unique feature of the property has got to be its cantilevered glass balconies. Marketed as Singapore's only glass observation deck "offering a sweeping vista from the city's highest point" at 64 storeys high, the unit truly lives up to the meaning of being atas.
3. Reignwood Hamilton Scotts
Those who live or work around Newton and Orchard will know that finding a vacant parking lot on the weekends is no easy task. Reignwood Hamilton Scotts came up with a solution for that problem by allowing owners to store up to 4 Ferraris (yes, not just any automobile) next to their living room.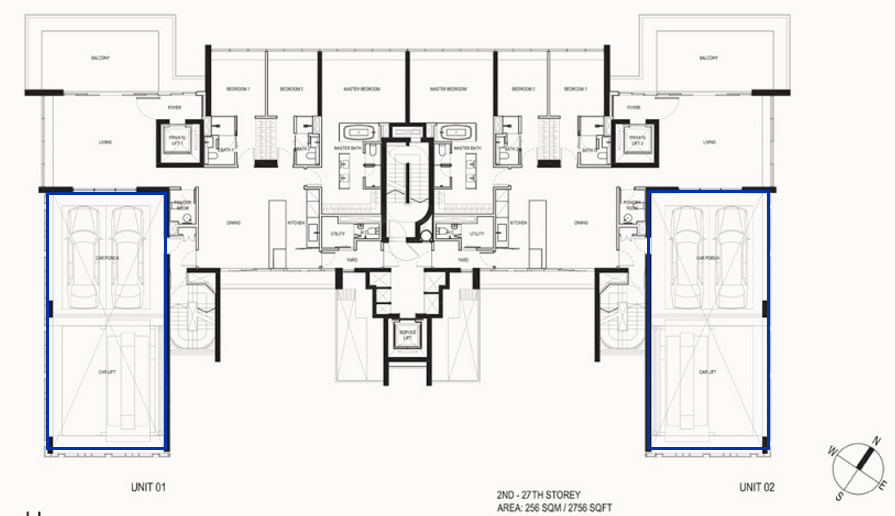 How is that made possible? As can it seen from this luxury property floor plans, the iconic apartments' key selling point is their en-suite sky garage and lifts, which homeowners can use to transport their cars from the ground floor to their floor unit, and park them there.
4. Turquoise and Seascape
It is a common occurrence for the majority of HDB and private condo owners to gripe about the small space of their homes. Indeed, the full space of a unit may sometimes not be fully usable, especially if the total square feet comprises of private enclose spaces (PES) such as service yards and balconies.
This is a similar story for some luxury property floor plans, where specific amenities are thrown in to cater to their high-end lifestyles. Two developments in Sentosa Cove, Turquoise and Seascape, fall into this category. Not only do they have odd-shaped units, both boast of expansive balconies and infinity pools within their respective penthouse villa units.
For the Seascape, the penthouse villa, as can be seen in the floor plan below, is shaped like the hull of a boat and covers a total area of 9,655 sqft. However, over 40 percent is non-livable space, consisting of the private carpark, pool and pool deck and PES areas. The unit also curiously has a grand total of 8 bathrooms, which further reduces the available space for its occupants.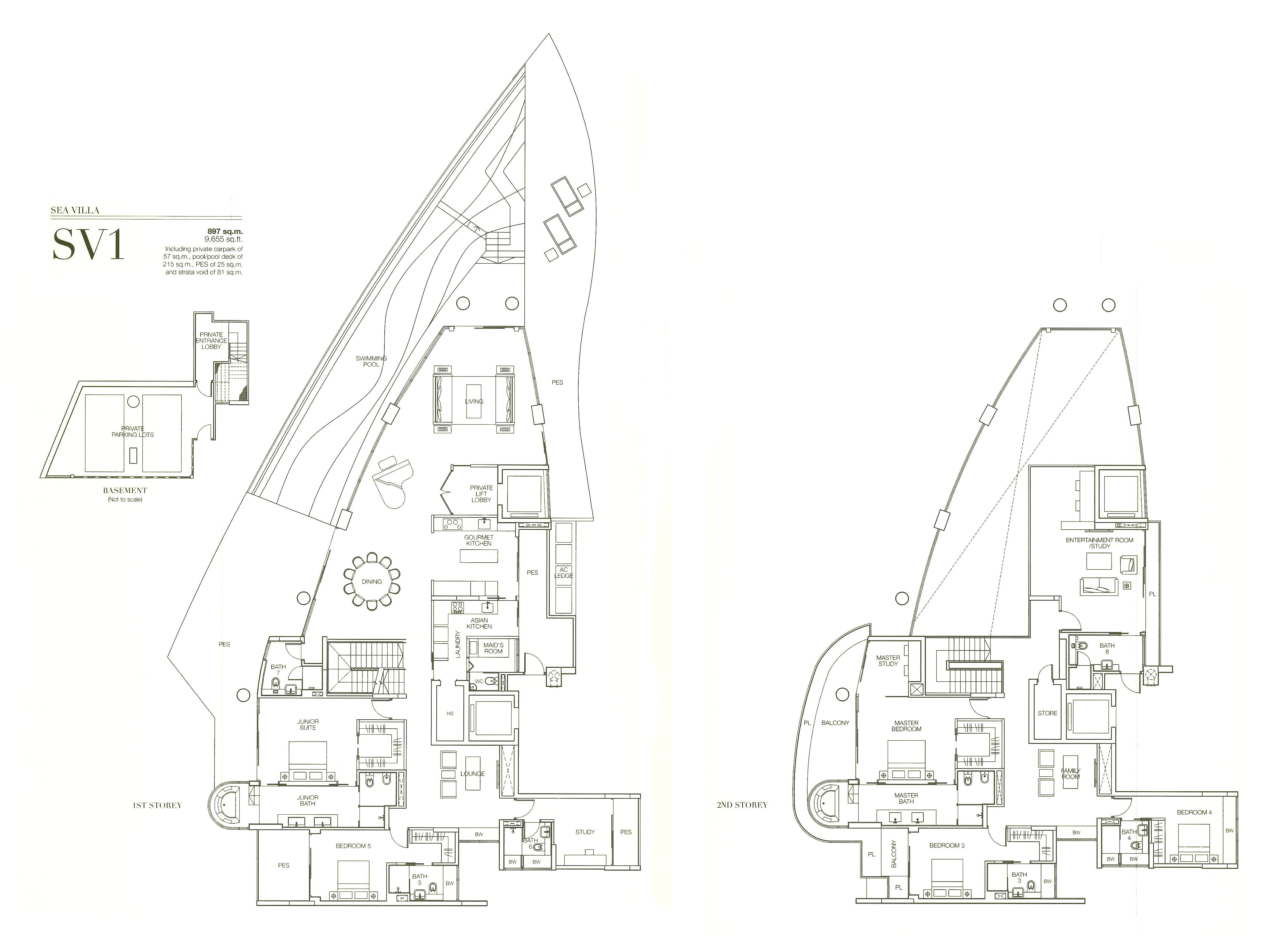 Located not too far away from it, the penthouse units at the Turquoise seem to experience similar structural issues. For one, it has 5 balconies on one floor – four smaller ones and one massive one extending out from the living room. We suspect that its total area alone counts towards at least a quarter of the unit's total floor space. Other features that the villa has include an infinity lap pool with an accompanying pool deck, an open terrace, a sky gym and even its own wine cellar.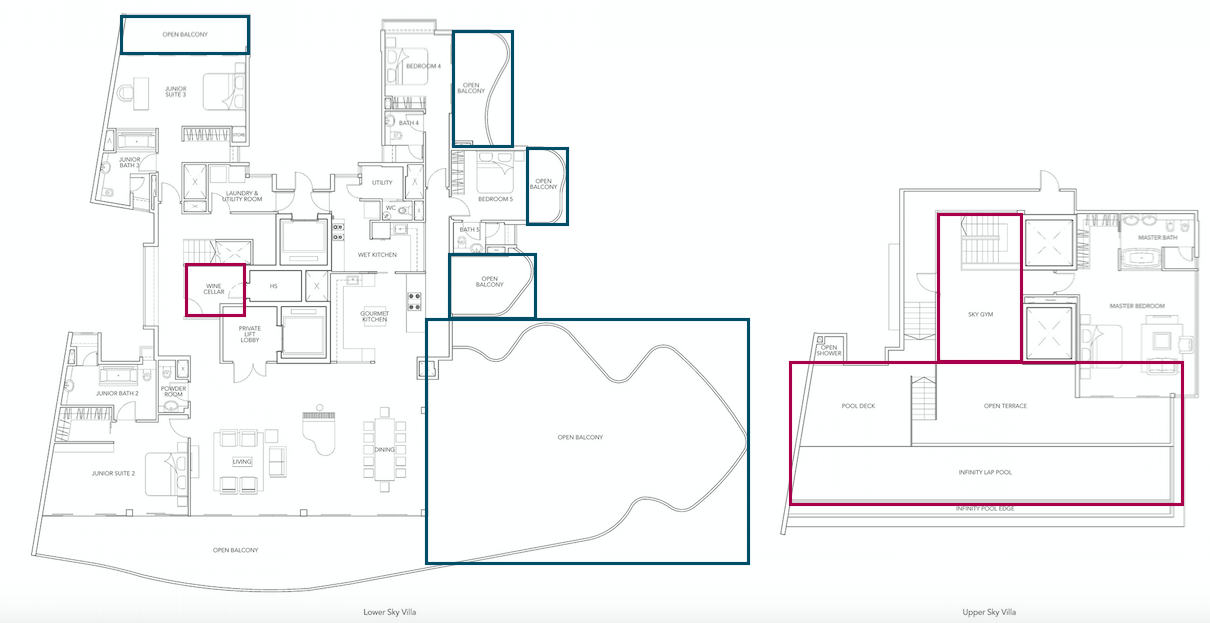 What makes luxury properties so expensive?
Looking at these luxury property floor plans, it is safe to conclude that luxury living is all about the amenities. Big price tags are often attached to each additional feature or room; and buyers shopping for high-end homes in big cities cannot help being enticed by them.
However, it is important to bear in mind that like diamonds, the notion of luxury means something extraordinary — something endowed with qualities that are both unique and does not easily depreciate over time. That said, a property's price must be weighed against the benefits of its location, architectural uniqueness, total (livable) square footage and resale value to be truly priceless.