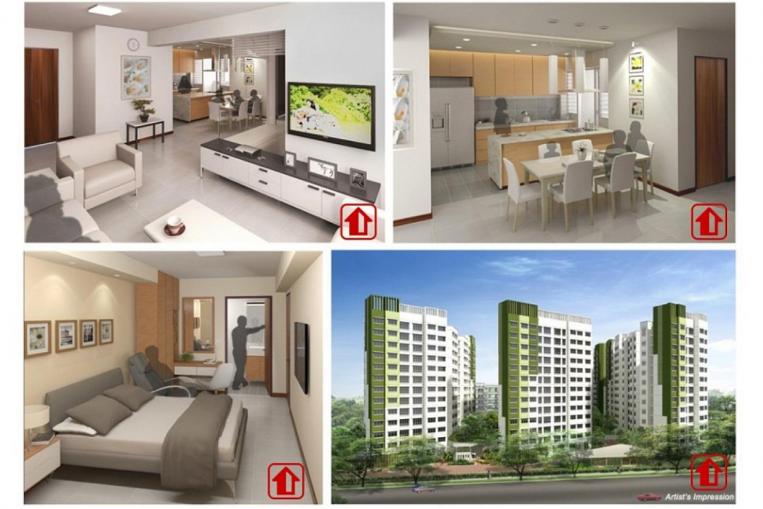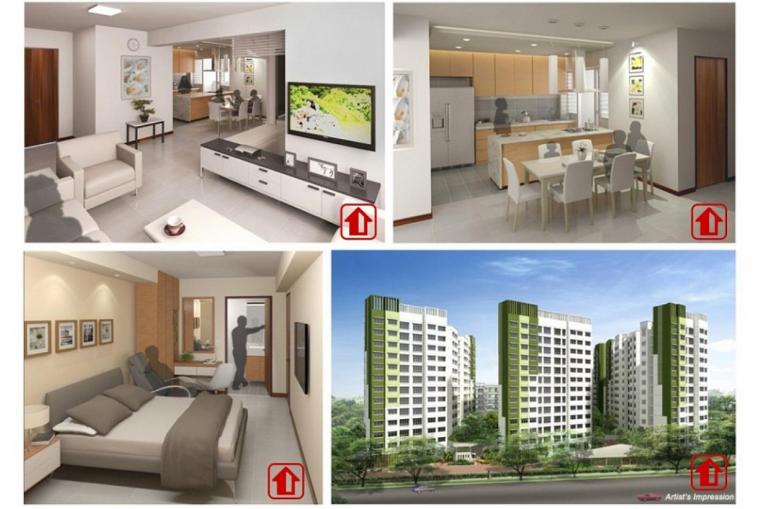 When 3Gen flats were announced in 2013, no one thought they would be popular. It was assumed that most Singaporeans wanted to move out after they were married, and that resale restrictions would make these flats unattractive. However, these flats have seen a take up rate of 83 percent in recent exercises, surpassing analyst expectations. Here's why it may be happening:
What are 3Gen flats?
3Gen flats are multi-generational family flats, for Singaporean couples who want to stay with their parents. These flats have a little more room (115 square metres, or about five square metres more than the average). They are available to applicants that consist of one couple (courting or married), and at least one parent.
These flats range from $310,000 to around $540,000, based on location.
3Gen flats have an important restriction that other flats don't. Apart from the usual limitations, such as the Minimum Occupancy Period (MOP), these flats can only be resold to other multi-generational families. In addition, owners of 3-room or larger 3Gen flats cannot sublet rooms, until the end of the MOP (for regular 3-room or larger flats, owners can sublet bedrooms even before the MOP is ended).
These restrictions caused analysts to doubt the appeal of such flats. In fact, even the government did not seem confident. Former National Development Minister Khaw Boon Wan said at the time that:
"I doubt it is a huge demand, so we will try it out and if it works … If it doesn't, it doesn't matter"
Today however, 651 of 786 such flats have been booked. Three developments have fully sold out their supply of these flats:  Saraca Breeze @ Yishun, Punggol BayView, and Tampines Green Ridges.
This unexpected response is revealing. It shows that several of our underlying assumptions about Singaporean home buyers may in fact be wrong. Some of the unforeseen reasons may include:
We may have underestimated demand from dual income families

We haven't factored in aging parents

Singaporeans have probably worked out the cost savings

We may be overestimating the number of people who see their flats as investments
We may have underestimated demand from dual income families
Dual income families have a reason to prefer 3Gen flats. This is because grandparents are able to watch the children, while couples are both out working.
Now based on recent statistics, we note that 54 percent of Singaporean families are dual income. Notably, this number jumps to 75 percent in situations where the husband is under 35; and 30-35 is a common age at which many people buy their first home.
As such, one big reason for the popularity of 3Gen flats may simply be the large number of dual income families. These couples may also be on a tight budget having taken on their first mortgage, and having their grandparents' help means cutting down on expensive childcare costs (see point 3).
We haven't factored in aging parents
One motive for getting a 3Gen flat, which is often overlooked, is that of aging parents. Even as the previous generation matures, their parents will grow older and require more intensive support. For example, patients on kidney dialysis (more common due to the growing incidence of diseases like diabetes) could require treatment every other day.
For some couples, the cost of running to and from their elderly parents' flat to their own is hard to bear. It is economical, in terms of time and money, to simply live with their parents.
Singaporeans have probably worked out the cost savings
As mentioned in our two previous examples, there are financial upsides to living in the same household.
Besides those, everyday expenses tend to fall as well. For example, it is cheaper for everyone to share the same power bill, the same television, the same meals, and so forth. For couples who have parents that are still working, splitting the cost of these daily expenses can be a big help to everyone. Their older parents may have diminishing incomes with age, and need the savings. For the couple, it gives them breathing space when dealing with the costs of the first house, or raising the first child.
In addition, a 3Gen flat allows for another $10,000 over the usual CPF grant. While not a tremendous sum with regard to buying a flat, every little bit will help when the mortgage repayments start.
We may be overestimating the number of people who see their flats as investments
When we've been dealing with property for a long time, analysts have a common oversight: we tend to forget the average homeowner doesn't think in terms of rental yields, or capital gains.
There is an assumption that Singaporeans all see their flats as their retirement income; it's certainly a common strategy to downsize the flat to fund retirement. However, not everyone thinks that way. For the same reason, some HDB flats are bought for over a million dollars (not a financially reasonable amount by most standards), some homeowners may not be put off by resale issues. Buyers of these flats may not care about resale gains, so it doesn't matter that they can only resell to other multigenerational families (they may never want to resell).
The issue of not being able to let out rooms is immaterial to most of them as well. Most multigenerational families wouldn't want a stranger renting space in their home, even if they were allowed to sublet.
As such, the disadvantages played up by analysts may be nonexistent to home buyers.
We will probably see more 3Gen flats as a consequence of this
HDB will calibrate the number of 3Gen flats to suit the levels of demand. Now that they have such a positive result, there's a good chance that we will see more of such flats available in the future. It will provide an interest twist in the market situation, if we ever end up with a large number of 3Gen flats that can only be sold to other multi-generational families.
New launch alert! Welcome to Grand Dunman
About Ryan Ong
Looking to sell your property?
Whether your HDB apartment is reaching the end of its Minimum Occupation Period (MOP) or your condo has crossed its Seller Stamp Duty (SSD) window, it is always good to know how much you can potentially gain if you were to list and sell your property. Not only that, you'll also need to know whether your gains would allow you to right-size to the dream home in the neighbourhood you and your family have been eyeing.
One easy way is to send us a request for a credible and trusted property consultant to reach out to you.
Alternatively, you can jump onto 99.co's Property Value Tool to get an estimate for free.
If you're looking for your dream home, be it as a first-time or seasoned homebuyer or seller – say, to upgrade or right-size – you will find it on Singapore's fastest-growing property portal 99.co.
Meanwhile, if you have an interesting property-related story to share with us, drop us a message here — and we'll review it and get back to you.
Join our social media communities!
Facebook | Instagram | TikTok | Telegram | YouTube | Twitter