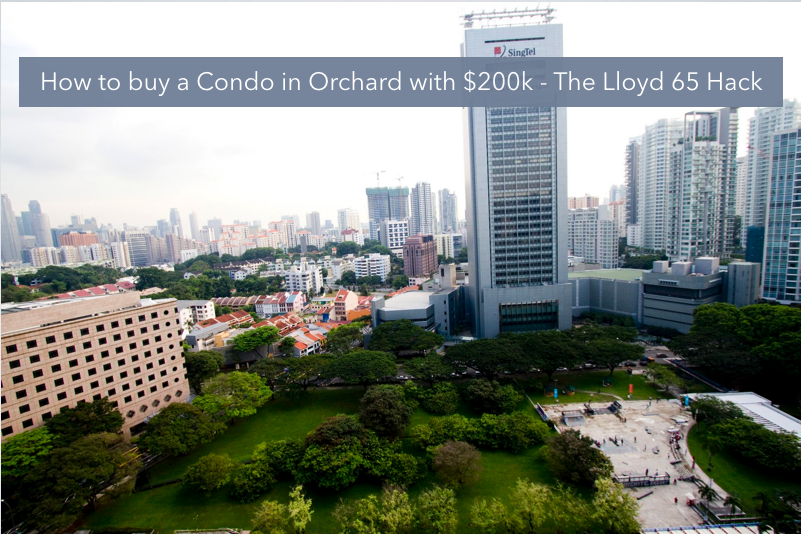 Beyond the proverbial life goal of owning a condo apartment in Singapore, there is owning an Orchard Condo like Lloyd 65.
With property prices always chasing ahead of income, it seems a distant dream for most to own a prime location condo.
But is it? In a market where many property developers are suffering from weak demand and looming QC/ABSD penalty, this just may be the time to look closely to leverage on discounts and creative schemes offered by developers, to check this off your bucket list and build asset value.
In this article, we review an innovative Rent-to-Buy scheme to see how one can start owning a property in Orchard (Somerset to be exact) for just $200k!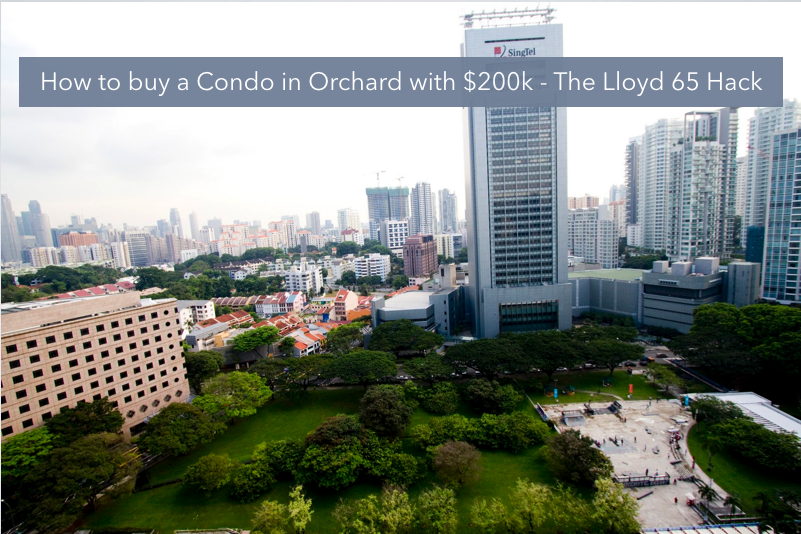 Who is this Lloyd 65 hack great for?
In short – anyone who is
a) Looking to buy a unit for investment or residence in prime location Singapore
b) Has ~200k CASH    (note: NOT CPF)
c) Does not have much additional cashflow in the next 2 years
d) Able to hold property for min. 6 years
e) Not affected by ABSD (or that you believe ABSD would be reduced in the next 2 years)
(Note: Foreigners exempted from ABSD includes citizens of US, Iceland, Liechtenstein, Switzerland and Norway)
What is this Lloyd 65 "Rent-then-Buy" scheme?
As the name implies, the intent of the scheme is to enable potential buyers of the property to rent it first, try it out, and then decide if they want to buy it. They also have the option to convert the rent paid over 2 years as part of the downpayment for the apartment.
Another way of looking at the scheme is that you only need to put up an initial capital of 12.5%, pay no additional instalments for 2 years, collect rent during this period (or save up if you choose to live there), and then complete the rest of the 7.5% to make it to 20% down payment (assuming you are taking 80% loan). This is the lowest % you need to pony up today in the market, as far as we know, to take the first step to owning a property.
What is so great about it?
Real estate as an asset class does not actually appreciate as much as some other riskier assets, such as mutual funds or stocks. However, one of the key concepts in why real estate is an attractive investment is the idea of capital leverage.
Essentially, if you have $20 and you buy stocks and it appreciates 5% a year, you get $1 gain. But if you have $20 and you buy a $100 property (since banks will lend you $80 on your property), and your appreciation is 3% a year, you get $3 gain. (you might have to pay the bank 50 cents on that 3 dollar in interest, but you still gain more)
This is called the Return on Equity.
This is the key benefit of this scheme as it allows the buyer to pay a much lower upfront cost, by starting to rent the apartment, as a step to eventually owning it. What this does is that it essentially allows you to start building equity on an apartment that is fundamentally worth more with a lower initial capital (12.5% instead of 20%), and then leverage on the potential rent or savings you can accumulate in the next 2 years to offset the rest of the "Top-Up".
In summary: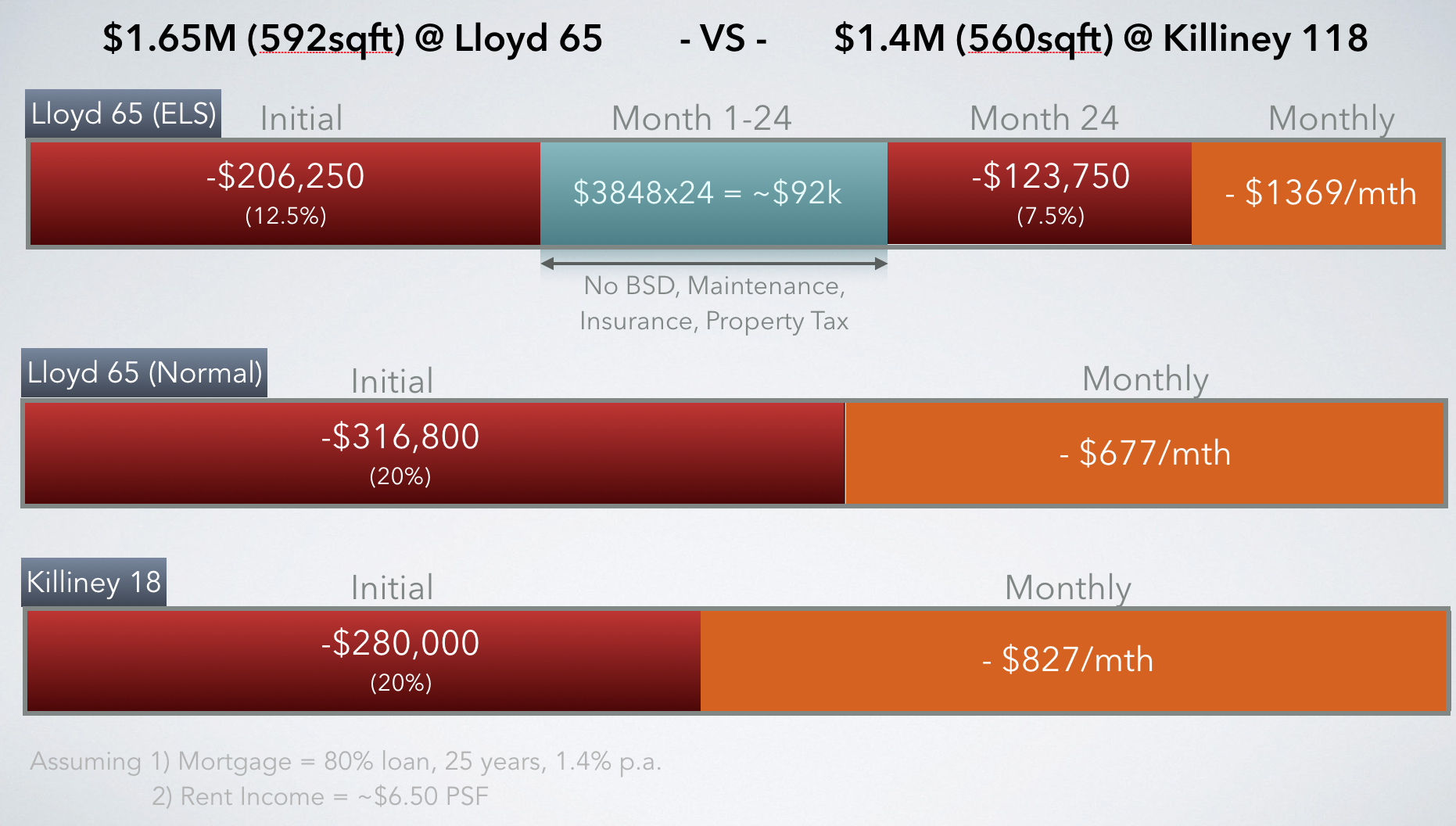 The Math
So, it takes less capital upfront to buy – but does that mean its a good buy?
Here we take the Lloyd 65 Experiential Leasing Scheme into comparison with 2 other similar properties in the same vicinity, within 500m of SingTel Comcenter.
Lloyd 65 (ELS)
Killiney 118
Espada
Price
$1,650,000
$1,400,000
$900,000
Size
592
560
355
PSF
$2,787
$2,500
$2,535
Initial Capital (L65=12.5% , Rest=20%)

 – $206,250

 – $280,000

 – $180,000

Bank Loan Amount
$1,120,000
$720,000
Est. Monthly (80% loan, 25 years, 1.4% p.a.)
$4,427
$2,846
Year 1-2
Rental Asking Price (Lowest)
NA
$3,800
$2,600
Realistic Rental Income /mth
$3,848
$3,640
$2,308
Rental PSF
$6.50
$6.50
$6.50
Rental Income over 2 years
$92,352
$87,360
$55,380
Cash flow in year 1-2

 + $92,352

 

– $18,888

 – $12,924

% of the home you own at the end of 2 years
12.50%
25.40%
25.40%
Equity value in $ at the end of 2 years
$206,250
$355,600
$228,600
Year 3-6
L65 – top-up payment to 20%
$123,750
Mortgage Remaining
$1,320,000
$1,044,400
$671,400
Monthly payment
$5,217
$4,427
$2,846
Rental Income over 4 years
$184,704
$174,720
$110,760
Cash outlay in year 3-6
 

– $189,462

 – $37,776

 – $25,848

How much of the home you own at the end of 6 years
31.00%
36.73%
36.73%
Equity value in $ at the end of 6 years
$511,441
$514,216
$330,568
Selling after 6 years
Base PSF (in Q3 2016)
$2,500
PSF Appeciation /year

3%

Selling PSF
$2,985
Selling Price
$1,767,197
$1,671,673
$1,059,721
Capital Gains
$117,197
$271,673
$159,721
Mortgage Remaining
$1,138,559
$885,784
$569,432
Cash gain at sale
$628,638
$785,890
$490,289
Initial Capital
$206,250
$280,000
$180,000
Return on Initial Capital

  305%

281%
272%
If you want to play around to see the effect of PSF Appreciation on this calculation, you can find the spreadsheet here
So is it a winner?
We believe so! You have a larger "capital leverage" because you pay less upfront for a larger asset. If you forecast a conservative 3% appreciation on the PSF price of the property per year, which we believe is a reasonable forecast as the national average over last 25 years has been 4.76%. At that appreciation rate, Lloyd 65 would have a better return on equity than other comparable projects in that area!
What's the catch?
First, the obvious – the effective "rent" you pay to the developer at $6750/mth for a 1-bedder doesn't really make sense, as similar apartments are asking for $3.5k on 99.co, so we would not advice you to rent it just for the sake of renting. If you decide to go with this scheme, you should be fairly sure that you will end up buying it. (The flexibility to pull out and not go ahead with the purchase does have some benefit, e.g. if you are a trader with $200k savings and counting on a big bonus next year for you to pay for the remaining 7.5% to get to 20% down payment, this gives you some flexibility in case the world does come crashing down and wipes everyone's bonuses out)
Secondly, the Per-square-foot price you pay is a good 10% more than market, at about ~$2750 versus comparable projects like Killiney 118 and Espada at ~$2500. This is, of course, a premium you pay to essentially be able to put down a lot less initial capital to start building equity in a higher value property. (The developer is essentially loaning you money)
Thirdly, because the initial 12.5% is "Rent", it can only be paid in CASH and you cannot use your CPF – so this scheme is good only if you have the cash reserve.
For the real estate geeks – how did Lloyd 65 manage to do this?
(Are there other such similar schemes?)
TG Development, the developers behind this project have 3 unique qualities that enable them to put out this scheme to attract buyers
They are privately owned
(Trivia: owned by the Ong family known for our beloved Tong Garden nuts)
They bought the land before 2011 when ABSD rules were imposed
They have deep reserves and don't need the cash
Thus TG Development are not subjected to QC/ABSD penalty and are able to offer the flexibility to the potential buyers to "rent" the place for a much smaller sum upfront, instead of buying it off their hands. We don't know for sure if there are other developers who could or would offer similar schemes, but it certainly rules out most big listed developers and projects!
== This is part of the 99co Buying First-Hand series, where we take an in-depth analysis of the market for buying from developers ==
Leave us a comment if you want us to clarify anything or analyse another property you are interested in!