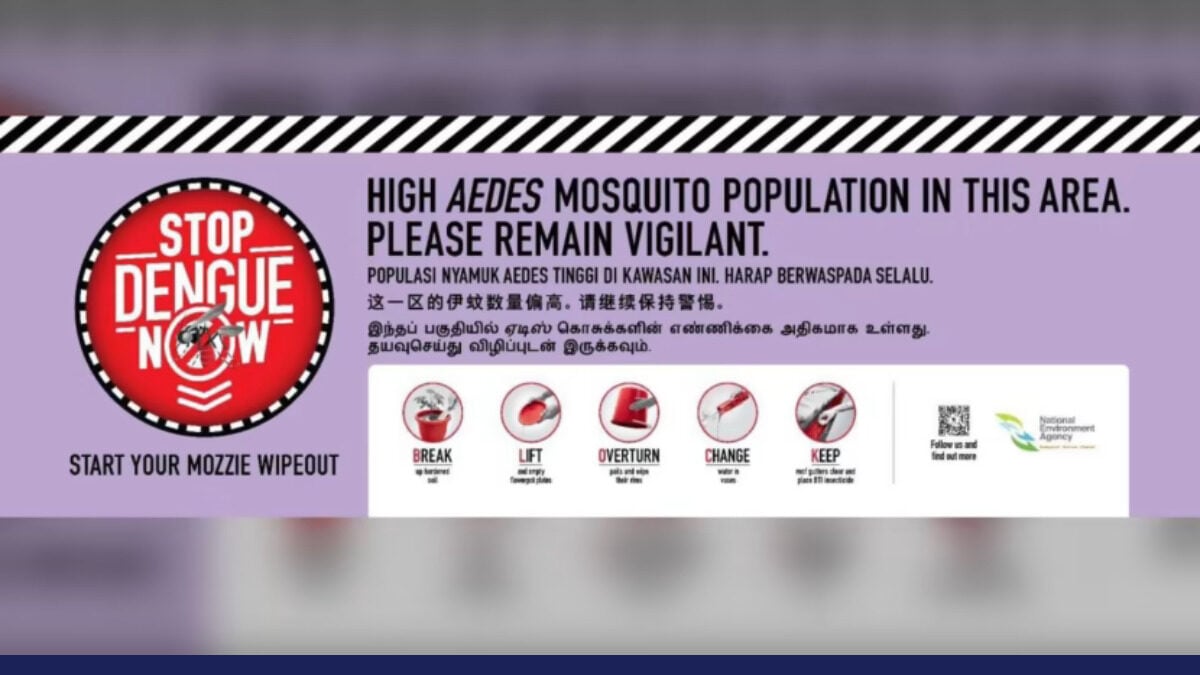 Image credit: NEA
If you're not already aware of the rising dengue cases, have you been living under a rock? …And did you check it for mosquitoes? But fear not; we'll get you up to speed. In this article, we'll take you through the current case numbers, what the National Environment Agency (NEA) is doing to tackle this issue, and most importantly, dengue prevention tips to protect yourself, your loved ones, and your community from this growing health threat.
The buzzing numbers
First things first – the statistics paint a concerning picture.
To put it into perspective, in the week ending 16th September 2023, a whopping 330 dengue cases were reported, a spike of 69 cases compared to the previous week. There are currently 58 active dengue clusters, and a striking 11 of them have raised the red flag, indicating clusters with ten or more cases.
Some areas are seeing dengue transmission at warp speed – take a look at the table below for a quick summary.
Adding to the challenge, 26 Zika cases have been reported so far this year. The good news is that the 15-case Zika cluster at Highland Walk, Kovan Rd, and Upp Serangoon Rd has been contained and closed.
| Dengue Clusters | Number of cases |
| --- | --- |
| Science Park Drive | 81 |
| Lentor Loop | 53 |
| Club Street | 42 |
| Angklong Lane | 68 |
| Eng Kong Road | 51 |
| Toa Payoh (Lorong 1, Lorong 2 Toa Payoh) | 326 |
| Toa Payoh (Lorong 1A Toa Payoh) | 181 |
| Total number of dengue infections in 2023 | 6,758 |
What's causing this dengue frenzy? 
For one, the Dengue virus serotype 1 (DENV-1), previously less prevalent, has been making a comeback. And, as if that weren't enough, the warmer months from May to October, when the Aedes mosquito vector thrives, usually witness higher dengue transmission. This is due to the mosquitoes multiplying the Dengue virus faster. It's like the perfect storm for dengue, and it calls for immediate action.
Dengue symptoms you should know
Before we dive into prevention, let's talk symptoms. 
Dengue and Zika infections can sneak up on you, so it's essential to know what to look for.
Dengue symptoms:
Sudden onset of fever for two to seven days.
Severe headache with retro-orbital (behind the eye) pain.
Joint and muscle pain.
Skin rashes.
Nausea and vomiting.
Bleeding from the nose or gums.
Easy bruising of the skin.
Zika symptoms:
Fever.
Rash.
Joint pain.
Muscle pain.
Headache.
Conjunctivitis (red eyes).
Read also: Dengue cluster in your neighbourhood? Here's what you need to know and do
What is NEA doing about this?
The NEA has an ace up its sleeve – Project Wolbachia. This programme produces millions of non-biting male Aedes aegypti mosquitoes every week and releases them to specific locations to mate with the females. 
But why produce more mozzies when we already have a growing dengue problem? 
Well, these guys are a little different. 
These males carry the Wolbachia bacteria, ensuring that the resultant eggs from mating don't hatch. This strategy helps suppress the mosquito population.
Simply put, we're fighting fire with fire. 
While Project Wolbachia has seen some success (with Aedes aegypti mosquito populations falling by up to 98% in areas like Tampines, Yishun, and Choa Chu Kang), it hasn't led to consistent drops in dengue cases across the board since its launch in 2016.
Why, you ask? Well, if there are tons of mosquitoes out there, the Wolbachia sent out can't compete. They'd be overwhelmed. So, while Wolbachia is a key player in the game, it needs some backup.
What you can do
Now, let's discuss what you can do to combat the spread of dengue and Zika, focusing on the "SAW" approach:
Spray insecticide: Regularly spray insecticide in dark corners around your home where mosquitoes like to lurk.
Apply insect repellent: Make it a habit to apply insect repellent regularly, especially if you spend time outdoors.
Wear protective clothing: Wear long-sleeve tops and long pants to minimise your skin's exposure to mosquito bites.
Read also: Don't let the dengue spreading mozzies ruin your home experience
Community efforts
Remember, you're not in this fight alone. You can also rally the community to practise the "B-L-O-C-K" steps:
Break up hardened soil in your plant pots and garden areas to eliminate mosquito breeding spots.
Lift and empty flowerpot plates – don't let them become tiny mosquito nurseries.
Overturn pails and wipe their rims to ensure no water collects, creating a mosquito paradise.
Change water in vases regularly to prevent mosquito larvae from developing.
Keep roof gutters clear and add BTI insecticide inside to thwart mosquito breeding.
This isn't just about protecting your home; it's about creating a mosquito-free environment for everyone. So, all hands on deck, yeah? 
Wrapping up
In conclusion, the surge in dengue cases is indeed concerning, but by following these essential dengue prevention tips and uniting with your community, you can be a part of the solution. 
Let's fight back against the buzzing menace and make our homes safer for all.
Upcoming Freehold Condo Launch: The Arcady @ Boon Keng
About Sophiyanah David
Sophi, a seasoned copywriter specialising in Singaporean real estate and property, is one of the minds behind 99.co's informative articles. Like her colleagues at 99.co, Sophi is dedicated to keeping you informed about the ever-changing world of real estate so you can find your forever home. When off the clock, you can find her giggling and kicking her feet as she reads her romance novels, watching anime - if FMBA is not your fave, she might fight you (but you'll probably win) and looking up latest skincare trends.
Looking to sell your property?
Whether your HDB apartment is reaching the end of its Minimum Occupation Period (MOP) or your condo has crossed its Seller Stamp Duty (SSD) window, it is always good to know how much you can potentially gain if you were to list and sell your property. Not only that, you'll also need to know whether your gains would allow you to right-size to the dream home in the neighbourhood you and your family have been eyeing.
One easy way is to send us a request for a credible and trusted property consultant to reach out to you.
Alternatively, you can jump onto 99.co's Property Value Tool to get an estimate for free.
If you're looking for your dream home, be it as a first-time or seasoned homebuyer or seller – say, to upgrade or right-size – you will find it on Singapore's fastest-growing property portal 99.co.
Meanwhile, if you have an interesting property-related story to share with us, drop us a message here — and we'll review it and get back to you.
Join our social media communities!
Facebook | Instagram | TikTok | Telegram | YouTube | Twitter