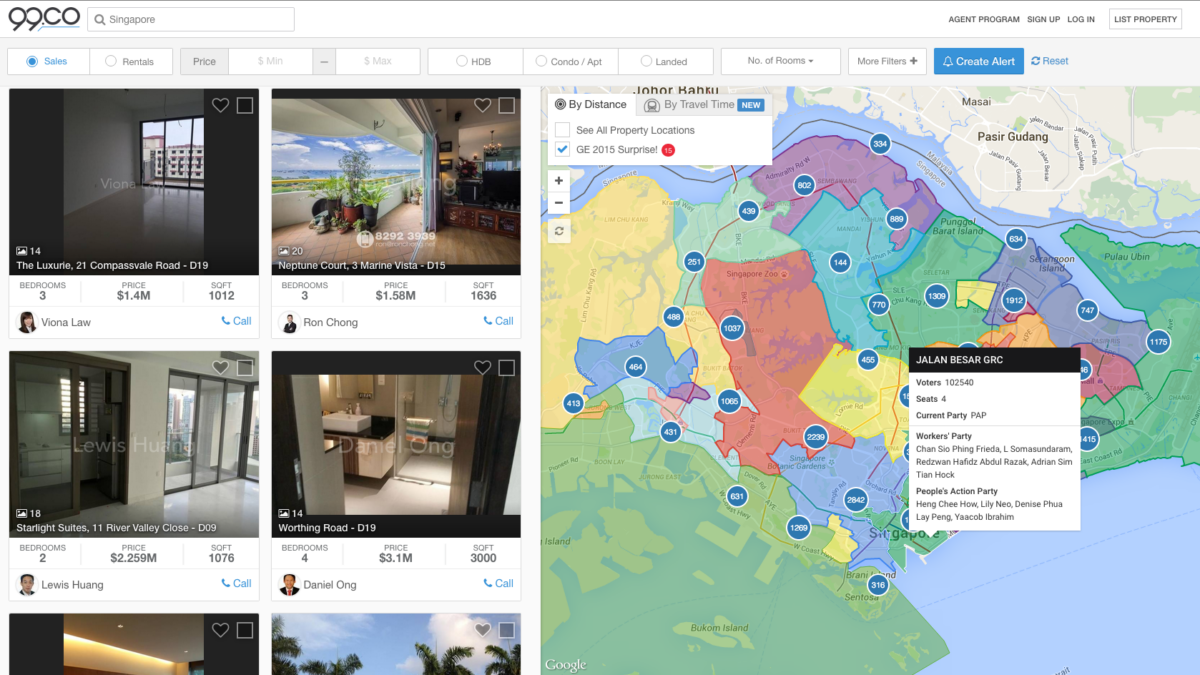 We've all heard the grumblings — opposition GRC Properties do not get developed as much compared to PAP estates, they get fewer amenities, and the list goes on.
If the grumblings were true—or even thought to be true—it may appear as if opposition constituencies (GRCs or SMCs) are less attractive as a residential area of choice, and thus may possibly command a lower appreciation in property prices over time. Many care about this topic as about half of our net worth are in residential property, according to Singstat.
So we decided to find out if that is true—do opposition GRC properties appreciate less? We dug into the data and did the analysis, so here we go!
Effect of Constituencies on Private Property Prices
Below graphs shows the property prices of 4 wards—Aljunied, Ang Mo Kio, Potong Pasir and West Coast—over the last 10 years: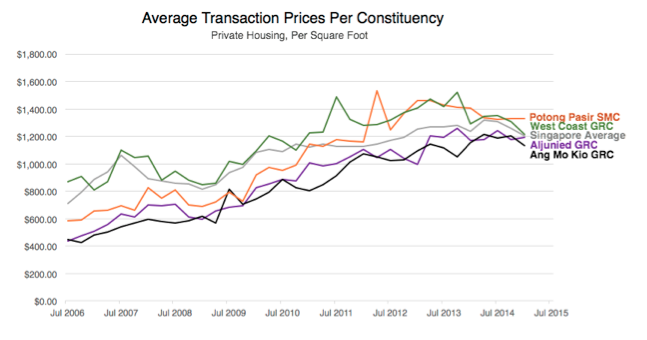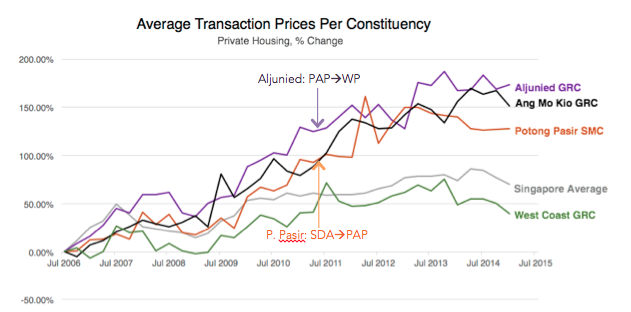 Some key historical events for your reference:
Potong Pasir SMC was under SDA* care up till 2011 Election, where it was won over by PAP*
Aljunied GRC was under PAP care up till 2011 Election, where it was won over by WP*
West Coast & Ang Mo Kio GRC were both under PAP care throughout the duration of this graph
*PAP: People's Action Party, WP: Workers' Party, SDA: Singapore Democratic Alliance
As you can clearly see from the graphs, both Aljunied and Potong Pasir have outperformed the Singapore Average in terms of the property price appreciation. In fact, both wards are amongst the best performing areas in Singapore, with these opposition GRC properties more than doubling on average over the last 10 years—a growth rate of over 100%.
What about PAP wards? We've looked at all the PAP wards, and chose Ang Mo Kio and West Coast GRC for illustrative purposes. Essentially Ang Mo Kio has performed just as well as Aljunied, but West Coast has performed quite a bit below the national average and has only grown about 50% in the last 10 years.
"The rise or fall of property prices is not dependent on whether the property is in a PAP or an opposition ward. Rather, the property prices are a factor of the location and the corresponding supply and demand characteristics at the given point in time."
– Eugene Lim, Key Executive Officer of ERA
Perhaps more interestingly, the patterns and trend lines of the wards have remained in sync with the national average and other wards despite control of wards changing hands in major ways in 2011. So from this data, the logical inference seems to be that whether the ward is in the hands of the PAP or the opposition, the property prices do not change significantly.
What about the prices of HDBs?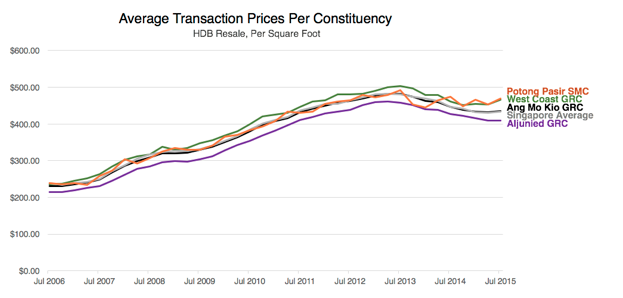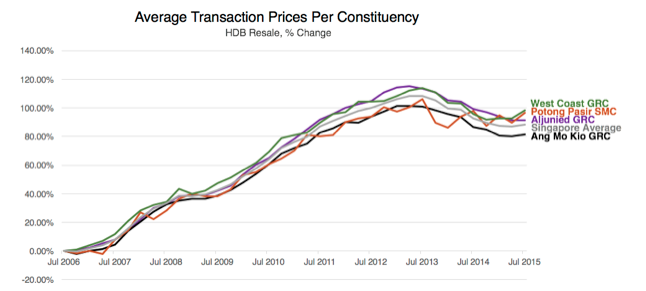 Note: Graphs are created based on monthly transaction prices based on URA and HDB data, and is plotted to the best of our abilities, some degree of error may occur due to mapping of postcodes to GRCs and SMCs.
To be candid, HDB property prices are basically extremely boring to look at and the overwhelming conclusion is simply this: all wards are the same.
Over the last 10 years, HDB resale prices in almost all wards have appreciated between 80-100%.
With the exception of the bump in Tanjong Pagar GRC's PSF due to the resale market for Pinnacle@Duxton having opened up in 2014 (not shown in graph for brevity), the graph lines for all of the wards have pretty much been exactly the same.
Our conclusion here would pretty much be that all HDBs pricing behave the same way regardless of wards. This also means that HDB is a pretty consistent and simple investment—you can buy HDB anywhere and they would pretty much perform very similarly with other parts of the nation, unlike private housing which could give you anywhere between 50% to 150% price appreciation.
Do opposition party GRC properties appreciate less in value? — Our conclusion is clear
Whether the constituency is under the care of opposition parties does not influence the GRC properties' prices.
So we hope this relieves you from worrying about GRC properties' prices when voting in the upcoming election, and perhaps provide some confidence that the country and the respective constituencies continue to prosper (at least in term of property price appreciation) regardless of which party wins the control of the constituency.
If it is not influenced by who controls the constituency, then why do some constituencies appreciate faster than others?
There are many reasons why properties appreciate in some area, some of which includes:
Demand (and thus prices) may increase because of or in anticipation to, key infrastructure developments, such as upcoming MRT lines
Major developments such as a commercial center or the High Speed Rail at Jurong East
One of the most influential drivers of property prices is Government Land Sales
"The data from 99.co clearly indicates that there is no difference in the valuations of residences between neighbourhoods. This likely indicates that common areas such as pavements, drainages, landscaping, etc, are being managed to similar standards. Otherwise, over 2-3 years, the differences will show and valuations in badly managed districts would drop."
– Ku Swee Yong, CEO of Century 21 Singapore
99.co's General Election 2015 special
Also check out the 99.co special for GE 2015, where we mapped out the constituencies for you so you can see who is contesting where!**
(Especially since you may be in Tanjong Pagar yesterday and today you are suddenly in Jalan Besar.. and you might want to know which minister is in charge of your constituency before buying or renting an apartment. After all, he or she would be the one solving your problems!)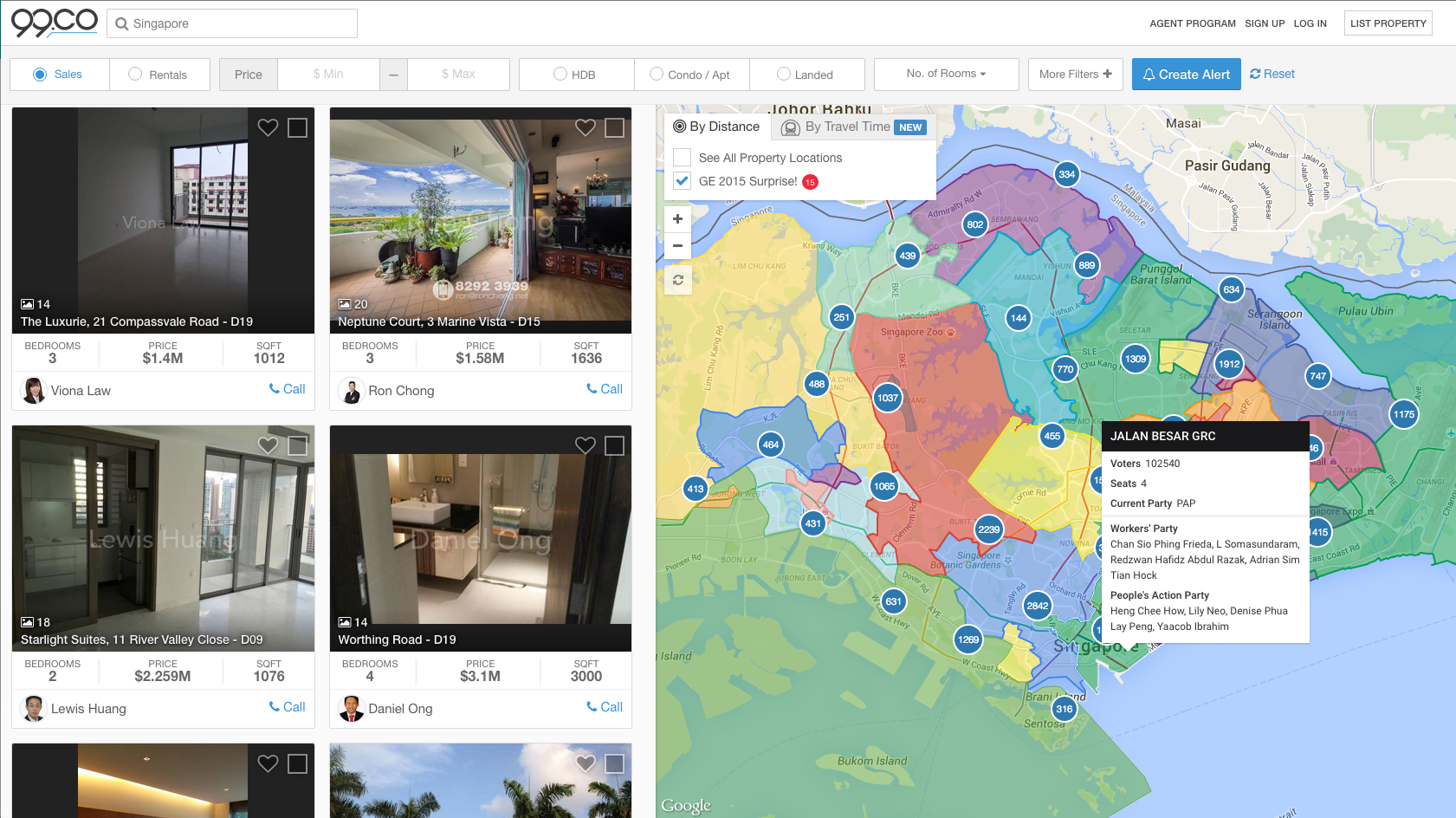 ---
If you enjoyed this article, you might be interested in checking out $211m paid out in proximity housing grants for couples buying flats and The 7 deadly sins of Singapore property buyers.
Find the home of your dreams today at Singapore's largest property portal 99.co!
Upcoming Freehold Condo Launch: The Arcady @ Boon Keng
Looking to sell your property?
Whether your HDB apartment is reaching the end of its Minimum Occupation Period (MOP) or your condo has crossed its Seller Stamp Duty (SSD) window, it is always good to know how much you can potentially gain if you were to list and sell your property. Not only that, you'll also need to know whether your gains would allow you to right-size to the dream home in the neighbourhood you and your family have been eyeing.
One easy way is to send us a request for a credible and trusted property consultant to reach out to you.
Alternatively, you can jump onto 99.co's Property Value Tool to get an estimate for free.
If you're looking for your dream home, be it as a first-time or seasoned homebuyer or seller – say, to upgrade or right-size – you will find it on Singapore's fastest-growing property portal 99.co.
Meanwhile, if you have an interesting property-related story to share with us, drop us a message here — and we'll review it and get back to you.
Join our social media communities!
Facebook | Instagram | TikTok | Telegram | YouTube | Twitter