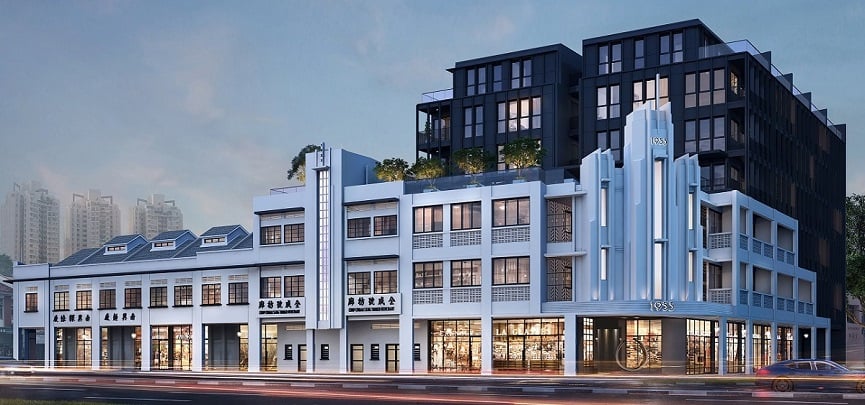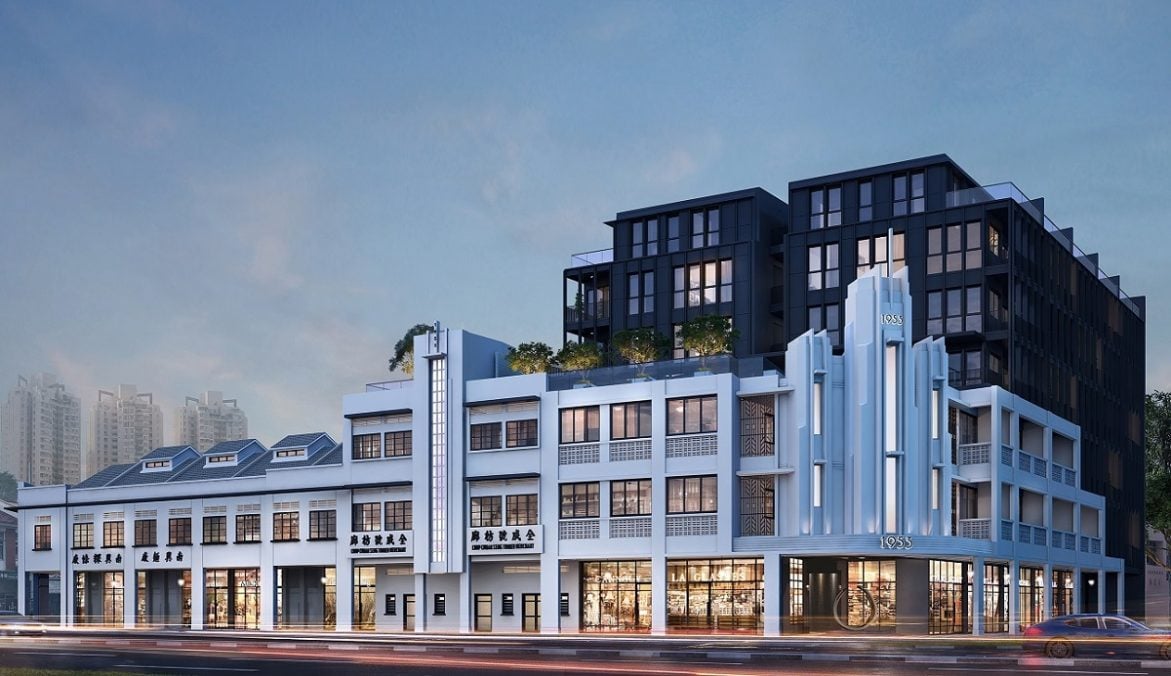 Mention shophouses, and we would imagine pitched roofs, timber windows and five-foot walkways. Their unique identities connect us to our past and reinforce the need to preserve our heritage well into the future.
OWNING A PIECE OF SINGAPORE'S BUILT HERITAGE
To own a piece of built heritage is to understand why shophouses are unique. Shophouses are not all made the same. One way to tell the difference is through their facades, as distinct architectural styles denote contrasting circumstances of how residents lived in the past.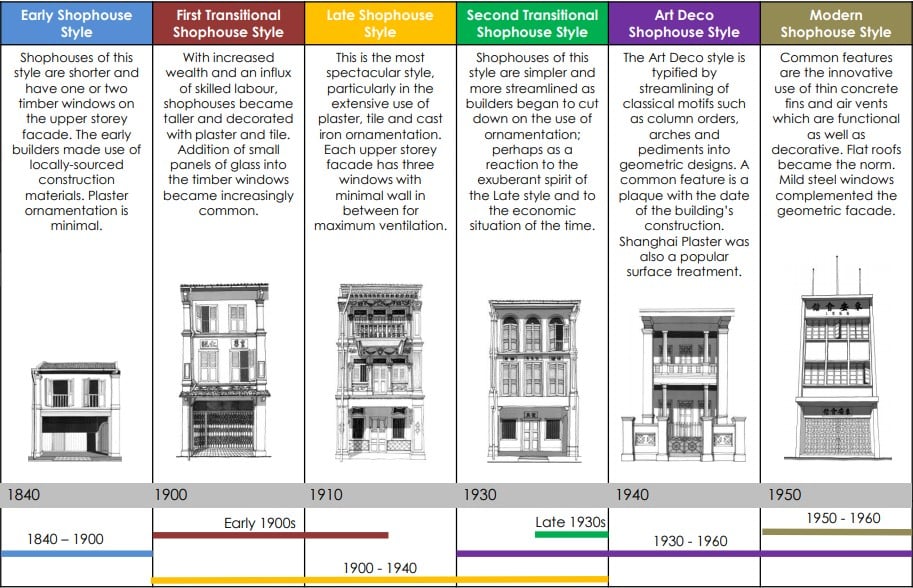 For example, the Early Style shophouses of the mid- to late-19th Century were built shorter with timber windows on the upper floor.
Then, as Singapore's economy flourished with wealth and skilled labour through the early to mid-20th Century, three-storey shophouses emerged – their frontages flushed with ornamentation like Chinese porcelain friezes, Malay timber fretwork and French windows.
The 1930s to 1960s marked a shift, as earlier embellishments faded in favour of streamlined curves and bold, horizontal lines. This period of the Art Deco-style shophouses was characterised by classical column orders, the use of Shanghai plaster and plaques dating their construction.
Today, the prestige of owning a part of built heritage has picked up in momentum. In 2017, homegrown developer Oxley Holdings saw the potential behind a cluster of Art Deco-style shophouses and its adjacent vacant land at Tessensohn and Balestier Roads.
Their redevelopment, 1953, will be the first-of-its-kind in the district – a mixed-use, commercial-residential development, characterised by its row of seven conserved shophouses and a modern, six-storey residential wing. All interiors will be fully refurbished, including the upper floors of the shophouses.
While the shophouses add history and rarity to the development, the residential wing benefits as the property appreciates. The shophouses are akin to collector's items – permanently on display as part of the freehold development for homeowners.
For its design, architects from Park + Associates had the unique challenge of preserving what is historical and iconic while blending in the new and modern.
"Shophouses are important strokes in history. You cannot replicate them, and they are very important in that regard," said Mr Lim Koon Park, the firm's founder and principal architect.
To preserve 1953's identity and interconnect it with the residential block, Park illustrated an example where his team introduced a unique Art Deco-themed grand entrance, reminiscent of the opulent theatre facades from the swinging thirties and forties.
"Corner shophouse plots have always been prime locations, usually a bank or cinema, something rich. So we created a structure on that corner plot to serve as a counterpoint between the existing shophouse and the modern background," shared Park.
WHY SHOPHOUSES?
There are generally three types of shophouses in Singapore: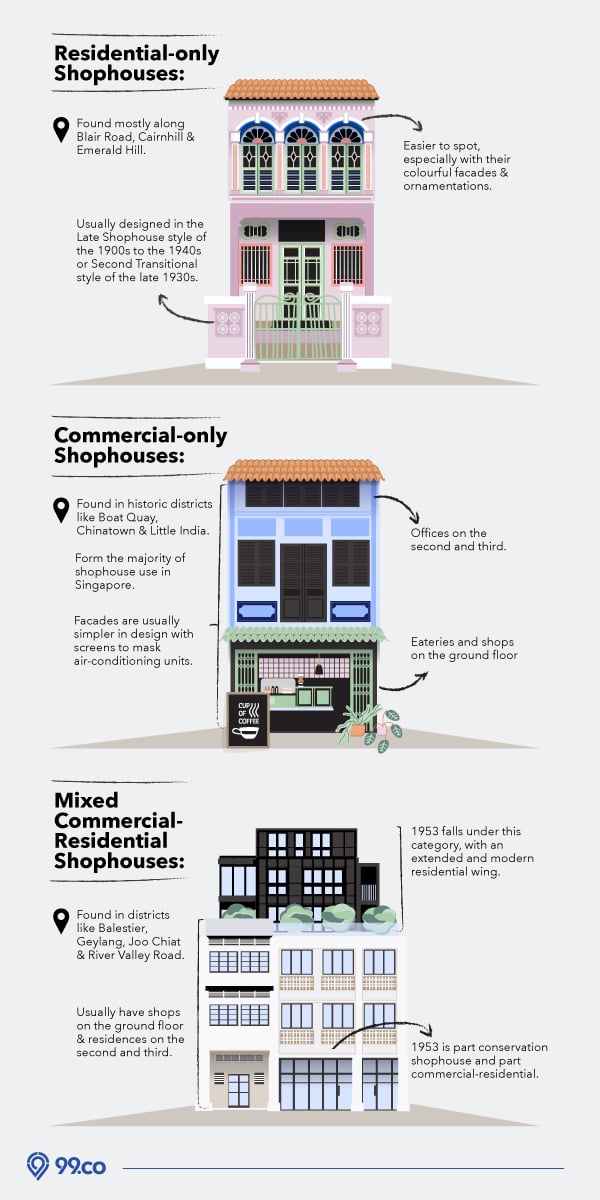 With roughly 6,500 conserved shophouses in Singapore, mixed commercial-residential developments with heritage shophouses are rare. Prospective landlords and homeowners recognise this.
While a standalone shophouse typically costs between S$6 million and S$30 million, depending on its age, floor area and location, a mixed-use shophouse development like 1953 is more affordable. Furthermore, standalone shophouse owners have to take into account renovation and maintenance costs, including the time it takes to supervise and manage them. In contrast, residents of 1953 benefit from the development's move-in condition, saving more on renovation costs.
If you are in the market to own a part of built heritage, 1953 offers immense potential. First, it is both a conservation shophouse and mixed-use residential property. Second, a Q4 2020 report by Colliers International confirms this sentiment, as developments with shophouses are sought-after because they offer capital preservation and stable rental income.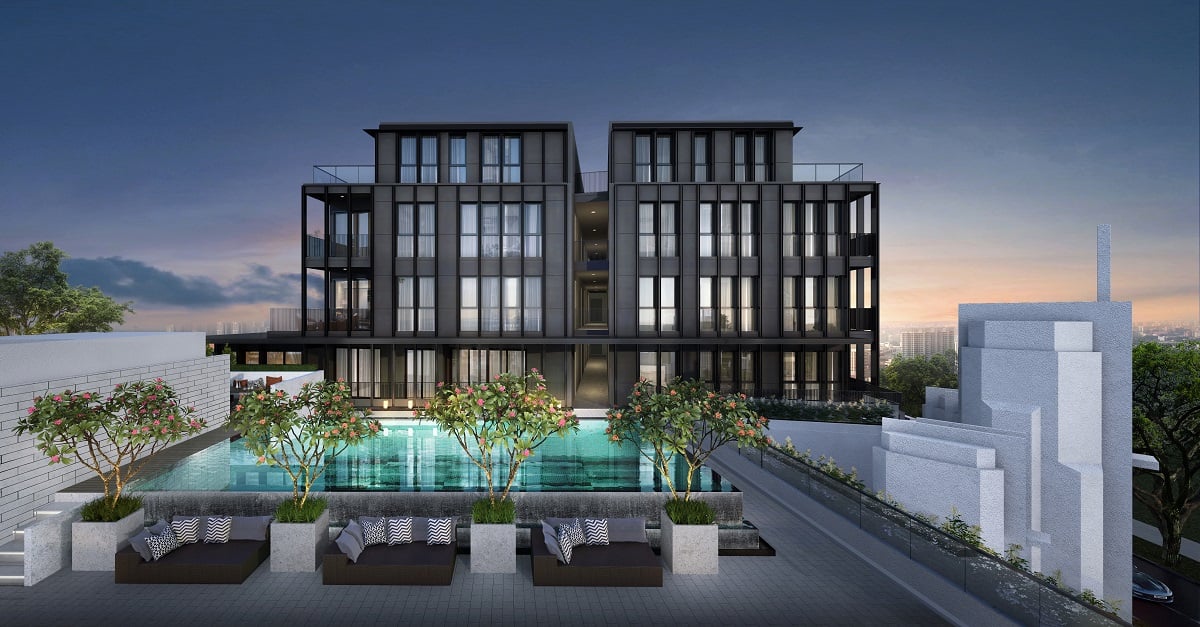 SHOPHOUSES COULD REJUVENATE NEIGHBOURHOODS
Shophouses are typically centrally located or form part of a vibrant neighbourhood that is popular with trendsetters. Picture the shophouses within Bugis Village, Little India and Chinatown, and it's clear why there is increased buyer interest in this segment.
"Most shophouses are in more urban areas, which means plenty of footfall, and better exposure than shops in less ideal locations," explained Park.
Being the first-of-its-kind in the neighbourhood, a shophouse development like 1953 can rejuvenate its existing surrounding area. As residents and tenants live and thrive in the vicinity, new shops, eateries and healthcare facilities may spring up to gentrify the place and give it a distinctive character. Furthermore, 1953's facade spans across Balestier, Tessensohn and Race Course Roads, making it an ideal centrepiece when this happens.
"1953 sits on the fringe of an area that, I think, is primed for rejuvenation," said Park. "If you walk deeper into the city, perhaps the Tyrwhitt Road area, the gentrification has started a few years back, with hip cafes and new typology of businesses. It will start eventually for the area around 1953 since it is the first of its kind, which will spearhead a similar rejuvenation and adds character to the space."
1953: WHERE HISTORY MEETS THE MODERN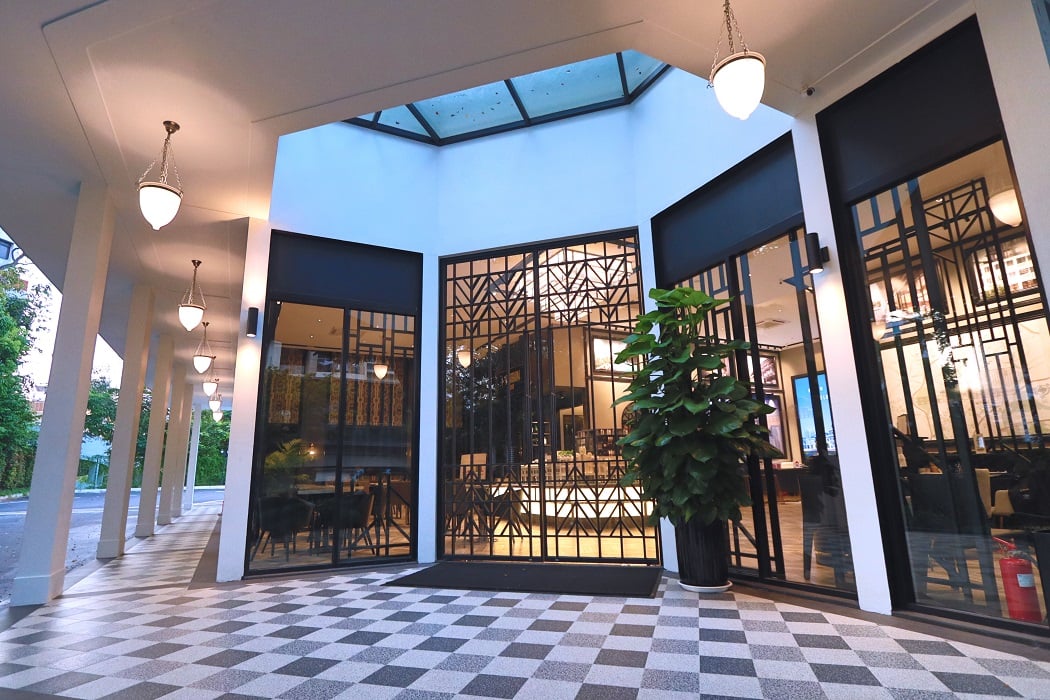 Beyond its old shophouse features like the five-foot walkways and building plaques, 1953 will come with modern amenities: lifts, pool, gym, designer furnishing and fittings.
These will appeal to both homeowners and tenants. For landlords, 1953's rental yield potential warrants attention, as the development lies in District 8 (Farrer Park/Serangoon), not D12 (Balestier/Toa Payoh), which is just one road away.
Strategically, this places it within walking distance to Boon Keng MRT (5 minutes) and Farrer Park MRT (6 minutes). It is also a 9- to 11-minute walk to Rangoon Road Food Centre, City Square Mall or Mustafa Centre – essential considerations for working tenants, as they can get home early after a night out, all within a short train-hop or a stroll away.
For a development that is next to the CCR, its studio to five-bedroom apartments are spacious, ranging between 441 and 1,658 square feet each. Unlike shophouses, which usually vary in land area from as low as 1,300 square feet, 1953 is part conservation and new development, so its 17,938-square-foot land area is more significant in scale and vision.
For anyone interested in living within a modern development with built heritage, 1953 offers the best of both worlds. It comes with nearby conveniences and potential neighbourhood rejuvenation; its distinctive identity and architectural style connect residents and tenants to an invaluable past and valuable future.
"Due to their limited quantity, shophouses give value to the property that's conserved, rejuvenated and modernised internally," said Park. "For the property (like 1953) that's attached to it, if it's properly conceived and designed, it will give the whole development a much stronger character than if it's a total greenfield development."
At the time of writing, Oxley Holdings' 1953 has an amazing offer: its 1-bedroom + study apartment (freehold, city fringe, above 500 square feet in floor area) is available from S$958K. For enquiries on the offer or 1953's other apartment options, please contact Oxley Holdings at salesgallery@oxley.com.sg.
–
Have something to say? Voice your thoughts in our comments section or on our Facebook community page.
Looking for a property? Find the home of your dreams, including 1953, on Singapore's largest property portal.