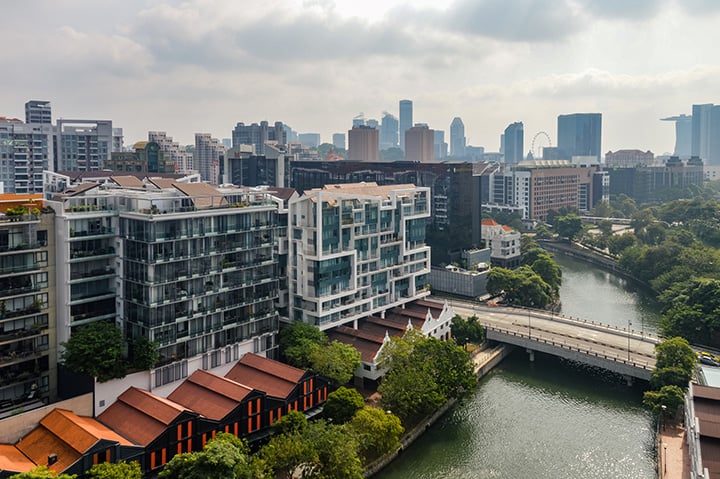 Morgan Stanley recently put out another report, claiming property prices in Singapore can rise 10 per cent by 2019. In fact, they are predicting that housing prices can double by 2030 or, in a bear scenario, 2034. But how true is all this, given the recent cooling measures?
What's the big prediction?
The Morgan Stanley report that we have on hand predicts home prices rising by 10% by the end of 2019: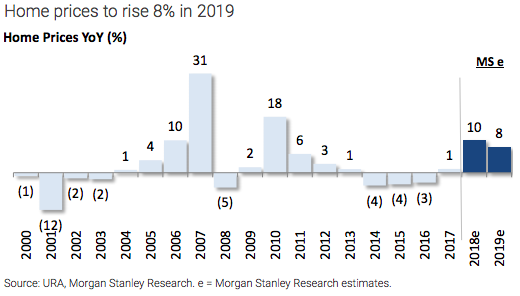 "Despite the latest round of cooling measures and an environment of rising interest rates, we think home prices can continue to rise another 10% by end 2019. Home prices rose in four of the last five rate hike cycles, underpinned by healthy economic growth.
In 2018/19. we expect interest rates to rise, but also expect the economy to expand 3.6% in 2018 and 3.3% in 2019, which is currently above consensus.
Furthermore, we anticipate a wave of capital inflows into the housing market from en bloc beneficiaries and Housing Development Board (HDB) upgraders, while housing supply is still below historical average and set to fall."
The report also addresses Morgan Stanley's previous prediction, before the last cooling measure. They're still fairly confident of home prices doubling by 2030, or 2034 in a bear scenario:
"In particular, we argue that residential property as an asset class in Singapore remains attractive, and we expect home prices to double by 2030, as Singapore's economy continues to outperform DM peers over the medium term.".
Now is all this just hot air, or could it really happen? Combing through the report, Morgan Stanley identifies a few key drivers behind their prediction. Here's where we have certain doubts:
"The return of high-skilled workers to raise housing demand"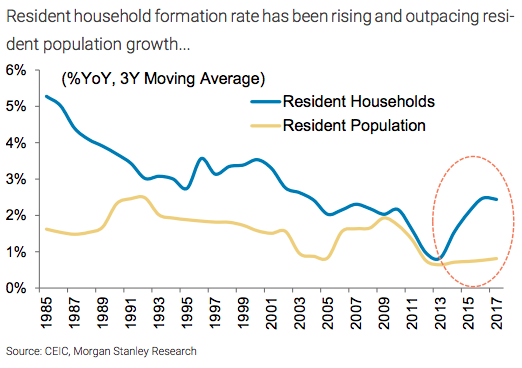 "We expect a rising household formation rate, driven by singles, and shifting profile of foreign labour towards higher-skilled workers to continue to drive housing demand, and help to offset slower headline population growth."
We don't dispute that household formation continues to grow, although 2.1% year-on-year (from the same report) is nothing particularly explosive. We're not so sure about higher-skilled workers coming back to drive housing demand though.
According to the Ministry of Manpower, the number of foreign professionals on Employment Pass fell to 187,700 last year, from 192,300 in 2016. In fact, last year we saw the biggest drop in foreign workers in 15 years (and the number of EP workers also fell by 4,500).
That the number of S-Pass holders has risen isn't too meaningful. We hate to sound snobbish, but the fact is EP workers are the ones more likely to, say, rent a condo or buy a property here in Singapore. Lower skilled workers generally don't make enough to buy housing in Singapore, especially given the Additional Buyers Stamp Duty (ABSD).
Some will probably point to the fact that, despite all this, the number of foreign buyers did rise last year. But that was due to a flood of Chinese National buyers (who were reacting to certain domestic policies in China); and even then, these buyers only rose 31.9%, as opposed to tripling like they did back in 2009.
In short, while we agree foreign buyers are returning to Singapore, we don't think it's happening at the pace predicted. The surge in Chinese National buyers last year should be discounted as a one-off event; striking 4D this month can't be taken as an accurate reflection of your overall income rising.
We also need to consider the state of the global economy, which is still tense. As long as the US and UK want to retain a protectionist stance (trade wars and Brexit, respectively), foreign investors might be more guarded about their investments.
"Singapore's awesome economy will sustain our property habit"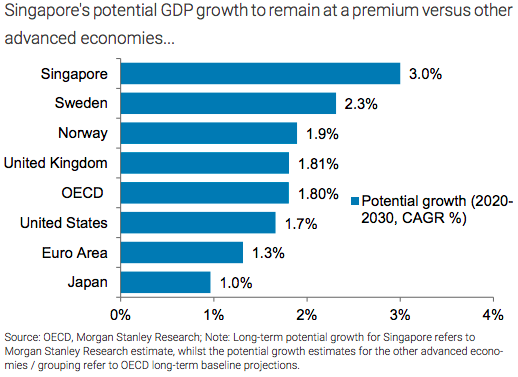 "We expect Singapore's economy to continue to outperform other advanced economies over the medium term – hence supporting income growth and consequently housing demand."
We're not economists, but that sounds very optimistic to us – especially given that our government is warning of potential trouble ahead. It's true that Singapore's growth has outpaced many developed economies, at over 3% (most developed economies are managing 2.3% on average right now).
Using driving as an analogy, that's a little like staring at your speedometer instead of at the road. It's also important to look up from the number, and see what lies ahead:
Singapore is an export economy, and we've made our wealth on global trade. The US and China are now locked in a trade war, and the world's biggest economy also seems to be embracing protectionism (bigly).
We guess that, if nothing goes wrong, Singaporeans could all get richer and afford more houses. But we also remember the last time big banks assured us everything was fine, it was just before 2008.
"New HDB measures will propel demand for private property"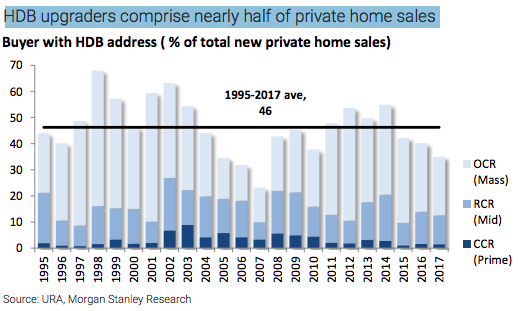 Morgan Stanley's argument is that the new public housing initiatives (HIP II and VERS) announced by policymakers will boost HDB resale prices. As if this doesn't raise enough eyebrows, they went on to state this:
"We believe that this in turn supports our thesis of sustained private housing price appreciation. Over the longer run, VERS helps even the pace of redeveloping HDB estates that reach the 99-year mark, which helps to stabilise supply and (in our view) the outlook for price appreciation."
Not only is this putting the horse before the cart, Morgan Stanley went one step further, arguing that because HDB upgraders comprise nearly half of private home sales, the boosting of HDB resale prices will drive private property prices up. Perhaps because it could've been put together by outsiders unfamiliar with the Singapore context, the Morgan Stanley report has conveniently neglected to mention: How the HDB resale market has been stagnant for years; the concern over HDB lease decay among Singaporeans on the ground; the fundamental change in how a HDB resale flat is bought and sold following the scrapping of the Cash-over-Valuation (COV) system in 2014 — all factors that suppress HDB resale transaction prices.
Our take is that HDB flat owners are going to find it harder and harder to upgrade to condos, given the increasing price differential. Given this, we're not fully comfortable with Morgan Stanley's assumption.
These sticking points aside, a 10% jump in private property prices in Singapore next year might still be possible.
A 10% rise by end-2019 isn't really far-fetched, considering what we've seen this year. Consider how quickly prices skyrocketed, before the last cooling measure:
According to the data from the Urban Redevelopment Authority (URA), median home prices in the first two quarters of this year were around $1,319 psf. This is close to the last peak, which was in 2013. However, prices had previously fallen by around 11% from the last peak in 2013, before the accelerated pick-up from late 2017 onwards.
In the span of less than a year, we saw a rebound of almost 10% — and it would have kept going if the government hadn't intervened. Our property market has shown us that these jumps are possible.
However, this still hinges on two main conditions:
The first is that the overall economy remains strong. Singapore can't be too badly affected by trade tensions — and overseas, foreign investors need to stay calm about US protectionism (if they get too wary, they might take a "wait and see" approach, and put a brake on investing in our properties as well).
Second, our government has constantly expressed a desire to keep home prices manageable. If they imposed measures because we saw a near 10% jump this year, why would we be sure they'd let it happen in 2019?
So we'd yes to the possibility of it happening, as it would have happened this year had the government simply let it. But we're not confident that prices can continue to rise, without further policy intervention.
Is the Morgan Stanley report on the Singapore property market credible? Voice your opinion in the comments section or on our Facebook community page.
If you found this article helpful, 99.co recommends How property buyers should react to the ABSD increase and Why the private home sales slump is not all doom and gloom
Looking for a property? Find your dream home on Singapore's largest property portal 99.co!
Upcoming Freehold Condo Launch: The Arcady @ Boon Keng
About Ryan Ong
Looking to sell your property?
Whether your HDB apartment is reaching the end of its Minimum Occupation Period (MOP) or your condo has crossed its Seller Stamp Duty (SSD) window, it is always good to know how much you can potentially gain if you were to list and sell your property. Not only that, you'll also need to know whether your gains would allow you to right-size to the dream home in the neighbourhood you and your family have been eyeing.
One easy way is to send us a request for a credible and trusted property consultant to reach out to you.
Alternatively, you can jump onto 99.co's Property Value Tool to get an estimate for free.
If you're looking for your dream home, be it as a first-time or seasoned homebuyer or seller – say, to upgrade or right-size – you will find it on Singapore's fastest-growing property portal 99.co.
Meanwhile, if you have an interesting property-related story to share with us, drop us a message here — and we'll review it and get back to you.
Join our social media communities!
Facebook | Instagram | TikTok | Telegram | YouTube | Twitter