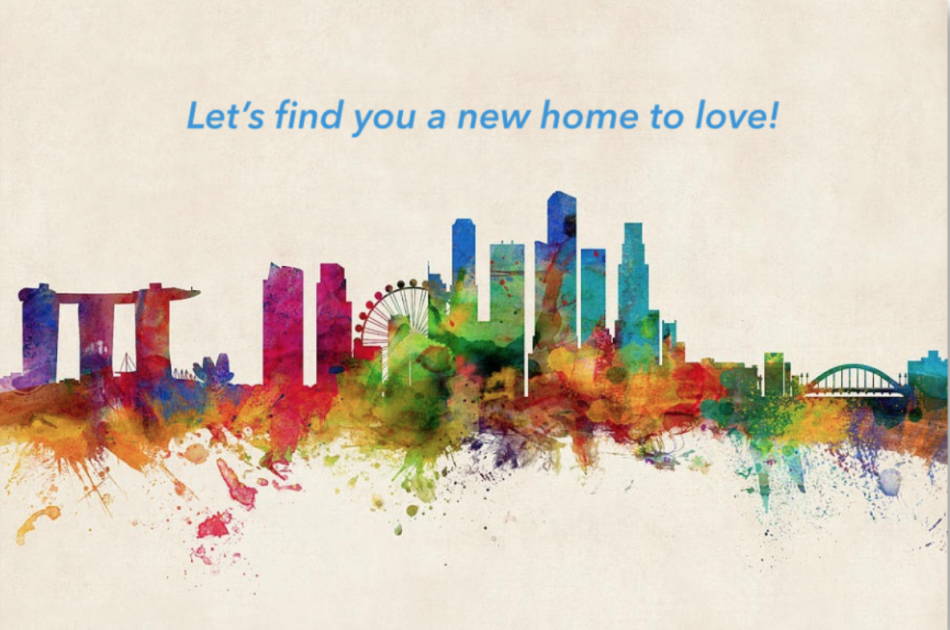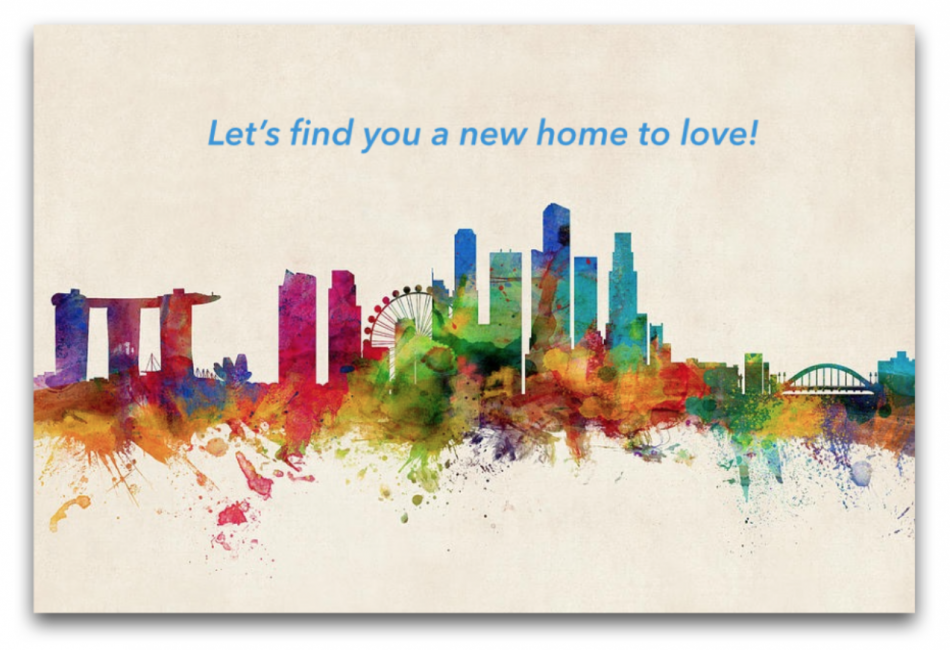 To make life a little easier for Singapore expats, we at 99.co have written-up a Singapore Rental Guide especially tailored to our friends from a far. So, let's get started with some good news!
Good news: Apartments in Singapore are world-class, and your new adventure here may very well start with finding a beautiful home.
Bad news: Especially when you are unfamiliar with the market, it can be quite a pain to get through the house-hunting process and find the right place.
That's where this guide comes in. New country, new market, new rules. So let's break down the Singaporean real-estate industry for you and pave the way to your new home in our Lion City.
A brief introduction for Singapore expats: The local rental market
Like most rental markets, Singapore is home to landlords, tenants, agents and property portals. As a Singapore expat, you can either use a tenant's agent to find a home for you, or you can go out there and enter the wilderness yourself. Either way it is worth getting to know the marketplace a little, so that you will know what to look out for. Not sure whether hiring an agent is something for you? Take a peek in our to agent or not to agent guide!
Before we start, let's get something out of the way: It is not going to be cheap. We are cramped for space here, so forget about chasing that amazing place, which is perfectly located, has all the amenities you desire, and also just happens to be very cheap. It's mythical. Really, it is better to simply focus on getting a good place. So let's get a shortlist going of all the criteria you should have in mind when you start looking for a place:
I. Transport
Placed bullseye on the equator, Singapore is hot hot hot, so walking and cycling during the day will leave you standing in a puddle of your own sweat within a few minutes. We are also really tiny, which has led our government to cap the number of cars on the road which basically means that having a car here is really, really expensive. Since cars, bicycles and walking is mostly out, you will be bound by public transportation.
Worry not, Singapore is home to an excellent public transport system and it is really easy to get around. With a fleet of 4200+ busses and an ever-expanding train network, you will be able to reach round about any place on the island affordably. What is more, there are over 26,000 taxies, and recently its revolutionary brother Uber has entered the playing field, granting you ample options to make your way around.
The issue here is not so much distance as it is time, commuting time to be precise. You may live only a few kilometers away from work, but if those few kilometers include two bus rides and a trip on the MRT, then you may very well find yourself spending an hour or so commuting every day. To avoid wasting time we recommend you to place commuting time high on your list of criteria for your new home. What is more, we have designed a feature on our website which allows you to do just that: "search by travel time". Simply fill in an address (probably your workplace), add your desired max travel time and see the map transform to show you precisely what areas fit the requirements.  
Also, let us introduce you to the golden rule of home-hunting in Singapore: Walking distance to an MRT matters! Not because an extra bus ride is such a pain, but because waiting for an extra busride is. Did we mention it is hot here in Singapore? To make life easy we have designed an interactive map of the Singapore MRT network. Simply press the station you wish to live close to and all the listings in close proximity will show up!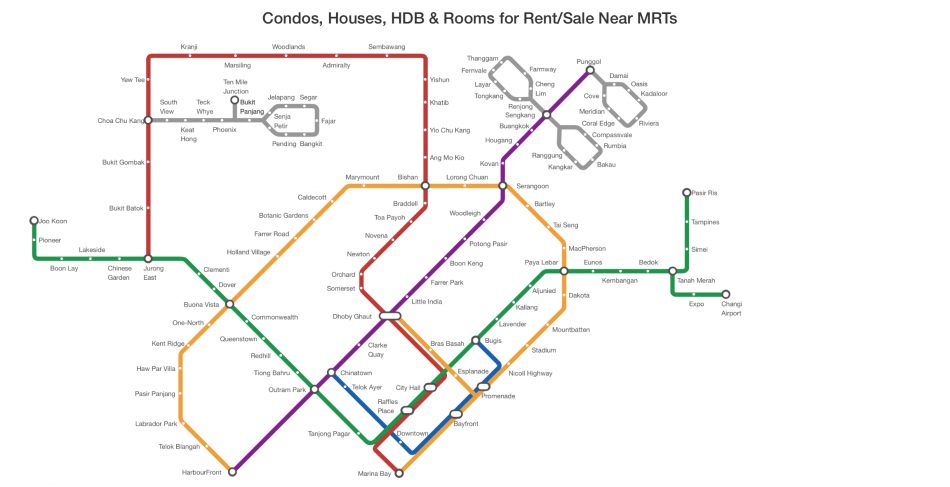 II. Food
Singapore is a true multi-cultural pot of culinary delights. Not much of a foodie? We give you a month – or less 🙂 . Most Singaporeans eat out all the time, and options are in abundance, from S$4 outdoor hawker centre food (that's a collective of little food stalls), to S$1000 restaurant dinners. In any case, Singapore is the land of eateries, and you may just want to place living near some on your list.
If you plan to cook occasionally, or regularly for that matter, it will be well worth to rent a place in relative proximity to a supermarket. You know how they say that Singapore has one of the highest costs of living? No? Well, come grocery shopping once and you will. There are four main supermarkets:
Cold storage: Good quality food, many international brands, good home delivery service, and…  of course, it all comes with a price tag.
FairPrice: Considerably cheaper than Cold Storage. While still offering a wide variety of products, its selection of international brands is relatively more limited
Giant: This one puts the "super" in supermarket. A behemoth of a grocery store cum shopping centre, Giant is your place to shop in bulk.
Sheng Siong: This is by far the cheapest supermarket chain in Singapore. It does not have many international brands, but makes up for it with very competitive prices (for Singapore standards of course).
III. Building Types
The type of property Singapore expats will be renting makes a whole lot of difference in Singapore both in the rent you will pay and the living experience you will have. It follows that housing type is one of the main filters during the house-hunting journey on our website. So, let's see what options you have to choose from:
For the long version, see our separate guide on housing types
For the short, and expat-tailored version, read on:
Singapore's housing can generally be divided up into three categories: HDB, Condominiums, and Landed Property.
 – HDB
Locally known as Housing and Development Buildings, or simply HDBs, these concrete giants are the much-famed public housing of Singapore. An estimated 80 percent of Singaporeans live in HDB flats. They are generally clean, safe, and a lot better than most private apartments in other cities, yet they lack the more prestigious amenities that you can often find in condominiums. Apartments come with 1 to 5 rooms, and for foreigners all units with 3 or more rooms can be rented out.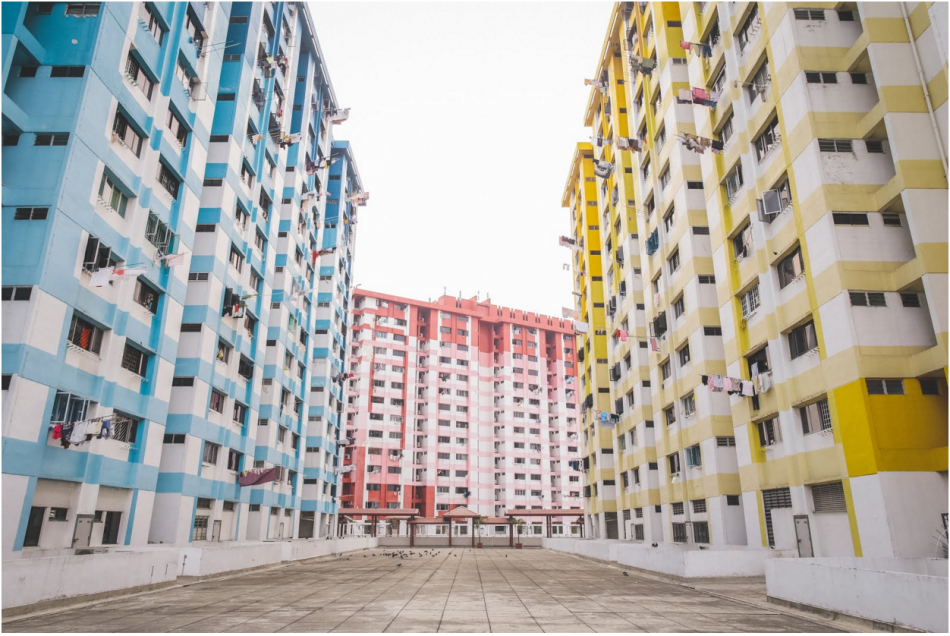 – Condominiums
Singapore knows many condominiums. Most popular with expatriates, condominiums are private apartments home to recreational facilities such as swimming pools, security, gyms, tennis courts, basketball pits, and much, much more. Generally the more amenities, and the more luxurious these amenities, the higher the rent. Condo's are the go-to option for those who are looking for comfort, do not mind the pay, and find landed property either too expensive or too much maintenance.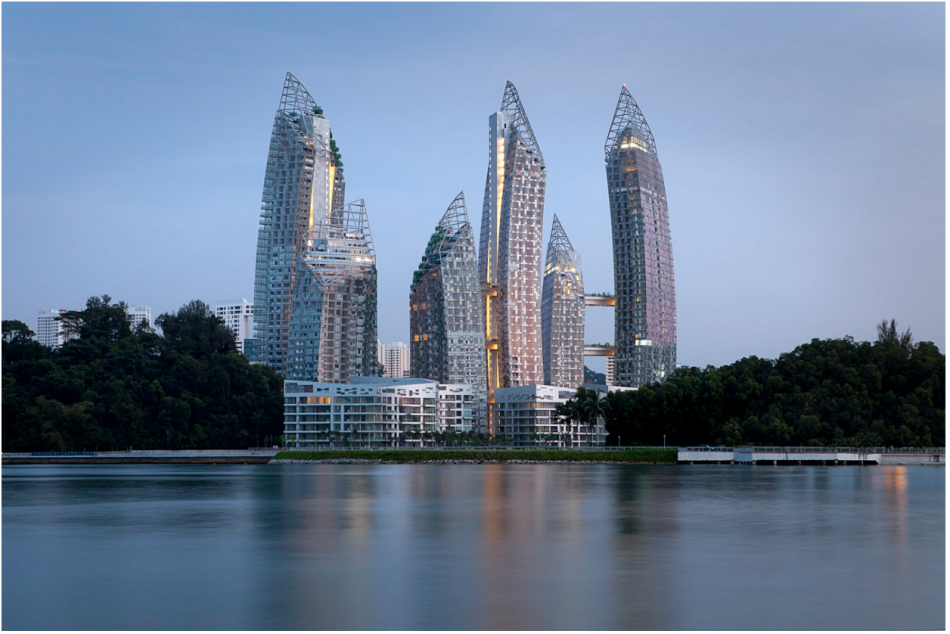 – Landed Property
What is known outside of Singapore simply as "a house", is in Singapore placed at the end of the proverbial rainbow. Landed property is very much desired amongst Singaporeans and is often conjectured to be the place one reaches after having climbed the social ladder all the way to the top. Landed properties are generally large, rather private and can have gardens – all of which is a privilege in Singapore. While such housing can easily tick of a couple of millions of your bank account when you aim to buy, renting a landed property tends to be cheaper than renting a condo as it lacks the more luxurious amenities and is often located on the city fringes.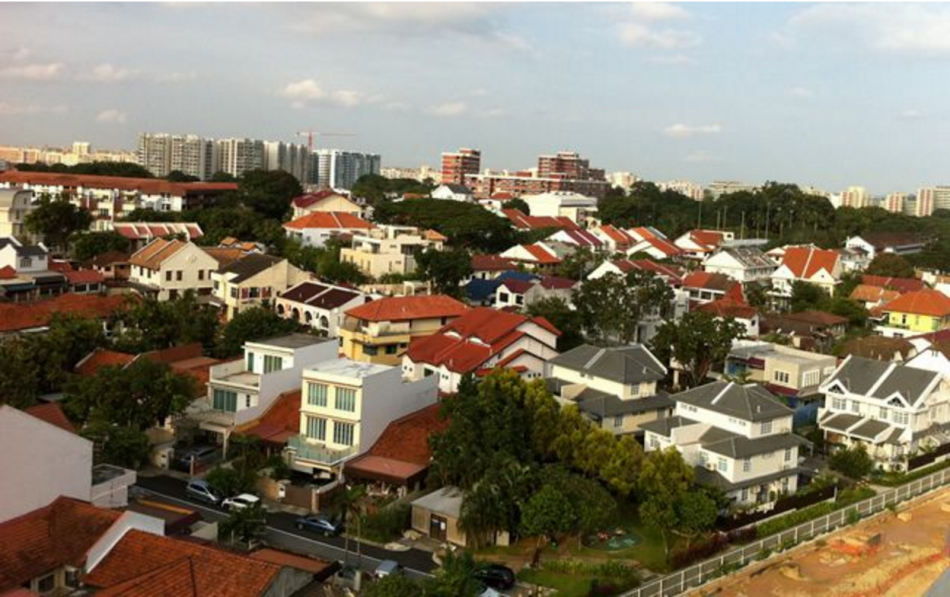 IV. Neighbourhoods
While Singapore is small, there is a lot of variety between the different neighbourhoods. Keen on a vibrant nightlife then Clark Quay or perhaps Orchard is the place for you. Are you more of a park and beach lover, then getting a place near East Coast would be optimal. To get a better idea of what the different neighbourhoods have to offer we recommend you to take some time out to (virtually) explore the country. See our Neighbourhood page for some brief insights.
To give you a nudge in what we hope is the right direction, we have assembled a small list of neighbourhood most popular with Singapore expats:
After you have found your new dream-home…
Commuting time matters, food matters, building type matters, and neighbourhood matters. So far so good. Let's now move from the big picture to a smaller one, and see what you need to know once you have found your potential home. While different things matter to different people, as a general rule we have found the following issues to rank high on almost everybody's list of look-outs:
I. Lease Term
A standard lease term comes in 12 months or 24 months. There is also the option for a 6 month lease term but most landlords will try to avoid this. Anything below 6 months is illegal for an HDB flat, and highly discouraged for private property (that's condos and landed property). And when we say "highly discouraged" we are referring to the Urban Redevelopment Authority (URA) publishing statements the likes of "apartments or rooms should not be rented out on a short-term basis of less than 6 months". In practise, the authorities are rather rigorous enforcing the law on HDBs, while being relatively lackluster with private residential property. So, let's call this area dark-grey. As an expatriate, it's really best just to avoid any potential trouble and aim your arrows at a lease of 6 months or higher. As a rule of thumb, the longer the lease term the smaller the renting price.
II. Furnishing
Your Singaporean home can come partially or fully furnished. Your circumstances and preferences will probably guide your decision here, yet it may be good to point out some Singapore-specific quarrels that you may want to include in the decision making process: over and above the you-break-it-you-buy-it policy, many landlords tend to adopt a it-wears-you-buy-it policy, leading to your furniture to potentially turn into a liability. Renting an apartment fully furnished can still be very convenient, and we simply recommend to contractually set out who bears the burden of maintenance and wear-and-tear damages. Nobody wants costly surprises when the lease ends, and it is not unheard of in Singapore.
III. Utilities
The easy way: include the utilities into the renting price, and have the landlord take care of it.
The other way: manage your utilities yourself. If you do not have any kafkaesque aversion to a little bureaucracy then this should be no problem. See our separate step-by-step guide to learn precisely what has to be done to get your utilities working in Singapore.
Regardless of whether Singapore expats will arrange for the landlord to bear the responsibilities of the utilities or not, it is important to realise that in addition to electricity, water, gas and wifi, air conditioning should be high up on your utility list. It drains electricity and needs to be serviced once in awhile, so be sure to keep it in consideration.
IV. Negotiations
While it is not as much of a haggle-fest as many of its Southeast Asian neighbours, Singapore is still home to much negotiating, and the rental market is a perfect example of a place where prices are never set in stone. What is more, negotiation marges can be rather large, making it worth investing some time in getting negotiation-savvy. For more, check out our guide on how to negotiate your rent down in Singapore.
V. Legal matters
Once you find a place you like to call your new home, deals will have to be made and papers will have to be signed. It is custom (not obligatory though!) to sign a Letter of Intent (LOI) with the Landlord. In brief, the LOI shows the landlord you are serious about renting the place. To underscore your intentions, the LOI comes with a Good Faith Deposit, worth one month's rent. Bottom line, only pay after the document is signed, and use a bank transfer rather than cash. The landlord will have to return the Good Faith Deposit once you have signed the Tenancy Agreement (TA).
After the LOI has been signed and you transferred the money, the landlord will cease to market the property to anyone else and focus solely on working towards an agreement with you. Once the I's have been dotted and the Ts are crossed, you will move on to sign the Tenancy Agreement (TA). Again, money will have to change hands here. This time around, a Security Deposit (also worth one month's rent) will have to be transferred upon the signing of the TA. It serves as insurance for the landlord in case you decide to tear the place apart during your stay.
(Did you also know, aside from normal payment methods like cheque, you can pay for the security deposit with your credit card via CardUp.co. This is especially beneficial if you do not have a large amount of cash on hand, or have not set up a local bank account yet.)
For a comprehensive account of the Letter of intent, the Tenancy agreement, the Good Faith Deposit and the Security Deposit, see our separate guides here, and here. 
If there is anything Singapore expats have to take home from this read it is to include a diplomatic/repatriate clause in the TA. This will allow you to break the contract in case you get fired or are moved overseas.
And that's a wrap!
The good news is still that a world-class apartment may be waiting for you here in Singapore, and as for the bad news of it all being a hassle, we hope this guide to have a mitigating effect there. That said, researching Singapore and reading up on how to rent is of course just half the work, and about 5 percent of the fun, so really, try your hand at our our map-based property portal, play around with the filter options and create a shortlist of your potential new homes. And you can now also download our chat-app, which will already allow you to contact agents and landlords. No need to even be physically in Singapore yet!
Check out other rental related articles here: Ask the 99.co expert: Breaking your rental lease early in Singapore and Foreign tenant's security deposit withheld by landlord – is there any truth to this?
Find the rental home of your dreams today at Singapore's largest property portal 99.co!
About Marouan Fatti
Looking to sell your property?
Whether your HDB apartment is reaching the end of its Minimum Occupation Period (MOP) or your condo has crossed its Seller Stamp Duty (SSD) window, it is always good to know how much you can potentially gain if you were to list and sell your property. Not only that, you'll also need to know whether your gains would allow you to right-size to the dream home in the neighbourhood you and your family have been eyeing.
One easy way is to send us a request for a credible and trusted property consultant to reach out to you.
Alternatively, you can jump onto 99.co's Property Value Tool to get an estimate for free.
If you're looking for your dream home, be it as a first-time or seasoned homebuyer or seller – say, to upgrade or right-size – you will find it on Singapore's fastest-growing property portal 99.co.
Meanwhile, if you have an interesting property-related story to share with us, drop us a message here — and we'll review it and get back to you.
Join our social media communities!
Facebook | Instagram | TikTok | Telegram | YouTube | Twitter