Shoebox units are a favourite among new investors, due to the low overall cost. But according to some others, they're just an over-hyped asset foisted on newbies. Who's right? We look at their performance over the past 10 years:
Shoeboxes? What are we talking about here?
You can read more about it here; but to summarise, shoebox units are apartments with 506 square feet or under. These units tend to have a higher price per square foot, but lower overall costs.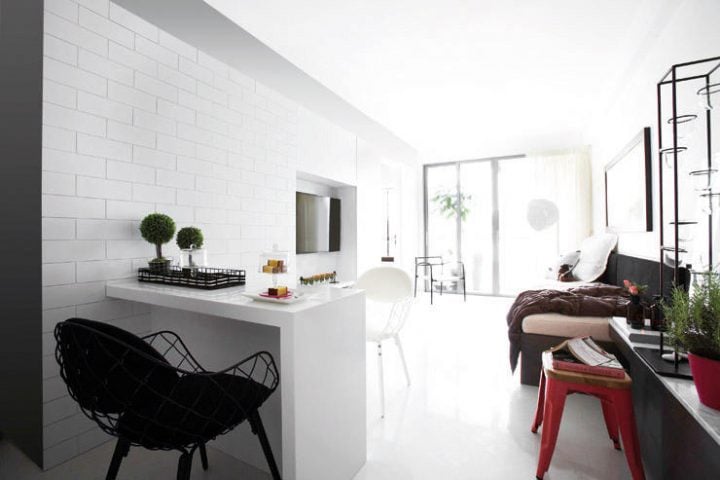 Shoeboxes are mainly purchased by investors to rent out (they're considered too small to raise a family by many). The main tenant demographic is affluent single expatriates. Shoeboxes are also purchased by retirees who don't live with children, or lifelong singles – they're a good way to get access to condo facilities, without paying full condo prices.
Let's look at how well they've performed as investments:
Shoeboxes versus the overall condo market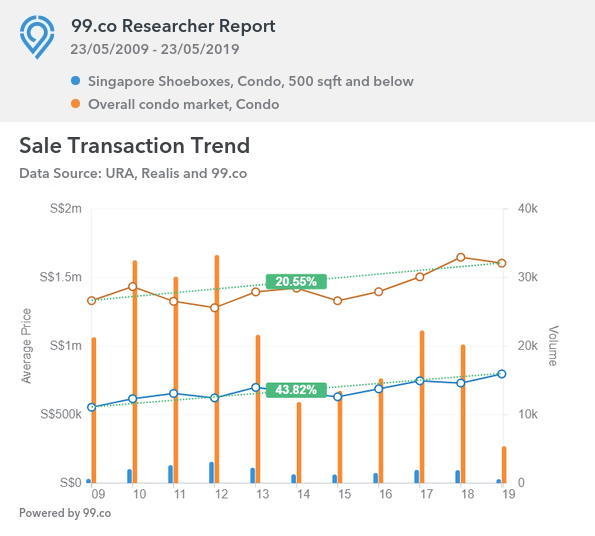 In terms of price, shoeboxes have gone from an average of $533,000 to about $796,000, appreciating 43.8 per cent over the past decade. By contrast, the overall condo market has appreciated from an average of $1.3 million, to about $1.6 million. This an appreciation of just 20.5 per cent, lagging significantly behind shoebox counterparts.
But what about rental rates? Unfortunately, there's a lack of data here, but we'll do what we can: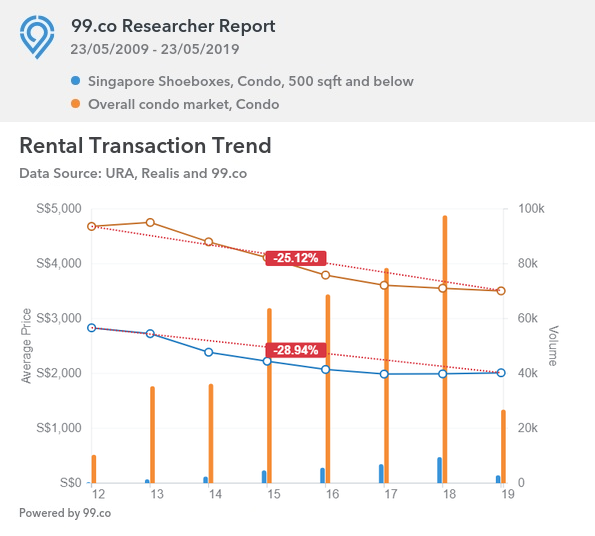 We only have data from 2012 onward. But over the past seven years, average rental income from shoebox units has declined from around $2,800 per month, to around $2,000 per month. A decline of about 29 per cent. This is slightly worse than the overall condo market, in which average rental income dipped from about $4,680 to $3,500.
But how well did shoeboxes perform in specific regions?
Let's start with the Core Central Region (CCR), as this is where many investors buy shoeboxes to rent out: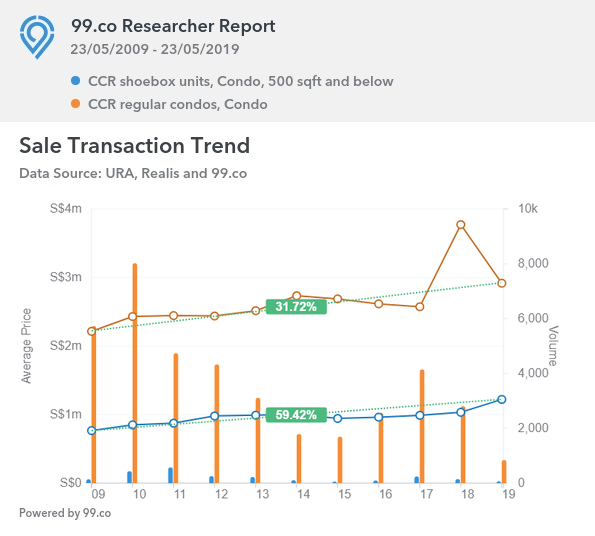 Shoeboxes significantly outperformed the overall condo market in the CCR, appreciating by over 59 per cent in the past 10 years. Average prices for shoeboxes in the region have appreciated from about $765,600 to $1.22 million. Conversely, the overall condo market in the CCR saw appreciation of only about 32 per cent – from an average of $2.2 million, to $2.9 million.
The sharp kink between 2017 and 2018 was due to the introduction of tighter cooling measures in 2018. Notice that shoebox units were unscathed by this, and prices even continued to climb slightly. We believe that, due to higher stamp duties and tighter loan curbs, some buyers may actually have switched from buying larger condos to smaller, more affordable shoebox investments.
In terms of average rental income however, shoeboxes again saw bigger dips. The fall in average rental income was six percentage points higher for shoeboxes, compared to the overall CCR condo market. Average rental income for CCR shoeboxes have shrunk from about $3,300, to $2,400. For regular condos, the decline is from an average of $6,000, to about $4,915.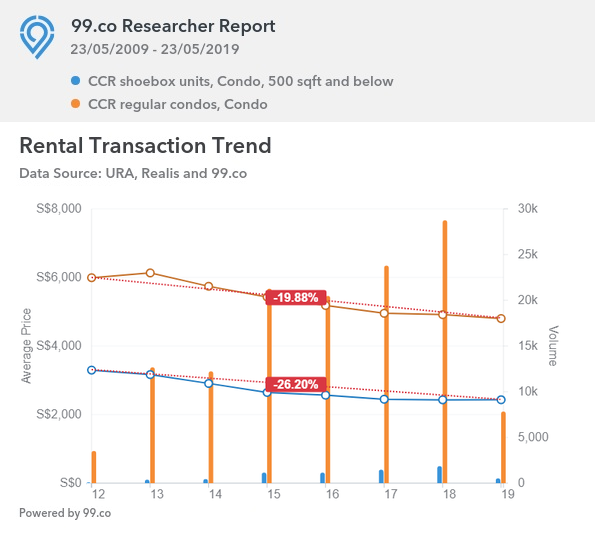 The same pattern is mirrored in other regions
The Rest of Central Region (RCR) and Outside of Central Region (OCR) mirror the above.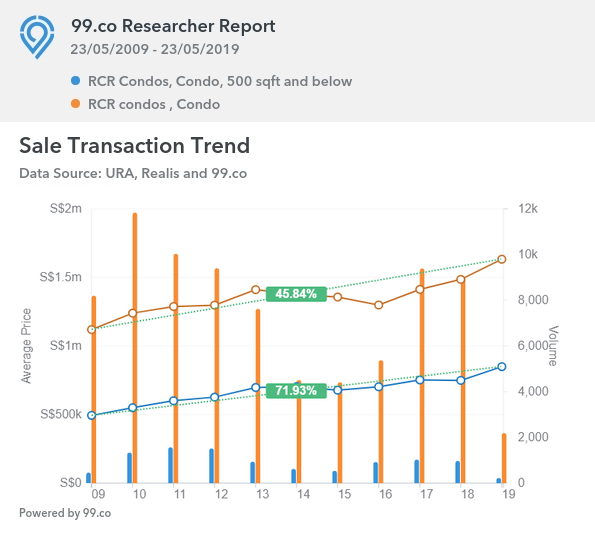 In the RCR, shoebox prices appreciated by almost 72 per cent, the best overall gains among the three regions. In terms of rental income, shoeboxes again under performed their larger counterparts slightly: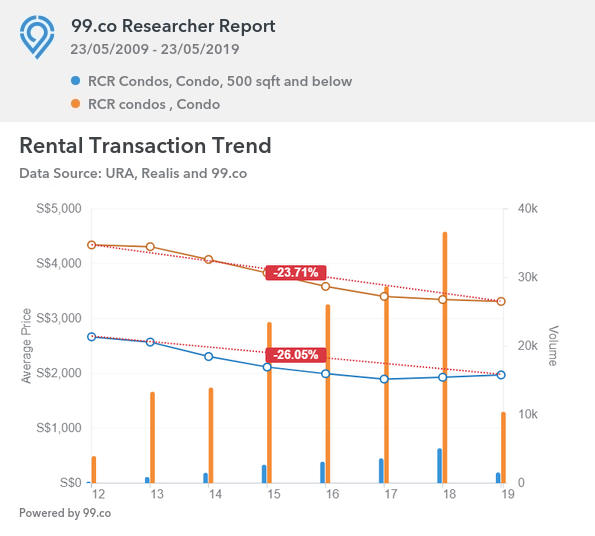 In the OCR, the difference in gains was smaller compared to the two other regions. Shoeboxes again appreciated better than the overall condo market, in terms of average price; but only by a difference of nine percentage points.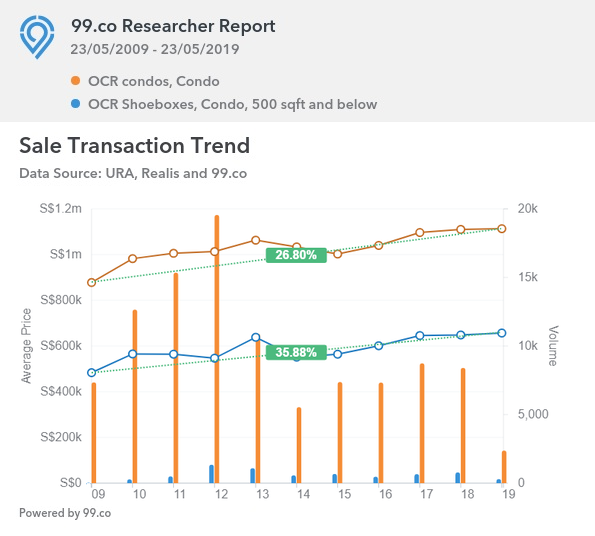 In terms of average rental income, shoeboxes again fared worse. Average rental income for shoeboxes fell by around a third, while the decline was slightly less at 27.5 per cent for the overall OCR market.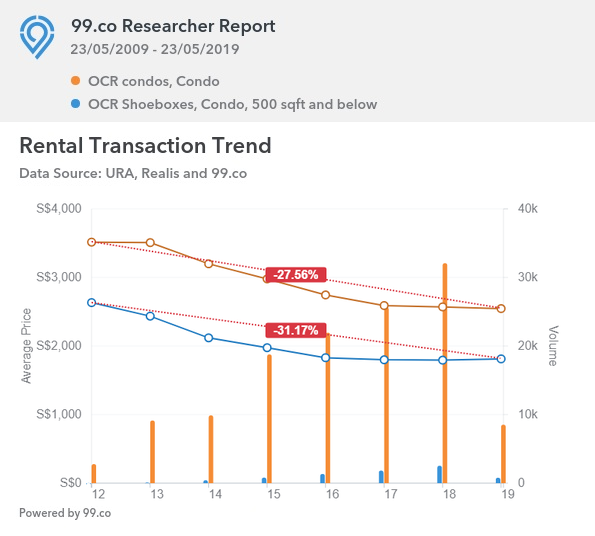 The demand for shoeboxes is set to rise
Higher stamp duties and loan curbs have made regular-sized condos less affordable. However, shoebox units can be found for as low as $700,000 to $800,000 even now. This is appealing to both aspiring investors, as well as singles who want a condo-standard of living (but don't need to plan for room for a family).
Given that URA has also tightened rules on how many shoebox units can be built, we expect the upward trend to continue as supply drops.
Would you buy a shoebox unit? Voice your thoughts in our comments section or on our Facebook community page. For added help, check out our Haus It Going event on the 25th of May at HDB hub. All you self-employed peeps are welcome to ask our expert panel for help!
Looking for a property? Find the home of your dreams today on Singapore's largest property portal 99.co! You can also access a wide range of tools to calculate your down payments and loan repayments, to make an informed purchase.