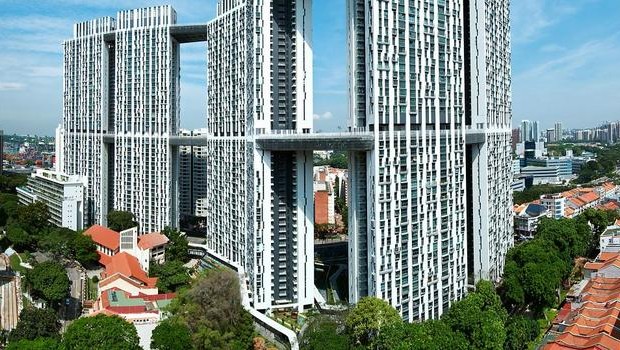 City View @ Boon Keng, a Design, Build, and Sell Scheme (DBSS) flat has sold for $1.1 million. By a rough estimate, the sellers would have made around S$300,000 from the sale. But this is just one of several "million dollar flats", of which the record is still held by Pinnacle @ Duxton. It is a given fact more million dollar flats have appeared in that particular development compared to anywhere else. But what is it that makes these flats so valuable, and how can you tilt the odds of selling a HDB flat for a big profit?
An important note on selling a HDB flat for $1 million
Logic does not play a big part in it. When it comes property, you can do all the right things and still not make a profit. The market is as driven by irrational emotions, as it is mathematical realities.
How does that apply to million dollar flats?
For the most part, they are bought by people who have no interest in a profit. The buyers may intend to stay there the rest of their lives. They may be willing to pay much more for a house, because they place inordinate – and potentially illogical – value on some part of it.
Finding a buyer like that is like striking 4D. It sometimes happens, but you shouldn't count on it.
There are, however, things you can do to improve your odds when selling a HDB flat. And if it doesn't net you a million dollar flat, it may at least net you a better price.
Read, read, read, the Master Plan
If you want a shot at a million dollar flat, you need to follow some tactics of property investors (people who buy to be landlords and make money, not just for a roof over their heads). And the textbook of property investment is the Urban Redevelopment Authority's Master Plan.
There are two things in the Master Plan that are important. First, it gives you a general outlook of how the district will change. For example, the intention to turn Jurong into a secondary business hub was in place long below property prices there shot up. When it was announced, Jurong was still an industrial area with all the amenities of a run down truck stop. But savvy investors chose to buy in Jurong even then, because they knew the Master Plan would drive up values there.
Second, URA is quite open about zoning laws. This describes what the land plots in a given area can be used for. Investors who were quick to seize on Geylang property did so because they knew about the land plots: some spaces in the area could no longer be used for residential development in the future, thus driving up values of existing residences there. They were quick to snap up available properties in the area.
If you want to spot a flat which has a million dollar potential, look for places that the government wants to turn into a business or lifestyle hub.
Be ready to face some discomfort
Knowing where the next hotspot may be isn't enough. You may be called upon to make an uncomfortable risk: are you prepared to live in a particularly "ulu" location, or far away from your parents?
Before Tiong Bahru became a hotspot, it was an ageing estate with few amenities that young people cared for. When was the last time you went to a songbird competition, or played caroms? That's what used to go on there, in the way of entertainment.
(Today it's a booming hipster hub, and you should totally visit the famous Tiong Bahru Bakery).
Remember that, on top of the discomfort, a lot of luck is still involved. You may go through all that and still not make a monstrous profit. Make sure you're okay with that.
Of course if you're lucky, a future hotspot may also be convenient for you when selling a HDB flat.
Look for architectural "firsts" or quirks
Often (but not always), the developments where we find million dollar flats have some kind of architectural quirk. Or they are the "first" at something. For example, [email protected] has two of the world's longest sky gardens.
Two of the million dollar flats in Bishan (sold in 2013 and 2014 respectively) were maisonettes – a form of HDB flat with two floors that is not built anymore. A million dollar flat along Strathmore (Queenstown area) had access to a sky terrace, which had unusually good views.
While regular old BTO flats could sell for a million dollars, it tends to be the units with unusual quirks that hit record prices. If you want to max out your chances of getting a $100,000+ Cash Over Valuation (COV), try to look for unique features.
Forget about market timing
If you think tracking sale prices and volumes and timing the market will work, you're going to be a very frustrated person. Even if you have technical analysis skills (something often compared to calling yourself a witchdoctor and casting spells), it won't help much when it comes to million dollar flats.
The reason is that million dollar flats are outliers. They are random, improbable blips, not part of a large identifiable trend. They are the mystic ninjas of the property charts, prices that go beyond three standard deviations of the mean.
Consider: we have had at least two million dollar flat transactions in the past quarter, and this is in the middle of the worst property slump since the peak in 2013. Million dollar flats can happen during both good times and bad.
Don't tie your expectations to price movements, because you'll just be let down.
It's mostly about the agent
This will be a bit controversial, and we know many of you will be typing angry comments about how "it's not the agents". But credit has to be given where credit's due, it takes a certain kind of agent who is able to fetch a higher price when selling a HDB flat compared to the rest.
These are the agents who are unafraid of awkwardness, and are willing to set a price that would make you slightly nauseous. They either have (1) a vast network of contacts, (2) know how to match the exact clients to your flat, or (3) have the luck of eight lion dance troupes meeting in a red paint factory. We're going to go with the first two, as the third is not a controllable factor.
How do you find these agents?
Pay attention to the news. When you read about a million dollar flat, there is often a quote from the agent. We'd call that real estate firm and look for that exact person.
And in a more general sense, this also means you shouldn't skimp when trying to find an agent. They have much better odds of finding a buyer willing to overpay – they spend their whole day looking for those people.