One of the key things driving everyone's discomfort for Covid19 is uncertainty. With the rest of the nation starting to see the impact of Covid19 in our home, work and daily life, we cannot help but wonder what it would hold for us in the real estate industry.
From a nation as a whole, we are starting to see the real impact of Covid19 on businesses. And from a realistic perspective, this impact on businesses would also affect jobs, which will affect the real estate industry because if people don't have jobs, they won't have the capability to purchase real estate.
However, one silver lining that we see is also the recently released, very robust Resilience budget that was designed to cushion this impact on the economy. While there's nothing that clearly impacts the Residential industry, the efforts to help with employment will also have a trickling effect on us.
The Attractiveness of Singapore Real Estate At This Moment
From a buyer perspective, the cost of borrowing for certain mortgage products like SIBOR is set to decrease. Here we can see our SIBOR slowly trending down: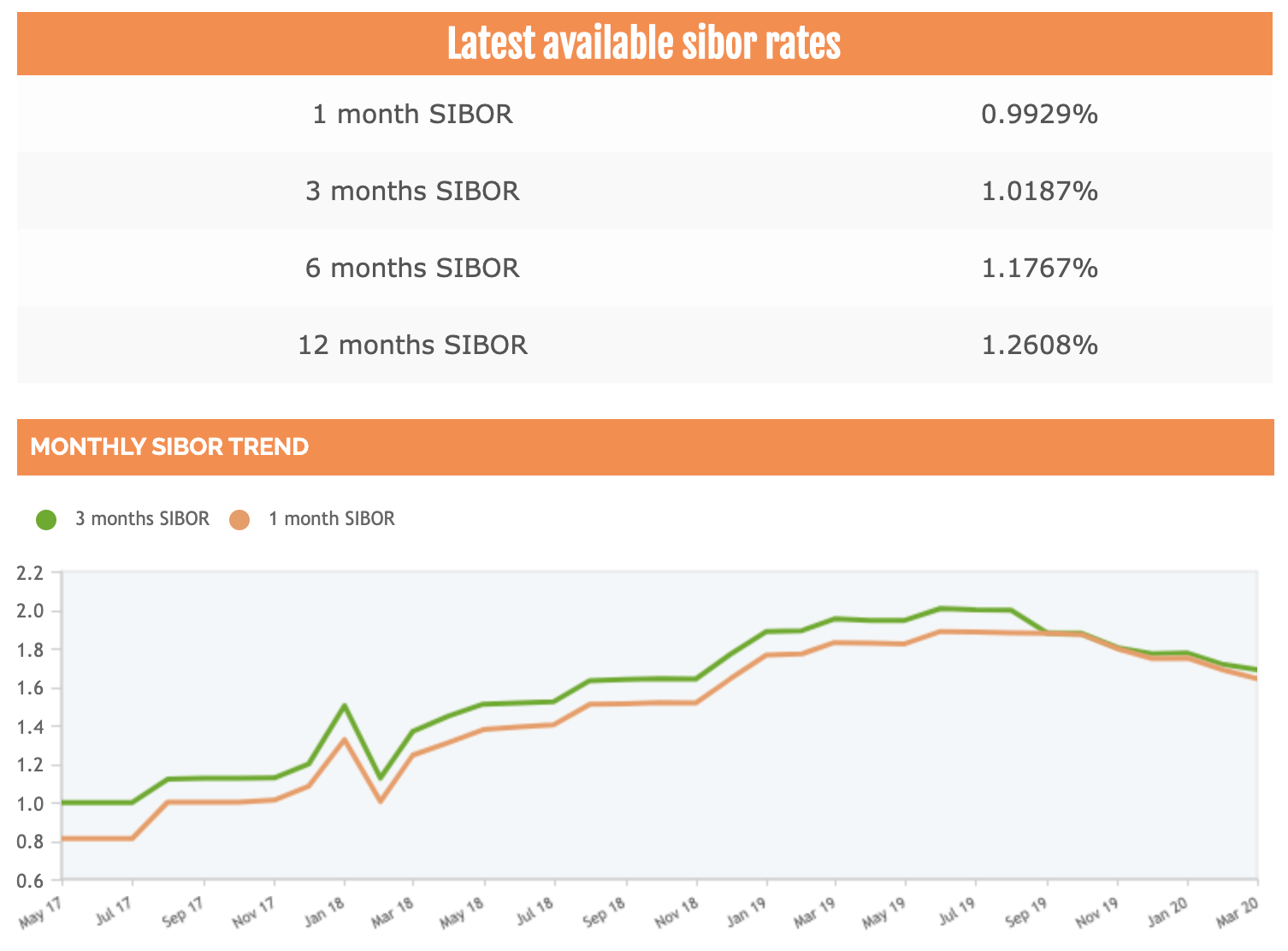 Source: https://www.bestcreditcards.sg/sg/sibor-rates/#trend
The SIBOR is set to go down further as more countries are looking to cut interest rates. With a decrease in the cost of borrowing, it bodes good news for the well-prepared who have the capacity to purchase a property at this point in time.  Additionally, we are entering a rare scenario in which we are looking at an oversupply of properties in Singapore. Both of these coupled together would mean it is not just a buyer's market, but also the perfect time for a buyer to enter.
However, this sweet spot we are in may not be for long. A slowdown in property transaction activity will eventually build towards a pent-up demand in the market, which will continue to push property prices higher post-crisis, which we saw happen after the end of '97 Asian Financial Crisis, '03 SARS, and '08 Global Financial Crisis: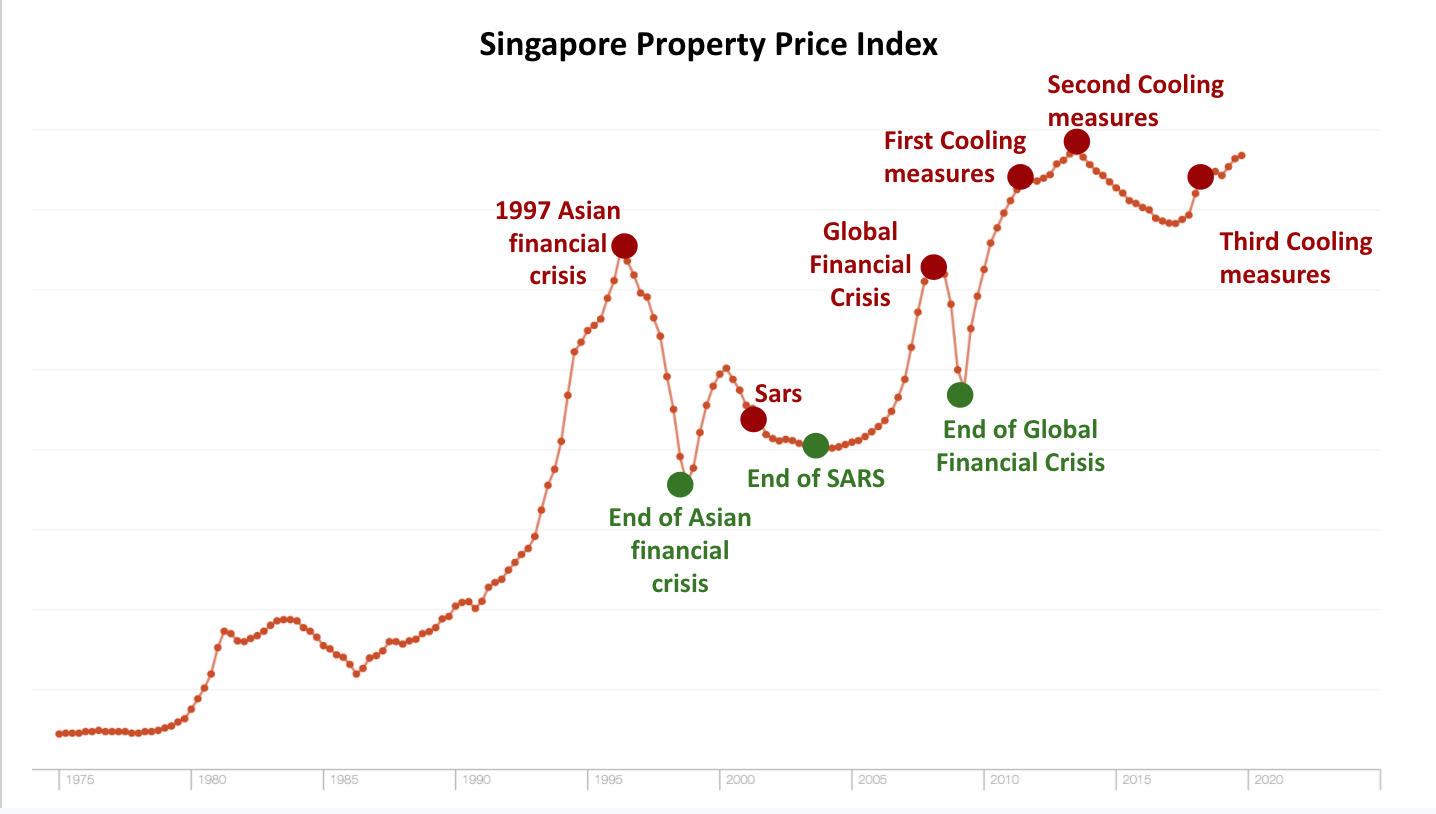 Source: URA 
Local Demand For Property Not Looking To Change In Long Term
Furthermore, Singaporeans are obsessed with property. Property has always been the most stable asset out there ever since independence day. For many, their property is where the majority of their wealth sits. This is why Singaporeans are always so obsessed with keeping up with the latest property-related news. To Singaporeans, a property is still a sign of status and wealth. And in a country as face-conscious as Singapore, this means that the long term demand for property is less likely to drop.
Overseas Demand May Strengthen Post-Covid
From a regional standpoint, Singapore still remains one of the most coveted property hotspots. With the recent turmoil and unrest across Asia, Singapore has inched out to be the best country for property investment.
One of the reasons for our ranking is also due to the stability of the nation, and the amount of confidence in the Singapore government. 
Source: The Straits Times

Singapore's containment of the Covid19 outbreak has been praised not just by international organisations like the World Health Organization (WHO), but also world leaders like Australian Prime Minister Scott Morrison.
With the way the government has been handling the Covid19 crisis thus far, we foresee us to further cement our #1 spot in 2021 due to increased confidence across the globe in our government.
As agents, what can we make of this and how can we emerge stronger?
Let's be honest here. Property transactions will be set to drop in the near future, but if we play our cards right during this crisis, we will be able to reap the sweet rewards of our harvest after this is over.
If you've a warm lead you are looking to close
With a property market as transparent as Singapore's, homeowners now have more information at their fingertips than before. To convince homeowners to buy or sell in this time of uncertainty, we will need to provide them with as much information as possible. This is why it is extremely important for you to constantly over-communicate with our homeowners during this period.
Your clients need to feel like they're making the most informed decision they can make, especially for a purchase as large as property. When people face uncertainty, they want comfort that they are making the right decision, so you will need all the information you can give to convince them. You need to place them at a level of comfort before they can move forward. However, that being said, you don't have to hard sell during this period. Surface relevant information that can help them make informed decisions rather than push them to make a sale just for the sake of it. Consider using useful tools like Researcher to present data and stats that may be useful in helping you build your case. (If you need some help in this, stay tuned to our Guide in Convincing Homeowners During Covid19 which we will be releasing soon.)
If you're looking to grow your pool of leads
People are going to have more time on hand during the next few months, and can afford more thought to consider their property moves. A smarter way for agents to look at it would be in considering how you can engage and keep this group of people close.
Historically, we know there tends to be a surge in demand post-crisis, and these people, no matter how low their intent now, will likely contribute to the pool of pent-up buyer post-crisis. It is how you plan for the long term harvest that will determine how well you come out of this Covid19 in your property business.
During this period, find a way to tidy up your leads. Send them useful property information to keep them in the loop for the real estate industry. This can help build your reputation as a real estate advisor.
Other than proactively sending them information, consider leveraging off technology to better engage your clients during this time. Hold live sessions and encourage your clients to join you and interact with you. It could be as simple as holding a Facebook Live "Ask me anything about property" session. Even if you only have 1 or 2 viewers at the beginning, this can still be a good training ground for you to brush up your presentation and interaction skills. If you can capture their attention and get their buy-in through a screen, you will be able to do much more in real life.
For clients you are closer to, continue engaging them 1-to-1 with the intention to care, and not to sell. For example, drop them a call to ask them if they are well, or surprise them with essentials they may find useful during this period (Masks, Sanitizers etc.) A little care during this time can go a long way.
Naturally, when this is over, those in your pool of leads would gravitate towards you for property decisions. It'll then be your moment to harvest these engaged leads and build on the pent up demand to close your transactions. If you need content to forward to your leads, follow 99.co's Facebook or Instagram for bite-sized content you can easily forward.
We hope this has been helpful in giving you some direction during this crisis.
Want to see what else we're doing to help our agent friends? Check out our Agent Survival Guide filled with resources we have put together to help Agents tide this through.