Passive income, financial independence – scratch that – financial liberty! Property has over the last few decades grown into a highway to vast riches. Nonetheless, there is no such thing as a free lunch – not even in this seemingly bottomless pit of gold that we call real estate. Why? Because one way or another, property tax shall be paid.
And on that note…
Whether you are buying your first home, or your second and third; whether you are yearning to play landlord or have dreamed farther, setting your sights on becoming a fully-fledged property investor, in each and every case you will have to pay property tax. And whilst it's not the most fun topic to tackle, shoving it aside and walking the path of blissful ignorance may cost you dearly in time. In this vein then, and if you are thinking of buying property, let's take five minutes out of our daily lives and see what this party is all about 🙂
On property tax
Property tax is a wealth tax which you have to pay for holding property. Just to be clear, this is completely different from the stamp duty. You are required to pay tax for both the transaction of purchasing property, and for holding on to it; the former comprises stamp duty, whilst the latter denotes property tax. Unless you are buying a BTO, you will have to pay both, so it's best to budget accordingly.
When do you have to pay it?
Property tax are due, every year, on 31st January latest.
In the event that you are late, a 5% penalty is imposed on the unpaid tax. For any ad-hoc bills, due to for instance a new assessment or reassessment, you are given one month to settle the tax.
In the event that you have failed to pay tax even after the penalty has been issued, the government has the power to get the tax from wherever it can; your bank account, your payroll, anything. Basically, unless you hide all your money in an old sock in the attic, they will get to your money. So really – you don't want to go there – better just pay it on time.
How much do you have to pay?
If you are just looking to see how much you have to pay, then dig up something called your "annual value" out of your personalised Tax Portal, plug it into this online calculator, and see how much property tax you have to pay. It's easy, it's fast, and mostly correct.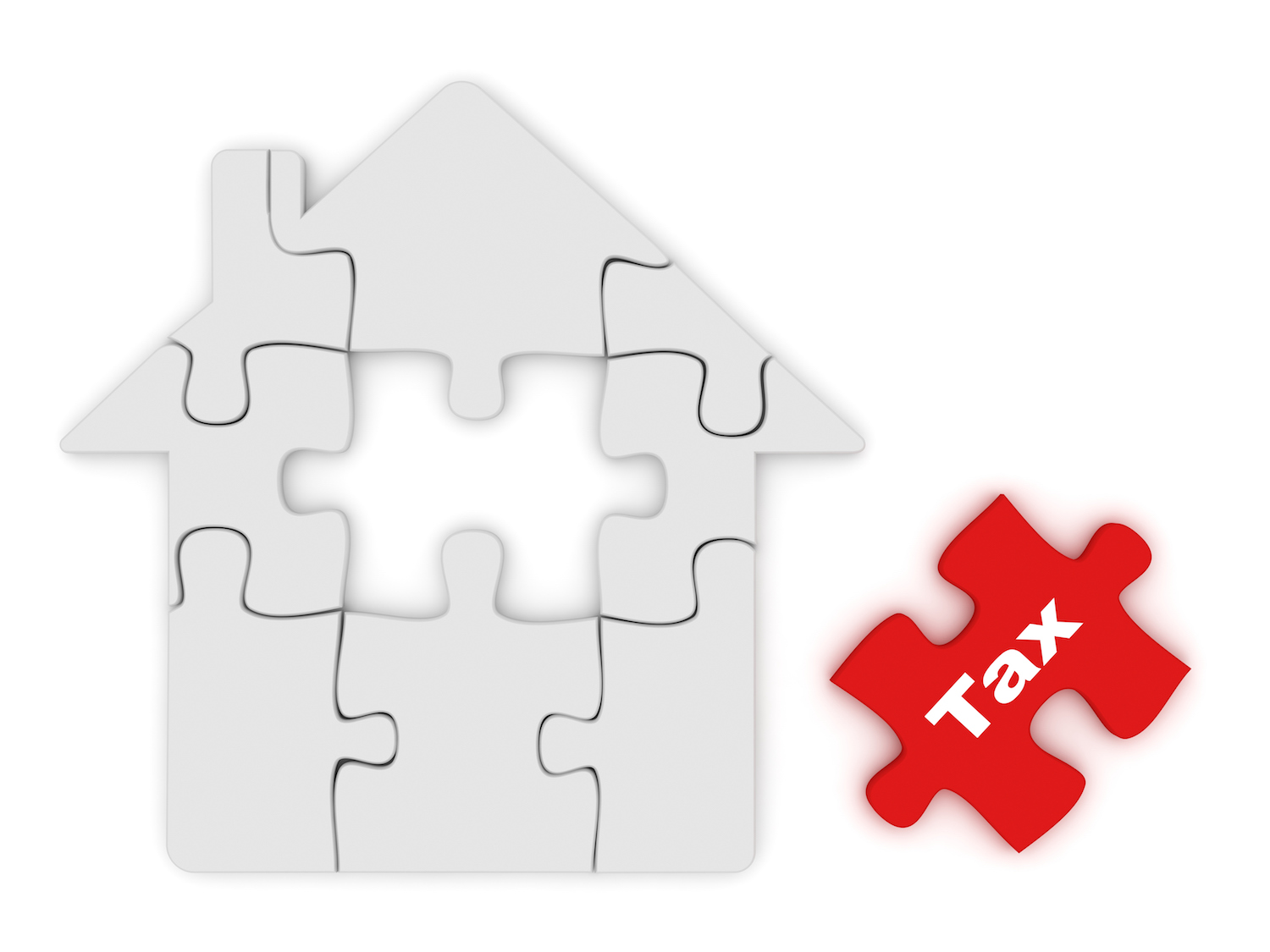 How is the property tax calculated?
If however, you are an inquisitive fellow and aren't afraid of numbers, then here is how the math goes down 🙂  
The annual property tax are calculated by multiplying the so-called annual value (AV) of your property by the appropriate property tax rate. In a formula it would look something like this
Annual value X property tax rate = property tax
The Annual Value
The Annual Value comprises the sum of money you could earn by renting out your property for a year, minus any furniture rental cost and general maintenance costs. Basically, it's your yearly passive income if you were to rent out your property for the full 12 months.
The annual value will change every year, as rental prices swing up and down. Consequently, when areas rejuvenate and rental prices go up, so will your annual value, and by extension the property tax that will be due each year. Similarly, when the market is down – as it is now – your annual value will go down too, and your tax will go the same way.
Whenever your Annual Value is altered the IRAS will send you a notification regarding the changes that are made. Alternatively, as noted before, you can simply log on to My-Tax-Portal, and check up on the value at any time.
If your AV is reassessed, and you have beef with it then you can object to the rate (for instance when the actual rent is substantially below the calculated rent by the IRAS). You should do so within 30 days from the date of the valuation notice. You cannot however object the tax rate itself.
If you wish to view the annual Value of a property before you buy it, and as such before you bought it, you can use the e-Valuation List; and alas, no free lunch here either – it is $2.50 per search.
To make the case clear, and really drive the point home, we would like to introduce you to Uncle Joe
Uncle Joe rents out his residential property for $5000 per month. His monthly maintenance costs amount to $400, and the furniture is rented for $5500 per year. The annual value in this case amounts to the following:
Rental income = $5000 X12 months = $60,000
Cost of furniture rental = $5500
Cost of maintenance = $400 X 12 months = $4800
Annual Value = annual rental income – annual cost of furniture rental – annual cost of maintenance
Annual Value = $60,000 – $5500 – $4800 = $49,700
Property Tax Rate
The height of your tax rate is dependent on factors such as your annual value and whether you live in your property yourself. Evidently, different people will have different tax rates, and in Singapore it is progressively allocated i.e.  the higher your property value, and by that the higher your annual value, the higher the tax rate. Similarly, if you do not live in your property, it is assumed that you rent it out, and as more properties reflect a higher level of wealth, tax rates are also set higher.
If you are an owner-occupier, the following tax rates apply to you: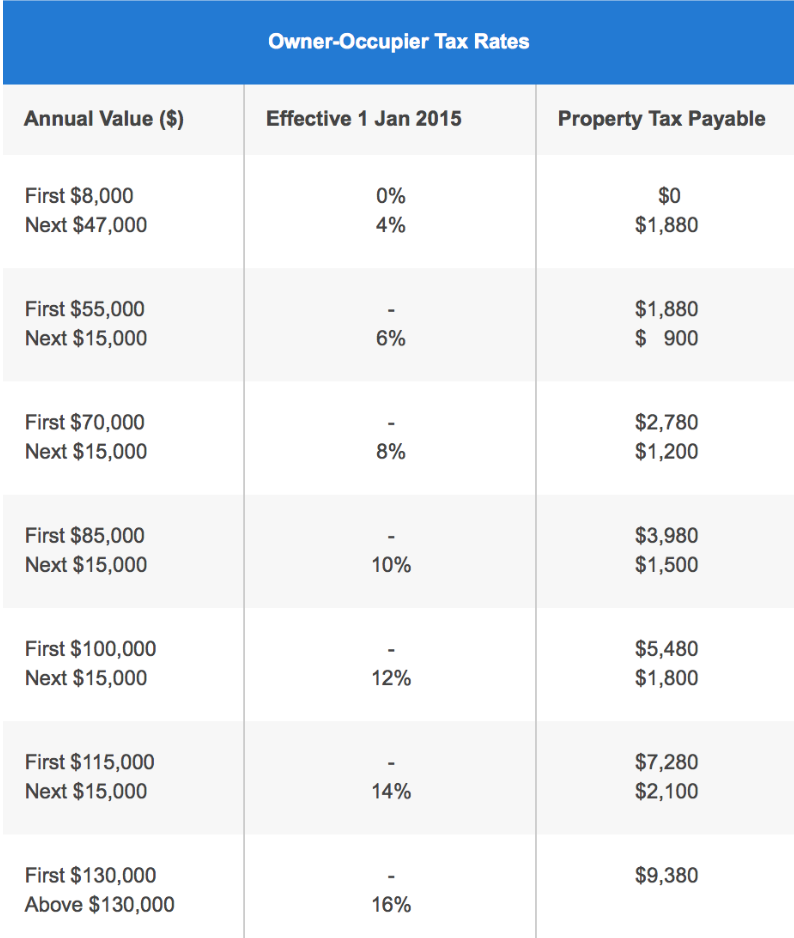 If you own property within which you do not reside yourself then the following tax rates apply to you: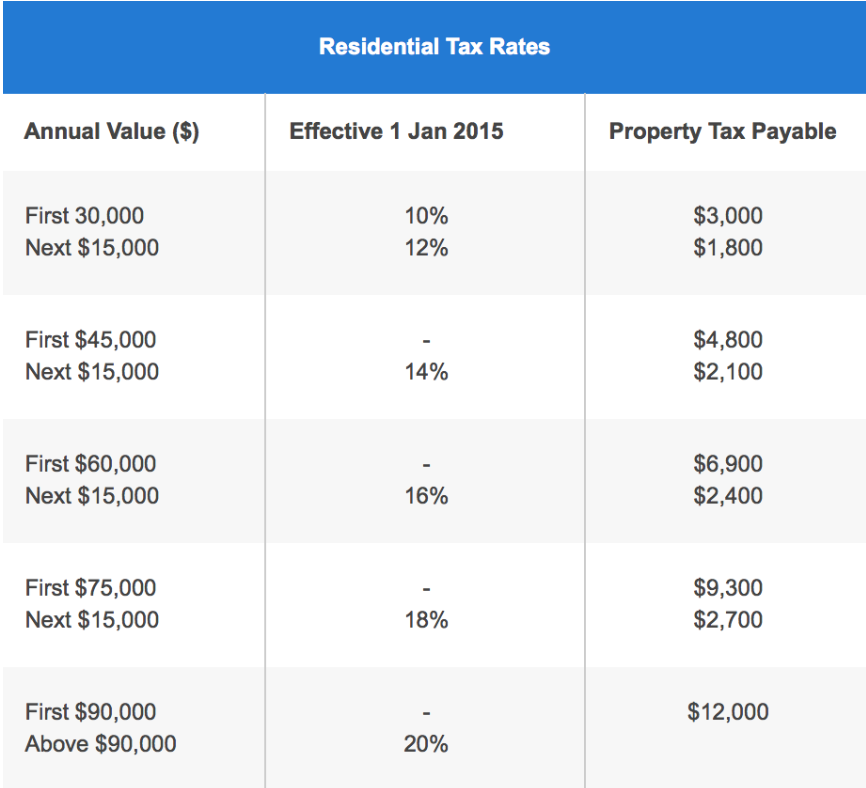 To get back to our example, remember that uncle Joe had a property with an annual value of $49,700. For present purposes, let's say that uncle Joe does not live in the property himself, and instead is renting it out entirely. As such, uncle Joe is not an owner-occupier, and has to find his property tax rate in the second table above. Some quick cross-referencing shows that he falls within the second bracket from the top. To this end, he will have to pay 10% tax over the first $30,000 of his annual value, 12% over the next $15.000, and 14% over the remainder. That is:
10% over the first $30.000 = $3000
12% over the next $15.000 = $1800
14% over the remainder, which is $4700 = $658
Total property tax due: $3000 + $1800 + $658 = $5458
Again, if you do not experience an inexplicable joy from tossing around these numbers simply use this online calculator from the IRAS.
Note: it does not take a genius to notice that if is far more lucrative to be categorised as an owner-occupier, rather than just an owner. Still, even if you occupy both, multiple or all of your properties, you are only eligible to be a owner-occupier in one; many have tried, many have failed, and there is simply no way around it.
Exceptions to the progressive property tax
While most types of residential properties fall under these tax schemes, there are a few exceptions where instead of progressive tax, a flat tax of 10% is applied.  
Accommodation facilities within any sport and recreational club

A Chalet

A child care centre, a student care centre, or a kindergarten

A Welfare home

A hospital, hospice, place for rehabilitation, convalescence, nursing care, or any institutions aimed at similar purposes.

A Hotel, a backpackers' hostel, a boarding house or guest home

A Serviced apartment

Staff quarters that are part of any property exempted under s6(6) of the property Tax Act

A Student's boarding house or hostel

A Workers' dormitory
On a final note
Buying a property is always a bit of a jump, and we invite you to take it being fully informed of what it's like on the other side. As can be seen from the table, even when you own a modest home, taxes will likely amount to about $1880, and possibly more. Not budgeting for the property tax when you are looking into what mortgage you can afford, is going to hurt at the end of the year. Better, look into the property tax you'll have to pay, calculate how much it will come up to, and take it into account when buying a property.
Happy home-hunting 🙂 !   
If you found this article helpful, 99.co recommends ABSD increase on 6 July 2018 and Stamp Duty for Property in Singapore.
Looking for a property? Find your dream home on Singapore's largest property portal 99.co!