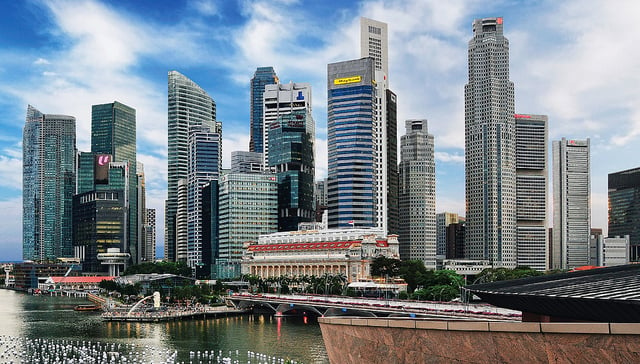 (Credits)
Singapore's property prices have fallen almost 11 per cent since the peak in 2013. This is due to a slew of cooling measures, most of which have not been lifted. Nonetheless, sales results in March this year suggest the market may be at a turning point. Here are some signs as to why that may be:
A big rise in sales volumes usually precedes a turnaround
One sign of when the property market has bottomed out is when prices don't move much, but sales volumes shoot up. This suggests that prices are at a point where buyers are willing to step in again.
Now we've certainly seen this happen in February and March this year; and in this recent Straits Times report we can see 1,780 sales (excluding Executive Condominiums), as opposed to 979 homes on February – an 82 per cent increase.
But a single month doesn't mean much. What's important is that, when compared to March in the previous year, the rise in sales volume rose by around 111 per cent (from 843 sales in March 2016, to 1,780 sales in March 2017).
But what about the price?
Based on 99.co's record of transactions, property prices have remained fairly stagnant over the same period. Average ppsf was around $1,239 per square foot in March / April 2016, and since January 2017 prices have remained around $1,249 ppsf – an increase of just 0.81 per cent. So we have a situation where prices are not moving much, but the number of transactions is on the rise.
We recall a similar situation in 2009, when the property market bottomed out and then spiked sharply. For example, between January and April 2009, we saw the average price per square foot increase by a modest 17.5 per cent, whereas the volume of sales skyrocketed by 112.2 per cent (from 1,769 sales in January 2009, to 3755 sales in April 2009).
We may be seeing a similar situation, as buyers move into a property market that they now feel is reasonably priced.
Closing a tax loophole may lead to developers rushing to sell, creating even more bargains for buyers and renewed interest
On 9th March, the government announced that they would be moving to close a loophole in property taxes. This involved buyers avoiding the Additional Buyers Stamp Duty (ABSD), but buying over a company that held the properties, instead of the properties themselves. This is how 45 units were purchased at The Nassim for over $411.6 million, making news headlines.
Property developers had previously used the loophole to dispose of units before being taxed, under the developer's ABSD or Qualifying Certificate (QC). These are measures passed by the government to discourage land hoarding – they impose an additional tax on developers who fail to complete and sell off all units within five and seven years respectively.
If the loophole is closed, there is a chance that property developers will slash prices to sell off remaining units, rather than incur a hefty tax based on a percentage of the land sale. The result could be a buying frenzy, which ultimately sees renewed interest in Singapore properties.
We know the rise in sales is not just powered by recent launches
Between January to February 2017, sales volumes rose over 155 per cent – March simply sees the momentum continue. However, many of the developments that sold well, such as Parc Riviera and the Santorini, were not new launches.
We also saw EC sales increase almost 79 per cent at the same time, despite a lack of new EC projects in that period.
This suggests that buyers are moving in because the price is right, rather than just out of the excitement of multiple new launches.
That said however, the sales of Parc Riviera and Santorini could have been triggered by the launches of Clement Canopy and Grandeur Park respectively. Also, April sees the last two launches for the first half of the year (Seaside Residences and Artra), so we will soon have a clearer picture of how much buying was really just on the back of new launches.
Fundamental demand remains strong
The main barrier holding back the tide are the Total Debt Servicing Ratio (TDSR), which is a loan curb, and the ABSD (which discourages foreign buyers, and mainly affects the luxury market).
However, the spike in sales suggests there continues to be strong demand for residential properties in Singapore. Despite much naysaying, we continue to see developers make aggressive bids for land parcels – and a price dip of around 11 per cent (from 2013) pales in comparison to the gains made between 2008/9 and 2013, in which property prices picked up by over 60 per cent. Placed in this context, the dip in property prices is hardly an omen of doom.
Home owners should prepare themselves to act soon in 2017; when the market recovers, the rebound in prices can come fast.  
Upcoming Freehold Condo Launch: The Arcady @ Boon Keng
About Ryan Ong
Looking to sell your property?
Whether your HDB apartment is reaching the end of its Minimum Occupation Period (MOP) or your condo has crossed its Seller Stamp Duty (SSD) window, it is always good to know how much you can potentially gain if you were to list and sell your property. Not only that, you'll also need to know whether your gains would allow you to right-size to the dream home in the neighbourhood you and your family have been eyeing.
One easy way is to send us a request for a credible and trusted property consultant to reach out to you.
Alternatively, you can jump onto 99.co's Property Value Tool to get an estimate for free.
If you're looking for your dream home, be it as a first-time or seasoned homebuyer or seller – say, to upgrade or right-size – you will find it on Singapore's fastest-growing property portal 99.co.
Meanwhile, if you have an interesting property-related story to share with us, drop us a message here — and we'll review it and get back to you.
Join our social media communities!
Facebook | Instagram | TikTok | Telegram | YouTube | Twitter