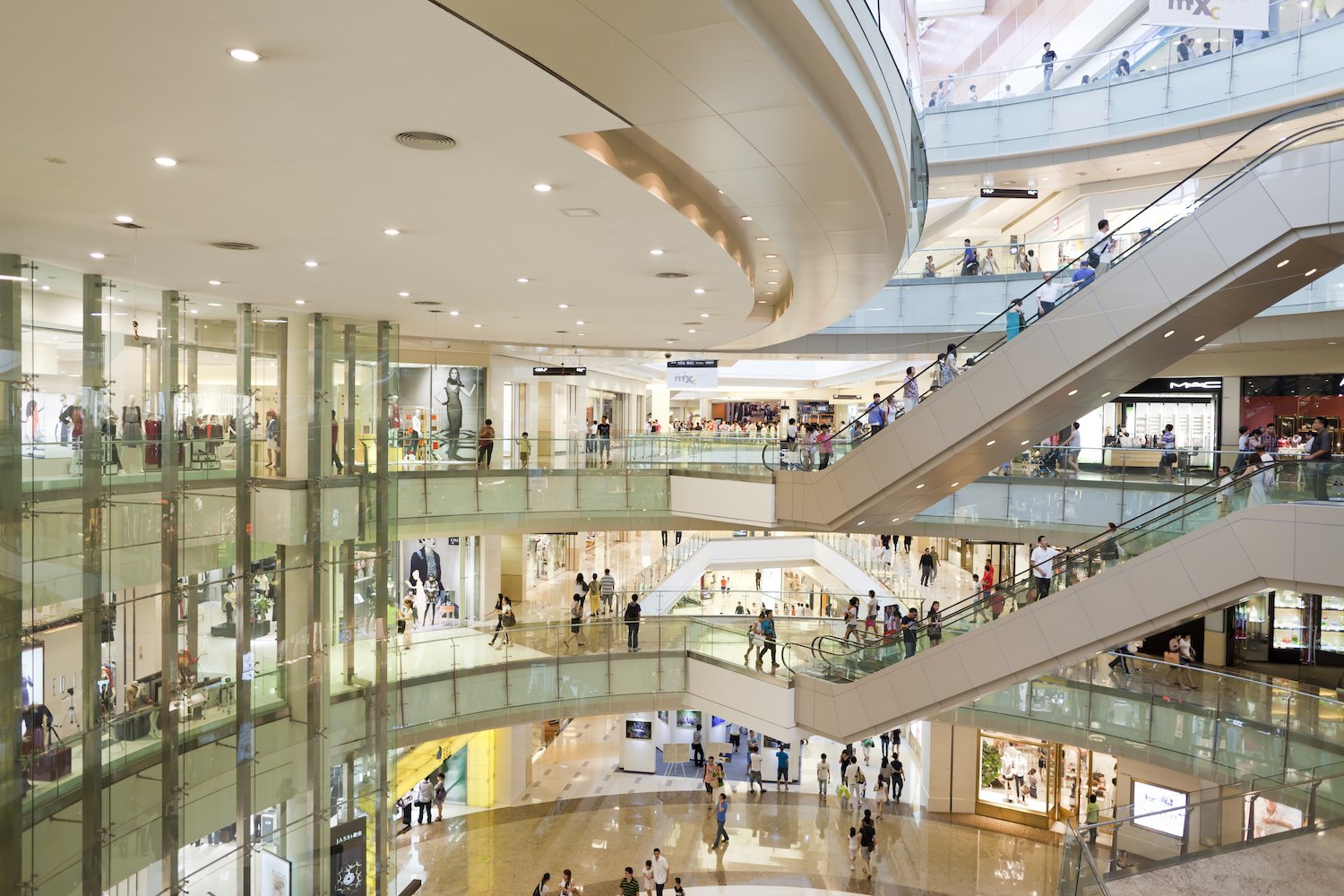 When it comes to buying or renting a shop, you're spoiled for choice. Singapore is basically a nation of shoppers with a seat on the United Nations, so you can be sure there's a ready crowd. Your only obstacles are the rise of e-commerce, and property costs. However, if those do not deter you, here are some other factors to watch for if you're looking to buy or rent a shop space:
Make sure the cost of the shop fits your budget
Whether you're buying or renting, there's a fixed cost attached to the shop. A good way to manage this is to use a cost-to-revenue ratio, in order to filter out the ones that are too expensive.
The cost-to-revenue is just the rental cost or loan repayment, as a percentage of your total revenue. For example, if you have an annual revenue of $250,000, and your annual costs (be it in the form of property loan repayments or rental) is $50,000, then you have a cost-to-revenue ratio of 20 per cent.
As a rule of thumb, the ratio for a healthy business will be 25 per cent or under. However, new businesses – which have not established a brand name or customer base – may find the ratio is unavoidably higher in their first year or two. A brand-new boutique, for example, may have to tolerate a ratio as high as 50 or even 60 per cent in the first year.
If the shop is in a mall, check the mall-wide promotions and events
Look for malls with proactive landlords, who have large marketing spend. For example, Takashimaya has credit card deals with banks, so there are entire credit cards that are meant for use in the mall. Likewise, many Real Estate Investment Trust (REIT) run malls are aggressive in organising seasonal promotions and events.
One simple indicator is in the mall's state during Christmas or New Year. You don't want a mall where the landlord's best effort is one plastic Christmas tree, and ornaments recycled from 1997.
On the flip side, you don't want a landlord that's pushy – some malls will insist you take part in promotions that you don't feel are right for your business (e.g. asking you to offer substantial discounts all the time, to draw more foot traffic).
Talk to the landlord about how they'll promote the mall as a whole, and make sure it suits your business.
Make sure the shop for rent or sale fits your growth plans
One of the sticky issues, when it comes to commercial property, is room for expansion. On the one hand, you don't want high costs from unused square footage; especially when the business is young.
On the other hand, you may find a small space is too cramped for your growing business, after the first three to five years (and a branch outlet isn't always a viable idea).
There's no "correct" formula for determining the size you need; but it's a good idea to pick a space with at least some room for more inventory and staff.
Don't just look at foot traffic, consider your customer base
Heavy foot traffic is one of the most desirable qualities, and you don't need us to tell you that. However, don't be too eager to overpay for this.
Consider your customer base, when deciding how much to prize foot traffic. Some businesses are quite niche, and will draw a select crowd of customers even if they're not front-and-centre. For example, The Adelphi was never as attention-grabbing or busy as its counterpart across the road – the Funan IT Mall. However, The Adelphi was – and still is – a mecca for customers who love home theatre and sound systems. These businesses don't really need high foot traffic, as a dedicated customer base will seek them out.
In general, the more niche or specialised your business is, the less dependent you are on visibility or foot traffic.
If you're renting a shop, you may want to avoid Gross Turn Over (GTO) deals while new to the industry
Some malls charge variable rent, based on a percentage of your gross revenue. This is referred to as GTO rental, and it typically consists of a fixed rental price, plus three per cent of your monthly sales revenue.
In rarer cases, there may be no fixed rental component at all – the landlord may just charge an amount such as 25 per cent of your monthly revenue.
If you're new to your line of business (e.g. you are running your first ever clothing boutique), it's best to avoid this sort of deal. You probably don't have a good estimate yet, of how much your monthly revenue will be.
Also, consider this: as a retailer, you will probably see more sales during holiday periods, such as November to December. If your landlord is straight up taking 25 per cent of the revenue, you could be paying a ridiculous sum during those periods, as opposed to a place with fixed rental.
GTO deals are best considered by industry veterans, who have a good estimate of how much they'll end up paying.
Check out the parking situation
This usually isn't a problem in a mall. In a shophouse however, some areas may have limited parking. This could affect your customer base, if you're dependent on them walking a long distance from the nearest car park.
Also, do take note of whether nearby parking is convenient. If the closest place is a carpark that's perpetually packed on weekends, or happens to be expensive, some potential customers may go elsewhere.
Check if surrounding businesses keep customers in the area
Look for businesses that "hold" customers in the area. A classic example is a mall with a lot of enrichment or tuition centres; these are well-liked by retail and Food & Beverage outlets alike, as parents tend to eat or shop while waiting for their children.
This can also apply to other types of service providers. For example, boyfriends and husbands may linger, while their significant other is in a hair or nail salon. The same goes for dental clinics, where the patient's friends or family may wander around while waiting.
(But of course, make sure they're not competing businesses either).
Look for nearby businesses with similar price points to yours
If every other business in the mall is selling products that average $10, and your products average $65, you'll stand out – but maybe not in a good way. Notice that retailers with the same price points tend to cluster in the same area (e.g. Paragon versus Centrepoint, in the Orchard area).
Usually, the price point of the nearby retailers will reflect the type of customers who frequent the area. If you can see that most of the businesses are drawing a budget-conscious crowd, and your products are higher-end, then you may not see prospects despite the high foot traffic.
If you're buying a shop, check out the URA Master Plan
The Urban Redevelopment Authority (URA) master plan reflects on how the area will be developed. As a buyer, you're probably holding on to the property for quite a while – it pays to understand how the area will be changed.
For example, Paya Lebar is already being turned into a second business hub, and Punggol is going to be the site of a future (digital) tech hub. This should weigh on your decision to buy retail spaces in these areas (large numbers of offices mean higher foot traffic, and professionals with buying power).
For buyers, knowing URA's plans for the area is a must. Don't just base your decision on what the retail space looks like now, but also what it may be like in the next five years.
If you found this article useful, 99.co recommends how to sell your commercial property asap and thinking of investing in commercial property.
Find your a choice commercial property today at 99.co!
Upcoming Freehold Condo Launch: The Arcady @ Boon Keng
About Ryan Ong
Looking to sell your property?
Whether your HDB apartment is reaching the end of its Minimum Occupation Period (MOP) or your condo has crossed its Seller Stamp Duty (SSD) window, it is always good to know how much you can potentially gain if you were to list and sell your property. Not only that, you'll also need to know whether your gains would allow you to right-size to the dream home in the neighbourhood you and your family have been eyeing.
One easy way is to send us a request for a credible and trusted property consultant to reach out to you.
Alternatively, you can jump onto 99.co's Property Value Tool to get an estimate for free.
If you're looking for your dream home, be it as a first-time or seasoned homebuyer or seller – say, to upgrade or right-size – you will find it on Singapore's fastest-growing property portal 99.co.
Meanwhile, if you have an interesting property-related story to share with us, drop us a message here — and we'll review it and get back to you.
Join our social media communities!
Facebook | Instagram | TikTok | Telegram | YouTube | Twitter