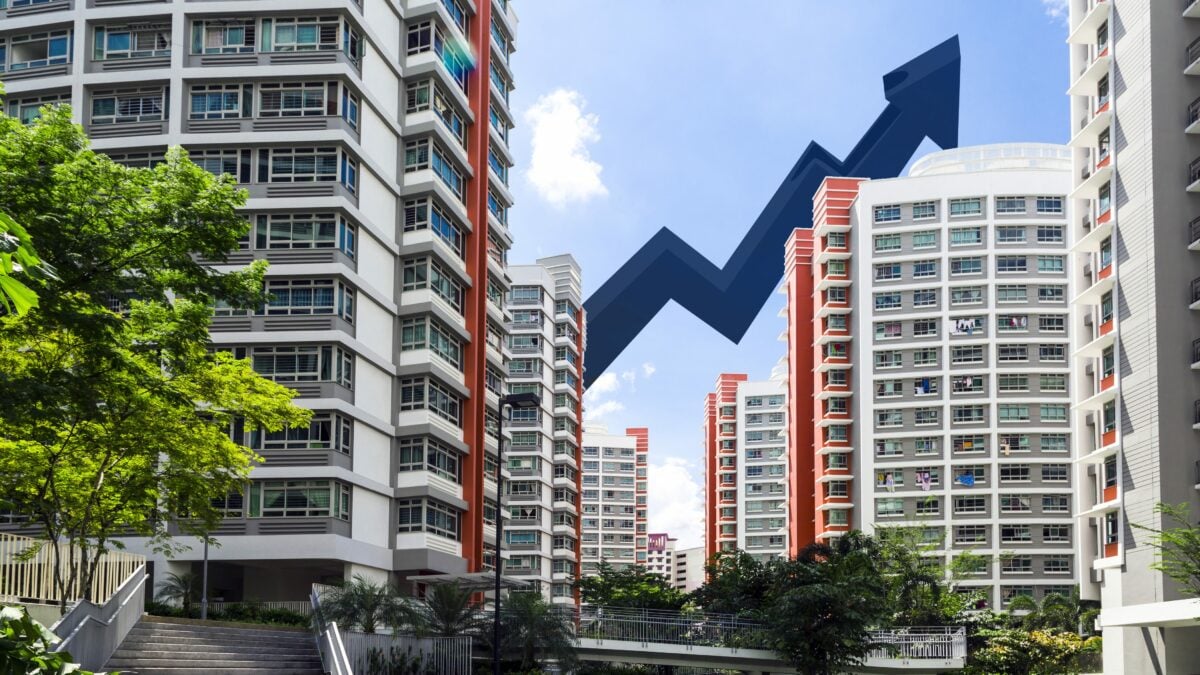 Property portal 99.co presents the following weekly property news roundup for the week of 26 September to 2 October:
#1: URA flash estimate reports 0.8% increase in Q3 2020 private home prices
Released on 1 October, the Q3 2020 flash estimate by the Urban Redevelopment Authority (URA) showed a second consective quarter of price increase this year, rising 0.8% overall compared to Q2 2020.
Based on the flash estimates, the URA price index level of 153.8 exceeds the last peak of 153.6 in Q4 2019. This is evidence that the condo market has recovered from the minor dip that came with the onset of the Covid-19 pandemic earlier this year.
The price increase would've been even higher, had private condos in the Core Central Region (CCR) not registered a 4.9% drop in prices. The fall in CCR prices in Q3 2020 is the highest since the first quarter of 2009, in the midst of the Global Financial Crisis.
Prices of landed property, on the other hand, rose by 3.8%. Private home prices in the Rest of Central Region (RCR) rebounded strongly from a three-quarter slump, rising 3.3%
Buoyed by low interest rates and consistently strong demand from local buyers, private home prices in the Outside Central Region (OCR) continued an uptrend that began in 2017. The OCR had been the least affected non-landed private home segment during the first months of the Covid-19 pandemic.
The Q3 2020 URA flash estimate is also the first time that OCR and RCR private home prices have increased, despite a decrease in CCR prices, in the same quarter.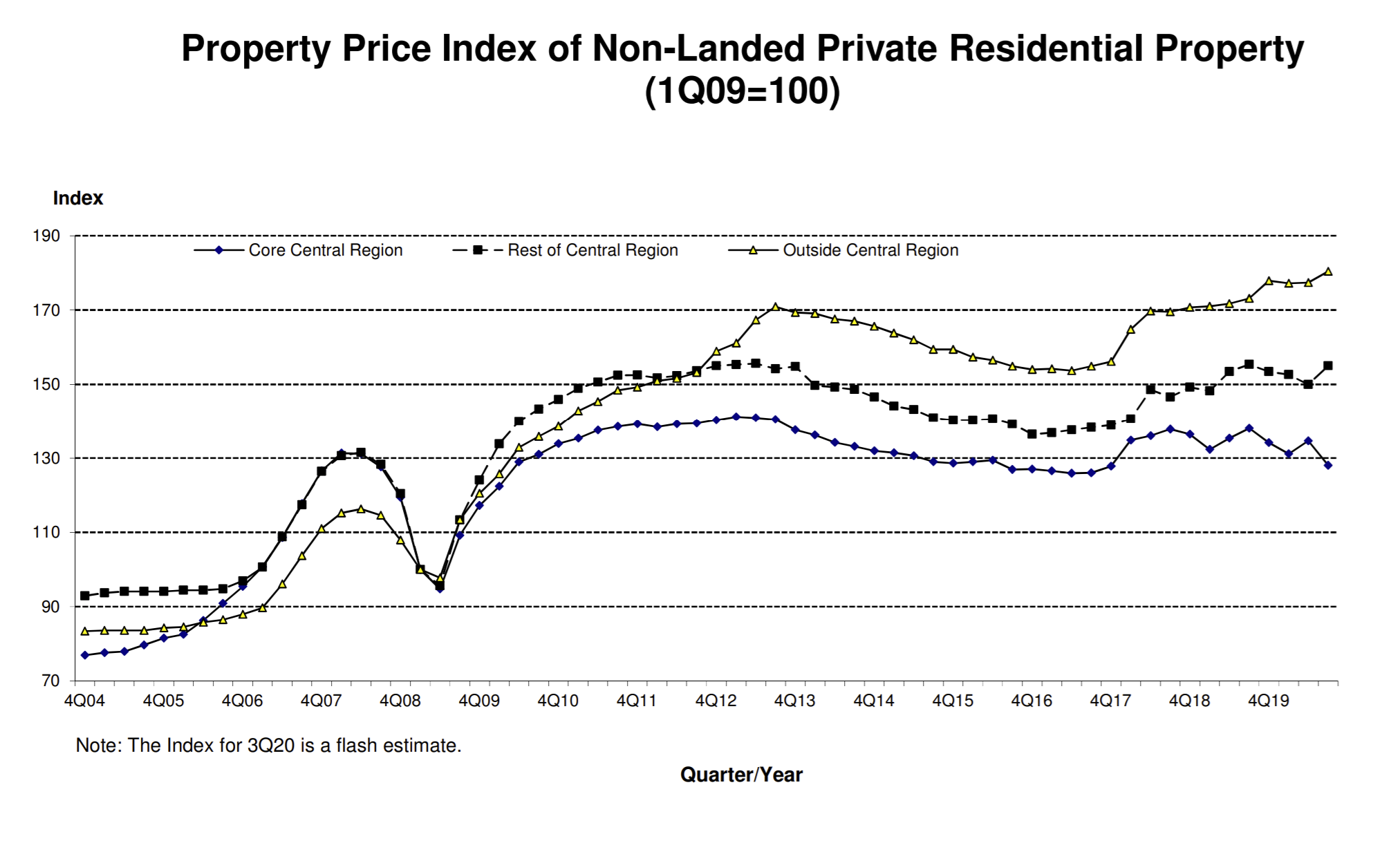 The resilience in the property market is "encouraging" given uncertainties in the economic and employment outlook amid the COVID-19 situation, said Ms Christine Sun, head of research and consultancy at OrangeTee & Tie, in a CNA article.
"It is also rather unprecedented that the market averted a major price correction during the current pandemic," she added.
#2: HDB resale prices post robust Q3 2020 growth
On 1 October, the Housing & Development Board (HDB) released flash estimate figures that showed a 1.4% increase in resale prices during Q3 2020.
The quarterly increase in HDB resale prices is the biggest upswing since Q1 2013, when the price index registered a 1.3% increase.
According to data from 99.co, the significant increase in HDB resale prices in Q3 2020 is backed by a ten-year-high transaction volume. An estimated 6,700 resale units changed hands in the last quarter.
Aside from competitive interest rates and pent-up demand, Ms Sun pointed out that some buyers have switched to the resale market given the long completion periods for some recent Build-To-Order (BTO) launches.
She added that buyers may have also chosen HDB resale flats as these are more affordable than private homes amid current economic uncertainties.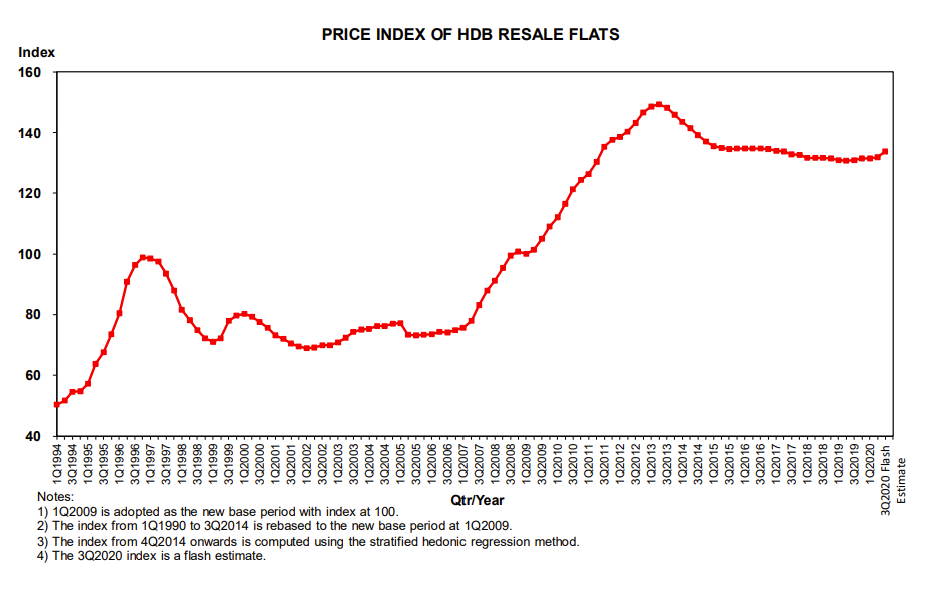 By and large, wwners of HDB flats have faced little to no selling pressure in spite of the Covid-19 economic downturn, owing to government relief measures and the fact that HDB buyers are typically underleveraged, due to Mortgage Servicing Ratio (MSR) restrictions.
For buyers, HDB provides first-timers with grants of up to $160,000 for the purchase of resale flats, subject to eligibility criteria. This is double the $80,000 in grants that an BTO applicant can be eligible for. Read all about grants for resale and BTO flats.
The URA and HDB will be releasing more information and the final figures for the quarter on 23 October.
#3: HDB flat owners and tenants get extra relief
For homeowners with a HDB home loan, the current suspension of late payment charges on HDB mortgage arrears will be extended to March 2021, according to an announcement by National Development Minister Desmond Lee on 1 October.
This is the second extension of late payment charges; the first was for a three month period from April to September this year.
On top of that, rent for families living in rental HDB flats will also be reduced by half from October to December 2020.
Mr Lee said in a Facebook post on Thursday afternoon that these additional measures would help HDB home owners and tenants ride through the pandemic.
"The economic situation is likely to remain difficult for some time. Because of this, some households are struggling to cope with their housing mortgage repayments," said Mr Lee.
"We will continue to monitor the situation closely and review our measures to support households with financial difficulties," the Minister added.
He also said that the Monetary Authority of Singapore (MAS) will "soon" announce support measures for HDB flat owners who are on bank loans.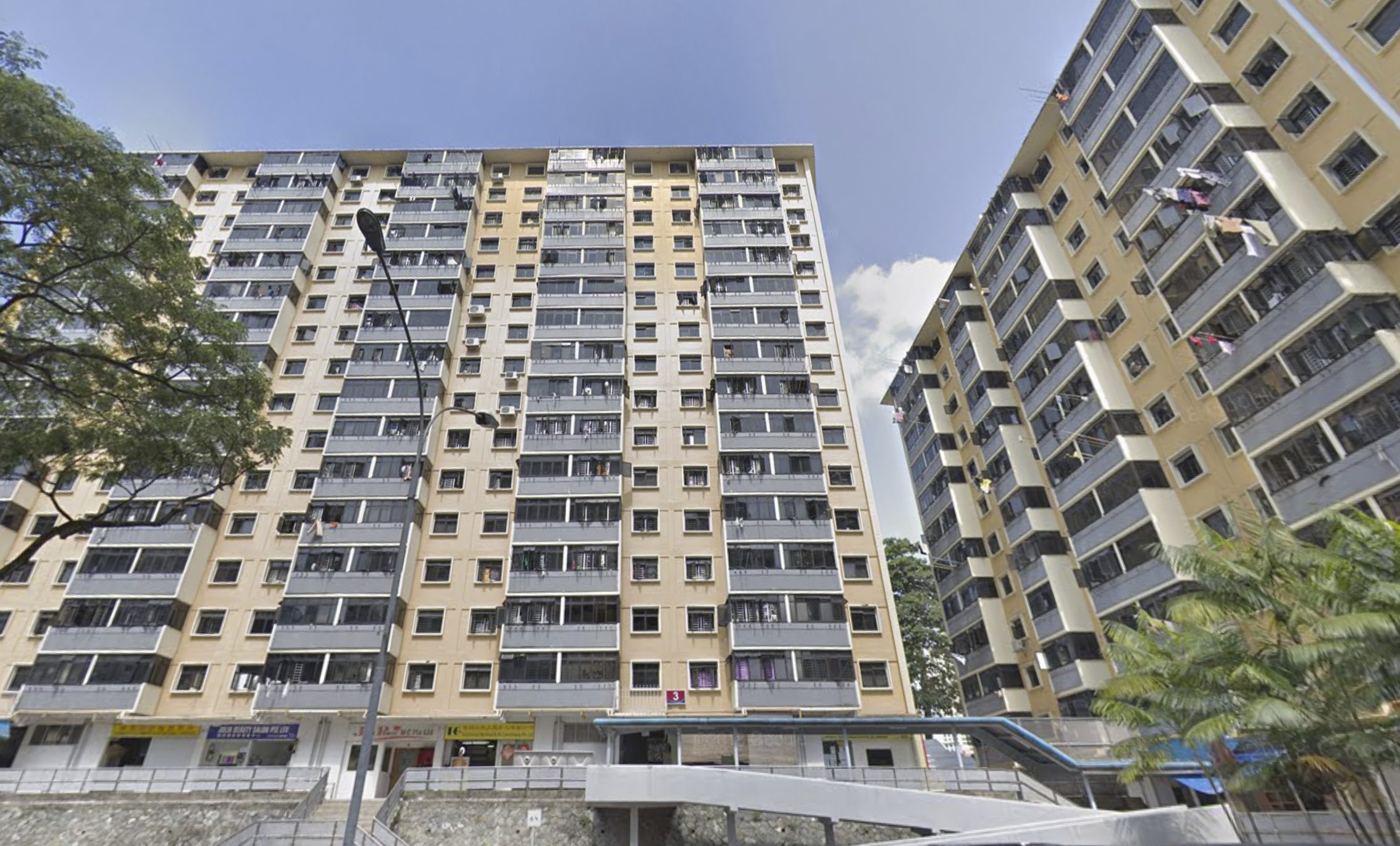 #4: URA enforces restrictions on Option to Purchase (OTP) reissue
On 28 September, the URA Controller of Housing imposed new conditions countering the practices of reissuing of OTP by developers.
Under the new rules, which took place with immediate effect, developers of uncompleted residential projects are no longer allowed to provide upfront agreements to reissue OTPs.
Buyers whose OTPs lapse also cannot be issued another OTP for the same unit for a period of 12 months. Developers are required to inform buyers of the above conditions upfront.
Experts predict that this measure may have a slight cooling effect on the market, as buyers will now face a non-extendable deadline to exercise the OTP. Buyers will have to pay the Buyer's Stamp Duty and any Additional Buyers' Stamp Duty within 14 days of exercising the option, as well as the remainder of the downpayment to the developer within eight weeks of exercising the OTP.
Read this article for what industry insiders have to say about URA's crackdown on OTP reissue.
nterested in more property-related news? Follow us on our Facebook page!
Looking for a property? Find your dream home on Singapore's most intelligent property portal 99.co!