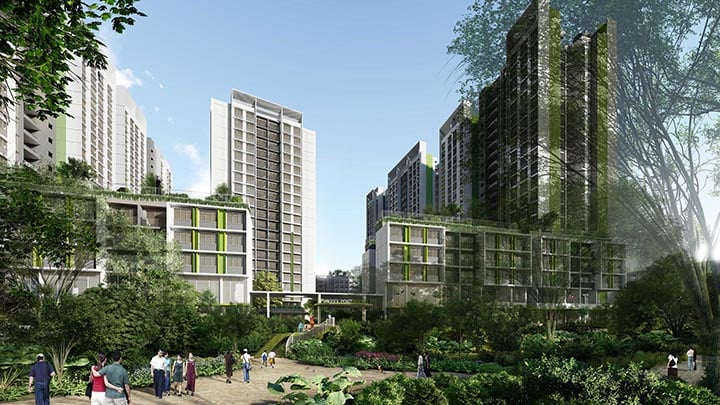 [28 August 2018 Update: It is now known that the bottom range figures of the Aug 2018 BTO prices listed in this article are inclusive of grants, hence the low figures. All other figures exclude grants.]
Ahead of the August 2018 HDB Build-to-order (BTO) sales launch on Tuesday, 28 August, the indicative prices for the projects in Yishun and Punggol have been released. In this article, we take a look at the how the prices for the August 2018 BTO compare to past BTO launches, and analyse whether the BTO prices are affordable this time around, and the possible reasons behind HDB's pricing decisions.
How are BTO prices determined?
According to the Ministry of National Development, new HDB flats offered under the Build-To-Order (BTO) and Sale of Balance Flats (SBF) exercises are priced using the same methodology, which takes into account the prices of comparable resale flats in the vicinity, as well as the specific attributes of the flats, such as storey height, facing and design.
According to the HDB, BTO flats are priced "significantly lower" than comparable resale flats so that Singaporeans can enjoy a subsidy. On top of subsidised prices, eligible first-timer couples and singles can also receive up to $80,000 in housing grants to help them purchase their flat.
As the methodology takes into account the prices of comparable resale flats in the vicinity, we have pulled out the data for average per square foot (psf) resale prices in Yishun and Punggol from the ten-year period of Q3 2008 to Q2 2018 inclusive, as below: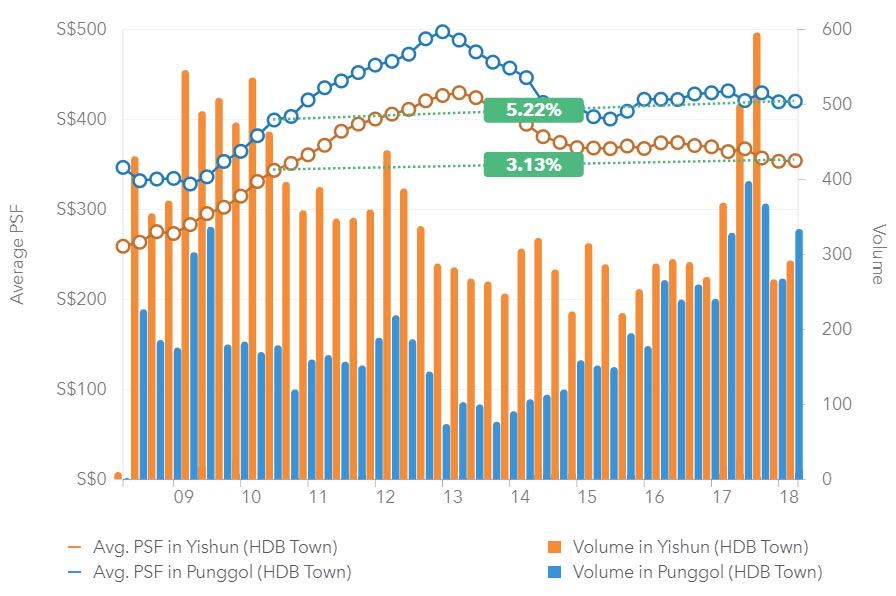 A few preliminary observations and notes:
Punggol resale flats have enjoyed a price premium to Yishun flats throughout our period of comparison
Average psf resale flat prices for both estates peaked in the first half of 2013 before falling
Slight rebound of Punggol average psf resale flat prices from 2H 2015 onwards due to high volume of new flats being transacted upon the end of their Minimum Occupancy Period (MOP)
Yishun average psf resale prices are currently near their lowest for eight years
We singled out the percentage change in average psf resale prices from Q3 2010 to Q2 2018 for later comparison
Yishun Aug 2018 BTO prices: an analysis

First off, we picked 2010 as the starting point for our BTO price comparisons as we wanted to identify a period before the 2013 cooling measures where resale prices were at or near current levels. For Yishun, we can see that BTO launch prices peaked in tandem with the resale market in 2013, before falling back towards 2010 levels in the March 2014 launch.
After the fall post-2013, resale prices in Yishun stabilised towards the end of 2014 and remained constant through to 2017 before falling slightly further (as shown in the graph). Looking at the Yishun BTO Launch Prices table, it would seem at first glance that HDB had similarly opted to keep BTO prices fairly constant in its Aug 2016 launch, compared to the Mar 2014 launch.
On closer look, however, we discover that the location for the similarly priced Aug 2016 project, Valley Springs @ Yishun, is located on the edge of the town and twice the distance from the nearest MRT station, Khatib, compared to the Mar 2014 launch (2.8 vs 1.4 kilometres). Valley Springs @ Yishun is also further to Yishun Central (2.0 vs 1.4 km). Given that HDB clearly takes into consideration location when pricing BTO flats, the Aug 2016 launch should therefore have commanded a lower launch price than the more conveniently located Fern Grove @ Yishun if HDB had steadfastly stuck to benchmarking BTO prices with resale prices.
The same goes for the May 2018 launch of Casa Spring @ Yishun. Although the plot is far from key amenities, HDB not only seems to have stuck to a pricing originally intended for better-located projects, but is also slowly inching its median price towards the BTO prices we saw in the 2013 peak. Mind you, Vine Grove and Angsana Breeze @ Yishun had two key plus points: walking distance to Khatib MRT; certain units have views of Lower Seletar Reservoir. The other subsequent BTO projects we compared had none of these two key attributes.
And when the Aug 2018 BTO sales launch for Yishun comes around on 28 August, we'll see BTO prices hitting a new high for Yishun, with 5-room flats costing 400K or more for the first time ever. Curiously, HDB has seemingly tried to deflect the attention on the high-end of the range by having a low-end price that's cheaper than any launch in Yishun since 2010. This has resulted in a uncharacteristically broad range of prices this time round. There could be a few explanations for this:
The cheaper flats will be those that are integrated with rental flats in the same block
There are in fact two pricing ranges for the two plots in Yishun, for two separate projects that are located quite far apart from each other (see map below). The smaller plot is the less accessible one, and is the one that will probably have rental flats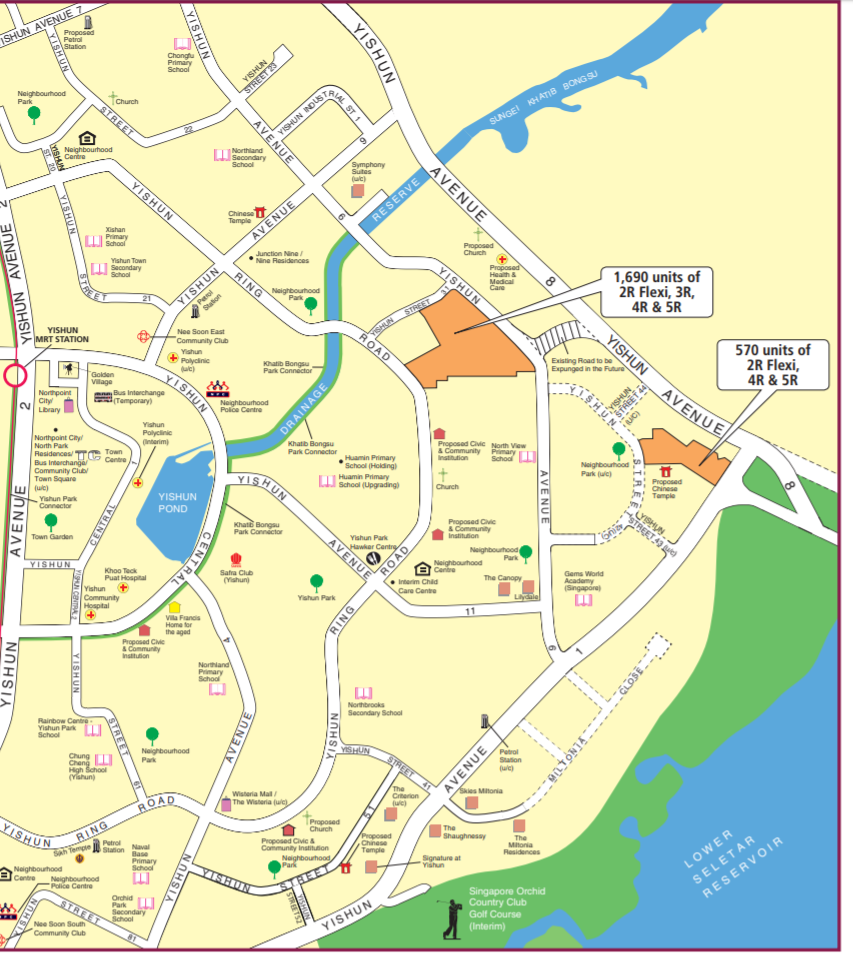 So, for the better-located, 1,690-unit project in Yishun, We'll potentially see a indicative price range of $250K to $317K, which would be about 15 to 20% more expensive than Yishun Riverwalk that's across the road. So, it's without a doubt that HDB has been upping its BTO prices even when resale prices are remaining constant, and the upcoming Yishun project is proof. (FYI, recently MOP-ed Yishun Riverwalk 4-room flats have transacted at prices from $400K to $415K).
Punggol Aug 2018 BTO prices: an analysis

The story is a little different for Punggol. Again, we picked 2010 as the starting point for our BTO price comparisons as we wanted to identify a period before the 2013 cooling measures where resale prices were at or near current levels. For Punggol, we can see that BTO launch prices peaked in tandem with the resale market in 2013, before falling back towards 2010 levels, as evidenced in the lower launch prices for the May 2015 launch.
Comparing similar subsequent projects in the Punggol North area, where the Aug 2018 BTO project is located, we see that prices for three-room units has remained constant, which is logical as three-room flats in non-mature estates are primarily intended for lower-middle income families. So, the HDB has a social obligation to keep three-room flat prices affordable, and take their profit from four- and five-room flats instead.
And HDB has wasted no opportunity in doing so. For years, HDB and the government have repeatedly touted Punggol as the ideal place to live, recently backed up by the promise of the Punggol Digital District, a technology-centric business hub to be located in Punggol North. As application rates for Punggol BTO projects remained high HDB probably saw fit to gradually increase the prices of successive BTO projects, which it did with Northshore Cove given the project's "waterfront" status.
Similarly, the upcoming Aug 2018 BTO projects in Punggol also have unique attributes, which HDB was eager to highlight. The Board has taken the unusual step of announcing the estate name, trumpeting the key amenities, and releasing key visuals well ahead of the actual launch. It even put out a spiffy, condo-style fly-through video to drum up the hype. With Punggol priced significantly higher than Yishun in this upcoming launch, and in light of the continued uproar surrounding the value of 99-year leasehold HDB flats, it is likely this is a strategic publicity move to ensure that the Punggol projects receive enough interest.
Price-wise, the upcoming Punggol BTO projects, named Punggol Point Cove and Punggol Point Woods, are comparable to Northshore Cove's pricing last year. With certain units at Punggol Point Cove similarly getting views of the Johore Straits, it is likely that the higher-end of the price range is assigned for these water-facing units. Here are our additional observations with regard to the pricing of Punggol flats in the upcoming launch:
Like Yishun, the (quite significantly) cheaper flats in Punggol could be those that are integrated with rental flats in the same block
HDB has not priced in future key amenities such as the Punggol Coast MRT Station (right next to the Aug 2018 BTO projects) and the Punggol Digital District
This time, the gap in pricing between BTO projects in Punggol and Yishun has actually narrowed compared to projects in past years. In other words, HDB has reduced Punggol's BTO price premium to Yishun
HDB really wants you to stay in Punggol, as a high rate of over-subscription this time could possibly spur enthusiasm for the Punggol Digital District (and justify higher BTO prices subsequently)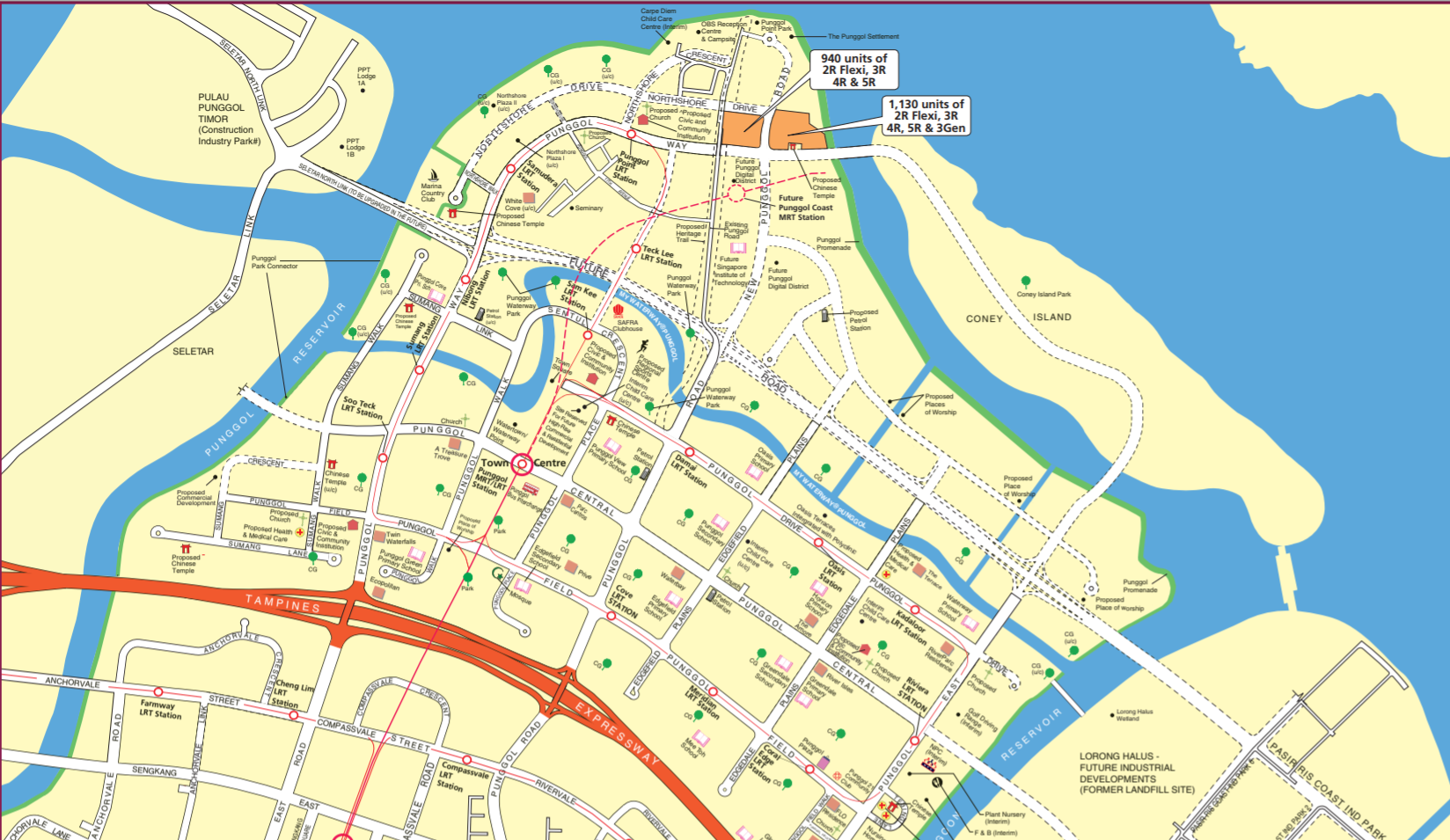 So, are Aug 2018 BTO prices reasonable?
While BTO prices are still lower than resale prices, there have been clear moves by HDB to reduce this gap over the years, as evidenced by the slow increase of BTO prices over the past few years in spite of resale prices remaining constant. This readjustment might be more apparent in some towns (e.g. Yishun) as opposed to others such as Punggol.
Nevertheless, one thing is clear, BTO flat owners now stand to gain less when they sell their flats upon MOP, which means that buyers must be more discerning when they apply for a BTO flat in the first place, and consider carefully whether a given location suits them and their family as opposed to just looking to snap up a unit on the cheap (because it's no longer that cheap). For more insight, stay tuned to our pros and cons analysis of the August BTO projects in Yishun and Punggol, to be published on 28 August 2018.
What do you make of HDB's BTO prices? Voice your thoughts in the comments section or on our Facebook community page.
If you found this article helpful, 99.co recommends National Day Rally 2018: Will new schemes save HDB flat owners? and What HDB didn't tell you about Punggol (and Pasir Gudang)
Looking for a property? Find your dream home on Singapore's largest property portal 99.co!