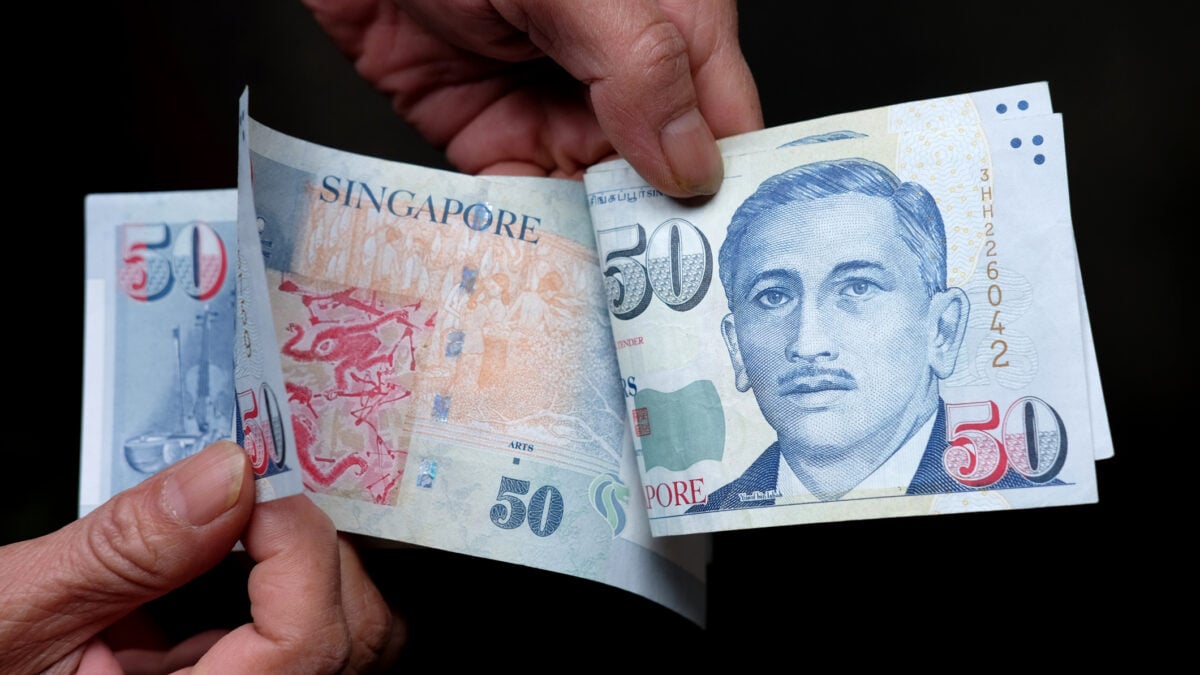 Money lending, in either licensed or ah long form, has a real impact on property owners. This isn't only applicable in HDB flats either; even condos now see debt collectors trying to sneak in. Here's how recent clampdowns are good for home owners:
The Great Money Lender Clampdown
According to the Straits Times, about 160 maids and foreign workers have been repatriated over money lending issues since last October. As of yesterday, loans to low-income foreign workers (i.e. any foreigner earning less than $10,000 per year) were also capped at $500, down from $1,500.
The Ministry of Law (MinLaw) is also barring other work pass holders from acting as guarantors. In addition, licensed moneylenders aren't allowed to display signs such as "domestic workers welcome to apply".
Money lenders have recently identified low-income foreign workers, such as maids, as easy targets. Domestic helpers typically have no access to banks, or other lenders who aren't dripping in slime. This makes it hard for them to purchase high cost electronics like smartphones or tablets, which can put them in touch with home.
Desperation drives them to borrow, regardless of the consequences.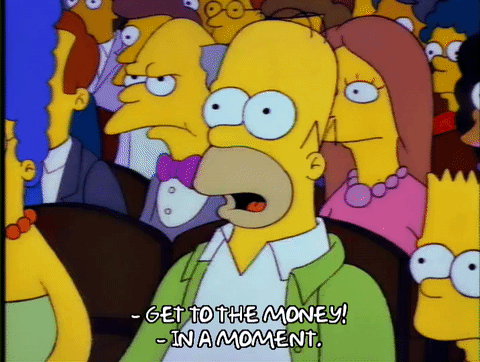 In the first half of 2018, 28,000 foreign workers had borrowed from licensed moneylenders – an almost 100 per cent increase from 2017.
Some foreign workers are also hired as brokers by  licensed moneylenders – they earn a commission for bringing in other foreign borrowers. They get about $20 for every borrower they rope in. The typical domestic worker's salary is between $450 to $570 per month.
Wait, why does this matter to property owners?
Because the maids have only one address they can give to money lenders. Guess which one that is.
This has resulted in a spate of employers' homes being visited by debt collectors; some of them legal, some of them not. Either way the result is the same: there are strangers repeatedly going up to the door, hassling the employer's family and creating a ruckus. For neighbours and tenants, it really doesn't matter who borrowed the money: they feel unsafe living close to a "targeted" home.
One person we spoke to, Sherry Luo, mentioned that she'd been disturbed four times by debt collectors visiting the neighbour's unit. As a tenant (Sherry is Malaysian), this caused her to decide not to renew her lease at the end of last year:
"They were very loud and scary," Sherry said, "There would be about three of them, and they would stand outside the door and rattle the gate, and shout her (the domestic helper's) name.
The first time there was no one home, but they stayed there for almost an hour; I was too scared to even go out. After that they always arrived at different times, once on a weekend, once at 6pm when there were kids in the corridor even."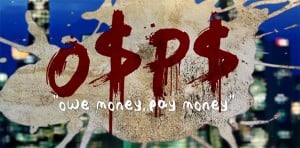 Sherry's landlord, who lives in the same flat, complained to the neighbour but got little more than apologies. In the end, the neighbour had to pay the debt collectors over $1,200, even though their domestic helper had already left.
Even condo owners are not fully spared
Domestic helpers who live in condos tend to be more brazen about borrowing. Some have learned from connections that debt collectors cannot get onto the property; but that doesn't stop collectors from trying.
We spoke to one resident at Costa Del Sol, who told us security had  caught debt collectors trying to sneak past them before. The bank executive, who is a tenant, declined to be named. But he said that:
"I know one of the times, the debt collector actually disguised himself as a food delivery man. Luckily the security here is quite sharp, so this was stopped. But it's still quite alarming; I don't want my wife or my children to be exposed to this type of thing. There are a lot of kids here."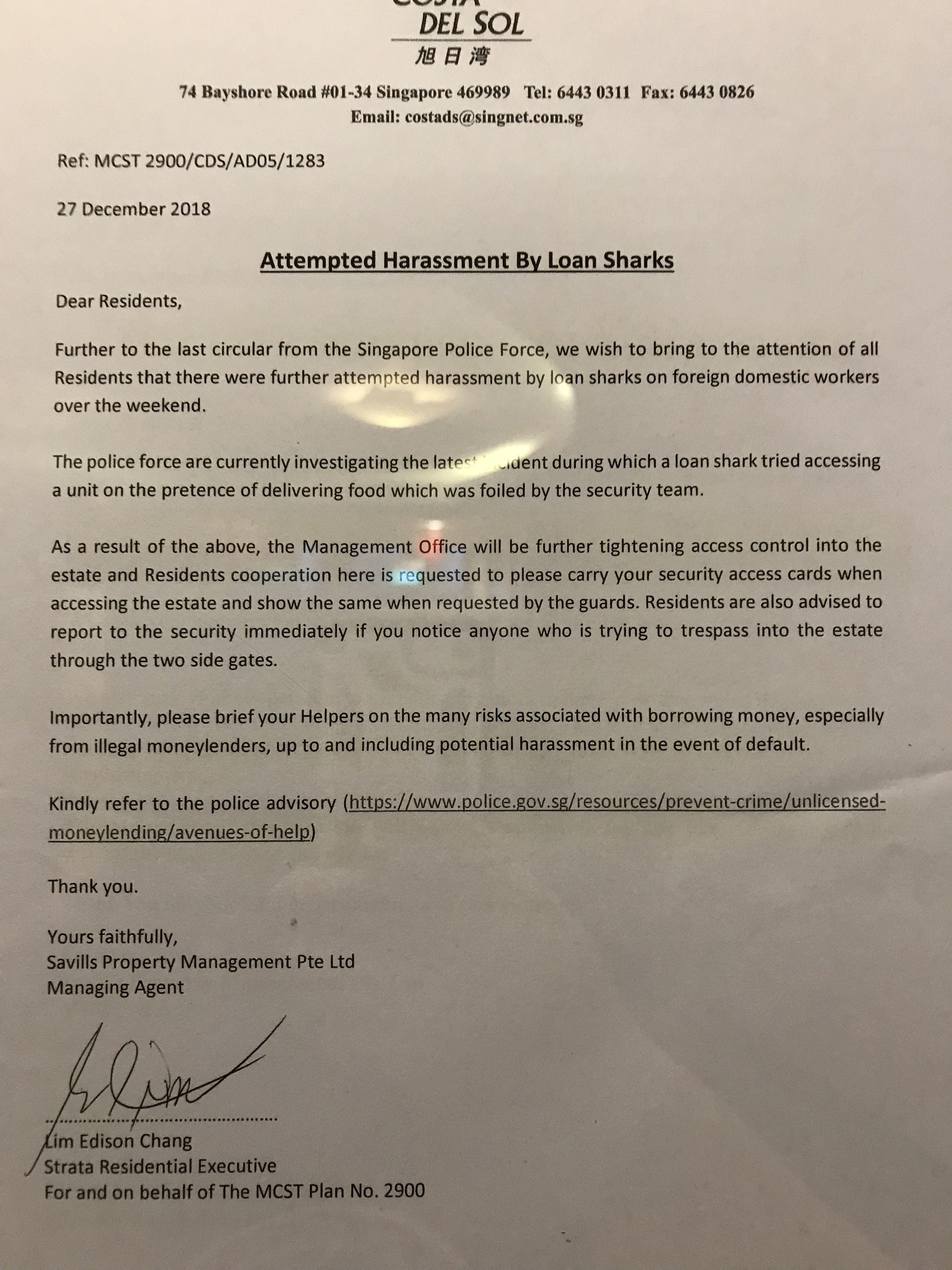 Other incidents involve debt collectors who tailgate (following residents through gates and lifts before they close), or pretend to be home movers and handymen. In older condos, where the lifts are not locked to each floor, it's much easier for these debt collectors to get to their targets.
There's no easy solution though
While there's a recent spike of money lenders targeting maids, the issue is far from new. As long as there's demand, there will be supply – and criminalising all lending simply means the entire industry will go underground. That would make the money lenders and debt collectors even more disruptive (if licensed, they at least have an inclination to follow certain rules).
The ultimate solution rests on employers educating their domestic helpers; maids should be warned against money lenders, brokers, and other social diseases. The situation sucks for some landlords though, who might find their property affected because the neighbour's maid borrowed money.
What do you think of the money lending situation? Voice your thoughts in our comments section or on our Facebook community page.
Looking for a property? Find the home of your dreams today on Singapore's largest property portal 99.co! You can also access a wide range of tools to calculate your down payments and loan repayments, to make an informed purchase.