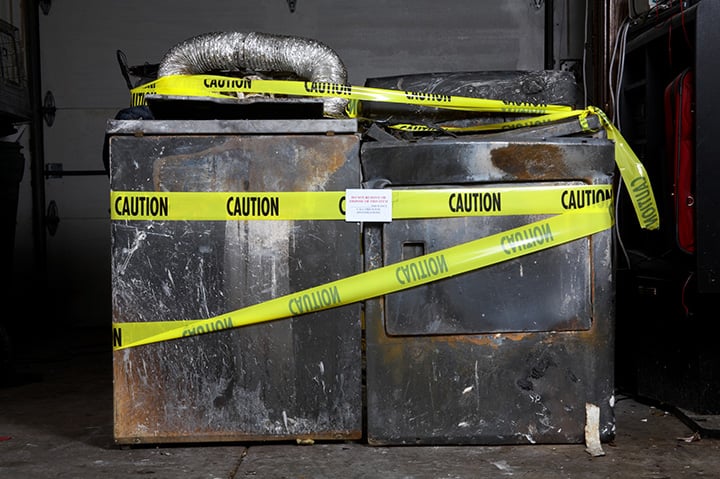 When you buy a home appliance, you'd have some basic expectations about it. You'd expect air-conditioners to cool the air, and water heaters to give you a nice warm shower. Sure, they might malfunction, but what you probably don't expect is for these sleek-looking appliances to become potentially deadly. Here's what these unexpected home fire hazards are and the steps you can take to keep you and your family safe: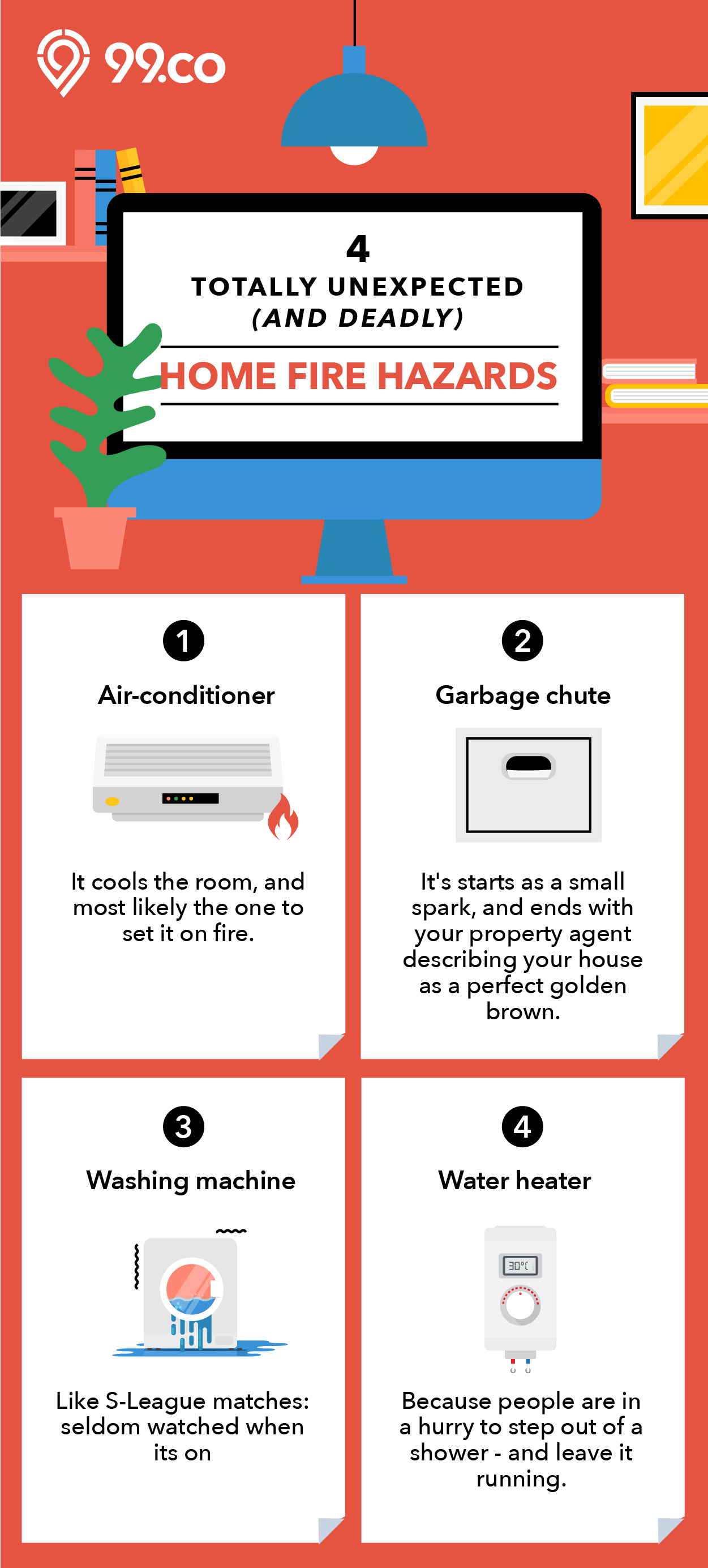 Home fire hazard #1: Air-conditioner
The thing that cools the room is also the the thing most likely to set it on fire. Just look at this line in a Singapore Civil Defence Force (SCDF) report:
"Air conditioning fires are most prevalent among the common electrical household appliances in Singapore with about 2 – 3 cases per month."
In 2014 and 2015, air-cons caused 51 cases of house fires. Thomas A. Sweatt, the most prolific arsonist in the US (and the most appropriately named criminal on the planet) only managed to get arrested for 45 house fires over a two-year period. So, air-cons arguably burn more houses than serial arsonists.
The worst part is that air-con fires can happen even when you think the unit is turned off, when it's actually on standby. As long as we don't flick the lever or hit the sturdy switch that actually shuts off the power to the unit, then there's a fire risk.
The main culprit appears to be splicing. Splicing commonly occurs when a contractor decides to mend a broken wire by tying the copper bits together, and then covering it with masking tape. Because the power keeps flowing (we seldom shut it off altogether, remember?), the heat melts the masking tape. The melted tape is flammable, so it catches fire.
Air-con fires have an equal chance of starting at the unit indoors or at the condensing unit (also called the compressor). Indoors, this home fire hazard is made worse by the items that are in close proximity to the air-con unit, such as curtains.
What you can do: Always hire a BCA-approved contractor for air-con repairs.
Home fire hazard #2: Garbage chute
All right, this is not exactly an appliance. But make no mistake: garbage chutes are an evil — a necessary evil — in the high-rise household. Not only are they a source of stench and a portal for pests, we are increasingly seeing garbage chute fires. A garbage chute fire might not burn your house down, but it can cause smoke, soot and the smell of burnt garbage to seep into your home and linger for months.
Incidentally, garbage chute fires most commonly happen on Sundays, and are more likely to happen from Friday through Monday than from Tuesday to Thursday. According to the SCDF, the eves of Chinese New Year have seen "exceptionally high numbers of refuse chute fires every year since 2008". The 9th day of CNY also sees a high incidence of garbage chute fires, which coincide with prayers (think burning joss paper and the like).
In any case, exercise caution when disposing of rubbish down the chute. From 10 floors up, flammable items such as aerosol can may burst or explode. Avoid throwing anything that's very hot down the chute as well, such as hot cooking oil (which in itself is also a fire hazard). Instead, package these items properly (e.g. in a tied plastic bag) and take them downstairs to throw away.
What you can do: Report any burning smell from the garbage chute immediately by calling 995.
Home fire hazard #3: Washing machine
On a global scale, washing machines are the leading cause of house fires. Approximately 14% of all residential fires are caused by these mechanical sock stealers.
There are a number of (speculative) reasons why washing machines want to murder you so bad. One proposed cause is that defective washing machines — which cause electrical fires — can't be easily recalled. 
If your smartphone manufacturer asks you to return your device, you're probably eager to. But if a washing machine company asks you to lug that monstrosity to a factory in Sungei Kadut, odds are you won't be bothered to (as long as it can still clean your soiled underwear). And, even if you're more than willing to go through the hassle, the distributor may not care to contact all the old customers and deliver that kind of news.
The other reason why washing machine fires are a especially dangerous home fire hazard is that the machines themselves are like S-League matches: seldom watched. You're probably not anywhere near when it's running, so you won't respond to a small fire fast enough. Enough time for the innocent looking machine to transform into an inferno. By the time you get back, forgetting you mixed the white and coloured socks is the least of your problems.
What you can do: Get your washing machine serviced regularly, as recommended by the manufacturer.
Home fire hazard #4: Water heater
In this 2008 to 2010 SCDF report, water heaters come under lighting and air-conditioning as a home fire hazard for causing fire. You wouldn't think these are a problem as they're right next to the shower. But water heaters are prone to fires because they generate a lot of heat, which gets trapped near their electrical wiring. And water heaters are also one of the things people forget to turn off. After a satisfying warm shower, you might just head to the cozy comforts of your bed and leave the heater on all night. Also common: turning on the heater, and then going off to do something else without showering.
Forget property damage: you won't want the heater to catch fire while you're in the bathroom, trapping you in.
What you can do: If the red light at the heater switch isn't enough a reminder. Put a discreet reminder on your bedroom light switch, such as a small label with the words "off heater". Or buy a heater with an auto-off timer function.
If you found this article useful, 99.co recommends How to do up your home without taking a renovation loan and How to prepare your home for your kids
Find the home of your dreams today at Singapore's largest property portal 99.co!
About 99.co
We are a property search engine with the overarching goal of building a more transparent and efficient property market. We are working towards that future by empowering people with the tools and information needed to find a place to live in the best way possible.
Looking to sell your property?
Whether your HDB apartment is reaching the end of its Minimum Occupation Period (MOP) or your condo has crossed its Seller Stamp Duty (SSD) window, it is always good to know how much you can potentially gain if you were to list and sell your property. Not only that, you'll also need to know whether your gains would allow you to right-size to the dream home in the neighbourhood you and your family have been eyeing.
One easy way is to send us a request for a credible and trusted property consultant to reach out to you.
Alternatively, you can jump onto 99.co's Property Value Tool to get an estimate for free.
If you're looking for your dream home, be it as a first-time or seasoned homebuyer or seller – say, to upgrade or right-size – you will find it on Singapore's fastest-growing property portal 99.co.
Meanwhile, if you have an interesting property-related story to share with us, drop us a message here — and we'll review it and get back to you.
Join our social media communities!
Facebook | Instagram | TikTok | Telegram | YouTube | Twitter