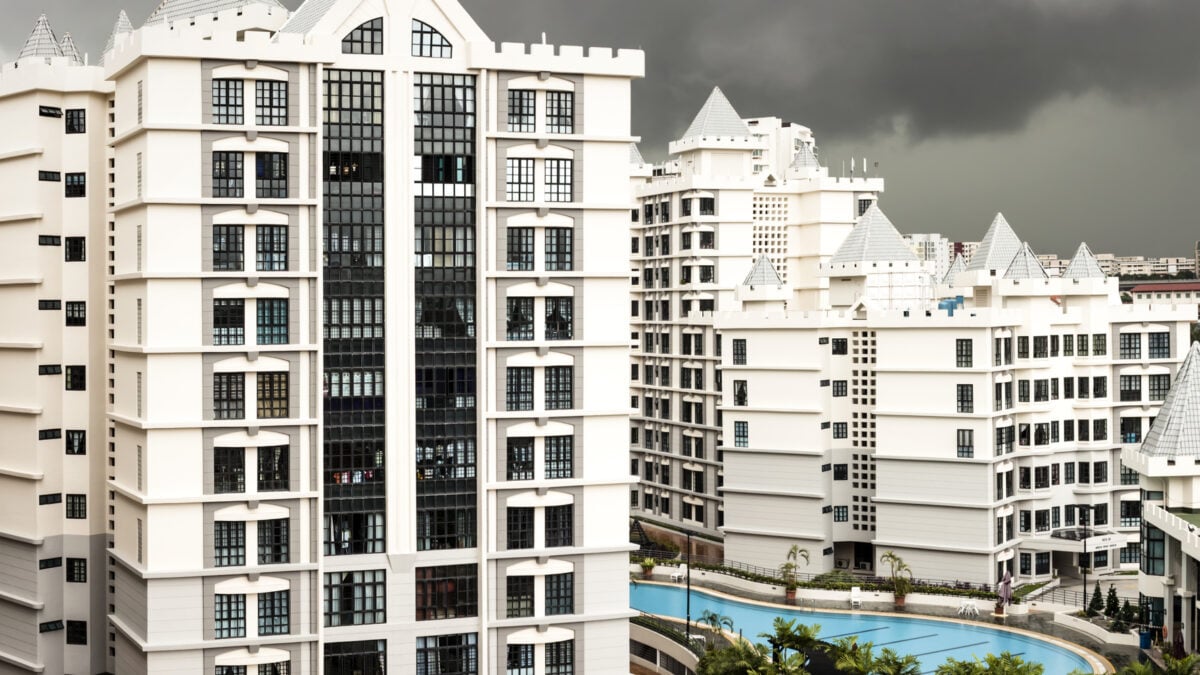 The debate about leasehold versus freehold will never die! But for the most part, the majority are on the side of freehold units. We see the appeal, but consider the following before you buy:
Over the past 10 years, leasehold condos have appreciated faster overall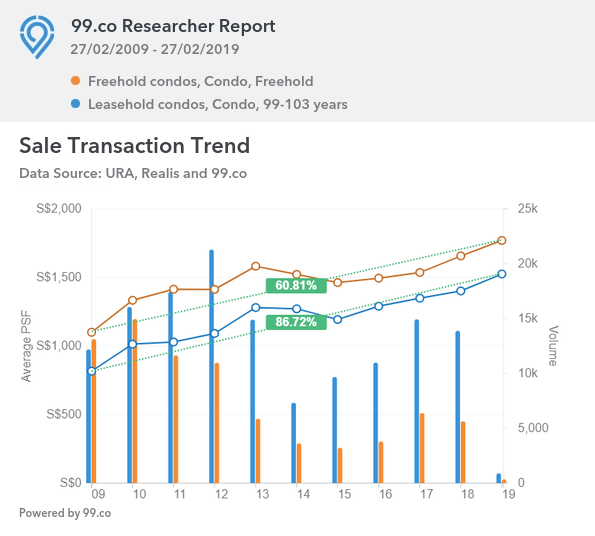 Across Singapore in general, leasehold condos have appreciated by an impressive 86.7 per cent over the past decade. Freehold condos are lagging behind, at just around 60.8 per cent.
Freehold condos are typically sold at a premium of 10 to 15 per cent, so it can be harder for them to outperform their leasehold counterparts. Also, this demonstrates how the whole "freehold versus leasehold" debate is something of an abstraction; factors like nearby amenities, quality of facilities, and rental yields are more significant than whether a condo is freehold or leasehold.
Did the en-bloc fever help freehold appreciation at all?
In theory, a freehold unit shows its ultimate quality during an en-bloc. They're supposed to fetch higher prices during collective sales, as there's no lease to run out and owners are less compelled to sell.
Conveniently for us, there was an en-bloc craze over the past decade. This was at its height in 2017, when Chinese developers flooded our market. It has since slowed down after cooling measures on 5th July 2018, when the government imposed a steep 30 per cent Additional Buyers Stamp Duty (ABSD) on housing developers.
To see if freehold properties really shine during an en-bloc, we looked at freehold versus leasehold appreciation around the time of the en-bloc fever.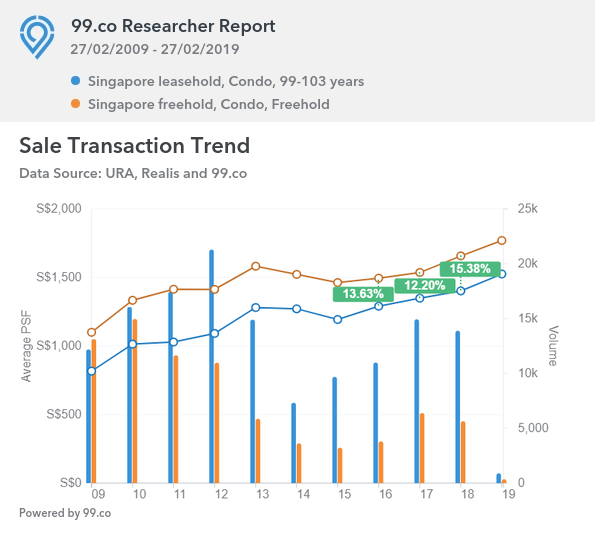 We can see that, for the year of 2017, freehold condos narrowed the gap a little with leasehold counterparts. Leasehold units only appreciated by around 12.2 per cent more than freehold for the period of 2017. The gap was wider at 13.6 per cent the year before, and around 15.4 per cent the year after.
So there does seem to be more appreciation for freehold units, during times when en-bloc sales are roaring; but perhaps not as much as many investors have hoped.
Comparing within a specific location
As we've mentioned above, factors like facilities and amenities matter more than the lease. So in the interest of a fairer comparison, let's look at leasehold versus freehold, specifically within the Orchard (District 9) area.
We're using this location because it's a relatively small area, where most of the condos – freehold or leasehold – share the same amenities (the retail wonders and central location of Orchard Road). Also, many of the condos in this area are built to the same high standards.
Here's how the two performed: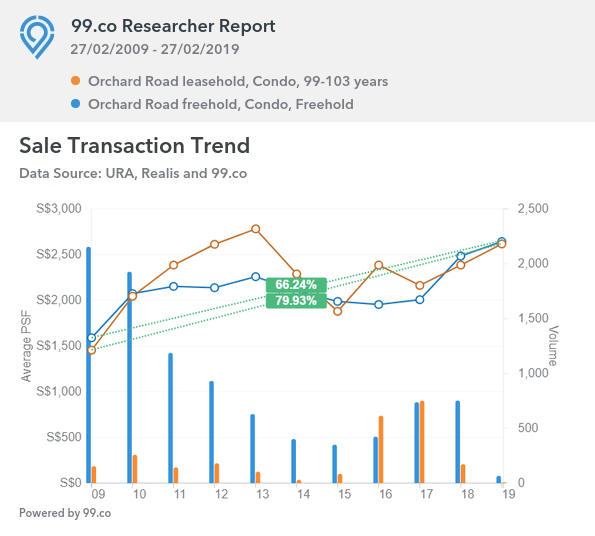 Over the past decade, leasehold units in District 9 appreciated more than freehold counterparts. Leasehold units saw a rise of almost 80 per cent in per square foot price, while freehold counterparts only rose around 66.2 per cent.
Another look in a non-central region
Our wise readers will probably point out that luxury condos are a whole different animal from their mass market counterparts. So we also ran a comparison between freehold and leasehold in a non-central region.
In particular, we picked District 15 (East Coast) as the area is particularly inundated with condos. In addition, condos within District 15 share the same general amenities, across the entire area (nearby beach, and foodie havens).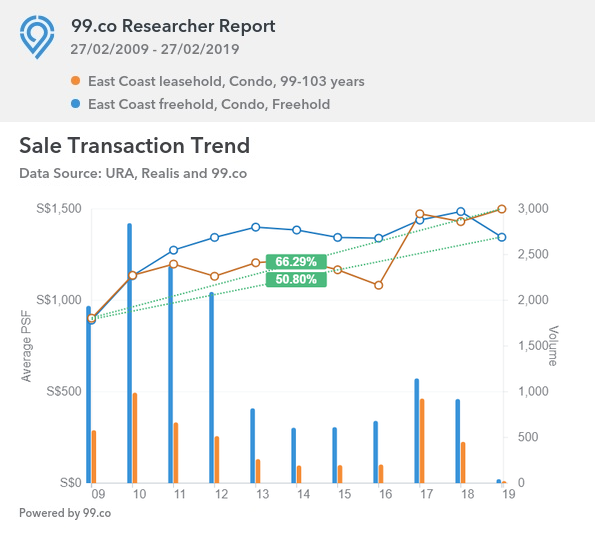 The results mirror what we saw in District 9 – leasehold properties saw a higher appreciation in price per square foot compared to freehold counterparts. The difference is around 15 percentage points, also very close to the gap we saw in District 9 condos.
So if you're buying this year, maybe you shouldn't allow the lease to influence your decision too much
Even for home buyers, who are less interested in price appreciation, freehold should not be "auto-choose". Remember that the 10 to 15 per cent premium you're paying can impact affordability. Also, home owners should not presume that they will be staying in the condo their entire lives.
In fact, our experience suggests it's quite the opposite. Many home owners sell and move out long before the 99-year lease becomes an issue; such as when the children have left and they decide on a smaller place. In such a situation, they may have paid more for a freehold unit for no real reason.
Do you prefer leasehold or freehold? Voice your thoughts in our comments section or on our Facebook community page.
Looking for a property? Find the home of your dreams today on Singapore's largest property portal 99.co!
New launch alert! Welcome to Grand Dunman
About Ryan Ong
Looking to sell your property?
Whether your HDB apartment is reaching the end of its Minimum Occupation Period (MOP) or your condo has crossed its Seller Stamp Duty (SSD) window, it is always good to know how much you can potentially gain if you were to list and sell your property. Not only that, you'll also need to know whether your gains would allow you to right-size to the dream home in the neighbourhood you and your family have been eyeing.
One easy way is to send us a request for a credible and trusted property consultant to reach out to you.
Alternatively, you can jump onto 99.co's Property Value Tool to get an estimate for free.
If you're looking for your dream home, be it as a first-time or seasoned homebuyer or seller – say, to upgrade or right-size – you will find it on Singapore's fastest-growing property portal 99.co.
Meanwhile, if you have an interesting property-related story to share with us, drop us a message here — and we'll review it and get back to you.
Join our social media communities!
Facebook | Instagram | TikTok | Telegram | YouTube | Twitter