You've just gotten the keys to your new flat, and you're raring to start building out your dream home.
Yes, we know your Pinterest boards are bursting with inspiration, but curb your enthusiasm and read this article before jumping into your home renovation project. 
Whether you're renovating a BTO or resale unit, there are various HDB renovation permits and guidelines to adhere to. As the homeowner of your HDB flat, you will be responsible for obtaining all HDB renovation permits before commencing the project. 
Here's a comprehensive list of HDB renovation guidelines for your reference.
---
Contents
HDB permits and the type of renovation that requires them
Walls
Floors
Doors
Bathrooms/ Toilets
️ Air-conditioners
Windows
How long do I have to renovate?
---
HDB renovation guidelines: Die-die must do
There are many hoops to jump through before you can even think about building out your dream home.
Here's a list of non-negotiables regarding the renovation of your HDB flat.
Get valid permits from HDB (aka written approval)
What exactly requires permits?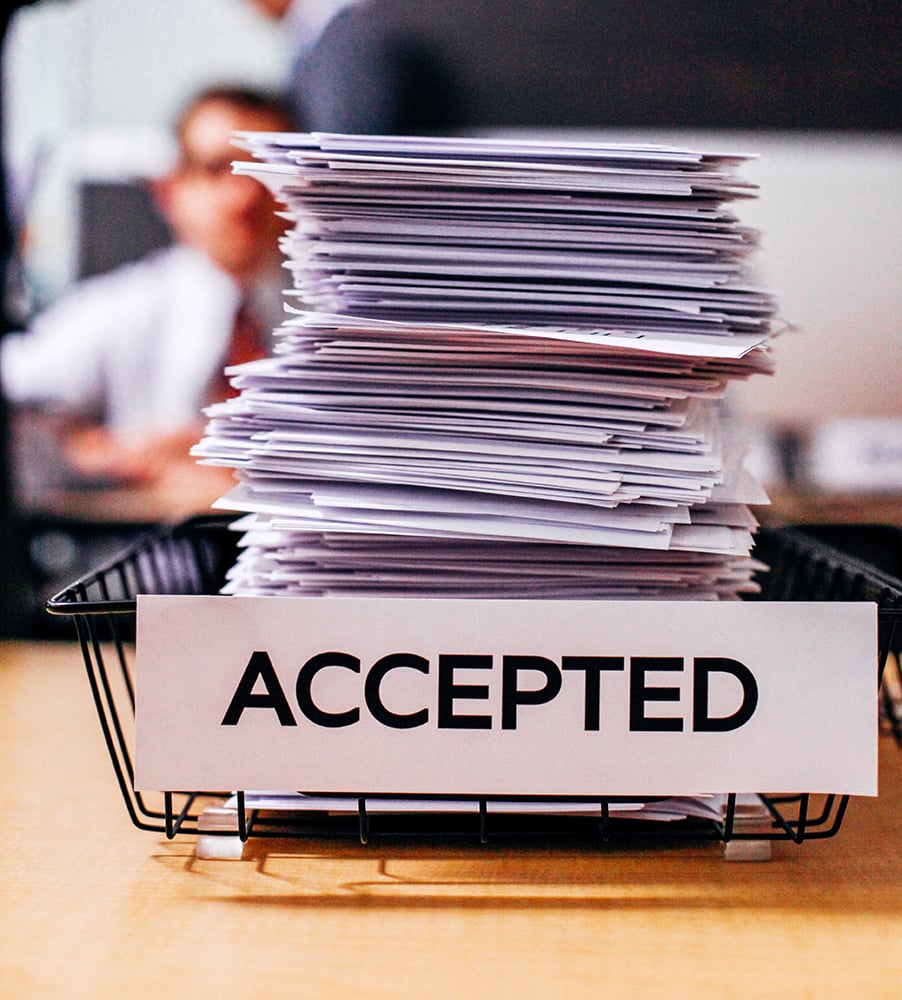 1. Walls – Hacking or demolishing 
Say you love an open floor plan and that loft apartment aesthetic, and want to remove as many walls as possible. 
You must obtain HDB's prior written approval before hacking or demolishing your walls (both partially or completely). 
Adding arches or rounded entranceways also requires HDB's prior approval.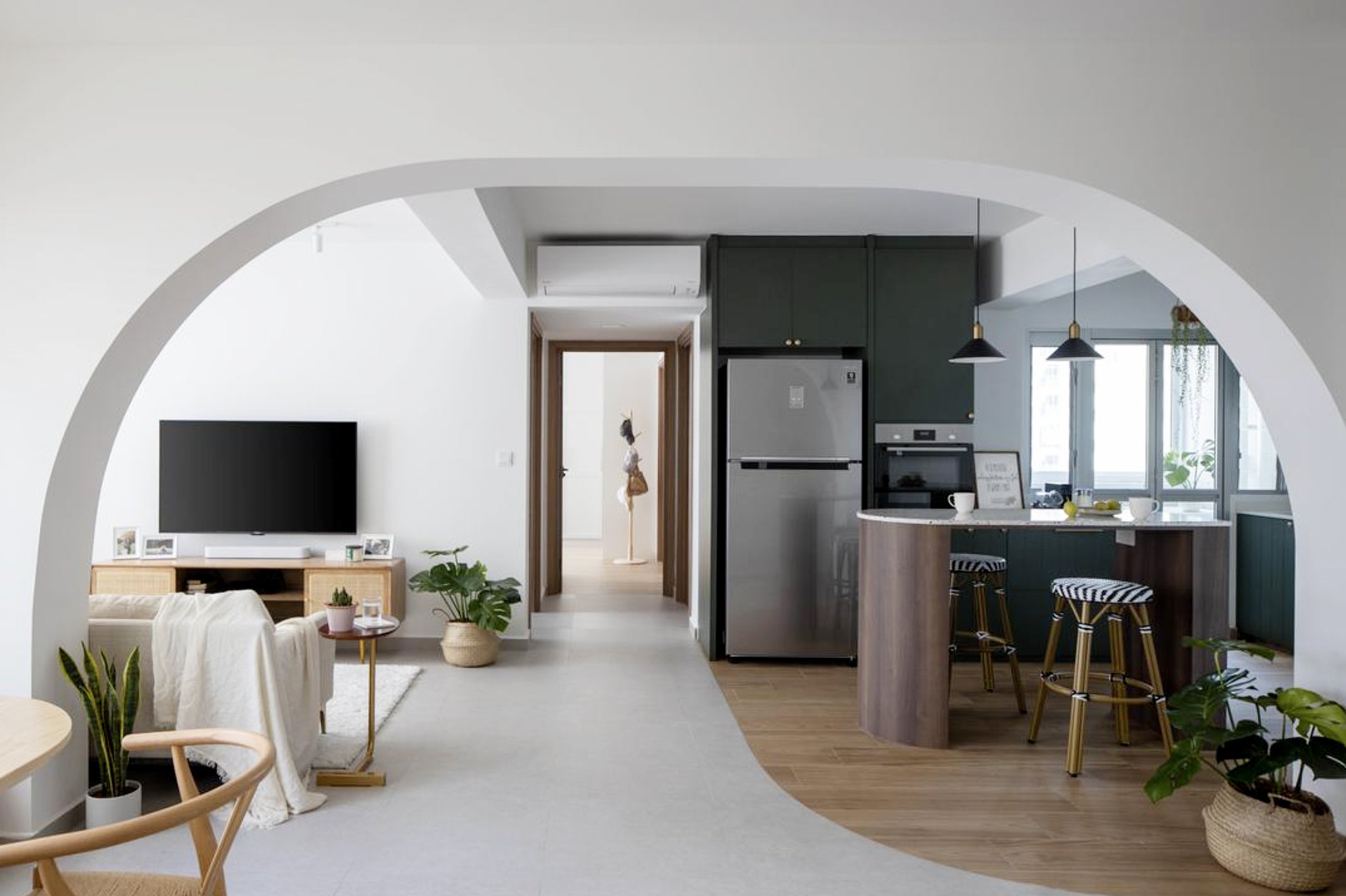 Why? All HDBs have load-bearing walls, which ensures the structural integrity of the building. Any damage to these walls may compromise how the building is held up, and one wrong move may bring the whole place crumbling down around you and cause grievous injuries. 
You laugh this off as an exaggeration, but demolishing any structure is a serious matter. In June 2022, a 41-year-old Bangladeshi worker died when a wall he was hacking collapsed on him.
2. Floors – Removing or replacing
If you're thinking of stripping away the existing floor finishes and replacing them with the terrazzo tiles of your dreams, you'll need a permit. 
To raise the floor level in various rooms (such as the kitchen, balcony, bathroom or toilet) also requires written approval. 
Why? Carrying out floor hacking and retiling works incorrectly may add unnecessary stress on the existing floor slabs. This weakens the overall flat structure. 
If you want something inexpensive and durable, you can look at installing vinyl flooring. It comes in an exhaustive range of finishes and can be overlaid over tiles, saving you the time and money required for hacking.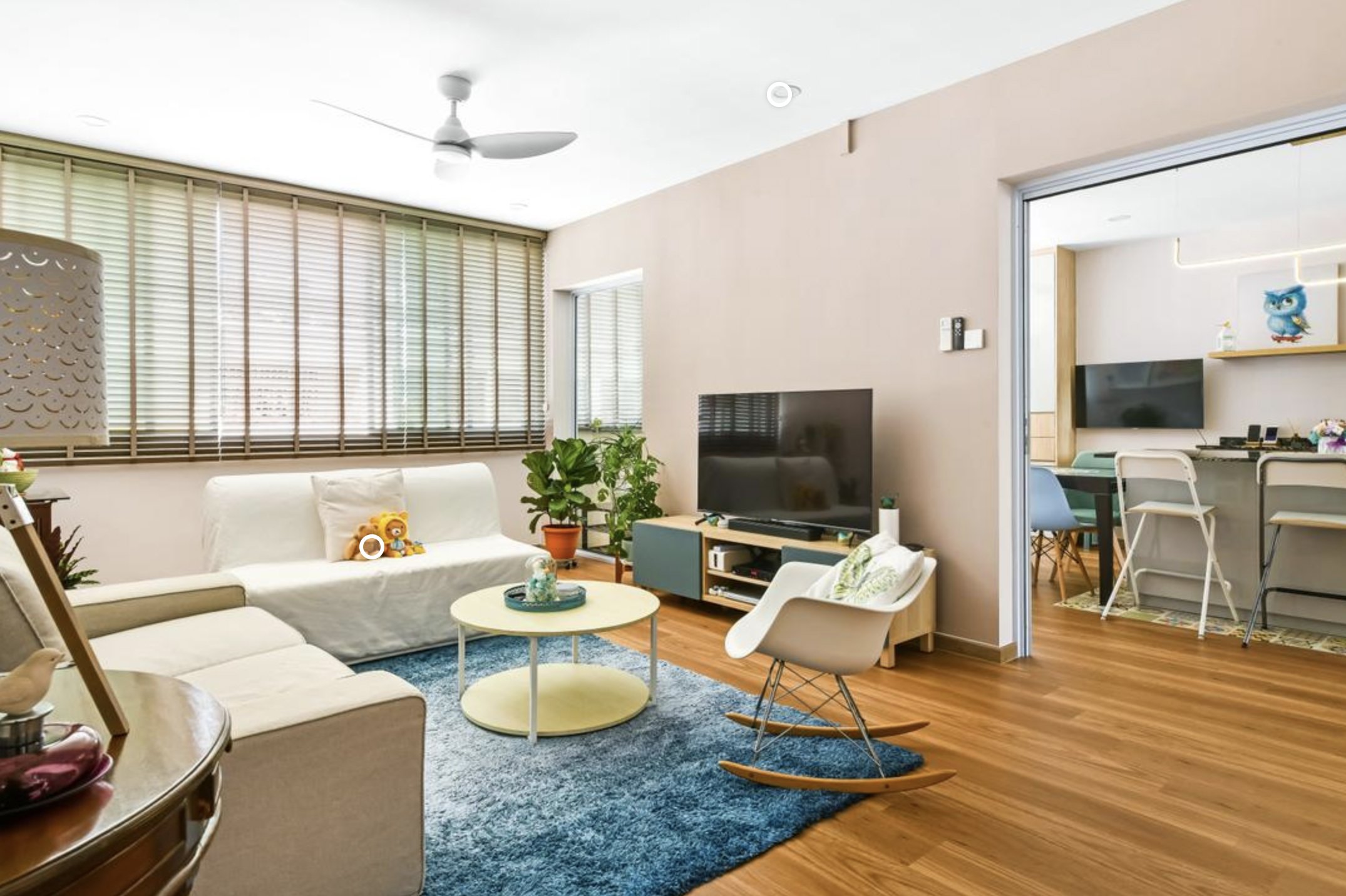 Read this: 7 types of flooring commonly used in homes
3. Doors – Repositioning or replacing 
Did you know replacing your main entrance door requires a permit? This is if it's located along a fire escape route within 3 metres from the nearest staircase of the lift lobby. 
Ensure the replacement door and accompanying door frame are half-hour fire rated as this prevents smoke and fire from spreading to other units. 
Permits are also needed when moving the placement of doors in your home as it requires the hacking of walls. 
4. Bathrooms or toilets – Removing finishes
There is a three-year wait before you can strip any existing wall or floor finishes in your BTO flat. However, you can lay new toilet floor finishes over existing floor finishes using adhesives, as long as you don't compromise the integrity of the tiles below it.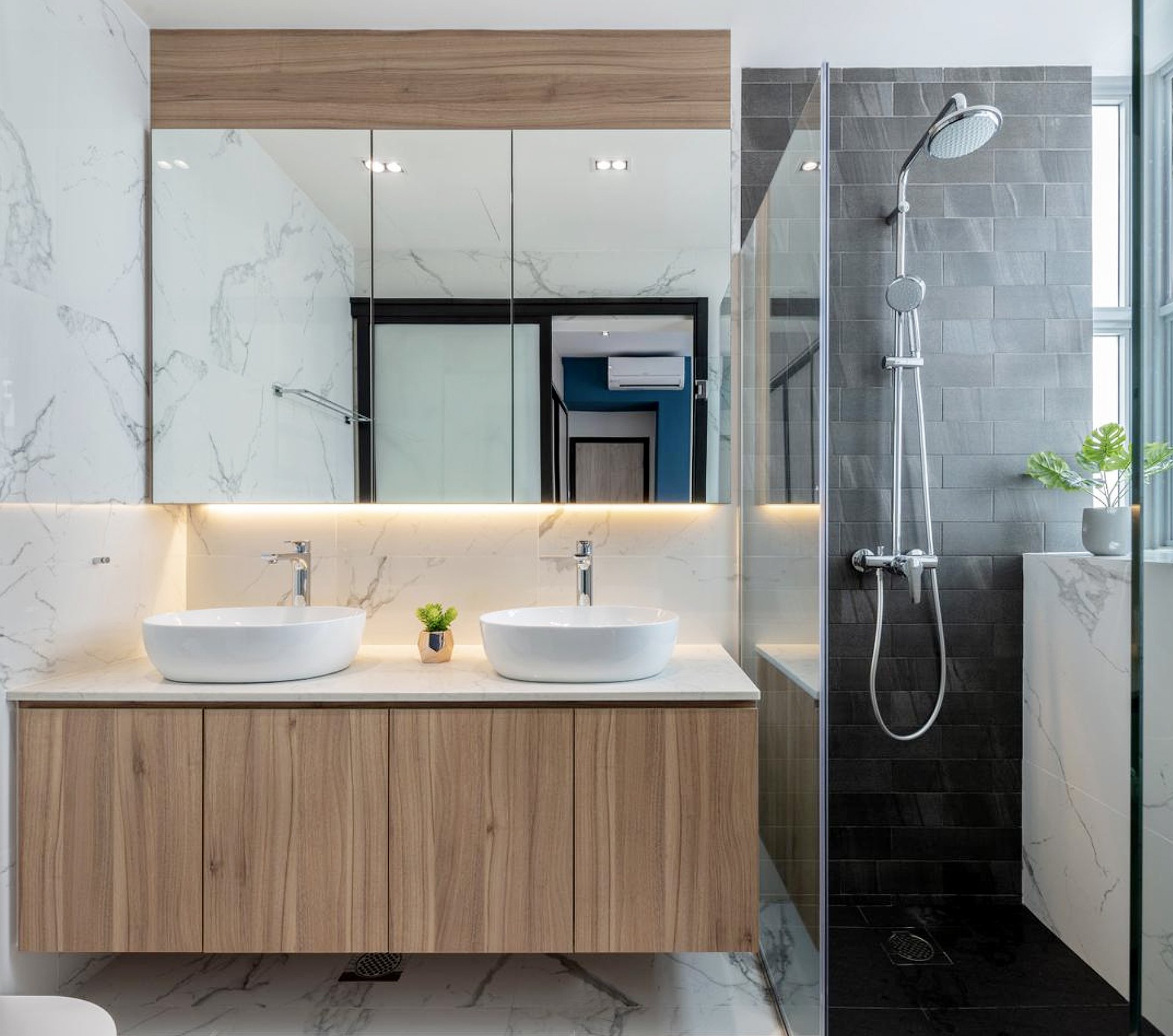 Flats that have completed their 5-year MOP are exempt from the waiting period, including resale flats.  
Why? If you hack your BTO toilets, the waterproofing works in those wet areas may be damaged. This may cause water damage and ceiling leaks in both you and your neighbours' flats.
Read this: Tackling ceiling leaks and water seepage in your HDB flat
5. Installing air-conditioners 
If you purchased an older resale unit and want to install an air-conditioning unit, you may need to apply for an electrical permit.  
This is if your flat still uses a 30 amps main switch and the installation of your new air-conditioner units requires a new 15 amps power point or 20 amps isolator. 
Newer blocks completed on or after 1 January 1994 or flats that have undergone either the Main Upgrading Programme (MUP) or Home Improvement Program (HIP) are equipped to handle higher capacity electrical equipment and appliances, so no permit is required. 
Only licensed air-conditioner installers can install your aircon systems. They also need to submit an installation report within two weeks after installation. 
Unsure of your block's electrical loading? You can contact the HDB branch office at 1800-225-5432 to enquire. 
6. Windows – Installing or changing
Yes, changing your window grills also requires permits. 
Why? Imagine if everyone decided to flex their creative freedom and install their preferred window grills. It would be interesting but very chaotic looking. 
Restrictions are imposed to ensure that your new windows and grills' design fits in with the pre-approved HDB colour and design to maintain the current aesthetics of the HDB block. 
Hiring licensed contractors
Going on Carousell and finding a fly-by-night contractor to cut costs and save extra money might be tempting but could also get you in trouble. 
It is an offence for any individuals to carry out regulated works unless they're licensed or under the direct supervision of a licensed worker.
So, what types of work require the hiring of licensed contractors? 
1. Water service and sanitary works
Who to engage: A Public Utilities Board (PUB) Licensed Plumber (LP) from the LP portal.
Basic plumbing works can be carried out by handymen who don't possess a licence. However, any other water service works will require a registered plumber. 
2. Gas service works
Who to engage: An Energy Market Authority (EMA) licensed gas service worker
A licensed gas service worker must handle any work involving piped gas installation or appliances. This includes new gas installation and replacement, addition and alteration to the existing installation. 
Here's a comprehensive list of water and gas works that don't require permits. 
You can use the EMA portal to check if the worker carrying out your installation is licensed. 
3. Electrical installation works
Who to engage: An Energy Market Authority (EMA) licensed electrical worker
Electrical work such as new wiring, rewiring and extensions must be tested before a licensed electrical worker's electrical supply is on. 
Electrical workers also fall under EMA's jurisdiction, so just like gas services, you can check the worker's license status on the same portal.
4. Window works
Who to engage: A HDB-listed Building Construction Authority (BCA) approved window contractor. 
There are 15 contractors licensed to carry out renovation and window works, and strangely the names of all the companies start with "A".  
What if I don't follow HDB's guidelines? 
Knowingly engaging someone not from the Directory of Renovation Contractors (DRC) is an offence. 
Failure to adhere to these rules and breaching HDB's renovation guidelines may result in a fine of up to S$5,000 and other penalties for you and the worker. 
HDB renovation guidelines: What else isn't allowed? 
1. Embedding wires in walls 
Yes, we get it. Wires are unsightly, and plastic casings snaking around the skirting and ceilings isn't ideal, but there's no way around this.
While getting your contractor to hide the wiring in walls is tempting, it's also illegal. This includes columns, beams, wall plaster, or reinforced cement (RC) slabs. 
Get yourself a good interior designer who can plan creative ways around this. They can incorporate the wires into your home's design or by hiding them in plain sight by matching the colour of the wires to the walls.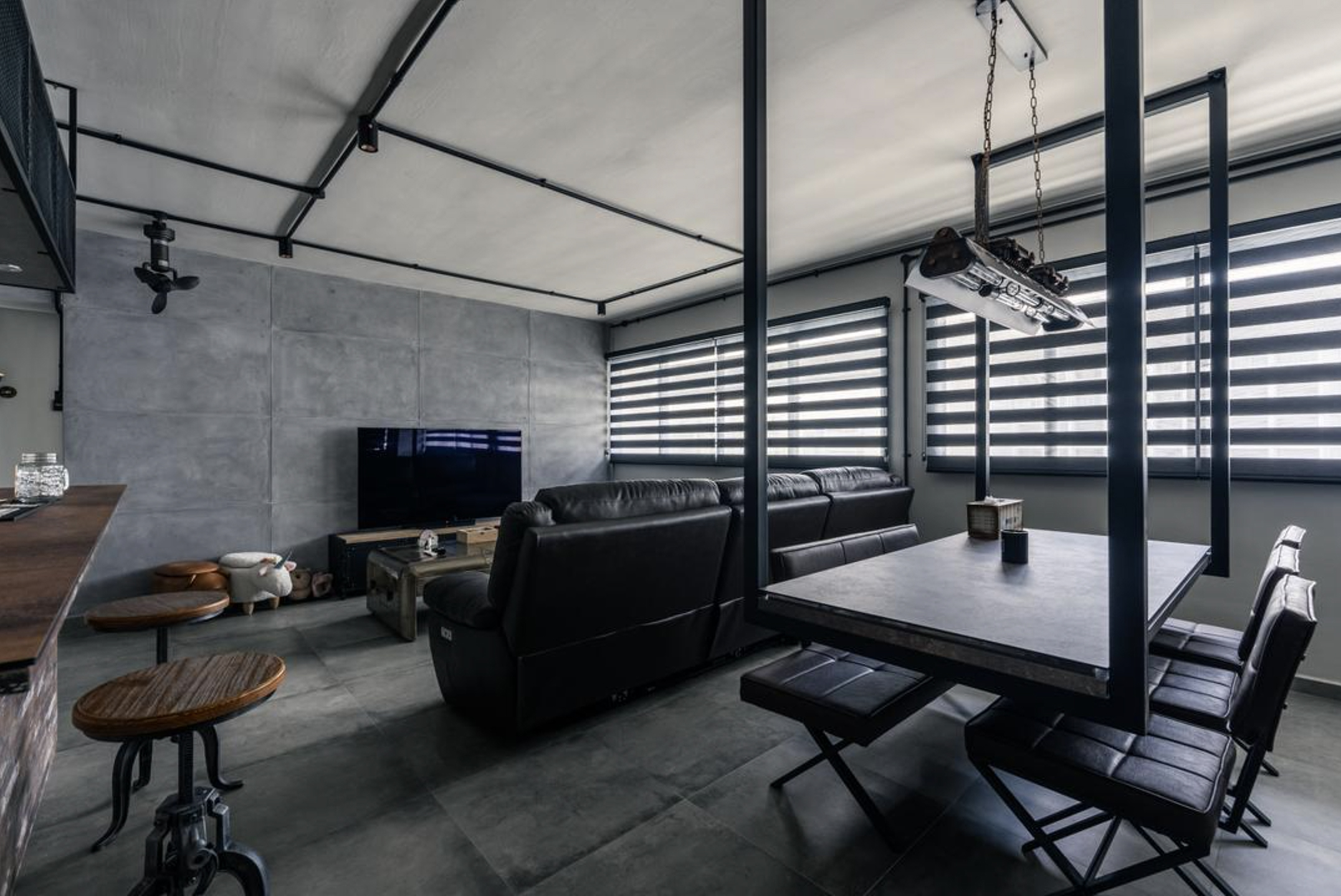 Another way is to add more electrical points, thus reducing the length of wire needed from one point to another. 
2. Installing a loft 
Some HDB owners are getting creative and adding extra space by installing a mezzanine floor within their flats.
While there are HDB loft units for sale, they are few and far between (at the time of writing, there aren't any for sale). 
But if you're wondering, the answer is still no – you can't create another floor within your apartment because it's highly illegal. 
Why? Having all that additional weight can compromise the structure of your HDB block as it is not designed to handle the extra load capacity.  
The Urban Redevelopment Authority (URA) also flags mezzanine floors as a feature that illegally increases the gross floor area (GFA) of the building, which is not approved.
But wait! Not all hope is lost. You may still be able to install a mezzanine floor, provided your ceiling is high enough. You also need to get approval from the URA and BCA and submit relevant documents to the Fire Safety and Shelter Bureau (SCFD-FSSB) in compliance with the fire code.  
3. Painting the area outside your flat
This may sound like a no-brainer, but it needs to be included in the list. You're not allowed to customise the walls and ceilings of the common corridor by painting them.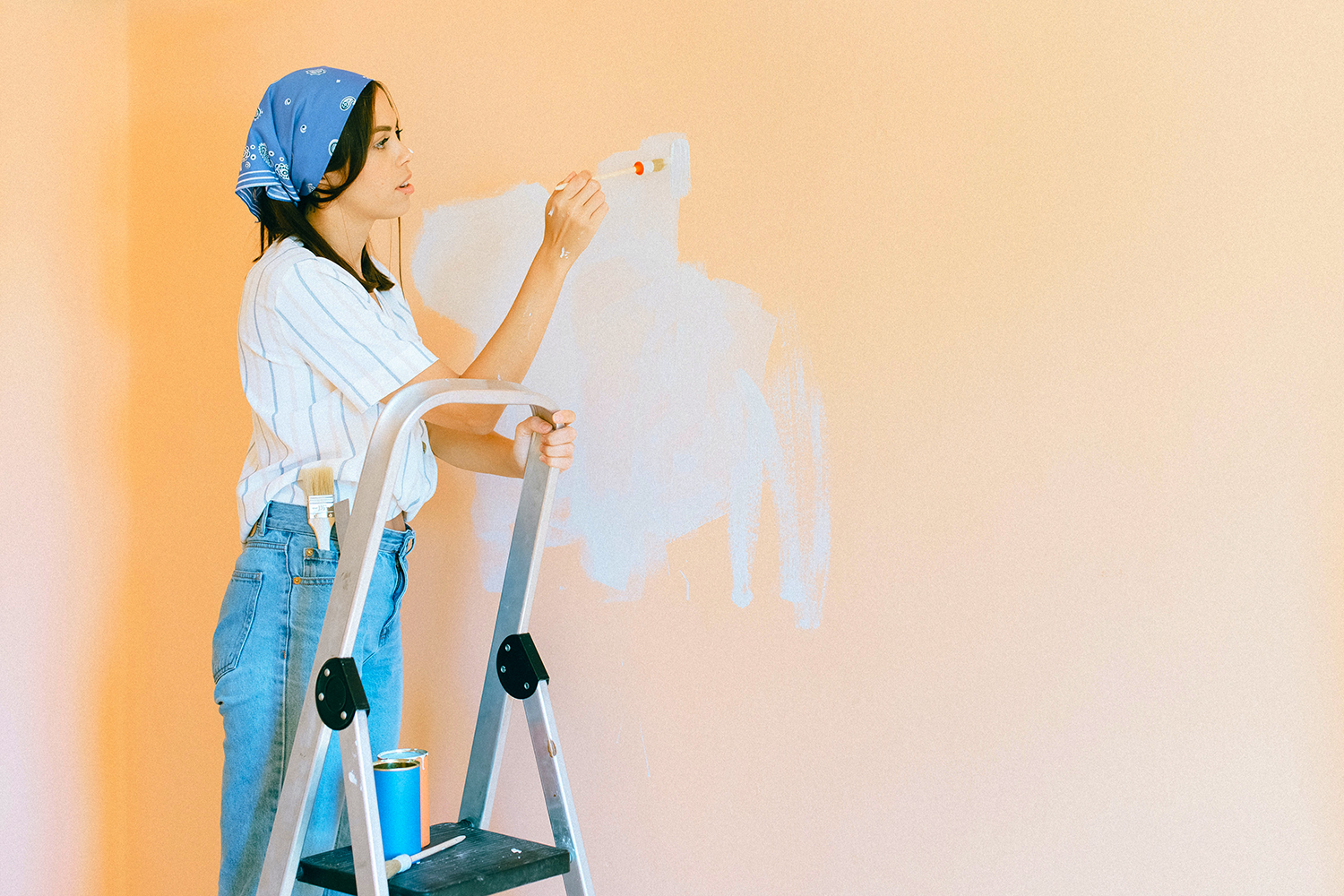 While you may toy with the idea of giving your exterior walls a pop of colour so you have something cheery to come home to, you should scratch that thought because anything that changes the facade of the common area is definitely not allowed. 
We've seen people hang photos outside their units – that's one way to personalise your humble abode without flouting the rules.  
That's not all – here's a whole bunch of other things that aren't allowed (and keep in mind that this isn't an exhaustive list by any means). 
Renovation works that aren't allowed
Building works
Hacking and removal of structural members (load-bearing structures or staircases within Executive Maisonettes)
Overloading of floor slab with more than 150kg for every metre square of floor area
Plastering of ceilings
Partitioning with combustible or toxic materials (such as plywood, plastics, asbestos)
Raising of floor level exceeding the allowed thickness of 50mm with concrete (inclusive of finishes)
Extending floor area by covering void areas
Repositioning/ enlarging chute opening
Painting the common corridor's walls or ceilings
Installing awning or other fixtures outside the flat
Laying floor finishes outside the entrance without having recess area or step
Removing a pitched roof ceiling (partial or complete)
Changing use of planter boxes
Sanitation/ plumbing
Constructing water tanks in bathrooms other than using ready-made (e.g. fibreglass) long baths
Windows/ doors/ grilles
Installing casement windows when the flat faces the common corridor
Replacing full height, 3/4 height, or bay windows
Removing or tampering with safety railings/grilles (internal and external)
Permanently sealing a planter box
Installing overhead grilles at an interaction balcony
Removing or replacing of sliding door different from the one originally provided at the balcony
Placing reflective film over existing window glass panels, resulting in daylight reflectance exceeding 20%
Air-conditioning related works
Installing external grilles on the air-conditioner ledge
Changing the use of the air-conditioner ledge
HDB renovation guidelines: Other important things to note
Pre-renovation
Five days before starting your renovation works, you or the person in charge of the renovation (either your contractor or interior designer) should inform your neighbours within a two-unit radius.
You should use this written notice, which you can either put in their letterbox or deliver the document by hand.  
This is so they can prepare for the eventual noise and dust pollution. You may also want to gift them some earplugs and apology snacks. 
Another requirement is to put up the Notice of Renovation, which should be posted up clearly outside your flat and throughout the entire renovation period. 
Renovation timings
There's a set of timings where renovation work is permitted to remind homeowners to be considerate and not inconvenience their neighbours. 
General renovation. This refers to activity that doesn't generate loud noises, such as plastering, laying of floor screed, painting, waterproofing and other works. 
Permitted timings: Mondays to Sundays, 9 am to 6 pm
Non-permitted timings:

 Sundays and Public Holidays
Noisy renovation. This refers to activities that generate loud noises, such as demolishing walls and floors, cutting tiles and other work involving excessive drilling and hammering.  
Permitted timings:

 Mondays to Fridays, 9 am to 5 pm

Non-permitted timings:

 Weekends, Public Holidays, and eve of major Public Holidays
DIY fiend? If you're a bonafide roll up your sleeves, do-it-yourself type of go-getter, you are limited to carrying out your activities between 7 am to 10.30 pm. 
Some tips to minimise noise disturbance to your neighbours is to keep your main door closed whenever possible. 
HDB renovation guidelines: Completion of renovation works
Renovation permits come with expiry dates – all renovation works must be completed within one month for resale flats and within three months for BTO flats. Make sure all your ducks are in order so construction can begin as soon as you're authorised to start renovation works. 
Do note that a Utilities Account (water and electricity) must be opened with SP Services Ltd for a new flat before a renovation permit can be granted.
Your renovation contractor can submit a renovation online on your behalf and attach the acknowledgement form (which you need to authorise and sign). As soon as HDB receives the submission, you'll get an SMS notification. 
To view your renovation permit, login to My HDBPage under 'My Flat > Purchased Flat > Renovation'.
Now that you're all up to date with what you can and cannot do when it comes to executing your HDB renovation, you're free to bring your Pinterest boards to life. 
---
Starting your home renovation journey? Let us know in the comments section below or on our Facebook post.
If you found this article helpful, check out 5 strategies to maximise a tight budget for home renovation and Millennial couple documents first-time home-renovation journey and shares tips on Instagram.
About Jamie Wong
Looking to sell your property?
Whether your HDB apartment is reaching the end of its Minimum Occupation Period (MOP) or your condo has crossed its Seller Stamp Duty (SSD) window, it is always good to know how much you can potentially gain if you were to list and sell your property. Not only that, you'll also need to know whether your gains would allow you to right-size to the dream home in the neighbourhood you and your family have been eyeing.
One easy way is to send us a request for a credible and trusted property consultant to reach out to you.
Alternatively, you can jump onto 99.co's Property Value Tool to get an estimate for free.
If you're looking for your dream home, be it as a first-time or seasoned homebuyer or seller – say, to upgrade or right-size – you will find it on Singapore's fastest-growing property portal 99.co.
Meanwhile, if you have an interesting property-related story to share with us, drop us a message here — and we'll review it and get back to you.
Join our social media communities!
Facebook | Instagram | TikTok | Telegram | YouTube | Twitter