Rents may be on the decline in Singapore, but it's still an incredibly expensive endeavour. Apart from paying the monthly rent, tenants must also cough up an additional 1 to 2 months of rent as a security deposit to the landlord right at the start of the lease. Depending on the rent, this can add up to quite a significant sum!
In the best-case scenario, the security deposit is returned to the tenant at the end of the term intact. But we've all heard horror stories of unreasonable landlords forfeiting the entire security deposit for the most minor of infractions. So when can a landlord legally withhold a tenant's deposit, and what recourse does he have in such a situation?
What is a Security Deposit?
A security deposit is a form of insurance for the landlord – if the tenant breaches the terms of the lease agreement or causes damage to the property, he can reimburse his loss through the deposit without having to go to court and incur legal costs.
Keep in mind that a security deposit is not meant to be a reserve fund for when the tenant fails to pay rent. If he fails to pay his rent during the term, the landlord is not obliged to count the security deposit towards the rent and, depending on the terms of the agreement, the failure to pay may be considered a breach of the tenancy agreement rendering the tenant open to eviction.
When Can a Landlord Legally Withhold the Security Deposit?
There are situations a landlord is legally entitled to retain a security deposit. These would be:
where there is outstanding rent at the end of the term;

where there is/are outstanding utility bill(s);  

to cover any cleaning costs of restoring the premises to a clean, tenantable condition; and/or

to repair damage to/replace property and/or fixtures in excess of 'fair wear and tear'.
The landlord is only entitled to deduct the cost of doing the above, and the remainder of the deposit should then be returned to the tenant. If, however, the tenant causes damage that exceeds the security deposit, the landlord may sue the tenant for the outstanding costs of remedying the damage.
While the first three situations are easy enough to understand, it's usually the last one (i.e. the 'fair wear and tear' situation) that causes the most confusion and results in most disputes between landlord and tenant when it comes to returning the deposit.
What is 'Fair Wear and Tear'
Most tenancy agreements will have a clause that requires Tenants to keep the premises, furniture and fixtures in pretty much the same condition they were handed to the tenant in, minus any deterioration due to 'fair wear and tear'.
The clause usually looks something like this:
"At the expiration of the Tenancy, the Tenant shall peaceably and quietly deliver up to the Landlord the said premises in like condition as if the same were delivered to the tenant at the commencement of this Agreement, fair wear and tear excepted, provided that the Tenant shall take all reasonable measure to ensure that any damages, defect or dilapidation which has been or at any time shall be occasioned by fair wear and tear shall not give rise to or cause or contribute to any substantial damage to the premises."
Fair wear and tear refers to damage or deterioration by reasonable and ordinary use of property. What this means is that if you break or damage your landlord's property, you'd be expected pay to replace or repair it; but if the deterioration is what's reasonably expected from everyday use of the property, you wouldn't.
While that seems simple in theory, it's an incredibly vague definition to put into practice – what's 'fair wear and tear' to the tenant, may be argued to be actual damage by a landlord. It's this vagueness that unscrupulous landlords take advantage of, spending your hard-earned security deposit to replace property they allege to be damaged, or hire the most expensive team to repair it.
If that's the case, how can a tenant protect himself from falling prey to such unscrupulous tactics?
What Tenants Can Do to Protect Their Security Deposit
Keep Detailed Notes and Pictures of Property's Condition and Have The Landlord View and Agree to the Pre-Existing Condition
One of the best protections a tenant can have is to ensure that they properly document the condition of the property before they officially move in. This should be communicated to and accepted by the potential landlord as well before anything is signed.
This will help prevent an unprincipled (or perhaps forgetful) landlord from trying to charge you to repair anything that was already damaged prior to your moving in.
Even if there are defects that you are happy to live with (e.g. stained tiles, or minor cracks in furniture), you must make sure that these are recorded so that it's clear the damage was pre-existing and not caused by you.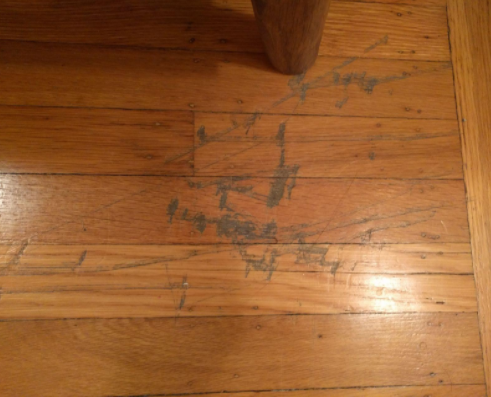 Start your documentation in advance of signing anything with the landlord since this is when you hold the most bargaining power in the transaction.
Once you've compiled your list of defects, go through them with the landlord and have them sign off on all of them.
Have a Joint Inspection With the Landlord At Least 2 Weeks Before Moving Out (And Put This in Your Tenancy Agreement)
Arrange for a joint inspection with the landlord at least 2 weeks before your contractual move-out date. This will give you time to repair any damage that the landlord spots during the inspection.
If you leave it too late and allow the landlord to arrange it, he'll have no qualms in hiring the most expensive team to fix the damage, leaving a huge hole in your deposit.
As a start, here's a list of the most common services that tenants are overcharged for at move out, and how much you should be actually be paying for them (big thanks to our friends at Page Advisor for this!)
Make sure you include the obligation for a joint inspection in your tenancy agreement and to make any deductions for damage repair from your security deposit dependant on the landlord or his agent attending the joint inspection and bringing up the damage there (or within a stipulated timeline thereafter).
Mediation
If you and your landlord still can't agree on how much should be deducted from the  security deposit, consider reaching out to a mediator. The Singapore Mediation Center (SMC), or Consumer Association of Singapore (CASE) can provide you with a third-party perspective on the disputed matters.
The majority of tenancy disputes in Singapore are solved through Alternative Dispute Resolution (ADR), such as mediation.
If All Else Fails, See Them in Court
If all other efforts fail, and your claim is for less than $10,000 ($20,000 if your Landlord agrees for the case to be heard at this higher amount), you can consider bringing your dispute to the Small Claims Tribunal.
We've written about the process here and here if you need more information on how to go about lodging a complaint.
If your claim is too large to go through the Small Claims Tribunal or is discontinued by the Tribunal for some reason, don't fret; you still have the option to sue the Landlord in the civil courts instead.
A caveat, though, legal proceedings are expensive, so unless your security deposit is substantial, you might find the costs of the proceedings may outweigh your win.
Renting is always a risk, for both the landlord and the tenant. But with these tips, you'll at least be a bit better protected than the average renter.
Check out other rental related articles here: 5 under the radar HDB housing and rental schemes and 5 condos for rent that will help you reach your housing goal of being more independent
Find the rental home of your dreams today at Singapore's largest property portal 99.co!
New launch alert! Welcome to Grand Dunman
About Zareen B.
Looking to sell your property?
Whether your HDB apartment is reaching the end of its Minimum Occupation Period (MOP) or your condo has crossed its Seller Stamp Duty (SSD) window, it is always good to know how much you can potentially gain if you were to list and sell your property. Not only that, you'll also need to know whether your gains would allow you to right-size to the dream home in the neighbourhood you and your family have been eyeing.
One easy way is to send us a request for a credible and trusted property consultant to reach out to you.
Alternatively, you can jump onto 99.co's Property Value Tool to get an estimate for free.
If you're looking for your dream home, be it as a first-time or seasoned homebuyer or seller – say, to upgrade or right-size – you will find it on Singapore's fastest-growing property portal 99.co.
Meanwhile, if you have an interesting property-related story to share with us, drop us a message here — and we'll review it and get back to you.
Join our social media communities!
Facebook | Instagram | TikTok | Telegram | YouTube | Twitter