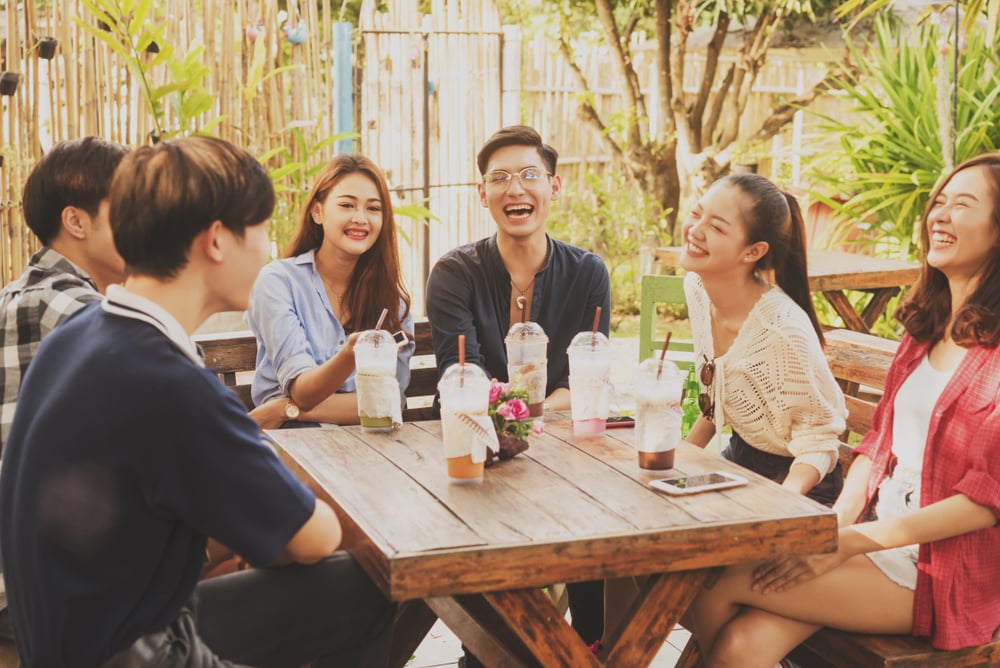 Gentrification in dynamic Singapore
It's real, it's tangible and it's not the district of your grandpa's day: Potong Pasir is the next up-and-coming district, awaiting a wave of gentrification.
Not sure what that means? Well, consider the Bugis of today: the name brings up images of top retail and dining, a prime piece of real estate with high-end hotels.
But ask your parents what Bugis was like in the 1970's and they'll probably shudder at the thought. In the past, Bugis street was a ghetto with few prospects besides contracting malaria.
It was only in the 1990's when Bugis started to change. But if you approach any Singaporean younger than 35, most of them will have no knowledge whatsoever of Bugis' risqué past.
Now, Potong Pasir is following in Bugis' footsteps and it's well on its way to becoming the next big thing in Singapore. After surveying thousands of people across the globe about homeownership, including 1,000 respondents from Singapore, HSBC's Beyond the Bricks 2019 global survey uncovered insightful trends about local home seekers. The survey shows that 12.4 per cent of home seekers cite house capital appreciation as one of the most motivating factors to purchase a house, while 28.1 per cent of respondents were afraid of depreciation in the value of their property.
If you're looking for Singapore's next hipster neighbourhood, look no further than Potong Pasir – being mere moments away from transforming into a trend-setting community, its investment potential is unlimited.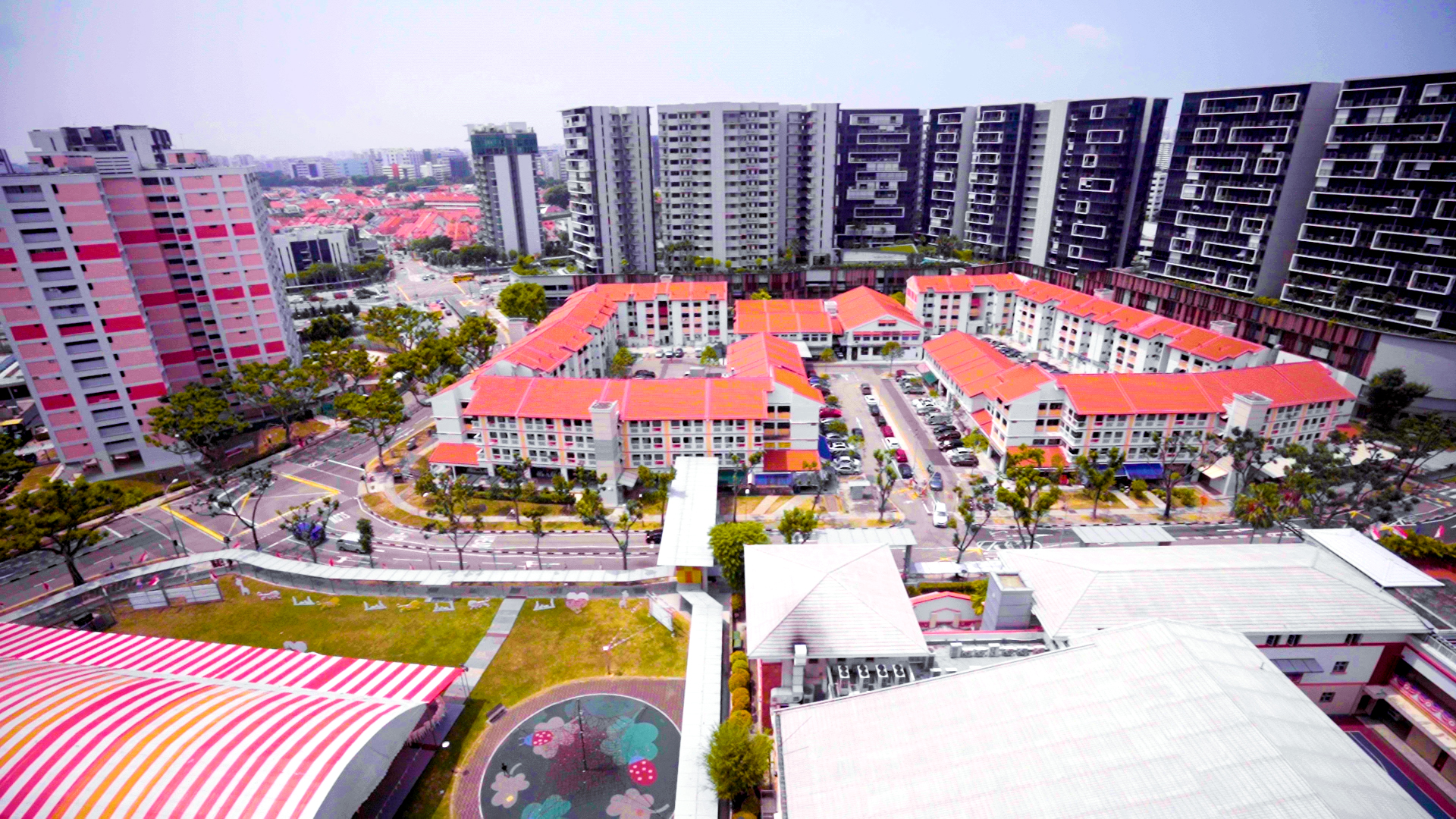 Here are some reasons why you should invest in property in Potong Pasir:
Potong Pasir is Kampung Fleek
When the "old" and "new" meet
URA gets awakened when it comes to this zone
Quirks that are a blast from the past
1. Potong Pasir is Kampung Fleek
There's something in common between gentrified (or gentrifying) areas such as Tiong Bahru or Joo Chiat; it was even present in Bugis before the area's transformation.  It is that common quality  – the spirit of neighbourhood and energy. These neighbourhoods are old, but they don't feel old – many of them are more alive than younger areas, such as sleepy Sengkang or laid-back Punggol (no offence to those places, they have a placid charm of their own).
Consider the OH! Open House: Potong Pasir, in which residents of Potong Pasir opened their houses to anyone who wanted to view the art, which were in the homes of various residents. Most Singaporeans would balk at the idea of letting strangers poke their noses around. We don't even let them do that with our browser history, let alone our own homes. But Potong Pasir residents were happy to do it – because of the trust between neighbours.
In Potong Pasir, children still play catching and hopscotch, and shopkeepers still keep money in Horlicks tins, while also accepting mobile payments (such as GrabPay or QR code payments).  Residents as old as 50 shoot the hoops with counterparts as young as 15 and the Potong Pasir Community Centre – despite a lack with cafes and wi-fi hotspots – can still manage a better turn-out than a suburban Paramore concert. It's pretty lit.
This spirit is indicative of a neighbourhood that's ready to move up, not slink down. In fact, HSBC's survey discovered that 23 per cent of respondents in Singapore decide to move in search of a greater sense of community. If you're looking for a neighbourhood with a big heart and good vibes, Potong Pasir is the place for you.
2. When the "old" and "new" meet
Potong Pasir is central, but somehow evaded encroachment by big commercial interests. It's also one of the few neighbourhoods without a major mall within walking distance while old-school family-owned mini-marts and small retail stores are the norm here. It's only been in the last few years (since about 2015) that chain supermarkets like NTUC found a foothold.
We'd say Tiong Bahru was in much the same situation, which was how it drew the current wealth of artisanal cafes and boutique stores.
With the recent introduction of The Poiz Centre and The Venue Shoppes, Potong Pasir is filled with hidden enclaves for you to explore from cafes to haute home bars.  As the area is not yet commercially saturated or crowded by big chains or independent cafes, retailers will latch onto this golden opportunity to grow as well. These upgraded and upmarket amenities will serve to push property prices up even further, and since redevelopment efforts have only just begun, this neighbourhood has much more room to grow in the future.
3. URA gets awakened when it comes to this zone
According to URA's 2019 Master Plan, walking and cycling routes will be introduced across Potong Pasir, as well as nearby Bishan and Toa Payoh bridging neighbourhoods and connecting people.
Since 2015, sheltered linkways have been added to provide shelter to the Potong Pasir North-East Line MRT station; and paths connecting Potong Pasir MRT station to the Kallang Park connector to create a more seamless walking and cycling experience. According to HSBC's research, 25.9 per cent of home seekers are more likely to purchase a property due to new transport links and accessibility; so expect growing interest here.
Upgrades to Bidadari, such as the 10-hectare Bidadari park, or HDB upgrading in Bishan will also have a knock-on effect on property values. The rising home values in Potong Pasir are not just theoretical, you can see it happening: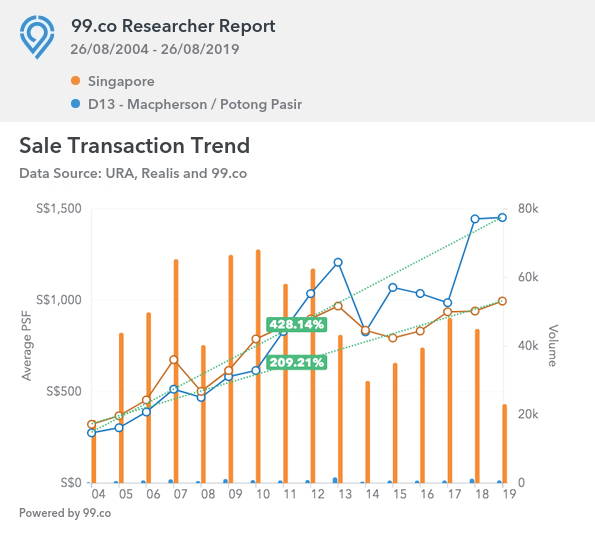 Home prices in Singapore averaged $322 per square foot, back in 2004; today they average $995 per square foot – an increase of about 209 per cent. Impressive – but look at Potong Pasir:
Prices in Potong Pasir only averaged $275 per square foot in 2004; below the national average at the time. But today, Potong Pasir home prices average an astounding $1,453 per square foot, beating the national average. This is an increase of around 428 per cent.
And with the ongoing gentrification, you can expect prices to increase even further.
4. Quirks that are a blast from the past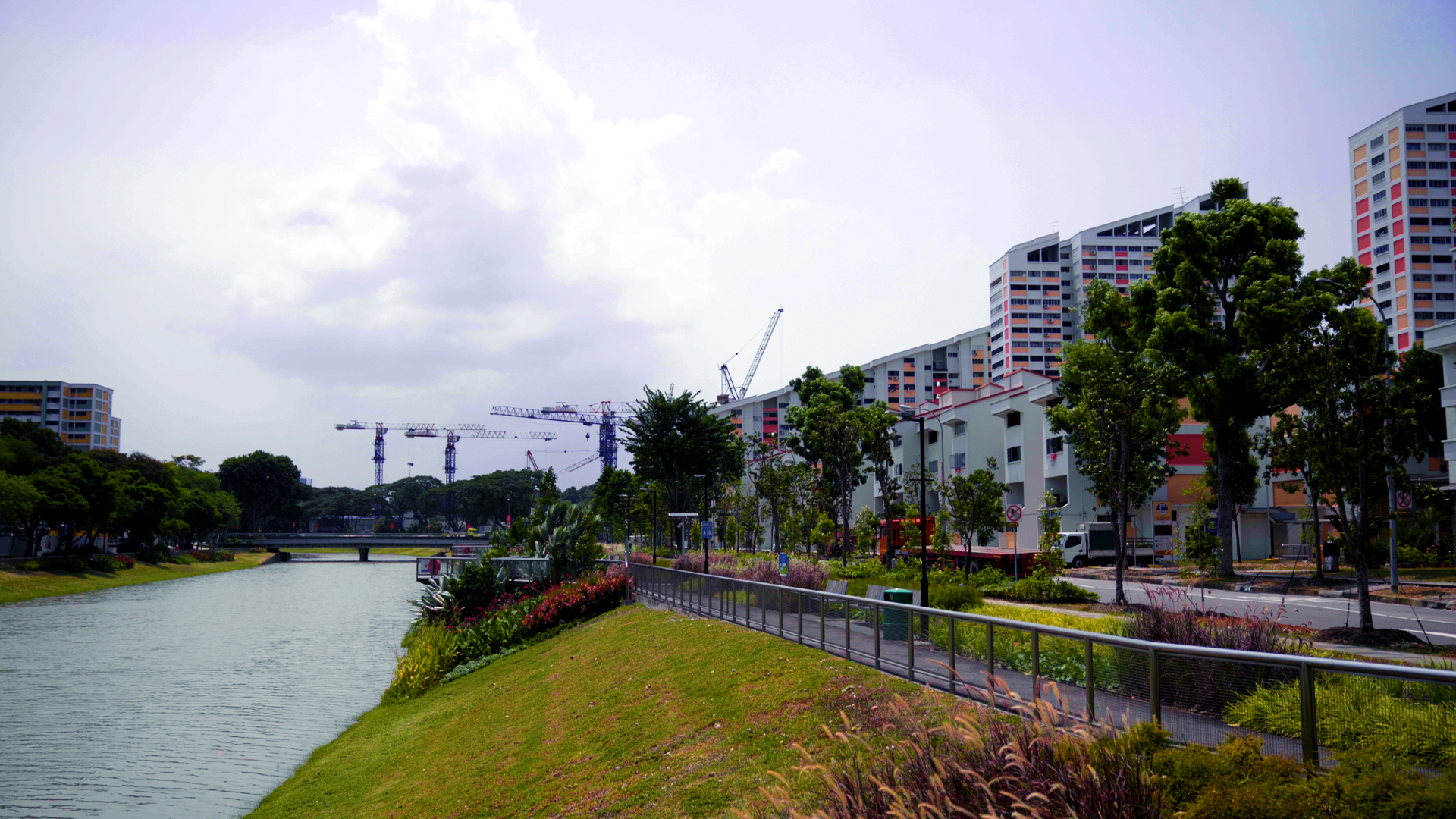 For a neighbourhood to experience gentrification, it needs to stand out. While Potong Pasir's cultural aura is intense, there are more physical signs of it too:
Ski slope blocks. The 'ski slope' blocks give Potong Pasir's skyline an iconic silhouette. You can even find executive maisonettes (two-storey HDB flats) that are rare in Singapore today. You can only access these maisonettes via an alternative flight of stairs due to the architecture of the building. It's like having a private lobby.
Potong Pasir Community Center's (CC) archery range. Most CC have reading rooms, multi-purpose halls and too many $7-a-glass cafes. Potong Pasir CC has a full-on archery range, because everyone else can't roll like that.
Ang Mo Supermarket, which is one of the least Westernised grocers we've ever seen. It's a cross between a provision shop and a regular supermarket. The prices beat NTUC, the selection of goods is wide and every visit is like a treasure hunt. Sometimes you'll spot great food items here, but on subsequent visits, you'll never find them again.
Joan Bowen Café began as a way to fulfil a daughter's dream of being a chef. It became a way to empower other special needs youths, by providing culinary training and a safe environment for them to discover their talents. [UPDATE] Sadly, it closed in 2018 – but this is the kind of socially-drive enterprises that are more likely in Potong Pasir.
Lao Zhong Zhong has an authentic $4 ngoh hiang platter supper. You just know a craft beer outlet would boom if they could work together. In the meantime, bring your own lychee beer to go with it.
Kallang River Waterfront Under national water agency PUB's Active, Beautiful, Clean Waters programme, the stretch of Kallang River in Potong Pasir has some new features. Check out the brand-spanking new sheltered open plaza that can hold 750 people, 4 lookout decks and 3 rain gardens with plants that hold and treat rainwater before discharging it into the river.
Small town. Big potential.
If you are in search of property with room for appreciation, Potong Pasir is the place right now. Make your move before it becomes completely gentrified and prices skyrocket.
If you're worried about how to finance a home, we've got your back. With HSBC's suite of Home Loan packages, you can stave off your home loan concerns. Just like an ideal home, a good home loans accommodates your future needs. Speak to an HSBC Mortgage Specialist today.
Click here to enjoy greater savings now!
In partnership with
New launch alert! Welcome to Grand Dunman
About 99.co
Looking to sell your property?
Whether your HDB apartment is reaching the end of its Minimum Occupation Period (MOP) or your condo has crossed its Seller Stamp Duty (SSD) window, it is always good to know how much you can potentially gain if you were to list and sell your property. Not only that, you'll also need to know whether your gains would allow you to right-size to the dream home in the neighbourhood you and your family have been eyeing.
One easy way is to send us a request for a credible and trusted property consultant to reach out to you.
Alternatively, you can jump onto 99.co's Property Value Tool to get an estimate for free.
If you're looking for your dream home, be it as a first-time or seasoned homebuyer or seller – say, to upgrade or right-size – you will find it on Singapore's fastest-growing property portal 99.co.
Meanwhile, if you have an interesting property-related story to share with us, drop us a message here — and we'll review it and get back to you.
Join our social media communities!
Facebook | Instagram | TikTok | Telegram | YouTube | Twitter