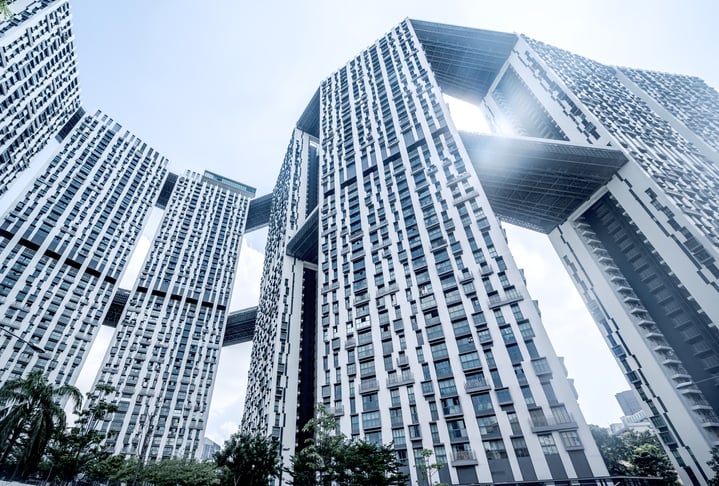 When it comes to renting out properties in Singapore, landlords quickly realise they deal with two different markets. The Core Central Region (CCR) is wildly different from the Rest of Central Region (RCR) and Outside Central Region (OCR). You can pretty much draw a line between the Core Central Region and the rest, and see how each seems to operate apart from the other. This article explains why:
Core Central Region properties have historically had lower yields
Rental yield is dependent on the cost of the property. The formula is (annual rental income / cost of property) x 100. So say the annual rental income is $30,000 (minus maintenance, taxes, etc.), and the total cost of property (including stamp duties and renovation) is $800,000. The rental yield would be (30,000 / 800,000) x 100 = 3.75%.
This means that the more expensive the property is, the lower rental yields than to be. Since Core Central Region condos tend to reach around $2 million, it takes an astronomically high rent to get a decent yield. A $2 million condo would need to be rented out for around $5,000 a month after maintenance costs, property taxes, paying the agent's commission, etc. just to reach 3% yield.
[Recommended article: 
Calculate rental yield in Singapore: a quick and simple guide
]
For this reason, most CCR condos have a rental yield of just 2.5 to 3.5%. RCR condos have yields that range from 2.6% to 3.6%, whereas OCR condos can reach the elusive 4% mark.
It all comes down to cost. OCR condos come with lower price tags, to make up for the lower accessibility. But at the same time, Singapore is not a dispersed city like Perth or Los Angeles, as even far flung areas such as Punggol are at most an hour from town. There are also business parks and hubs distributed throughout the island. Altogether, these factors makes tenants tolerant of — an even favourable towards — non-central properties, meaning landlords can get a good income from their low cost OCR units.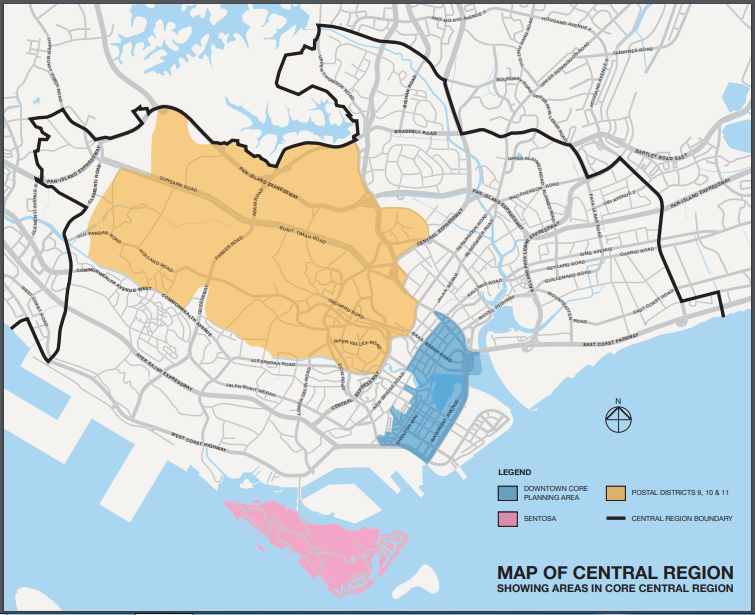 But the CCR is more resistant to oversupply
As of 3Q 2018, private residential vacancy rates are at 6.8%. This partly due to a tightening of foreign worker quotas, which reduces the number of prospective tenants. The more significant factor however, is oversupply. We are expecting over 26,000 new private, non-landed properties to appear in the market this year.
The oversupply has hit all segments of the rental market. But the CCR suffered the least. According the Urban Redevelopment Authority (URA), rental income in the CCR fell by 3.8 percent last year. But the RCR and OCR saw rental declines of five to 5.6 percent, much worse that their higher end counterpart.
The reason is the fundamental rule of property: location. CCR properties are not threatened by the launch of multiple mass market properties, because their location means they stay in demand. The demand for a condo on Orchard Road would not be diminished by the launch of even 10 new condos in Sengkang.
This makes CCR condos tried and trusted end of the rental market. While yield expectations are modest due to high capital costs, the units are resistant to steep declines as well.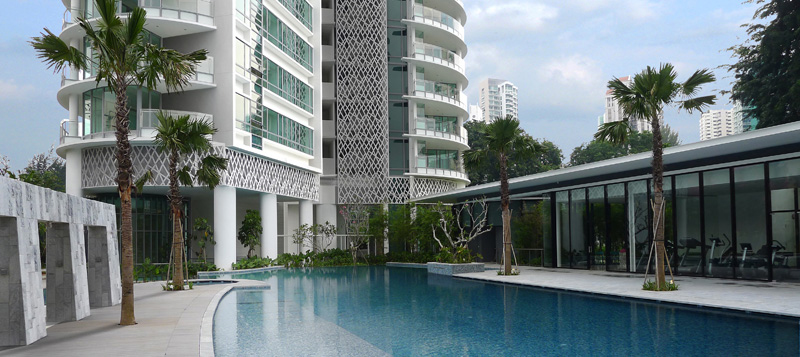 The theory of shrinking housing allowances
There is a common theory (which is hard prove conclusively) that RCR / OCR condos are more resistant to market downturns. As the theory goes, most tenants in private condos are expatriates. Said expats are reliant on housing allowances from their companies, in order to pay or at least subsidise a large part of their rent.
During a market downturn, companies will scale back expenses. This often means reducing expat packages, and a lower housing allowance means some will downgrade (e.g. Move out of the Core Central Region and into a cheaper area). It also means fewer expats coming in and some going back home, all of which put downward pressure on rental prices.
Probably the most notable example of this was the period between Q4 2008, and Q1 2009. This was the peak of the Global Financial Crisis, when companies were beginning to impose severe measures. In this small space of time, rental prices fell dramatically.
In that single quarter, rental prices plunged a whopping 10.3 per cent in the CCR. In the RCR and OCR, rental prices fell by around 6.5 to 7.2 percent – not insubstantial, but notably less than their CCR counterparts.
Again, we cannot conclusively say this is due to shrinking housing allowances, but it does suggest the CCR market takes the initial brunt of economic disasters. With the current macroeconomic situation though (Brexit, a slow down in China, still recovering oil prices), we may have a chance to witness this first hand this year.
Ultimately, CCR properties are are more consistent that their RCR / OCR counterparts
CCR properties are the equivalent of established brand names. They may be pricier, but there is a higher chance they will work as intended, and hold their value. RCR / OCR properties can be something of a gamble – while a condo in Sengkang will be a lot cheaper than one in River Valley, you are also taking on a bigger chance of vacancy, or a lower yield if more condos appear in the area (the CCR is mostly too packed to accommodate many more new residential developments).
For most landlords, the CCR will still be the safest bet, if they have capital and holding power for it. You can browse some of the best CCR listings on 99.co.
Check out other rental related articles here: Rental units around Fort Canning for $3k (or less) per month and 5 incredibly cheap ways to retain good tenants
Find the rental home of your dreams today at Singapore's largest property portal 99.co!
Upcoming Freehold Condo Launch: The Arcady @ Boon Keng
About Ryan Ong
Looking to sell your property?
Whether your HDB apartment is reaching the end of its Minimum Occupation Period (MOP) or your condo has crossed its Seller Stamp Duty (SSD) window, it is always good to know how much you can potentially gain if you were to list and sell your property. Not only that, you'll also need to know whether your gains would allow you to right-size to the dream home in the neighbourhood you and your family have been eyeing.
One easy way is to send us a request for a credible and trusted property consultant to reach out to you.
Alternatively, you can jump onto 99.co's Property Value Tool to get an estimate for free.
If you're looking for your dream home, be it as a first-time or seasoned homebuyer or seller – say, to upgrade or right-size – you will find it on Singapore's fastest-growing property portal 99.co.
Meanwhile, if you have an interesting property-related story to share with us, drop us a message here — and we'll review it and get back to you.
Join our social media communities!
Facebook | Instagram | TikTok | Telegram | YouTube | Twitter