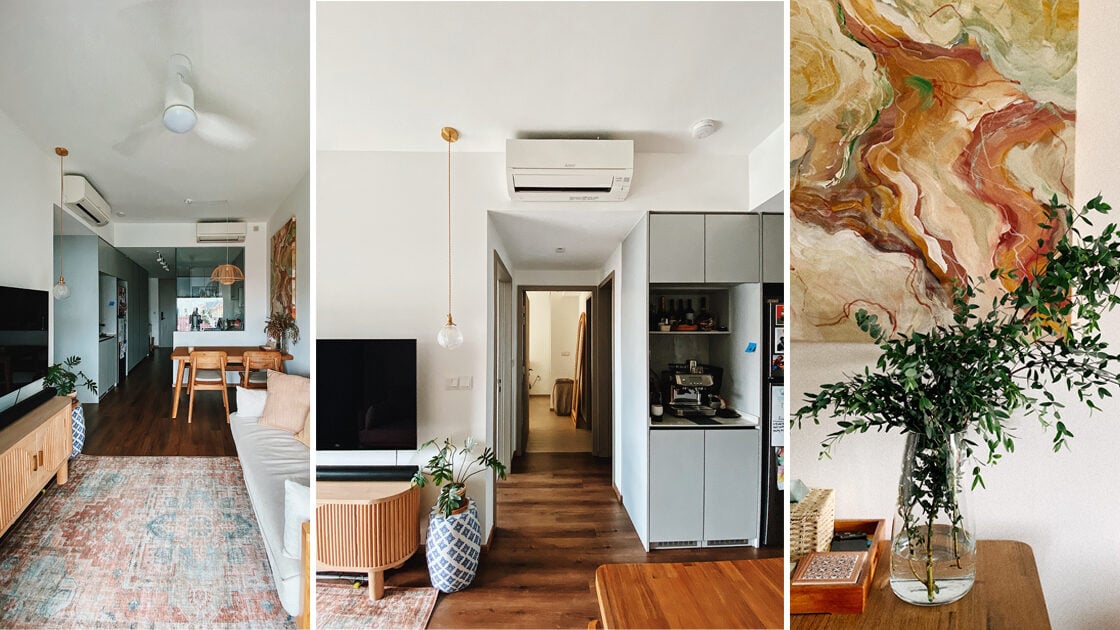 Sometime in 2020, after ten years of building up a career and saving enough, C, a 32-year-old senior producer in the creative industry, decided she needed her own space.
So, like many young couples and singles living with their parents and siblings during the COVID pandemic (and having to work from home), the then-30-year-old single decided to strike out and find her apartment. She considered renting at first, but after doing her finances, she took a more long-term approach and made the bold call to invest in one.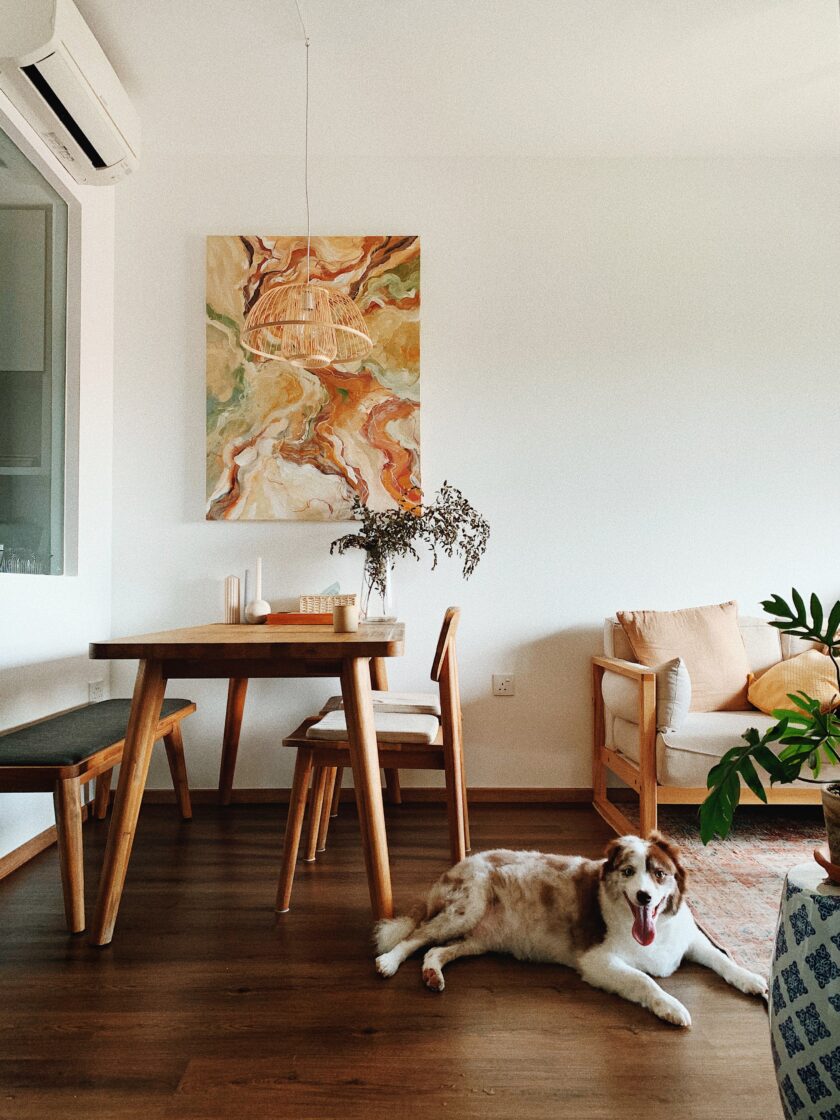 Prioritising her home-buying needs
Being a first-time homebuyer, C had to ask her dad, homeowner friends, her agent, banker, law firm, developer, suppliers, etc. (practically everyone) about where to start, what to do and so on. While everyone was more than happy to explain uncommon terms or point her in the right direction, the ordeal helped her develop a thick skin where she wasn't afraid to ask the right and wrong questions.
"It was a super difficult journey as a first-time home buyer, but it was also an extremely fun one with a sharp learning curve. I wanted to fully understand the entire process from start to end because it wasn't just, you know, purchasing a nice dress or a bag."
During her new launch showflat and house viewings, these were her considerations in order of importance:
1) Own stay/investment – find a place for her stay but have a good exit strategy later on
2) Location – live in a good location with convenience to amenities, food, transportation
3) Space – minimally two bedrooms
4) Layout – no wasted space, ideally squarish layout
5) Developer – previous projects, track record
6) Preferred facing/direction
7) Greenery – "Catch a nice sunrise or sunset because I'm a sucker for nature."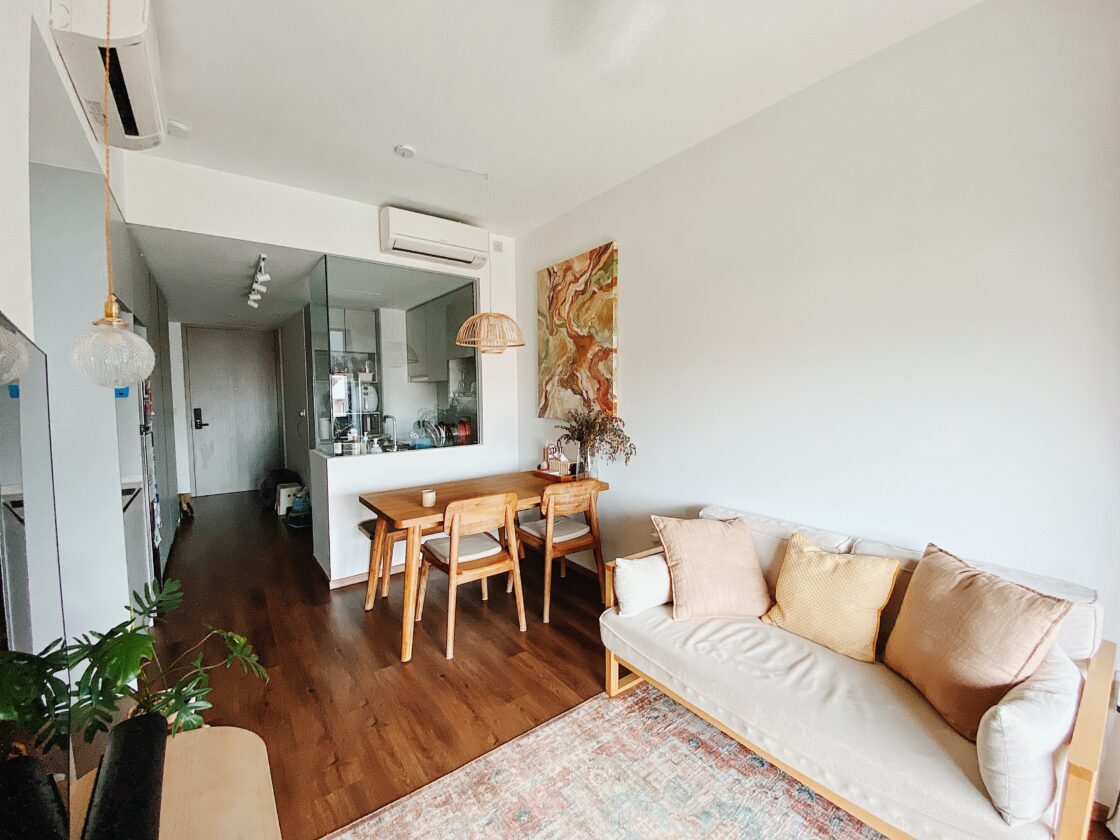 "I remember Brian (my agent) telling me that my order of priorities was helpful because it allowed him to narrow down options for my 'dream home'.
"Some of his best advice was not to stretch my bank loan, and when/how to spread out the cash and CPF payments. These were really useful tips for me at that time, being a first-time home buyer.
"Also, as I told him about buying for investment/exit strategy, he included 1-bedroom apartments in more centralised locations such as within the city and city fringes. The idea was so that I could make a good profit off it later on.
"But, again, even though they match my budget, one of my priorities was to have at least a 2-bedroom space. So we filtered out the smaller apartments and focused on at least 2-bedders that fit my budget instead."
Eventually, C settled for the 99-year-leasehold new launch project next to Serangoon Gardens – The Garden Residences. She paid S$1,582 psf for a 614-sqft, 2-bedroom apartment, which comes with a nice, south-facing view.
"To be honest, I was more anxious than excited after the purchase. My friends and family were anticipating it more than I was. Truthfully, the excitement only hit me when I collected the keys almost two years later."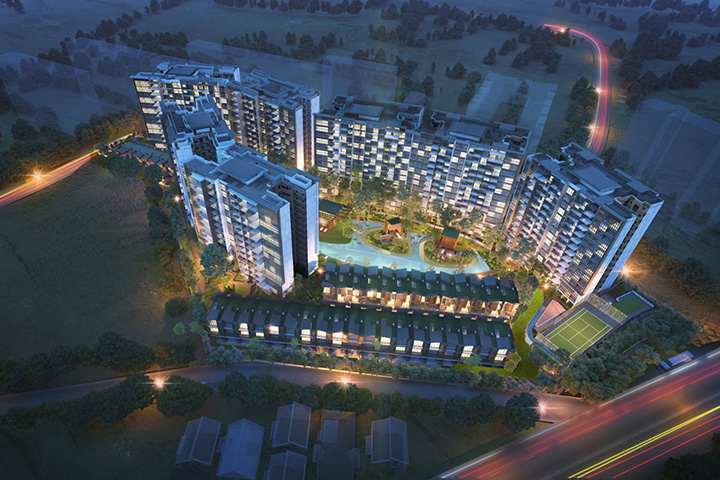 Personalising her new space with colours
When C collected her keys in December 2021, she had no intention of renovating her flat, as she wanted to personalise her home creatively from its original grey tones. So she:
✅ Used only warm lights in the house to amp up the cosiness.
✅ Saved on major renovations by changing just the living area flooring to vinyl tiles (cheaper).
✅ Retained as much natural light as possible. No black-out curtains.
✅ Kept walls white to let the furniture and furnishing colours shine through.
✅ Avoided carpentry to keep things modular and flexible.
She also used art pieces to bring out more warmth and earthy tones in her house.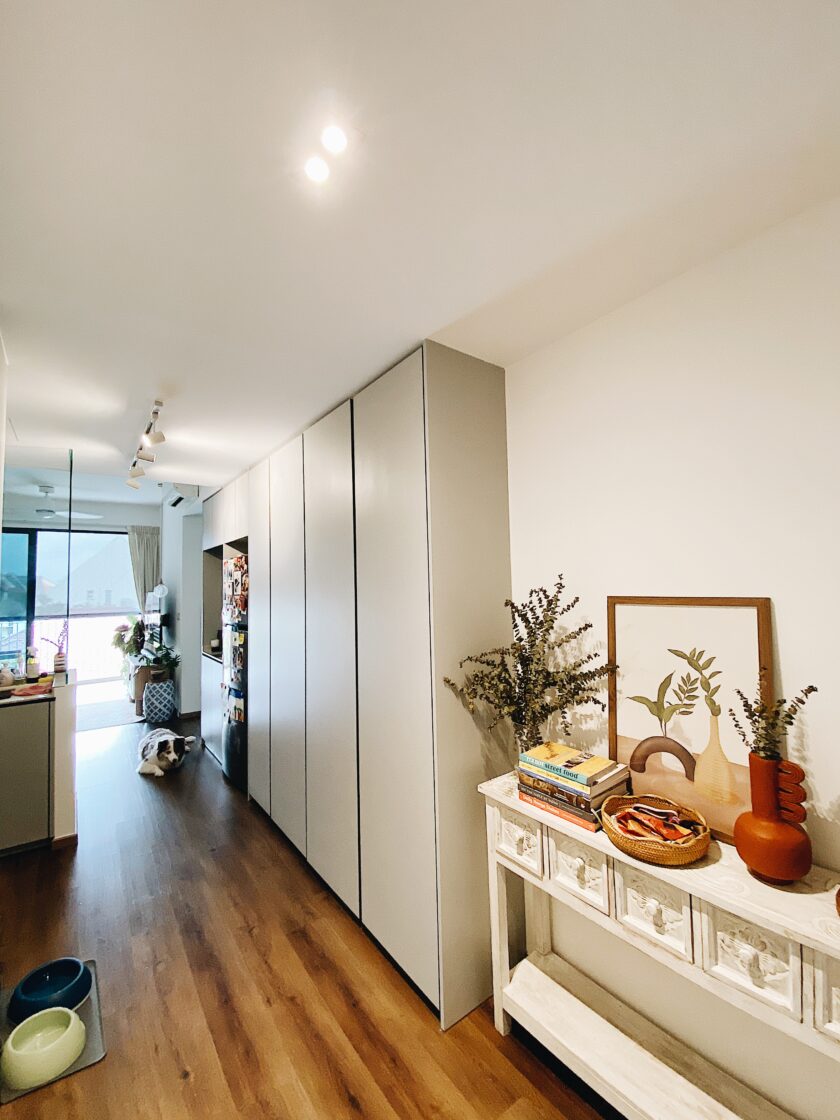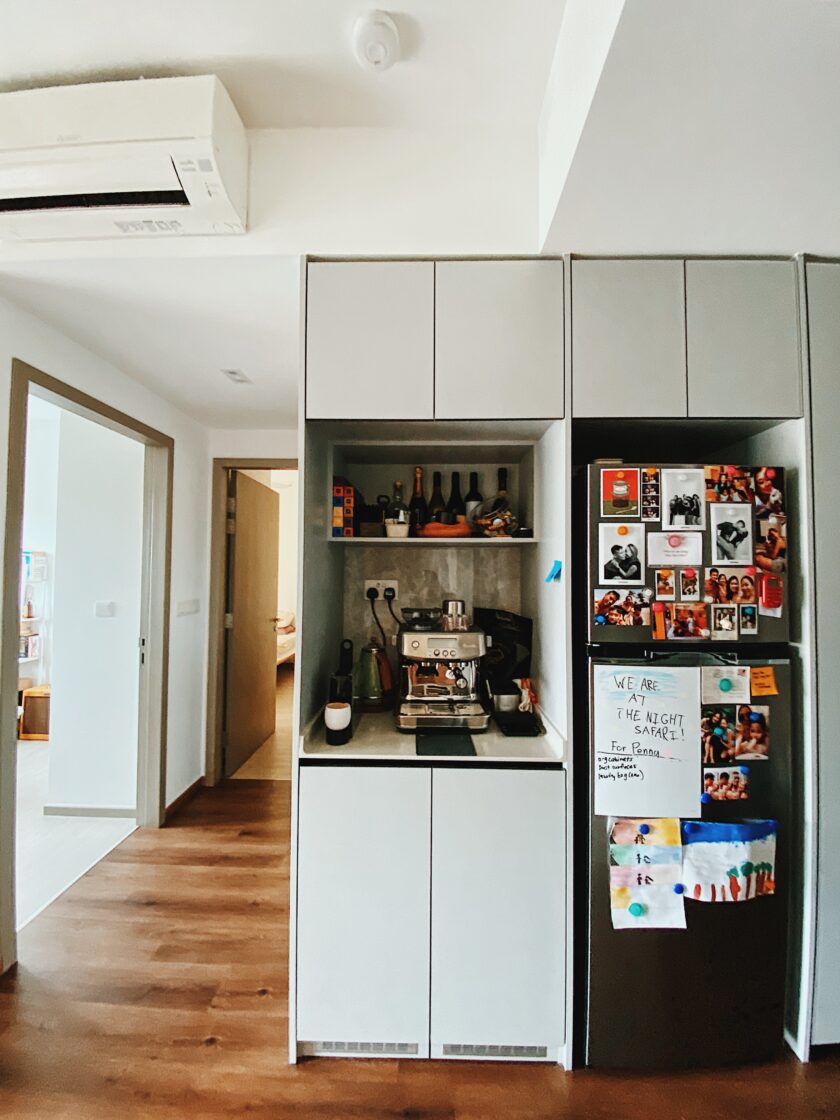 While C had initially planned on adding personal memories to her new apartment, she also happened to meet J, her partner, along the way. Now, as a family of four (with Penny, their 10-year-old border collie), they're finding new ways to add colours and memories to their new home together.
"J and I love to cook and host, so the living and dining areas are where our friends and family gather whenever they come by. It's also pretty much the space where I get to express my style the most. I've never quite described what that 'style' is, but I'll take a cue from Castlery – it's 'laidback, rustic, resort vibes'."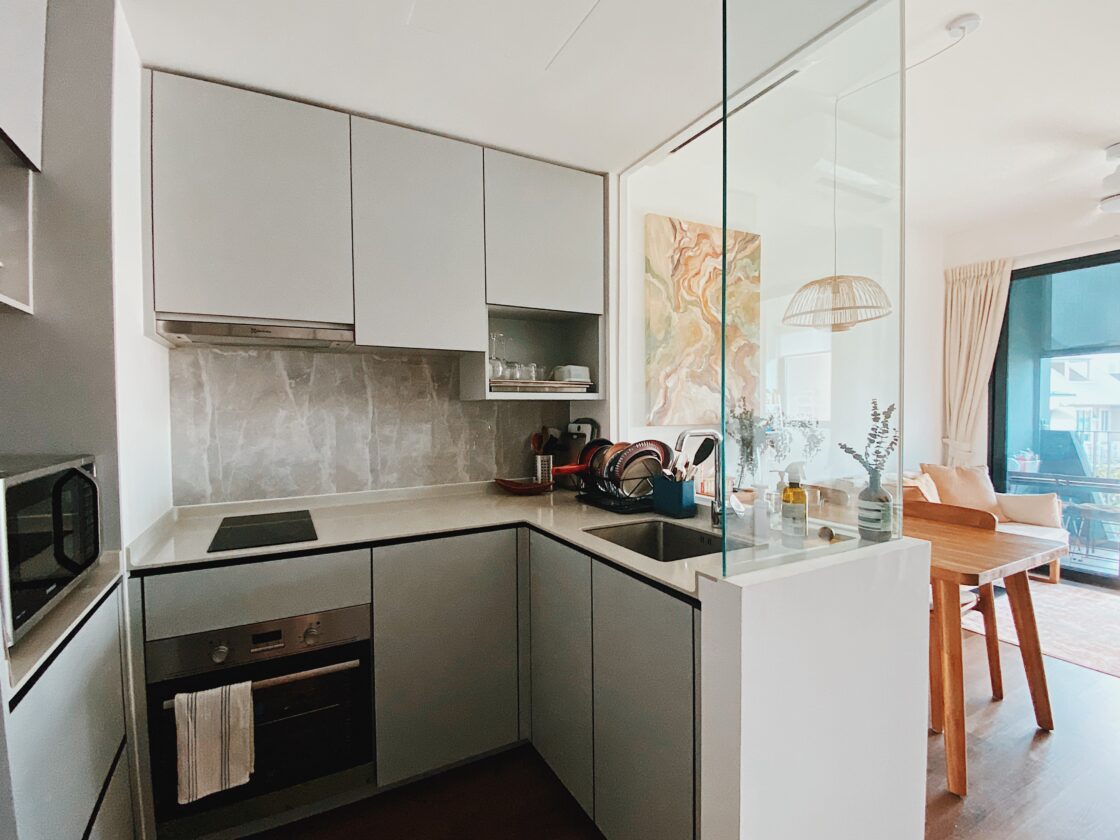 Even though her apartment is south-facing, she's sometimes able to still catch beautiful sunsets from the balcony with her family and Penny.
"I actually love getting some sun, so on the occasional days when it's sunny but still cool, I like to sit on the balcony while working from home. Penny loves her afternoon naps there too, and we all love watching her lounge there, getting a little sun and breeze."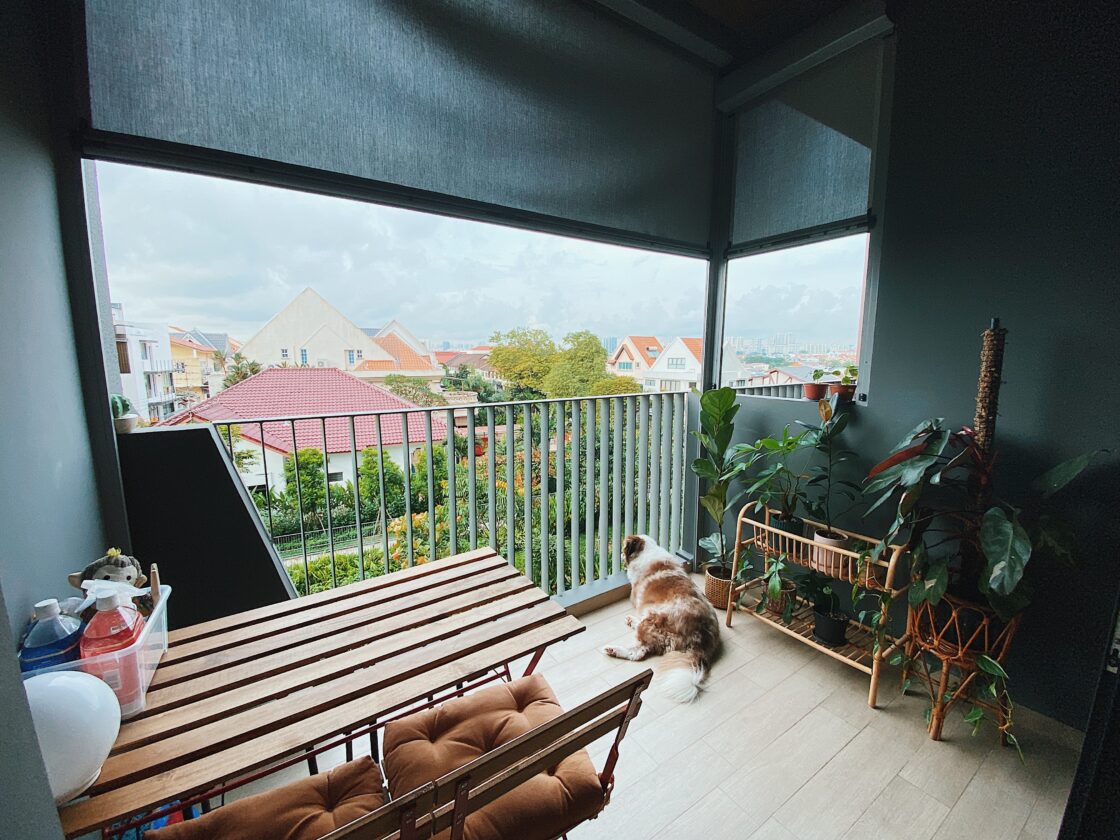 Neighbourhood matters as much as lifestyle changes
"I think living in a neighbourhood with walking access to amenities like markets, supermarkets, GPs etc. is super important. Sometimes I walk to the nearby coffee shop in Serangoon North to grab my iced kopi, or Serangoon Gardens for our yoga classes. It is approximately a 17-minute walk, and I like to take my time.
"Having said that, the back gate at our condo leading to Lichfield Road opens in October, so we can't wait to use it to get to Serangoon Gardens in under 10 minutes."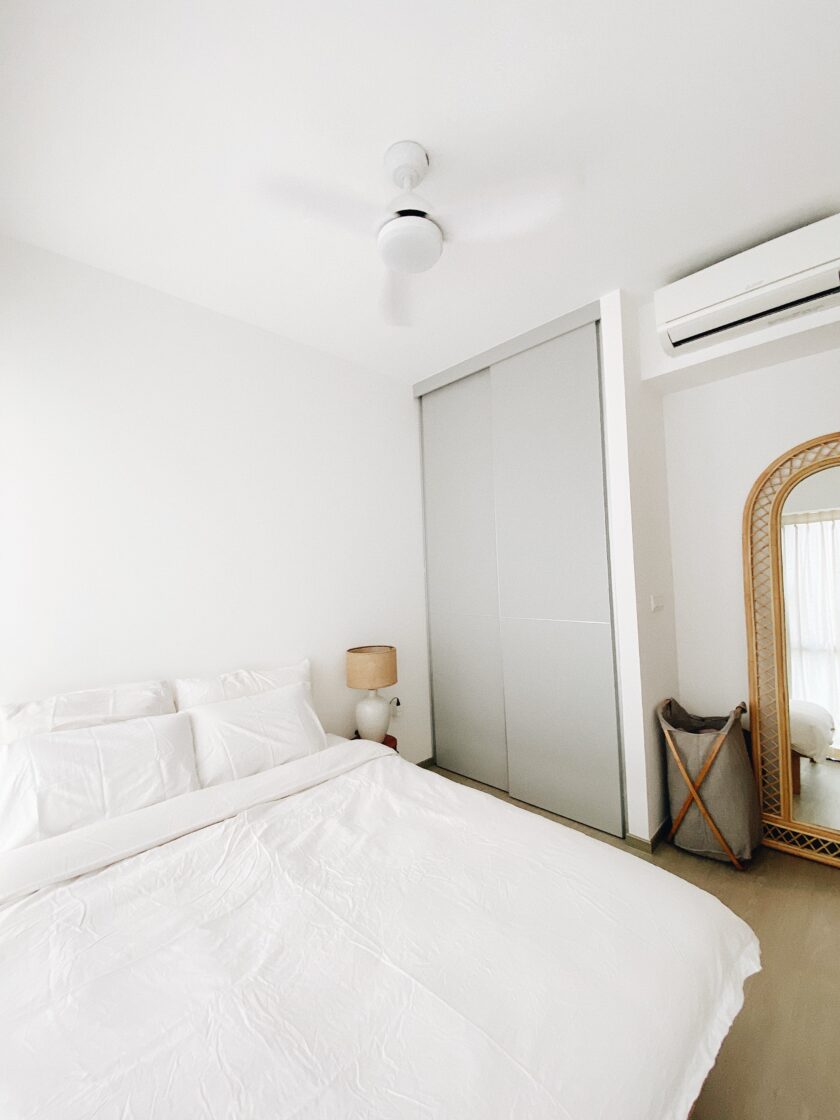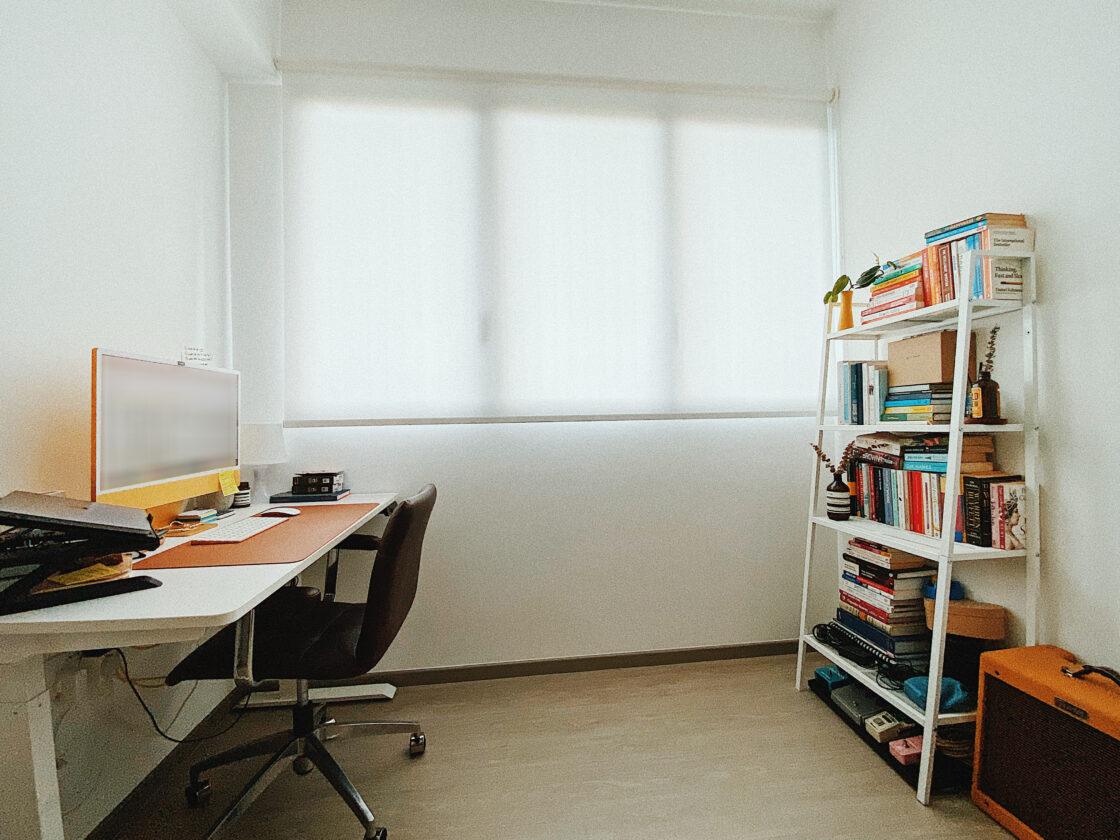 View this post on Instagram
Despite loving her apartment, C admitted that it would be very difficult for the 2-bedder condo unit to serve as a forever home. Since getting together with J and with two kids now, their plans have naturally changed.
"(Despite only moving into our new home for less than a year), we've been planning and anticipating what's to come in the next 5-10 years. The plan right now is to definitely move to a bigger space that is more comfortable and practical for our family and Penny, and rent this one out or sell when the price is right."
The Lentor Modern expansion
So, over the past week, C and J visited GuocoLand's Lentor Modern showroom. 99.co has reviewed it as a new launch recently.
Once again, similar to C's previous prioritisation with The Garden Residences, the couple needed to tick off some essential boxes before considering taking the plunge. Granted, this is a far larger investment.
They'd even engaged Brian, her agent from The Garden Residences purchase.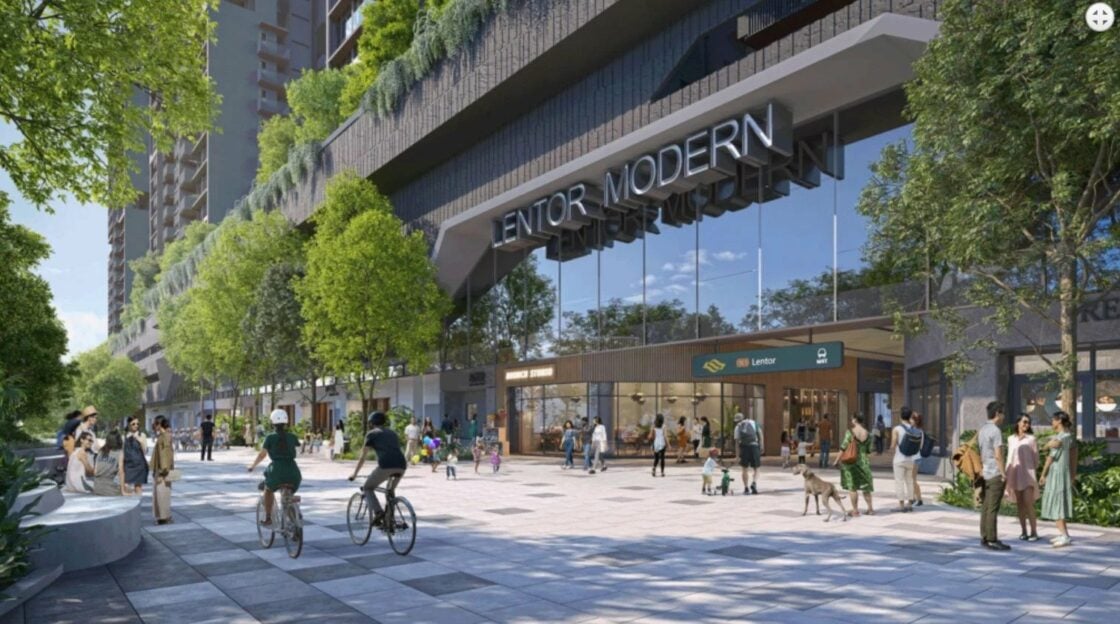 "It's undeniable that GuocoLand is one of the most reputable developers, and their past residential projects speak for themselves.
"We liked that it's a mixed development, so it would be extremely convenient to buy food or groceries as and when we want right at our doorstep.
"The TEL (Thomson-East Coast Line) MRT is another pull factor as we could get to Gardens by The Bay (GBTB). I love taking walks at parks like GBTB and the Botanic Gardens, so this is something I'm really excited about."
The couple liked the unit layouts and the overall project. "The proposed lush landscaping of the estate really lives up to all the greenery in Yio Chu Kang."
However, the icing on the cake was the familiarity of the Lentor neighbourhood.
"J used to live in Bishan while I am a Yio Chu Kang girl. I used to live right across Lentor for over 20 years, and my parents are still living there, so that is a big bonus.
"This part of Yio Chu Kang is quiet but not too secluded. It is close to many of our common haunts: J's workplace, kids' schools, my parents' place, amenities in Bishan, Thomson and Ang Mo Kio (we love Thomson Plaza), Lower Peirce and Upper Peirce (where I used to slow jog in the evenings), and different expressways (SLE, CTE, TPE). The list goes on. Lentor Modern is a project that really ticked lots of boxes for us."
By the end of their showroom visit, they bought a 1,109-sqft, 3-bedroom+Flex unit (3 bathrooms) apartment. Notably, this unit is almost twice as large as her current 2-bedroom apartment.
Similarly, they chose a south-facing unit. Let's hope the view is just as good.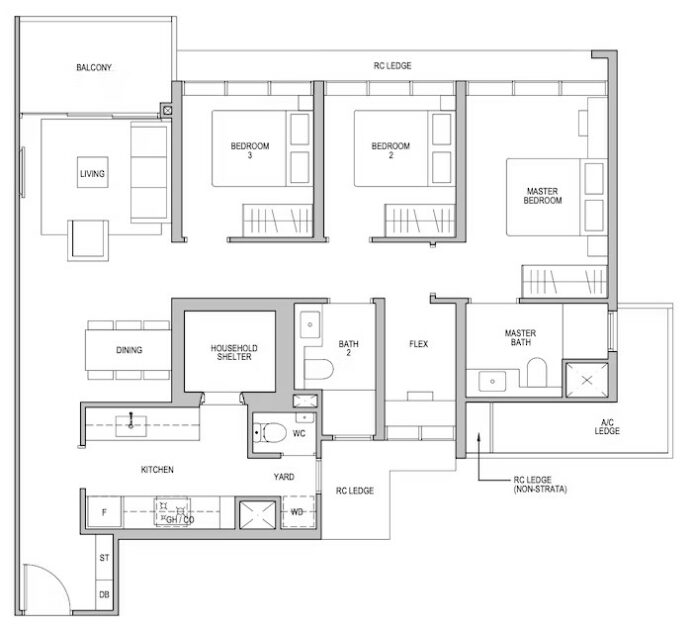 "The great thing about our future Lentor Modern apartment is that we're going to have a gas stove (something anyone who enjoys cooking will appreciate), and it will also have a household shelter and yard – one of the things we're both super excited about. I am also a huge fan of organising – and I can't wait to make good use of the extra space for organisation and storage," C enthused.
With her family and dog, C believes the larger Lentor Modern flat will be able to better accommodate all of J's things ("including his turntable, hi-fi speakers and a million vinyl records (kidding!)"), rooms for the kids and so on.
"Honestly, we DO feel a little sad about having to move away from Serangoon in a few years because we've turned this house into a home (cliché but true).
"We've grown to love the peace and quietness of The Garden Residences, the centrality of the location – the food, supermarket, our yoga classes there, etc. We're also going to miss some amazing neighbours we've befriended over the past few months (all thanks to Penny)."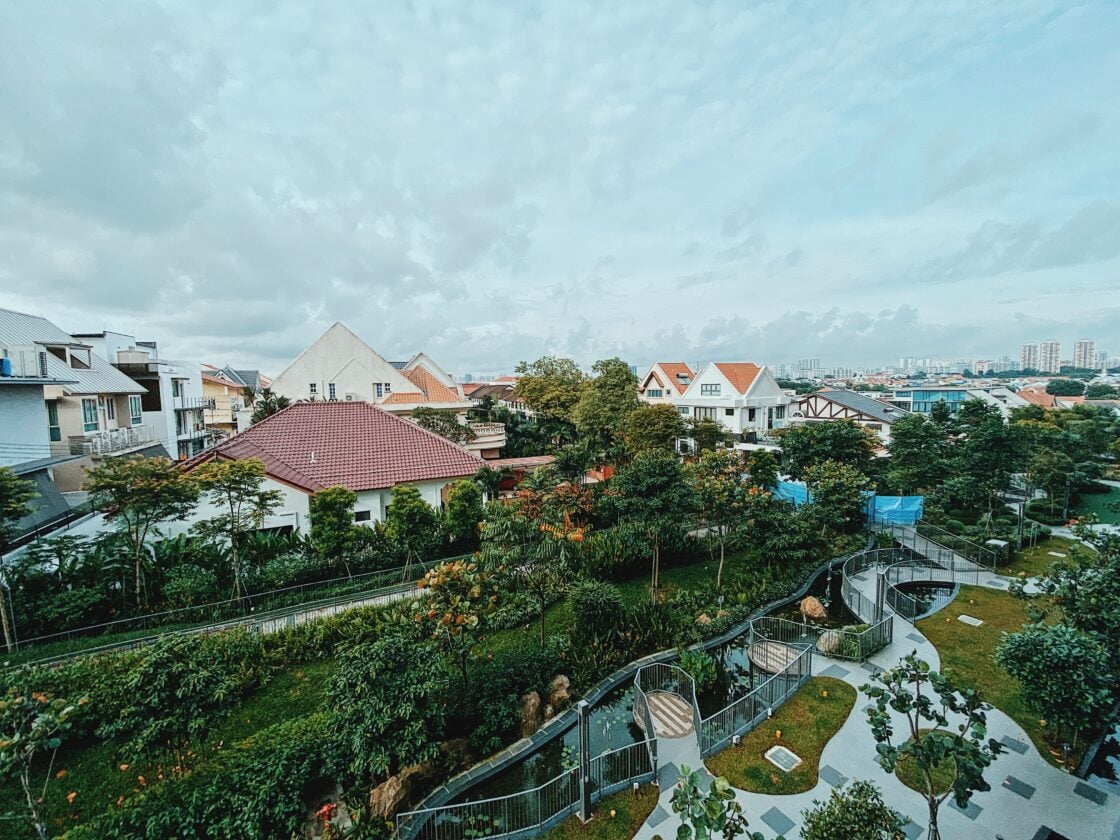 Advice for homebuyers
When asked what advice she would give to first-time or second-time homebuyers, C offers the following insights: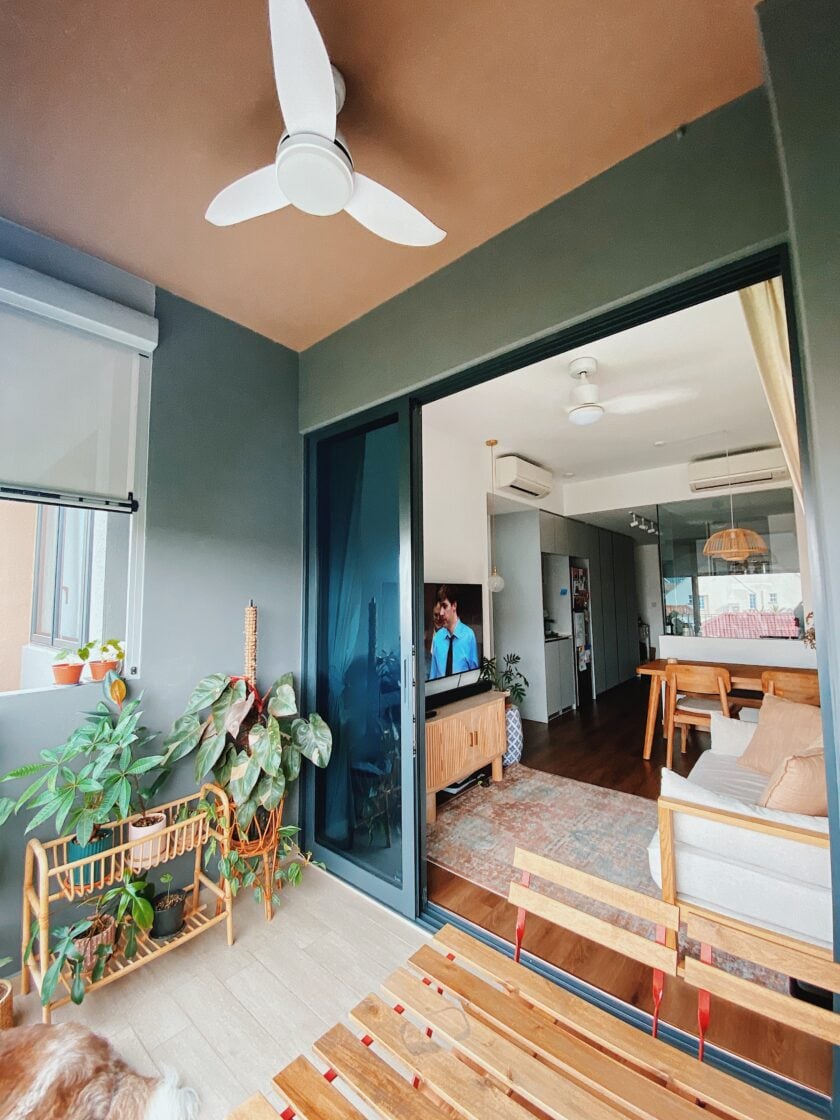 "It's going to be the biggest purchase of your life. It's scary, and nobody wants to regret it later on.
"I previously talked about being clear about what your intentions and priorities are, what your budget is. It's crucial to also share them with your agent (we were really lucky to have a really great agent like Brian with us in the process), and this applies to the first and second property purchases.
"More importantly, don't be swayed by the showflat's interior design. There is so much more to the design than what you see there.
"Try to imagine the showflat as a blank canvas (sans mirrors, furniture – anything that's ingeniously customised to make the showroom bigger). Look at the floor plan/layout and decide for yourself whether this is a place that has a good layout (are there wasted spaces? Weird corners?).
"Of course, you can still look at the design for some inspiration. I'm sure the IDs who worked very hard on putting everything together will appreciate this."
Since Lentor Modern won't be ready until 2026, C, her family and their beloved border collie have a couple more wonderful and memorable years to enjoy Serangoon Gardens and her cosy home at The Garden Residences.
–
Properties for sale at The Garden Residences
The Garden Residences
11 Serangoon Nth View · D19
1
1
$789,999
The Garden Residences
1 Serangoon Nth View · D19
1
1
$908,000
The Garden Residences
3 Serangoon Nth View · D19
3
2
$1,700,000
The Garden Residences
5 Serangoon Nth View · D19
5
4
$3,000,000
The Garden Residences
1 Serangoon Nth View · D19
1
1
$880,000
The Garden Residences
5 Serangoon Nth View · D19
5
4
$3,000,000
The Garden Residences
1 Serangoon Nth View · D19
3
2
$1,600,000
The Garden Residences
1 Serangoon Nth View · D19
1
1
$948,000
The Garden Residences
1 Serangoon Nth View · D19
1
1
$940,000
The Garden Residences
5 Serangoon Nth View · D19
5
4
$3,000,000
Properties for sale at Lentor Modern
Lentor Modern
3 Lentor Ctrl · D26
4
4
$3,100,000
Lentor Modern
5 Lentor Ctrl · D26
4
3
$3,125,000
Lentor Modern
3 Lentor Ctrl · D26
4
4
$3,120,000
Lentor Modern
3 Lentor Ctrl · D26
3
2
$2,152,000
Lentor Modern
3 Lentor Ctrl · D26
1
1
$1,300,000
Lentor Modern
3 Lentor Ctrl · D26
4
3
$3,080,000
Lentor Modern
3 Lentor Ctrl · D26
3
2
$2,280,000
Lentor Modern
3 Lentor Ctrl · D26
4
4
$3,103,000
Lentor Modern
3 Lentor Ctrl · D26
3
2
$1,846,800
Lentor Modern
3 Lentor Ctrl · D26
4
4
$2,685,600
–
Have you bought any apartments recently? Let us know your experience in the comments section below.
If you found this article helpful, check out After 4-year BTO queue number drought, 20-something couple gave up and went private instead and Zillennial couple rejects executive apartment and opts for 5-room Pasir Ris resale without COV instead.
Upcoming Freehold Condo Launch: The Arcady @ Boon Keng
About Terence Ang
Looking to sell your property?
Whether your HDB apartment is reaching the end of its Minimum Occupation Period (MOP) or your condo has crossed its Seller Stamp Duty (SSD) window, it is always good to know how much you can potentially gain if you were to list and sell your property. Not only that, you'll also need to know whether your gains would allow you to right-size to the dream home in the neighbourhood you and your family have been eyeing.
One easy way is to send us a request for a credible and trusted property consultant to reach out to you.
Alternatively, you can jump onto 99.co's Property Value Tool to get an estimate for free.
If you're looking for your dream home, be it as a first-time or seasoned homebuyer or seller – say, to upgrade or right-size – you will find it on Singapore's fastest-growing property portal 99.co.
Meanwhile, if you have an interesting property-related story to share with us, drop us a message here — and we'll review it and get back to you.
Join our social media communities!
Facebook | Instagram | TikTok | Telegram | YouTube | Twitter