Here's a question we get all the time: Can a PR buy a HDB flat? The short answer is that a Singaporean Permanent Resident (SPR) is only allowed to buy a HDB resale flat — as in, a HDB flat bought in the open market from existing owners, not a subsidised flat directly from HDB under the built-to-order (BTO) or sale of balance flats (SBF) programme.
Even so, buying of resale flats for SPR is subject to a number of conditions. Under HDB's Public Scheme, an SPR can purchase HDB resale flats only as part of a family nucleus (i.e. a household) with at least one other applicant. The other applicant(s) must be the SPR's spouse and children, parents and sibling, or children under their legal custody (for widowed or divorced applicants). In other words, single SPRs are ineligible to buy a resale HDB flat.
There are also these additional conditions for an SPR who wishes to buy a resale HDB flat:
Buyer must be 21 years old or above
Buyer must have had SPR status for at least three (3) years

If you're unmarried and purchasing a flat with your parents, at least one of them has to be a Singapore Citizen (SC) or SPR of at least 3 years

If you have a SPR household with no SC co-buyer, all listed occupiers in your household (including yourself and any co-buyer) has to be an SPR of at least 3 years

You'll have to meet the Ethnic Integration Policy (EIP) and SPR quota for your block/neighbourhood of choice when submitting your resale application

Upon purchase of a two-room or larger HDB flat, the buyer cannot sell the resale flat or rent out the entire unit for five years. This is called the Minimum Occupation Period (MOP)
Buyer cannot own any private property in Singapore or overseas. The buyer must dispose of any private property within six months of buying a HDB resale flat. That said, the buyer can buy a private property after the MOP, without having to sell his/her flat
How does the EIP quota work?
HDB states that the role of the Ethnic Integration Policy is to "preserve Singapore's multi-cultural identity and promote racial integration and harmony". Essentially, the EIP quota helps ensures there is a balanced mix of ethnic communities in HDB towns.
In order to fulfill the EIP quota, you have to:
be of the same ethnic group as the seller, or

the block/neighbourhood's EIP quota must be available for your ethnic group (i.e. not filled up)
EIP quotas based on ethnic proportions are updated on the first of every month. Check if you fulfil the EIP quota of a specific block/neighbourhood via HDB's portal.
How does the SPR quota work?
While all Singaporean Permanent Resident resale flat applicants must fulfill the EIP quota, the SPR quota only applies to non-Malaysian SPRs. If any of your flat's buyers is a Singapore Citizen or Malaysian SPR, then go ahead and skip this section!
The SPR quota ensures that families new to Singapore can better integrate into the local community. According to the quota, non-Malaysian SPR households should make up no more than 5% of households within a neighbourhood, and 8% of households within a block. Similar to EIP quotas, SPR quotas are updated on the first of every month, and you may check if you fulfill the quota by using the same HDB portal.
What if you are a Singaporean PR who's engaged and waiting to get married?
If you're currently engaged, you may be eligible to purchase a resale flat with your partner under the Fiancé/Fiancée scheme.
Assuming your partner is a Singapore Citizen, you're good to go as long as you meet the EIP and SPR quotas upon submitting your resale application. Bear in mind that you'll have to register your marriage at the Registry of Civil Marriages or Registry of Muslim Marriages within 3 months of the resale completion date. If you wish to register your marriage overseas, you'll have to submit a photocopy of your marriage certificate, also within 3 months of the resale completion date.
If your partner is a SPR like yourself, the same rules apply. Both you and your partner also need to have had SPR status for 3 years before purchasing a resale flat.
Also note that, if the spouse is 18 years old and above, but below 21, written parental consent needs to be obtained and presented to HDB.
What grants are available to Singaporean PRs buying HDB resale flats?
SC/SPR households who are first-timer applicants with an average monthly household income of less than $12,000 are eligible for the Family Grant (up to $40,000). The same households with an average monthly household income of less than $5,000 are also eligible for the Additional CPF Housing Grant (AHG) (up to $40,000).
A shortcut for Singaporean PR homeseekers
SPRs who look for a HDB resale flat on Singapore's largest property portal, 99.co, have the added convenience of filtering their search by EIP and SPR quotas. So, only listings in blocks that fulfill the specified quotas will show up. Without having to go to the aforementioned HDB portal to check block by block, 99.co's HDB Sales Quota filter on 99.co can save SPRs lots of time in their property search!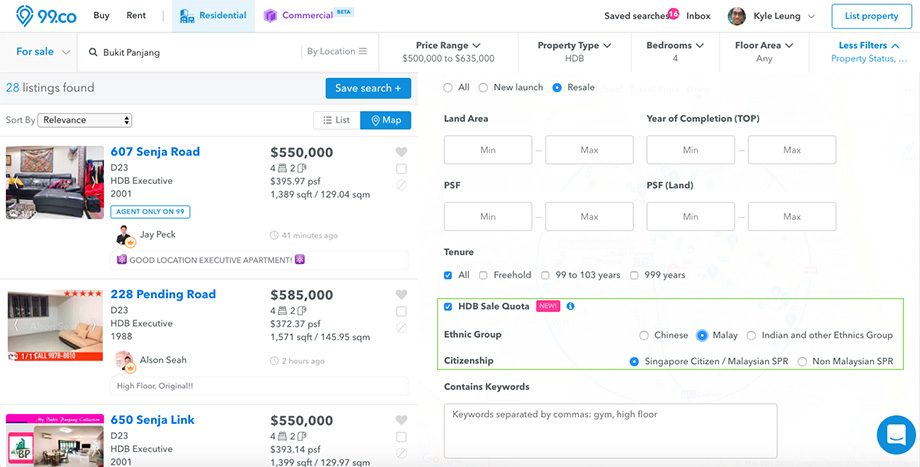 Voice your thoughts in the comments section or on our Facebook community page.
If you found this article helpful, 99.co recommends HDB valuation: How agents get buyers to bid above a resale flat's true market value and 9 biggest time-wasters when buying a resale flat
Looking for a HDB resale flat? Find the home of your dreams today at Singapore's largest property portal, 99.co!