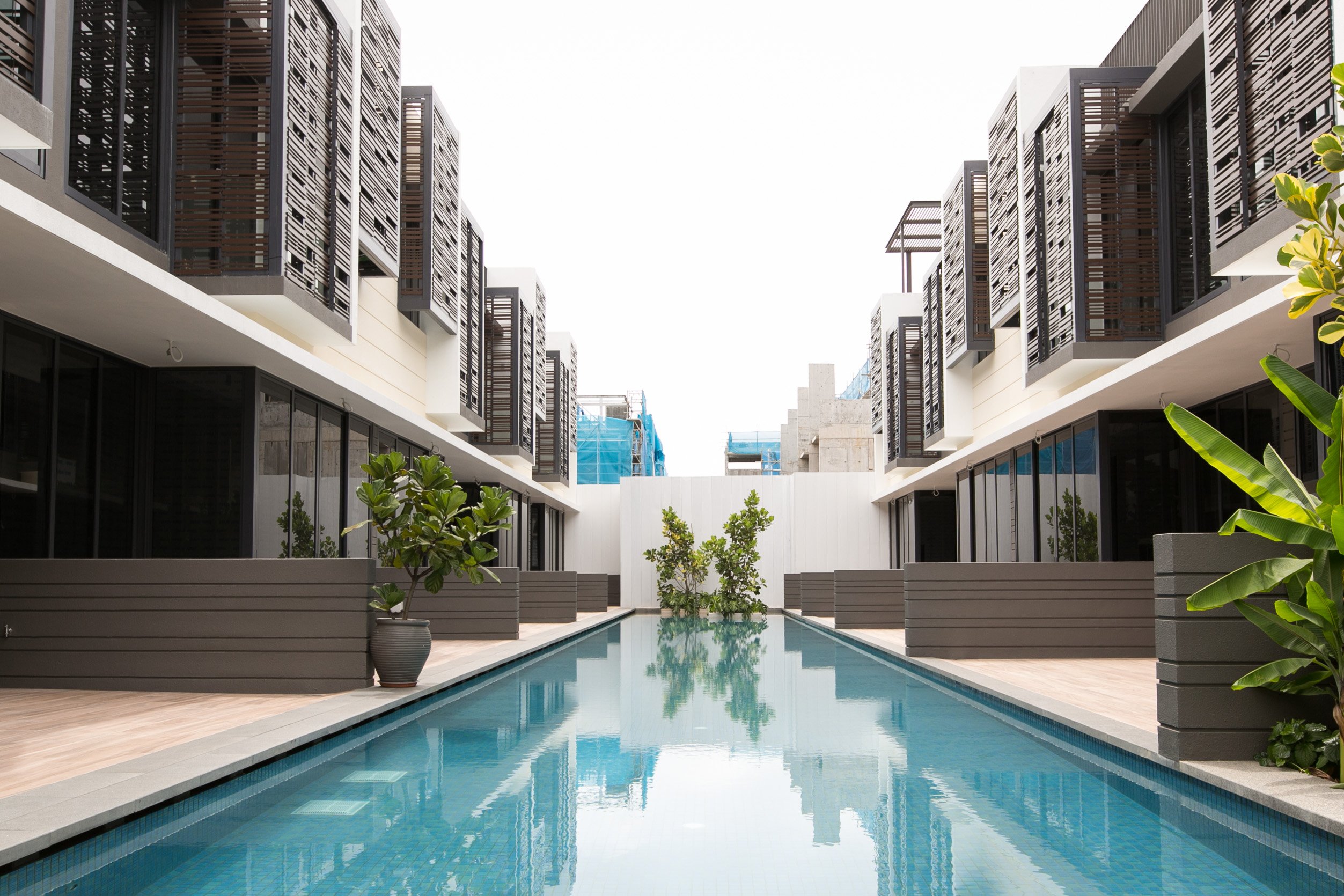 For many of us, owning landed property in Singapore might seem like a distant pipe dream; a fantastic hope that's simply out of our price range.
But what if there was actually a viable option for you to own one – an option that was not only affordable, but would grant you access to a whole host of facilities like swimming pools, roof top terraces, saunas and your own private carpark?
Sound too good to be true?
Well, not with cluster homes – a favourite amongst savvy property buyers in the know!
A closer look at cluster developments
Simply put, a cluster development is a type of hybrid housing scheme.
Similar to condominiums, cluster developments are gated communities, but instead of high-rise apartment buildings inhabited by hundreds of occupants, you'll find stand-alone dwellings like terraces, semi-detached houses and bungalows (or a mixture of the three).  
Unlike landed properties, cluster homes have a strata title, allowing developers to build multi-floor properties that are adjoined to one another, and which share common areas (or facilities) between them.
Why Buy a Cluster Home?
High Returns on Investment
In terms of returns, cluster housing seems to have an edge over the more traditional private properties during different time periods in the property cycle.
In a bullish market, cluster homes have demonstrated the ability to garner strong capital appreciation. As SLP International's 2015 Report shows, capital values of 99-year leasehold cluster homes rose 20.1 percent, faster than prices of conventional leasehold landed properties (which rose 15.1 percent) during the property boom of 2009 – 2013.
Examining the property trends in further detail, the median transacted prices of 99-year leasehold cluster homes were found to be on average $329,205 more than those of traditional leasehold landed properties with the same tenure, while those of freehold cluster houses were on average $110,147 more than other landed properties.
It's hard to pinpoint what drives these numbers, but regardless of the reason, it looks like cluster homes are the safer bet for your investment dollar. In addition, Cluster Houses have been known to command rental equivalent to landed houses. This easily means more rental value for a cheaper price.
You Get the Privacy of Landed Property, With the Facilities of a Condominium
Think of cluster homes as the offspring of a landed property and a condominium that is just the right combination, inheriting all the best parts of each parent.
On one hand, you've got the privacy and space of a landed property, but on the other, you get to enjoy the shared facilities of a condominium development that landed properties lack (like swimming pools, gyms, saunas and security) – all this at a fraction of the cost of owning them yourself!
Cluster Houses usually come with 24-hour security, so you have peace of mind that your home and family will be safe, wherever you go.
It's a More Affordable Means to Owning Landed Property
With land being such a scarce commodity in Singapore, the competition for use of land is extremely tight, with most plots being earmarked by the Government for high-rise developments.
As a result, there just aren't that many lots available for landed properties to be built on, leaving the few lots that are available prohibitively expensive and increasingly rare.
With cluster housing, you not only get the chance to own landed property, you can get it at a considerably lower price than the traditional options, making it the perfect option for those looking to upgrade into the landed property scene.
Reduced Hassle and Cost of Maintenance
With a cluster home, you get to avoid one of the major hassles (not to mention costs) that come with landed property ownership. Maintenance is the one thing you don't want to take on!
Each development is helmed by a managing agent who takes care of the regular maintenance and upkeep obligations, like upkeep of the pool, repainting your home's façade or fixing damage to the property.
This means you spend less time worrying about your home, and more time actually enjoying it.
Not only that, the cost to you is reduced since it's shared among all the residents (rather than being heaped solely on your shoulders), but more importantly the aggregate costs of the maintenance itself is lower as you're able to leverage on the economies of scale through collective bargaining.
The Facilities Are More Exclusive
With public or condominium facilities, you're forced to share limited resources with a large number of people. Condominiums, for example, will usually have about 2 to 3 main pools to be shared between its hundreds of residents.
Cluster homes, on the other hand, are designed to maintain the feeling of exclusivity amongst its residents. In most developments, there are several swimming pools dotting the estate, each of which is shared between far fewer residents, so you'll never feel crowded out.
They're Especially Suited for Families with Young Children
The ground floor access and outdoor space of a cluster home makes it easy for children to go outside and play, yet remain close enough for parents to keep a watchful eye on them.
Furthermore, the swimming pools in most cluster developments are located just a few steps from the units. Developments like Greenwood Mews even have direct access to the pool from the units themselves – meaning tired parents can say goodbye to lugging cumbersome floats and towels to clubhouses and public pools, while supervising their children from the comfort of their own home, lounging on the beach chair sipping a drink!
Prime Cluster Homes in the Market
Cluster developments are still a pretty rare sight on the Singapore property scene , but here are a few projects we think you should check out if you're thinking of getting one:
Alana
Alana, slated to TOP in mid 2018, is a unique development designed with a distinctly Hawaiian image in mind, so expect a lot of greenery and a beach resort feel to the amenities. In keeping with its theme, Alana even has quirkily-named facilities like its 'Moku Ola' pool and 'Oahu' central garden!
If you've got kids, you'll be interested to know that it's located close to highly-rated schools like CHIJ St Nicholas Girls School, Anderson Primary and Secondary School, as well as Anderson Junior College.
If you're purchasing for investment purposes, the development is a short drive away from Seletar Aerospace and the future Seletar Regional Centre, making it a great means to securing the valuable expat market.
Units at Alana start from $2.16 million for a 2756 sq ft house; quite a steal considering a penthouse in the same district will set you back the same amount, but for a far smaller 1800 sq ft. It's also one of the cheapest cluster homes on the market now, with most other developments priced at an average $2.8 million per home.
For more details on this project, click here
Greenwood Mews
Greenwood Mews is located in the coveted Greenwood enclave in Bukit Timah – easily one of the most sought-after locales in Singapore.
Families with kids take note: the development is located within 1km of the prestigious Raffles Girls Primary School, and close to other renowned schools like Nanyang Girls High, Hwa Chong Institution and National Junior College.  
For nature-lovers and fitness buffs, it has the added appeal of being a stone's throw away from the Bukit Timah Nature Reserve.   
Greenwood Mews is definitely one of the more luxurious developments on the market, with each unit having direct access to the pool, individual gardens at the back, as well as two spacious private car park lots and a roof terrace.
The development is located on the last major parcel of land available in the area, so it's likely to be the last development built there. If you're interested in getting a unit, you'll be pleased to know that the project is now open for viewing and is available for immediate occupation.
We recommend getting a move on or you might just miss out! For more details on this project, click here.
This article was contributed by Far East Organization.