Debate about whether the East or the West side of Singapore is a better place to live usually centres around food, amenities or accessibility. While these things are certainly important in deciding where to live and set up home, it's perhaps more accurate, and possibly more interesting to look at data and statistics. This article will show you which side of Singapore is worth more in terms of property value, starting with HDB flats for this article (Part 1). Read on to find out if you or your friends live on the more expensive side of Singapore, according to data from Singapore's largest property portal 99.co.
To start, let's define the East and West side of Singapore by HDB towns:
Location
West
East
City Fringe
Bukit Merah
Geylang
Queenstown
Marine Parade
Outside City
Clementi
Bedok
Jurong East
Tampines
Jurong West
Pasir Ris
Here's a visual view of the towns, the markers indicate precincts/clusters HDB flats within these towns: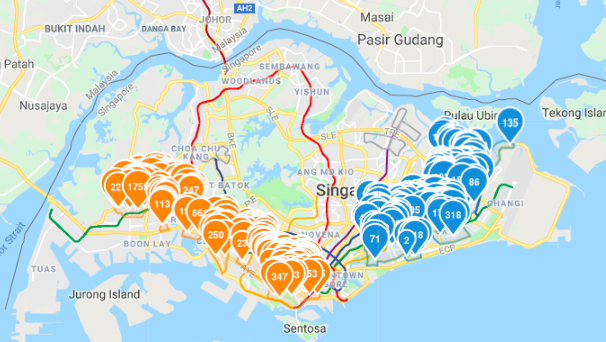 Across all flats in the HDB towns listed under East vs. West side of Singapore, here's the average per square foot (psf) transaction price according to transaction data from the past 15 years: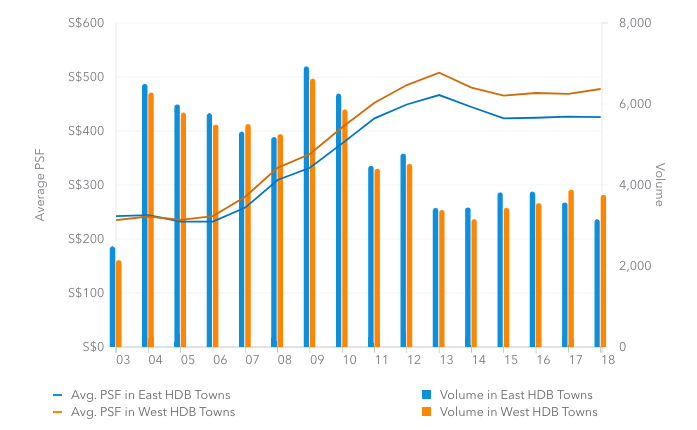 From the above chart, we notice something a few interesting things. Initially, in 2003, average psf transaction price in the East was about 3% higher than compared to the West side of Singapore, before the difference narrowed to a negligible $4 psf a year later.
In 2005, the West overtook the East in average psf prices transacted for the first time ever ($236 vs $232). This wasn't a fluke, but a trend that was set to continue to this date. The price premium of flats in the West kept increasing afterwards, a strong indication that the HDB flats on the West side of Singapore had an inherent superiority over the East. So, we wanted to further define the parameters to get a more accurate picture.
First, we knew that most flats in the East were subject to maximum height restrictions because of the presence of Paya Lebar Air Base and Changi Airport. Meanwhile, HDB flats in the West could be built higher. Hence, for fairness, we subsequently only considered transaction data for units up to the 12th floor, which is around the maximum floor count for the majority of HDB flats in Singapore: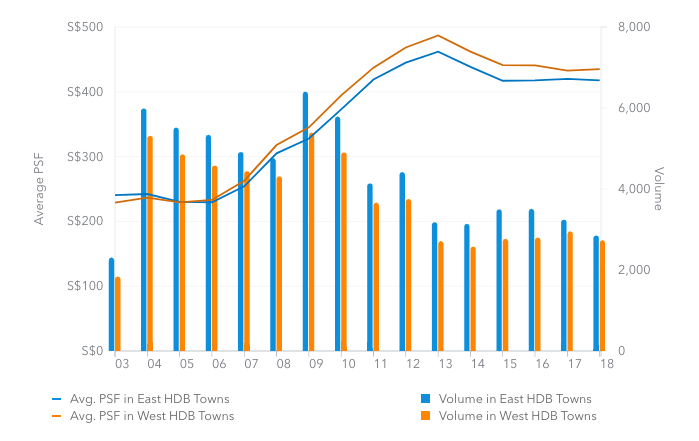 Across all HDB Towns, the West has the edge
Taking into account only units up to the 12th floor, we can see that the price difference between East and West has narrowed, but it still remains. While many factors could have led to flats in the West enjoying an overall price premium to flats in the East, we think two factors are key. First, the development of the Buona Vista into a business hub from the mid 2000s, and secondly, the spillover effects of the CBD resulting in city fringe HDB towns on the West side such as Tiong Bahru (part of Bukit Merah HDB Town) being transformed leading to greater price appreciation while, on the other hand, city fringe towns in the East have not been subject to major changes.
To ascertain whether the second factor is true, we wanted to see how city fringe towns in the West (Bukit Merah, Queenstown) compare to those in the East (Geylang, Marine Parade) in terms of average transaction prices, among 3-room and 4-room flats.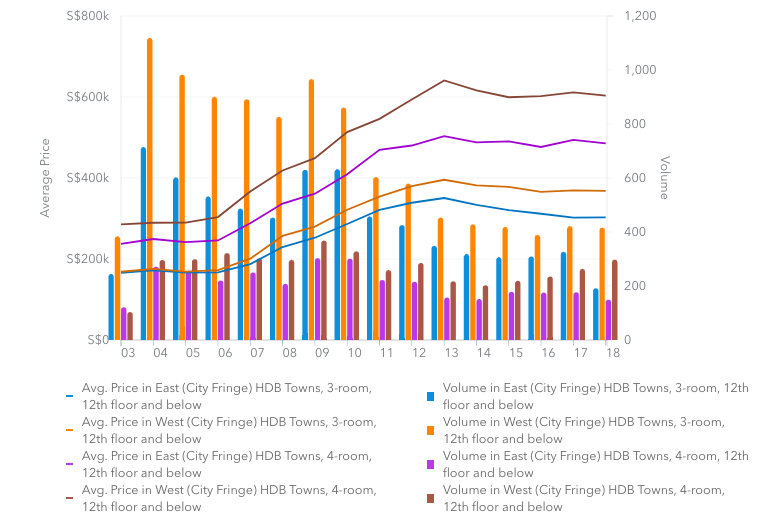 For City Fringe HDB Towns, the West wins (mostly)
From the above chart, we can see the gaps between average transaction prices for City Fringe HDB resale flats in the East and West are like night and day. For 12th floor units and below, 4-room flats in Queenstown and Bukit Merah today are on average 24.3% higher than that in Geylang and Marine Parade HDB towns, and 21.7% higher for 3-room flats. Notably, the prices for for both East and West city fringe HDB 3-room flats were similar from 2003 to 2005, before the West started asserting it's price superiority.
You might argue that the tenure of the flats plays a part, so we additionally specified a narrower group of flats built between 1970 and 1979 for comparison. These would what we would all ageing flats, whose value we're all concerned about.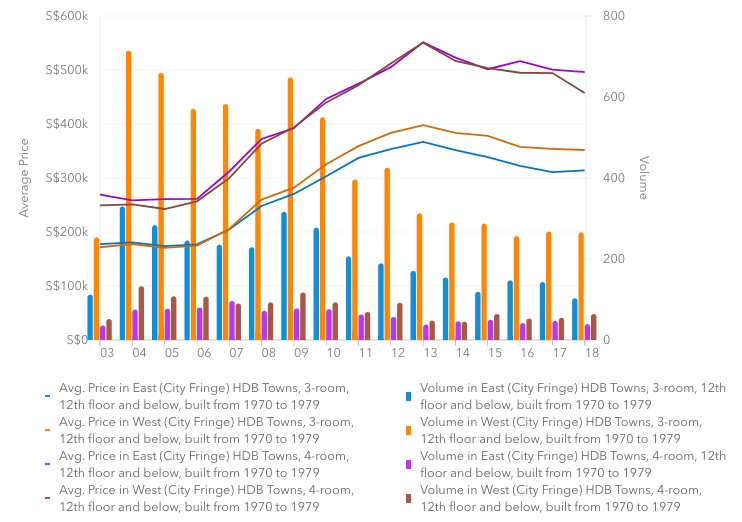 From the above, we can see that there is near parity between East and West 4-room flats that are between 39 to 48 years of age, meaning that the current higher average prices for 4-room in the city fringe may be attributed to newer flats (of which Geylang has very few while Marine Parade has none). We also noticed two things, which we will state without the use of charts:
Older 4-room flats in Marine Parade are resisting a decline in value in recent years, which we attribute to the construction of the Thomson-East Coast MRT Line and the scarcity value (lack of new public housing in the area + proximity to sea)
Older 4-room flats in Geylang have also been seeing higher transaction prices compared to similar flats in Queenstown and Bukit Merah, which we attribute to the ongoing development of the Paya Lebar business and commercial hub
For 3-room flats, the story remains the same: city fringe units in the West have been commanding a higher price premium compared to flats in the East, albeit by a slightly lower percentage than if flats of all tenures are considered. So, overall, while city fringe HDB units in the West have enjoyed a growing price premium in the past decade, things might change if areas such as Aljunied, MacPherson and Dakota in the East become revitalised and rejuvenated, meaning buyers eyeing these neighbourhoods could be looking at a potential upside. This is where we think Paya Lebar's rise to prominence could play a big part, in addition to HDB's latest plan to give each town a distinct identity (which could possibly result in, say, Dakota or MacPherson becoming the next Tiong Bahru).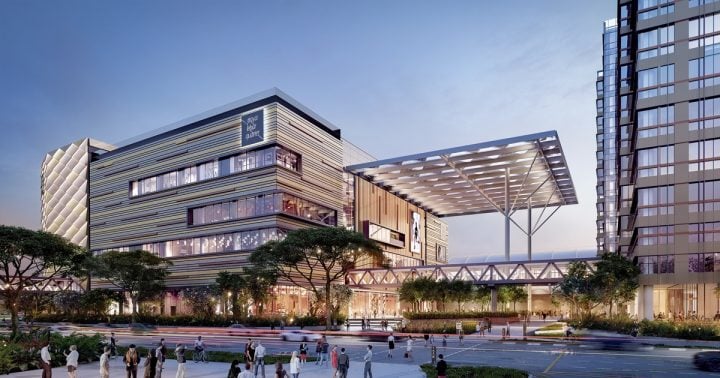 For Outside City HDB Towns, the East has the advantage
HDB flats in towns further away from the CBD, however, paint a different picture. Let's look at how towns in the West (Clementi, Jurong East, Jurong West) and the East (Bedok, Tampines, Pasir Ris) compare in terms of average transaction prices, among 3-room and 4-room flats.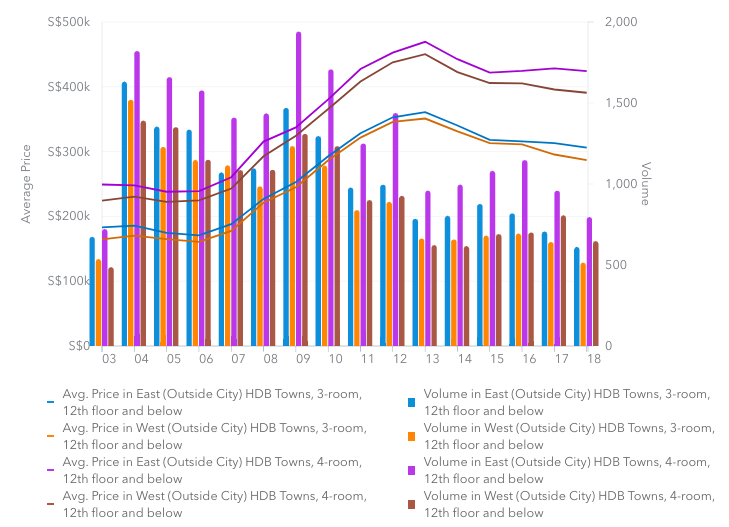 From the chart, we can clearly see that flats in Outside City HDB Towns in the East always held a price premium, on average, over flats in the West in the past 15 years. This was true even when we compared flats of similar tenure. Furthermore, the gap appears to be widening in the past two years. In its purest interpretation, the chart simply shows that if you give Singaporeans the choice of living in Pasir Ris, Tampines and Bedok versus Jurong West, Jurong East and Clementi, the majority would choose an Eastern town.
In this case, for Outside City HDB Towns in the West side of Singapore, bringing in more jobs to the area — in the form of the planned Jurong CBD and Jurong Innovation District — isn't enough. The West has enough jobs to sustain housing demand; what it now needs is more recreation and fun to counter its industrial, all-work-no-play vibe and possibly inject intangible value to living in the far West of Singapore (which will hopefully translate into actual property value).
After all, City Fringe HDB Towns in the West have plenty of recreation options (e.g. Singapore Botanic Gardens, Sentosa, Southern Ridges), as do towns in the East (e.g Bedok Reservoir Park, Pasir Ris Park, East Coast Park, Singapore Sports Hub). So, in the far West of Singapore, creating the Jurong Lake Gardens — a massive park that will serve as "Singapore's new national garden in the heartlands" from 2020 — and Tengah — a "forest-themed" town surrounded by greenery — will play a big part in increasing the appeal of living there. Of course, the construction of the Jurong Region Line (JRL) linking the region is a deal sweetener for many.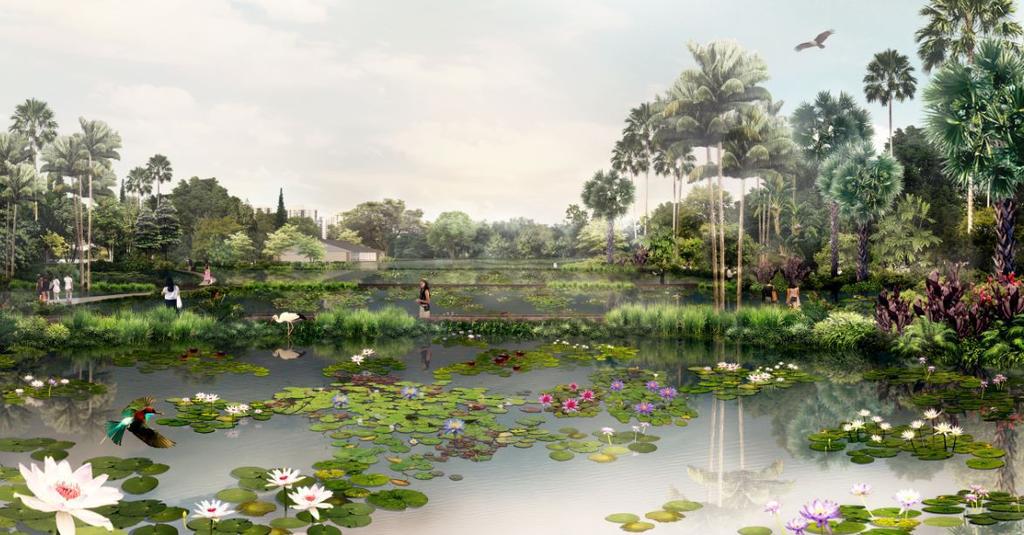 Admittedly, much will also rest on the eventual go-ahead for the Singapore-Kuala Lumpur High Speed Rail (HSR) project, which would give the Far West the equivalent of a Changi Airport in the East (i.e. a major cross-border transport hub).
So, which is better, the East or West Side of Singapore?
Data on property transactions, which indicate property value in the respective parts of Singapore, are useful — but only part of the picture. Live in an area long enough (and set up a family there) and you'll come to vouch for all its perfections and imperfections. Having said that, we feel that accessibility remains one of the biggest reasons for choosing which side of Singapore to live in, namely proximity to parents and your workplace. For that, you can count on 99.co's 'Search by Travel Time' feature to find a property with the ideal location.
Here's a visual example of the 'Search by Travel Time' feature our app: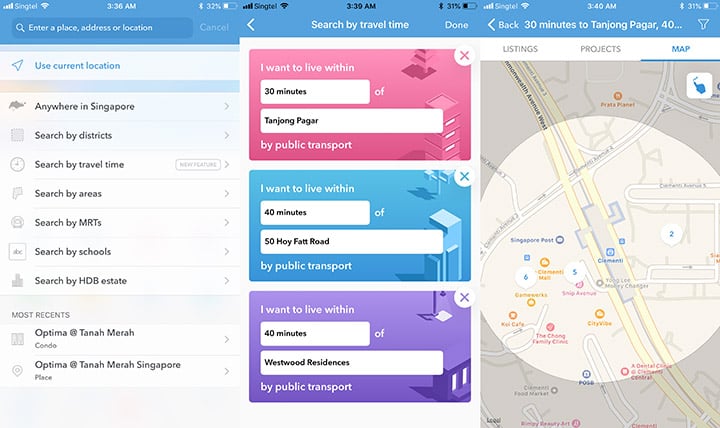 Are you an Eastie or Westie? Let us know in the comments section or on our Facebook community page.
If you liked this article, 99.co recommends What makes Bishan HDB Resale flats perform so well? and Why HDB resale prices may be headed for a strong recovery
Looking for a property? Find your dream home on Singapore's largest property portal 99.co!