Brexit, Donald Trump's surprisingly effective racial rhetoric in the recent US elections, and the Black Lives Matter movement. These are just a few events that reflect an increased resentment toward minorities and non-citizens, and a stark reminder to Singaporeans that racial tensions and disharmony aren't yet obsolete even in the most cosmopolitan of nations. It was in recognition of the perils of racial disharmony that the Ethnic Integration Policy (EIP) was introduced back in 1989. More commonly referred to as the HDB ethnic quota, the EIP was meant to discourage the forming of racial enclaves in Singapore.
It is human nature to seek the company of your own group, be it along racial lines or otherwise. Our government recognised that the risk of our three main ethnic groups in Singapore – Malays, Chinese and Indians – segregating themselves over time is real. Hence the implementation of the ethnic quota under the EIP.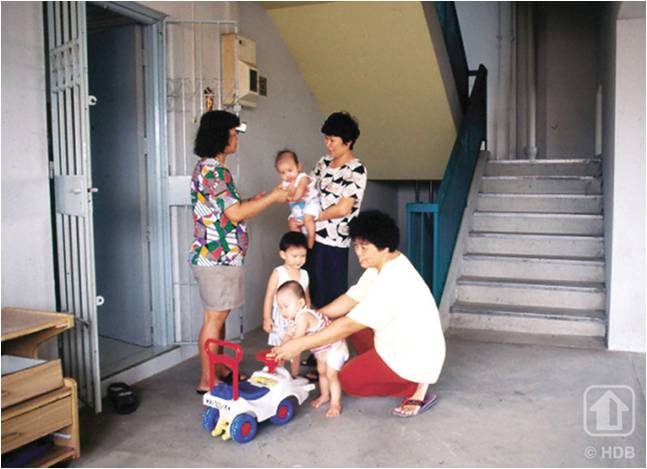 What is the Ethnic Integration Policy (EIP)?
The EIP is just one of the many initiatives that have been put forward by the government in the hopes of fostering better integration and respect between the various ethnicities in Singapore. The policy is similar to the Singapore Permanent Resident (SPR) quota implemented by the Housing & Development Board (HDB).
Under the EIP, limits are set on the total percentage of a block or neighbourhood that may be occupied by a certain ethnicity. These limits, which are updated on the 1st of every month, are meant to reflect the racial composition in Singapore. What this means is that while people are free to buy and sell flats if they're of the same ethnicity (since this won't affect the percentage of ownership), should they want to buy or sell from someone of a different ethnicity, they will only be able to do this if the sale won't result in the percentage of that ethnicity going over their allotted quota.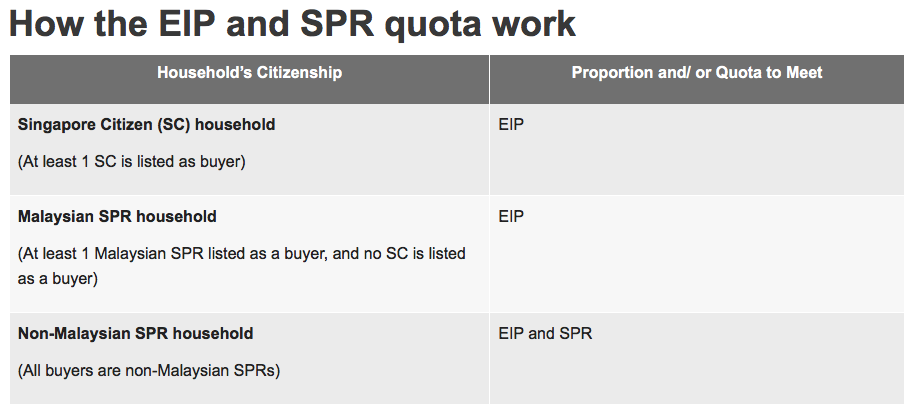 The impetus for such a policy was the government's recognition of a growing trend of Singaporeans to form certain ethnic enclaves – Bedok for example was inhabited predominantly by Malays, while the Chinese favoured settling in Hougang – and the fear that such a division would beckon the return to the 1960s level of distrust amongst the different races in Singapore which led to some of the most devastating riots in our short history as an independent nation.
Effects and Criticisms of the Ethnic Integration Policy
To the government's credit, the EIP has definitely been successful in its main aim of preventing the 'racial enclaves' it was engineered to avert. Each HDB estate is a melting pot of races, with a certain degree of interaction and integration amongst the different races.
But its successes have come with a string of criticisms as well, particularly in respect of how the EIP tends to disadvantage certain ethnicities over others.
The EIP leads to BTO units perpetually left vacant in land-scarce Singapore
According to a study by the Association of Muslim Professionals (AMP), there is a difference in median income between the three major races of Singapore. The effect of this is visible in HDB's build-to-order (BTO) flat selection processes, where there are unfilled Chinese quota leftover flats in cheaper, non-mature estates such as Woodlands and unfilled Malay quota leftover flats in more expensive, mature estates such as Bedok.
In the long-concluded flat selection exercise for the Dakota Breeze and Pine Vista BTO flats in the mature estate of Geylang (launched in the May 2017 sales exercise), there is currently a total of 48 4-room units not taken up. These leftover units area only available for Malay applicants, of which there have been no takers. No Chinese can buy these vacant units under the EIP. (The reverse happened for 4-room units in Woodlands in the same exercise.)
Given the above, critics may argue that given Singapore's land scarcity, it is perhaps a bit foolish to rather leave these units vacant than to use it to house citizens with urgent housing needs.
Price differences in the same property
According to a 2012 study, Chinese-constrained HDB resale units (i.e. only Chinese buyers eligible) were 5 to 8% more expensive than Malay or Indian-constrained units, which were 3 to 4% cheaper than the average resale price. This could mean that flats owned by Chinese were more likely to sell at a price over HDB valuation, whereas flats owned by Malay or Indians were more likely to sell at below HDB valuation.
Besides the rather unfair situation of two — almost identical — flats being sold for a huge difference in price simply because of the ethnicity of the person to whom the flat could be sold, this fact also highlights the possibility that the ethnic quota could be making racial income inequality worse.
One of the major gripes with the racial quota is that it often results in sellers, who are ready and willing to sell their units, having to turn away willing buyers, simply because the buyer is of the ethnicity whereby the quota has been maxed out.
In today's soft HDB resale market, these restrictions are doubly punishing. It has resulted in many sellers being unable to sell their flats, even when they've had offers, just because of ethnicity. In the 2003 Parliamentary Debates, it was argued that this was 'posing a serious financial problem to some families'.
It's not keeping up with our increasingly mixed heritage
In Singapore, children of mixed-race marraiges are entitled to register a double-barrelled race – a daughter of Malay and Chinese parents, for example, can therefore register as a Malay-Chinese or Chinese-Malay.
Under the current EIP policy, only the first race component of the double-barrell may be used. Therefore, if our hypothetical daughter above had registered as a Chinese-Malay, she would be restricted by the quota restrictions imposed on Chinese occupants, regardless of the fact that she technically is also half Malay.
With the numbers of mixed-race marriages on the rise – about one in five (or 21.5 percent) of all marriages in 2015 were mixed-race couples – the EIP policy simply misses the mark in its consideration of such mixed-race children.
It assumes living together means integration
The Ethnic Integration Policy works on the assumption that by living in close quarters, residents of different ethnicities will be forced to mingle and interact with each other, thereby strengthening the racial harmony and unity in Singapore.
However, this begs the question: does living together equal, or necessarily lead to, integration and understanding?
Singaporeans, by and large, tend not to mix around or even acknowledge their neighbours, which means the core function of the EIP doesn't really work here.
For a real-life example of this, we can look back as recently as 2012, to the case of Amy Cheong, who took to social media to complain about her Malay neighbours who were holding a wedding at the void deck, and went on to disparage the Malay society as a whole. Certainly, in this case at least, proximity did not breed understanding.
It's therefore been argued that what needs to be championed instead were "common spaces" or "bridging social capital" between communities. This means having events, and encouraging community participation between people of different races, rather than maintaining a strict focus on housing quotas. This would arguably be harder work, but perhaps, a better solution.
Should the Ethnic Integration Policy be removed?
The EIP, and its prescriptive and rigid natures, is undoubtedly one of the most talked-about policies in Singapore, and each person here will have their own view on whether it should remain, be tweaked, or abolished in its entirety. 
There are definitely some strong arguments against it. From the disadvantages it imposes on sellers, to questions on its efficacy in bringing the community together. And let's face it, it feels like your parents forcing you to eat your vegetables with the true but tired line: it's good for you, so do it!  
Nonetheless, I think that it would be hasty to do away with the EIP completely. The US, UK and France are prime examples of countries that, in allowing pure market forces to drive home ownership, have – and it would be foolish to think that we won't slowly revert to such a situation ourselves.
Perhaps what's required instead is a fine-tuning of the system, to build a little more flexibility into the strict, absolute controls on percentages which also takes into consideration market difficulties when enforcing such controls. At the same time, more work needs to be done to put in place actual initiatives to encourage the mixing of the races in Singapore, rather than hoping that mere proximity will do all the hard work.   
Incidents like the blackface episode on 'I Want to be a Star', Amy Cheong's diatribe on Facebook about our Malay community, and the fact that race is still a factor when it comes to renting homes, leads me to believe that maybe we're just not there yet when it comes to racial sensitivity and acceptance.
EIP quotas based on ethnic proportions are updated on the first of every month. Check if you fulfil the EIP quota of a specific block/neighbourhood via HDB's portal. The 99.co property portal also lets you filter your search by HDB's EIP and SPR quotas to save you time in finding your HDB resale home.
Voice your thoughts in the comments section or on our Facebook community page.
Keen to read more HDB-related articles? Check out our articles  Your Question Answered: Can a Singapore PR buy a HDB flat? and 9 biggest time-wasters when buying a resale flat
Find the home of your dreams today at Singapore's largest property portal 99.co!