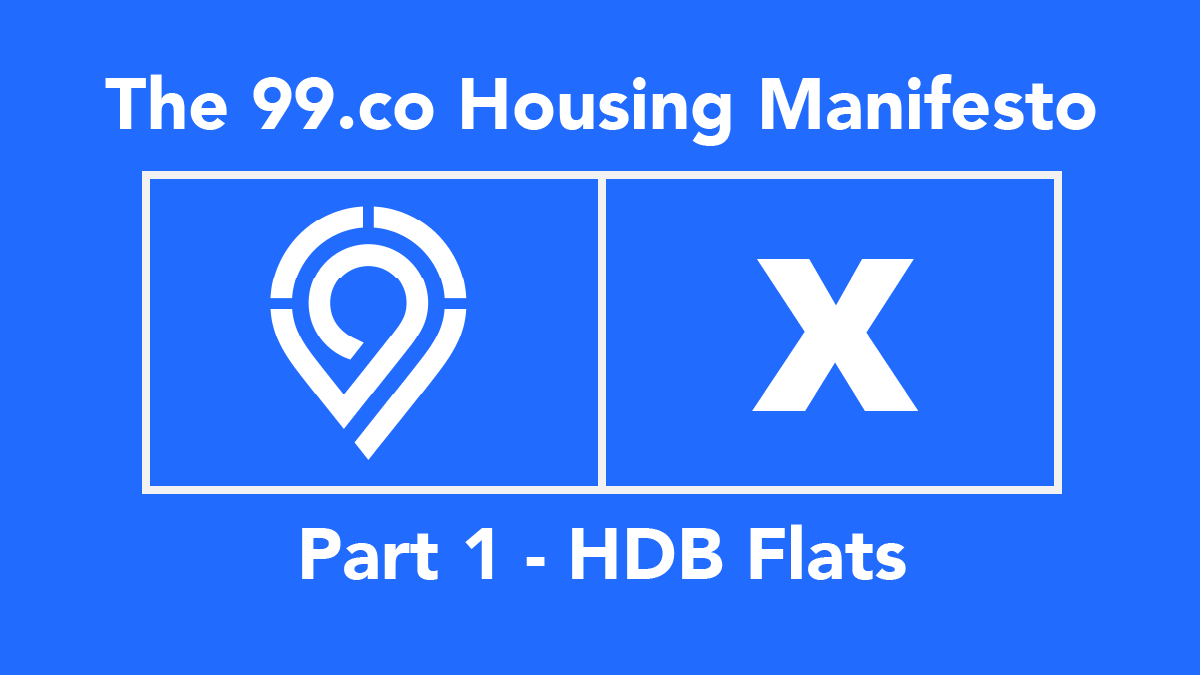 We've been hearing this a lot, but what's a manifesto anyway? Well, a manifesto refers a public declaration of policy and aims, especially one issued before an election by a political party or candidate, or by a organisation dedicated to the arts or social change. A political party manifesto encompasses all aspects of a citizen's life, and includes proposals for areas such as healthcare and housing.
In the Singapore 2020 General Elections, we've seen the manifestos of the different parties, and zoomed in specifically on the housing aspect. For 99.co, as a property portal that has been in touch with local housing concerns and issues since we started out in 2011, we have our own views on how housing in Singapore that can change for the better. So, we've decided to participate in the conversation, by putting forth our very own two-part Housing Manifesto for Singapore, and for Singaporeans.
Recognising the efforts of our government to improve affordability and quality of housing over time, our Housing Manifesto aims to build on this and to make housing more equitable for Singaporeans. (Equitable means fair and impartial, not equal.) More importantly, many of these points haven't really been raised by any party running in GE 2020, but we feel are important enough to address.
So here it is, Part 1 of the 99.co Housing Manifesto for Singapore, which addresses issues relating to HDB flats and residents. (You can read Part 2 here.)
Keep the Ethnic Integration Policy (EIP) for now, but enact remedies for minority owners unable to sell flats at equitable pricing
Several political parties, including the two main opposition parties Worker's Party and the Singapore Democratic Party, have called for the abolishment of the ethnic quota that regulates the number of flats in a block or precinct available to each race, under the Ethnic Integration Policy (EIP).
They have two main reasons arguing for EIP to be done away with. Their first reason is that we, as a nation, have already attained what the quota had set out to do in the early days of Singapore's independence, which is to prevent racial residential enclaves from forming as we built a Singaporean identity.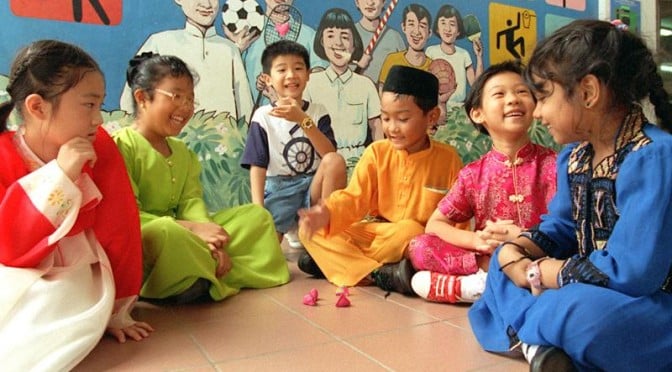 The second reason, and the one we'll elaborate upon, is that minority owners who cannot sell their to the majority race (i.e. Chinese) are placed at a disadvantaged position. A 2012 study proved that such flats are sold on average 3 to 4% cheaper than the average resale price. Constrained minority owners also face an uphill task finding buyers.
Worse is when these flats eventually fail to fetch market value, which could subject sellers to very negative consquences. So, we call on the government to release recent data on the number of EIP-constrained flats sold below market value, to allow better understanding of the situation and allow constructive discussions to occur.
As a remedy for minority sellers hit by the EIP, the idea of HDB buying back flats hit by the ethnic quota has been raised before in 2018, but quickly dismissed. In the same year, the HDB has also waved away the concerns of the public.
Monitoring listing duration, asking prices and transaction data over time, 99.co agrees that the issues concerning EIP as an urgent concern, especially considering that the Covid-19 recession could further disadvantage constrained minority sellers. At the same time, we also feel that the ethnic quota is worthy of keeping, so we won't advocate it's abolishment at this point in time.
What we propose is for the government to start looking at possible a rebate for minority sellers who sell their flat at market value. This can take the form of one-time rebate to the CPF account, or a credit rebate the next time they buy a new flat. The amount of the rebate can be $10,000 or the shortfall in market value of flats sold, whichever is lower.
Additional criteria can be put in place to prevent the abuse of this rebate. For instance, an eligible owner must have had their properties listed on an approved listings portal such as 99.co for a continuous six months, via an registered property agent.
We feel that an EIP rebate can address the disadvantage that the EIP system places on minority sellers of without disrupting the market mechanism of the resale market.
Address the growing "rich-poor" gap between older and newer HDB flats
Although the latest HDB resale price index readings show prices to be constant, the reality is about HDB flat prices is quite different if we look at newer versus older flats, and might necessitate policy intervention.
This is the HDB resale price index over the years, which accounts for variations in flat attributes, such as proximity to amenities, age and floor level: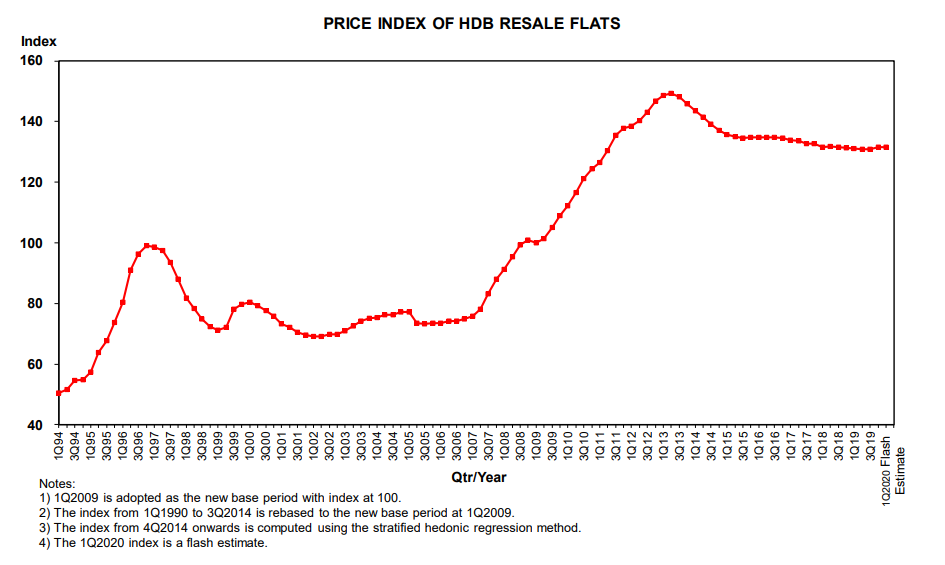 Let's break it down and first look at the average per square foot (psf) price trend for newer HDB flats built in the year 2000 or later, for the different towns. (You can click on the lines to see more info.)
For flats built after 2000, we can see that flats in Central ($842 psf), Queenstown ($779) and Clementi ($771) were the most expensive.
Notably, within the new flats, we can see that the price gap between the most expensive and cheapest town has widened considerably. Back in 2005, the difference in psf price between the most expensive town (Bukit Merah at $347 psf) and cheapest town (Choa Chu Kang at $212 psf) is 63.7%. In 2013, which was the last peak of the resale market, the gap has increased to 84.6%.
In the year of 2020 to date (up till 25 June), the price gap is now 140.6%, between Central and Choa Chu Kang.
Now let's look at the average psf price trend of flats built before 2000:
At first glance, you'll be able to tell that the flats built before 2000 suffered a greater dip in resale prices after the 2013 peak. Anyway, for flats built before 2000, two main factors determine how high (or low) average prices are: location and the age of the estate (we'll talk about lease decay in our next point).
Bukit Timah is remarkable for not only being the most expensive "older flat" out of the lot, it also didn't show a downtrend like the rest of the towns and estates. Furthermore, it was only the 4th or 5th most expensive town between 2006 and 2013. The reason for Bukit Timah's bullish price performance post-2013 is likely due to the opening of the Downtown Line in 2015, which also kept HDB resale prices at Bukit Panjang stable from that year onwards.
Like the "newer" flats, we can also see a growing price gap here over the years. Back in 2005, the difference in psf price between the most expensive town (Marine Parade at $303 psf) and cheapest town (Bukit panjang at $195 psf) is 55.4%. In 2020, this gap is now 92.0%.
Now let's compare the price gap between newer and older flats within each estate:
Now it becomes apparent that there's something seriously wrong going on in some of the estates. In Toa Payoh, the oldest HDB town in Singapore, the price gap between newer and older flats have nearly doubled from 43% to 83%. This is partly owning to the desirability of the location, the limited number of newer flats available there, and the overall age of the older flats, which are mostly built in the 1960s and 1970s.
What is of concern here is that there is a growing "rich-poor" gap between newer and older HDB flats. It's bad for society that some owners of HDB flats are holding onto assets, whereas the rest are holding onto liabilities with declining value. While the former group can leverage the capital appreciation of newer flats (especially BTO flats), the latter is trapped with prices trending down and will incur a net loss when they sell (because of home loan and CPF accrued interest).
It doesn't help that our leaders previously said this (see photo below), which could have caused tens of thousands of ageing flat dwellers to put aside less cash for their retirement, believing that the value of 99-year-leasehold HDB flats would never fall.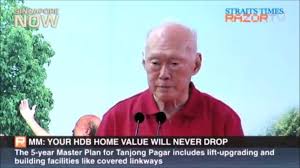 We recognise that schemes such as SERS and VERS can place significant financial strain on the government. To prevent HDB housing from perpetuating the an income gap and to address the natural decline of resale prices for older flats arising from lease decay, we suggest these additional measures:
Measure #1: Buyers of resale flats regain "first-timer" status to apply for BTO flats and grants after living in the flat for 25 years or when the flat reaches its 50-year mark, whichever takes longer
Measure #2: Removing accrued interest for CPF monies used in buying HDB resale flats; flat sellers only have to return the principal sum taken out of the CPF Ordinary Accounts
We believe the measures will also stimulate HDB resale market and reduce the preceived difference between BTO flats and resale flats, making buyers more amenable to purchasing resale (especially timely considering Covid-19 constraints placed on the construction sector).
Specifically, measure #1 will also balance the demand between 4-room flats and smaller flat types, because the period of 25 years matches the life stage requirements of a homeowner and will encourage them to downsize earlier if they can afford to (e.g. when their children gets married and move out) rather than wait until age 55.
Measure #2 will also prevent sellers of resale flats from being unfairly disadvantaged compared to sellers of BTO flats and private properties. It will also help them avoid the dreaded negative sale scenario, which could place sellers of ageing resale flats in serious financial peril.
Restore transparency to pricing of new HDB flats
There has been much debate to the affordability of BTO flats, with many Singaporeans arguing that HDB is pricing them too expensively. For an informed discussion on whether BTO prices are justified, we'll need detailed breakdowns for the cost of flats.
And the thing is, such cost breakdowns isn't even new for HDB. This is what they once used to publish for every Singaporean to see: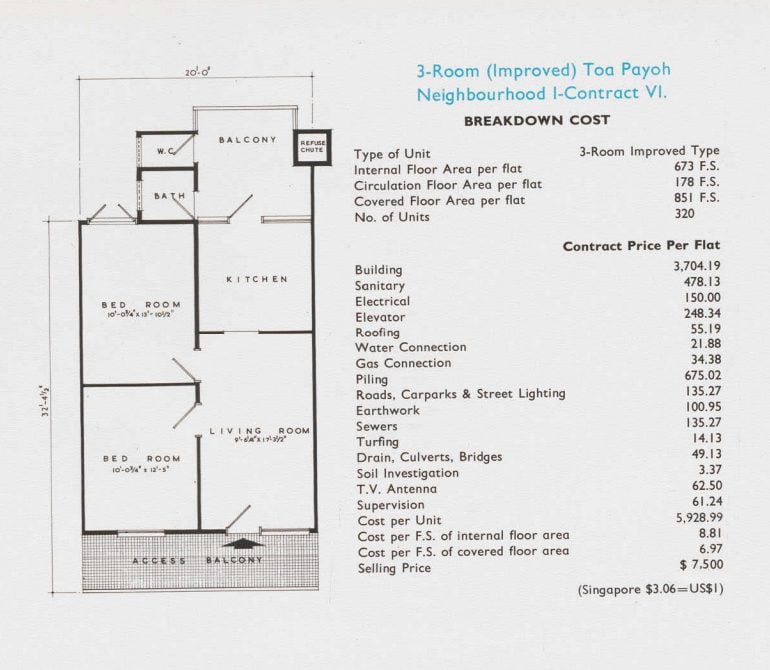 This one below is from the 1975/1976 HDB Annual Report. Note the asterisk: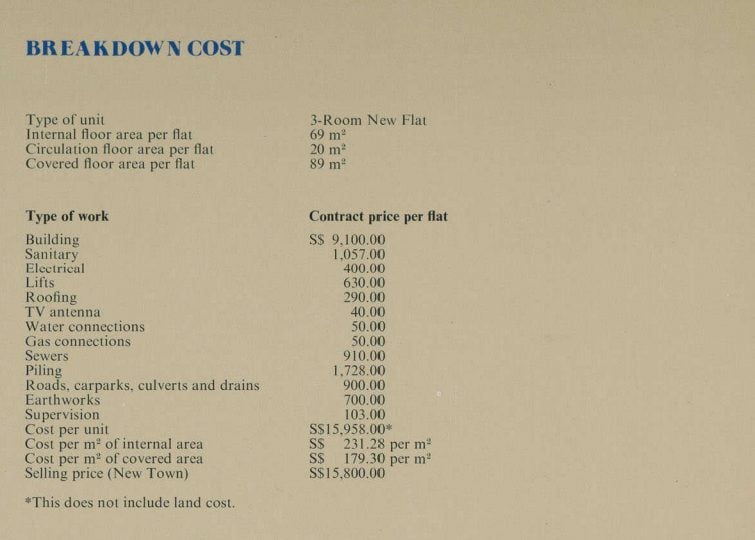 The breakdown is so detailed, it even includes the TV antenna. You can see that whoever did this was committed to being transparent about the cost of new HDB flats.
For one reason or another, cost breakdowns for new flats somehow disappeared in the 80s and haven't been seen since. Bring it back, HDB, it's the right thing to do.
Rethink HDB Concessionary Loan interest rates
The HDB Concessionary Loan, which is offered to first-time HDB buyers, is currently pegged to 0.1% above the CPF Ordinary Account savings interest rate, which is 2.6%. On the other hand, bank loan rates right now are at around 1.5% and will remain this way through 2022.
Some might argue that pegged to CPF savings interest rate, a HDB Concessionary loan rates offers stability. But we discussed and argued in this article that HDB ought to relook its interest rates. After all, HDB's mission is to ensure affordable housing, whereas the bank's mission is to generate profits; as such, HDB loans should be able to provide a lower home loan interest rate.
Yes, we also know that HDB as a lender is also more forgiving towards mortgage arrears than banks, which means it takes on more risks that should be translated to a higher-than-bank interest rate. But still we strongly feel that HDB should allow borrowers to reap the benefits of a sustained low-interest rate environment, like the one at present.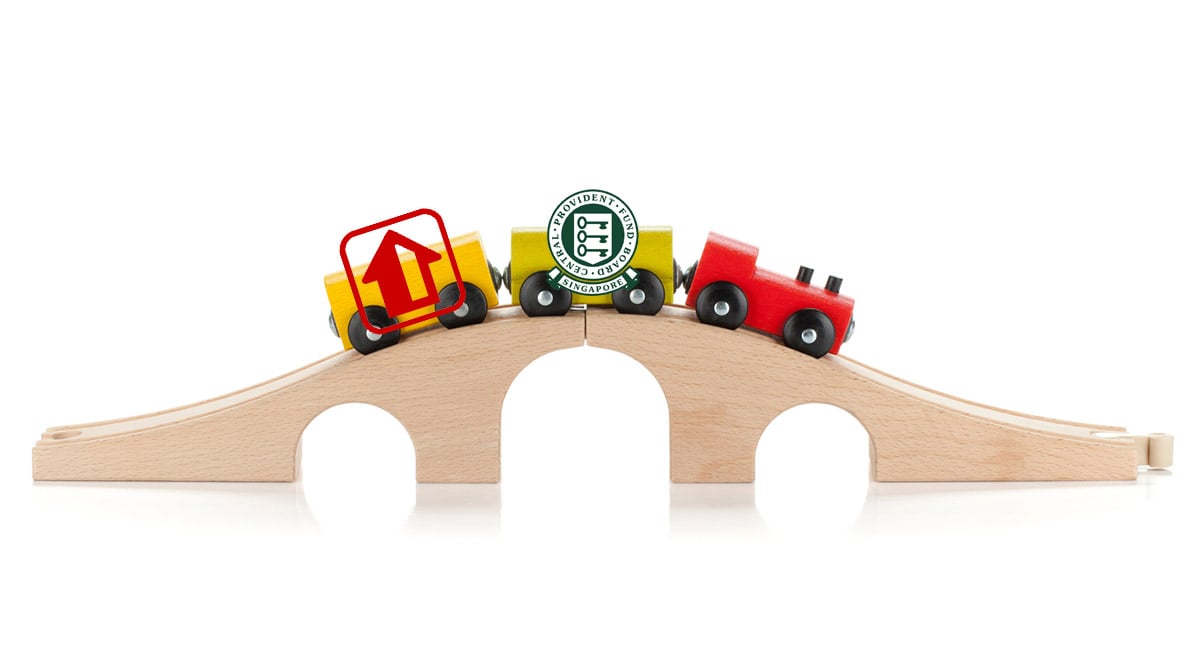 So, we suggest a floating rate system for HDB Concessionary Loans that is determined by a weighted average of floating rate bank loans for the past 3 months, on top of an additional spread to justify the lack of a lock-in period + any additional risks the HDB takes on as a lender.
The additional spread will also keep banks happy and reassure that HDB isn't that taking away their rice bowl away from them.
In today's low-interest rate environment, this would bring the HDB Concessionary Loan interest rate closer to 2.0%. This could mean that a buyer who takes a $350,000 HDB loan over 25 years pays about $100 less a month, a big difference to families in need.
Meanwhile, the new HDB Concessionary floating rate should also have a ceiling that is pegged to 0.1% above the CPF Ordinary Account savings interest rate. This will safeguard homeowners when interest rate increases or fluctuates.
But we think the real benefit to society is this: A floating rate system for HDB Concessionary Loan will prevent first-time HDB homeowners from blindly flocking to bank loans in a low-interest rate environment, especially if their income is volatile and uncertain. (After all, you can't refinance back into a HDB loan.)
[Click
here
to read Part 2 of The 99.co Housing Manifesto for Singapore.]
---
Do you have any other policy suggestions regarding HDB flats? Let us know in the comments section below or on our Facebook post.
If you found this article helpful, check out GE 2020: What every party says about housing in their manifestos and Is it wrong to peg HDB Home Loan Rate to CPF Interest Rate?
Looking for a property? Find the home of your dreams today on Singapore's fastest-growing property portal 99.co! If you would like to estimate the potential value of your property, check out 99.co's Property Value Tool for free. Also, don't forget to join our Facebook community page or Telegram chat group! Meanwhile, if you have an interesting property-related story to share with us, drop us a message here — and we'll review it and get back to you.