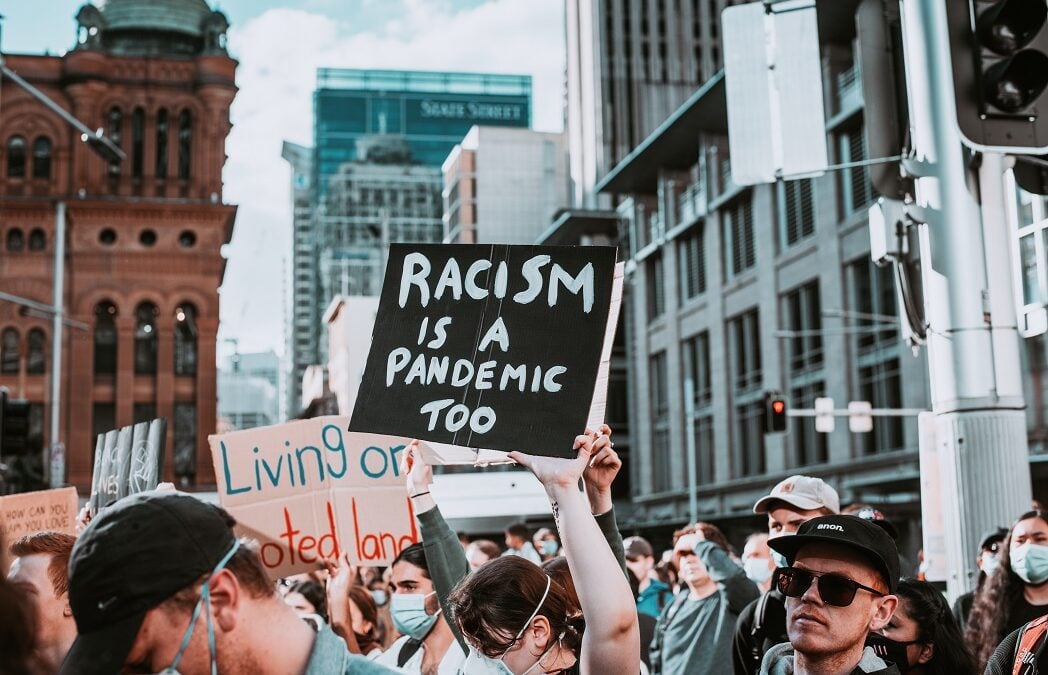 Rachel (not her real name) and her husband were in between selling and buying houses. So they had to rent for a year. Everything went well over the phone enquiries; one reason could be due to her English name.
But when Rachel went to visit the house, the property agent started prying where she's from because her skin was of a fairer tone. She explained that she's from Hong Kong, but not Chinese.
When they were downstairs after the viewing, the agent informed her of the landlord's rejection. And the reason given? Because she and her husband are "Indian".
This was in 2010.
Fast-forward to 11 years later, and we see more racist incidents in the spotlight. Back in April, Beow Tan went viral for her harassment comments and videos. In May, a 30-year-old Chinese man allegedly used racial slurs and kicked a 55-year-old Indian woman in Choa Chu Kang. And just earlier this month, Tan Boon Lee, a senior lecturer at Ngee Ann Polytechnic, made racist remarks against an interracial couple. 
At the same time, we're seeing more discussions about race and more people calling out racist behaviours. But one thing's for sure, we still have a long way to go towards racial harmony. And this includes opening up more options for everyone, regardless of race, in the rental market.
To start off, let's first look at how rental racism in Singapore has been reported throughout the years.
How rental racism in Singapore has been reported over the years
One of the earliest articles we found about racial discrimination in Singapore's rental market was published in 2014 by BBC. More specifically, it focused on the "no PRC, no Indian" issue, where those words had been included in online rental listings. Reasons for the discrimination included concerns about property maintenance and cleanliness.
Three years later in 2017, CNBC did a similar story. It highlighted that despite the weak rental market at the time, there's still racial bias when it came to renting in Singapore. There were landlords who would rather leave their properties vacant than rent them out to tenants of certain ethnicities. And it's not just limited to foreigners. There were locals experiencing rental racism as well.
In 2019, Mothership reported a YouGov survey, which found that almost one in four Singaporeans have faced racial discrimination when renting property. What's even more alarming was that almost half of local Indians (49%) have experienced it.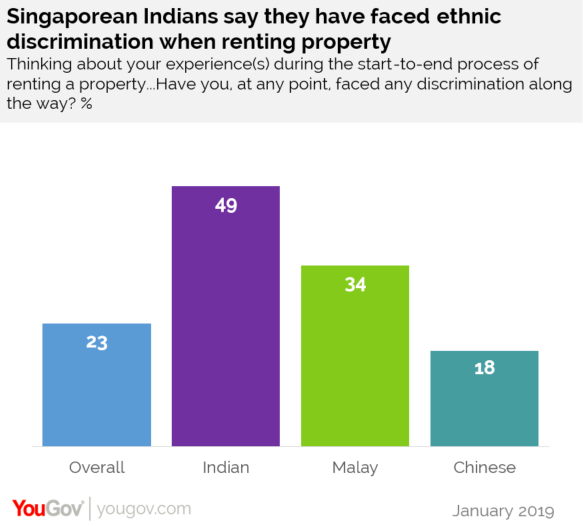 And over the past one year alone, we've seen more reports about racial discrimination in the rental market here, such as this article by Mothership, AsiaOne and more recently by Vice.
Are there any measures in place to mitigate racial discrimination in the rental market? 
There is Article 12 of the Constitution, which protects citizens from discrimination on the grounds of race, religion, descent or place of birth. But it doesn't cover non-citizens.
The BBC report also mentioned that according to experts, this article can only be "used by a citizen against the state", and "not against another individual or legal entity".
The Council for Estate Agencies (CEA) has guidelines about property ads, stating that agents should "advise their clients against placing advertisements that are discriminatory, offensive or stereotyped in nature against any particular race, religion or group in society".
However, even if racial preferences aren't included in the ads, landlords have the final say when deciding who they want to rent out their property to. It's also hard to point out and prove if they reject potential tenants purely based on race.
"Most don't tell me this because I am an Indian, but they do reject offers based on this. It's told in a very subtle manner so that you can't point to that," Alex (not his real name) told us.
He went on to explain that landlords would use excuses for the rejection, basing them off what they heard from other people. This includes the cooking smell and having many people come over to the house.
For instance, local Indians are mostly of Tamil origin, so they may have a certain way of cooking. But this doesn't necessarily apply to the Indians coming in, especially given the size of the country and how diverse it is. Likewise, the stereotypes about PRCs, such as inviting many people over to the house, don't apply to all of them.
To sum it all up, these individual experiences and hearsays become stereotypes that people use to generalise people, influencing their decision on who they want to rent out their properties to.
How has rental racism in Singapore changed over the years?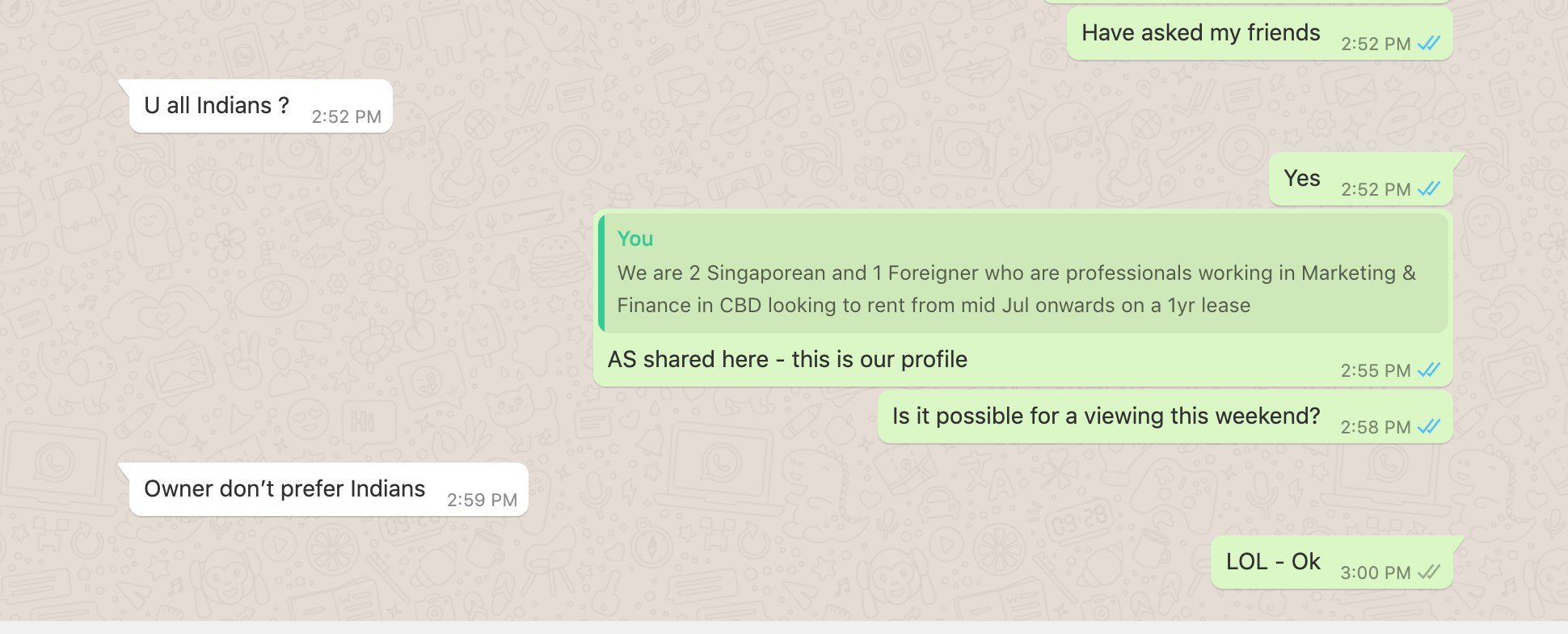 There is no quantitative data to show how rental racism has changed over the years. But judging from the media reports over the past decade, more people are aware and are calling out against these acts of discrimination.
On the ground, rental racism seems to be getting worse. Alex explained, "Previously, [screening potential tenants based on race] was done for lower-end rentals like S$2,000 to S$3,000, but now you can see [such practices] even for people who can pay S$10,000 to S$20,000 rentals."
Unfortunately, recent events such as the racist incidents have also made landlords more discerning on who they want to rent out their properties to.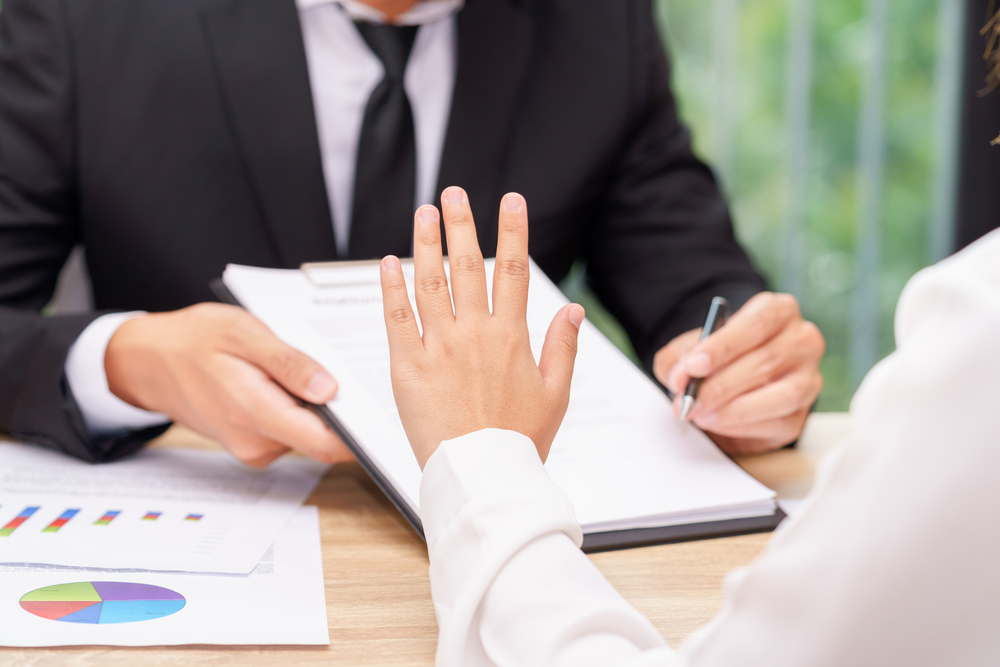 What can be done to mitigate racial discrimination in the rental market? 
For starters, one approach would be to raise awareness of these occurrences and educate people on the harmful effects of rental racism.
"Unless we start teaching people that we have to stop racism at all points, it's not going to stop." Alex lamented.
Rachel suggested a way to do this is to play role reversal, in which different parties exchange their duties.
On top of that, it's important to find out the root cause of these prejudices to tackle them. These may come from stereotypes passed from generation to generation or hearsays from family and friends.
As Rachel added, "Did they have a bad experience?"
By questioning the real reasons behind landlords screening their potential tenants based on race, can we educate them on its harmful effects and ask them to look beyond a potential tenant's race?
At the same time, Alex believes a harder approach should be used, such as coming up with a law against rental racism.
He shared that there are some agents who perpetuate this mentality by abiding by the landlords' wishes. If more agents say no to landlords, the problem can potentially be reduced.
As a recent Rice Media article on racism highlighted: 
"This leaves us with a curious double-standard where incidents like what happened to Dave are quickly condemned as racist, while we contort ourselves into all sorts of mental gymnastics trying to explain how others are not."
"Attack an elderly Indian lady out for a stroll: racist. Refusing to rent a flat to an Indian tenant: personal preference."
99.co's Diversity Friendly tag
To fight against discrimination and ensure inclusivity in the rental market, 99.co has introduced a Diversity Friendly tag. First introduced in 2015 as an All Races Welcome tag to fight against racial discrimination, it's been replaced with the Diversity Friendly tag in 2019 for more inclusivity.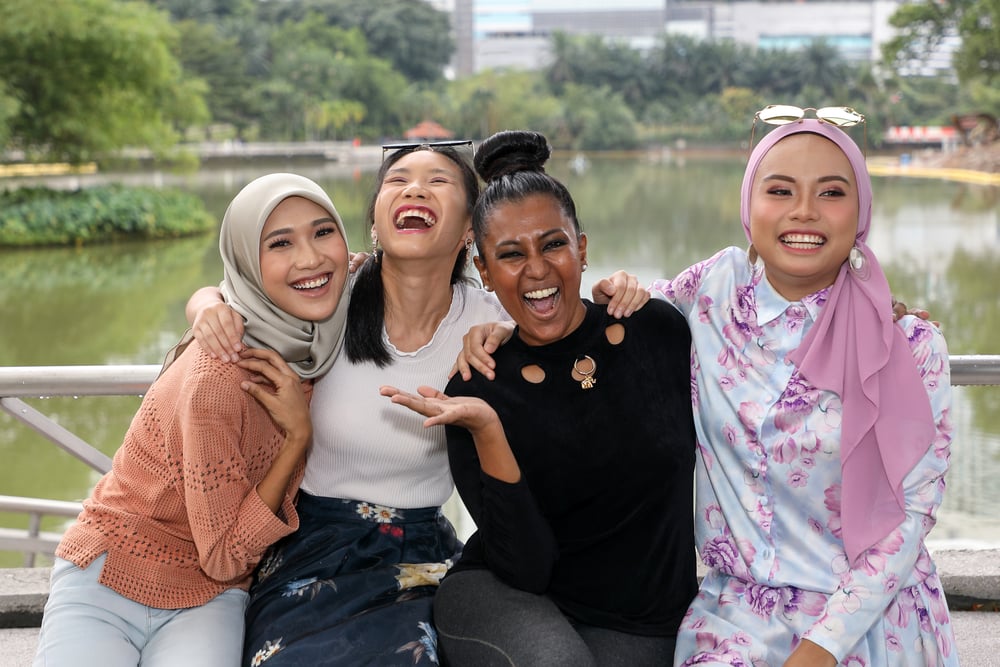 The tag allows landlords and agents to declare in their listings that they welcome renters of all backgrounds, including race, gender identity, and sexual orientation.
Two days after its launch in 2019, there were 86 listings with the Diversity Friendly tag. Two years later (and as of writing), 1,058 listings have been marked with the tag.
Tackling rental racism is an uphill task, and it's not something that can be eradicated easily. But by raising awareness and showing support for diversity and inclusivity, we hope that we can be a more accepting and harmonious society.
What do you think about rental racism in Singapore? Let us know in the comments section below. 
If you found this article helpful, 99.co recommends Your wife is Indian, landlord won't rent to you, and Is the HDB Ethnic Integration Policy and ethnic quota still relevant?
Looking for a property to buy or rent? Find your dream home on Singapore's largest property portal 99.co! If you have an interesting property-related story to share with us, drop us a message here – we'll review it and get back to you.
New launch alert! Welcome to Grand Dunman
About Virginia Tanggono
Virginia covers the property news in Singapore, from record sales to profile stories on home ownership. In her free time, she occasionally searches for spoilers of movies and TV shows.
Looking to sell your property?
Whether your HDB apartment is reaching the end of its Minimum Occupation Period (MOP) or your condo has crossed its Seller Stamp Duty (SSD) window, it is always good to know how much you can potentially gain if you were to list and sell your property. Not only that, you'll also need to know whether your gains would allow you to right-size to the dream home in the neighbourhood you and your family have been eyeing.
One easy way is to send us a request for a credible and trusted property consultant to reach out to you.
Alternatively, you can jump onto 99.co's Property Value Tool to get an estimate for free.
If you're looking for your dream home, be it as a first-time or seasoned homebuyer or seller – say, to upgrade or right-size – you will find it on Singapore's fastest-growing property portal 99.co.
Meanwhile, if you have an interesting property-related story to share with us, drop us a message here — and we'll review it and get back to you.
Join our social media communities!
Facebook | Instagram | TikTok | Telegram | YouTube | Twitter