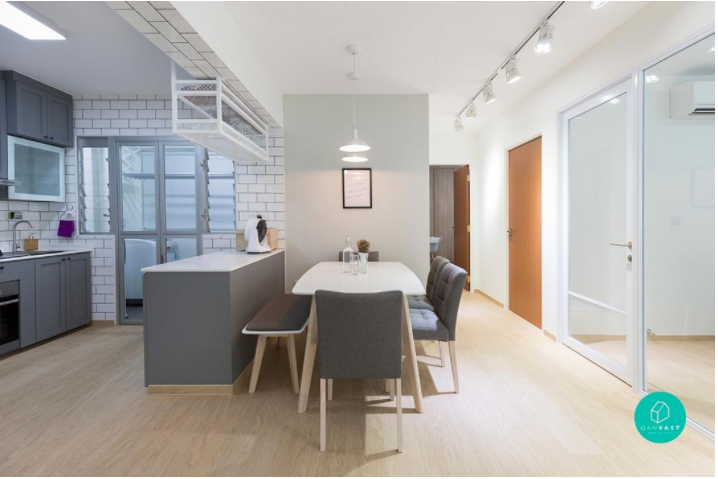 Did you know that the average renovation rings up to a tune of $51,000, according to data extracted from projects and contracts on Qanvast? But don't let that faze you – just as we've seen amazing makeovers with five-digit budgets, we've seen gorgeous spaces put together on super tight budgets!

To help you do just that, interior designers William from Authors Interior & Styling and Eric from Space Factor dish in on 9 money-saving renovation hacks that can potentially save you thousands of dollars.
Hack 1: Split Your Renovation Works
 Think about which works are most important, and split your house's renovation into different phases. Not all renovation hacks help you cut costs, but will instead help plan and pace your finances!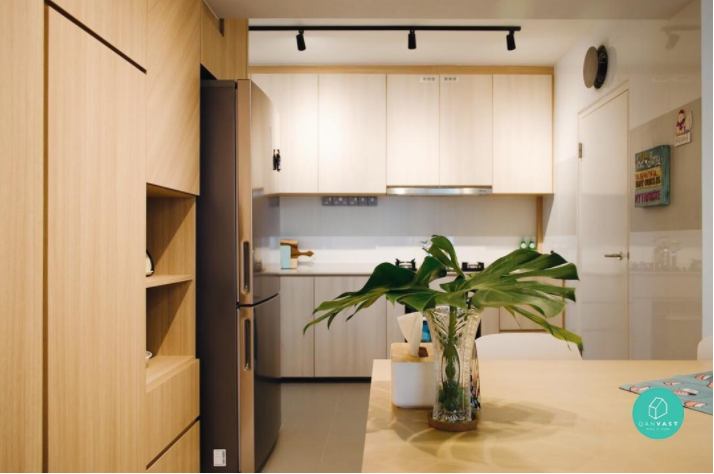 But how do you consider what's important and what's not? "Built-in works for areas like your kitchens and wardrobes, painting and electrical works should be done up first, as they can be very troublesome (and messy) to work on once you move in," suggests William.
Meanwhile, Eric advises: "You can start with doing up the essentials first. Then take the time to save up – once you're ready to take on a second renovation, that's where you can zoom in on the finer, more aesthetic details."
Hack 2: Allocate an Allowance, Especially for Resales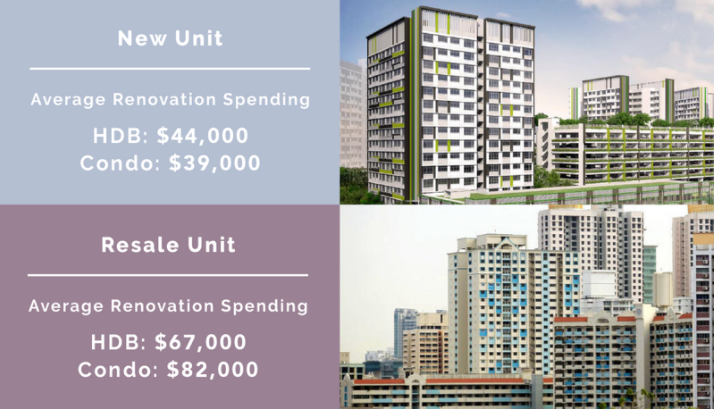 Unlike BTOS, unforeseen costs abound when you renovate an older, resale unit – such as dismantling existing built-ins, maintenance works for wear and tear, and incompatible components (e.g. tearing out and installing new air-con piping).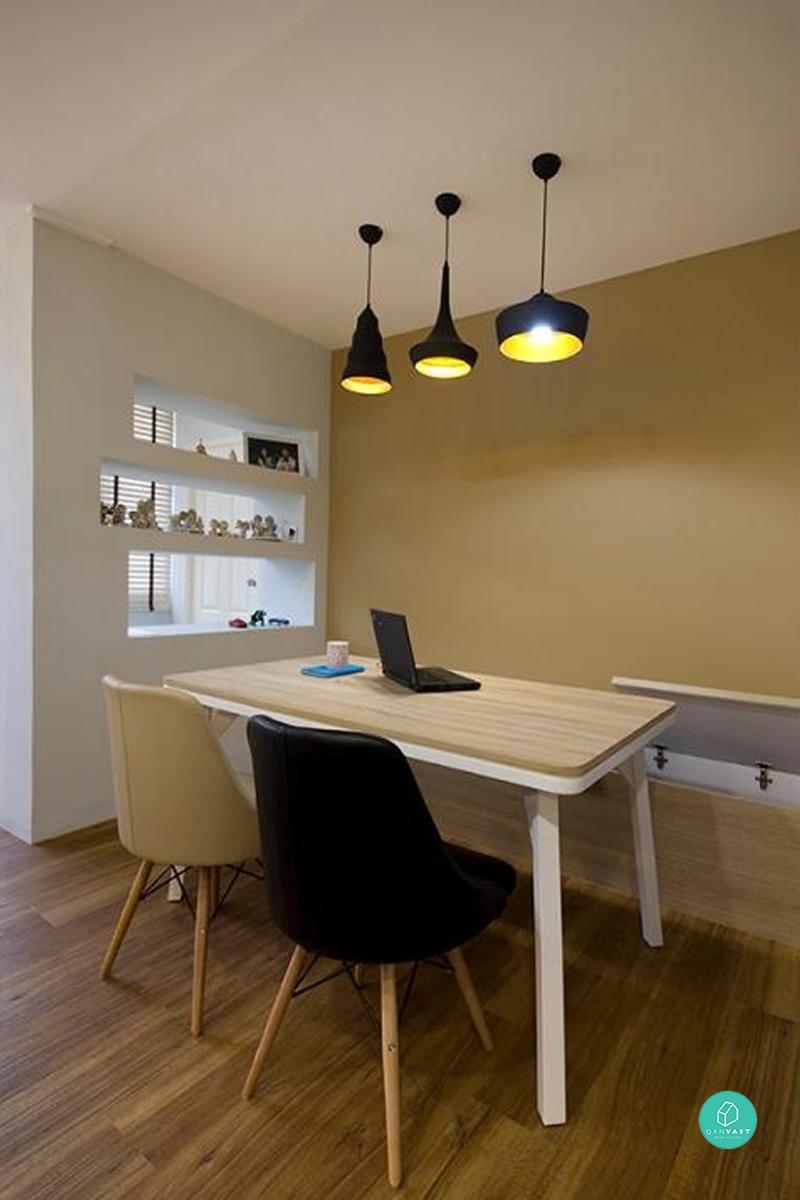 "Many homeowners forget to take these 'hidden' costs into consideration when budgeting for their resales, and are shocked when those bills accumulate to the thousands," says Eric. What's the take home? It's prudent to set aside an allowance just for any surprise issues. And if there're none (lucky you!), at least you'll have spare cash for furnishing and appliances.
Hack 3: Avoid Half-Hacked Walls
Half-hacked walls are even more expensive than hacking down the entire wall! They are more labour and material intensive as the wall will be fully hacked, and then built up to half size.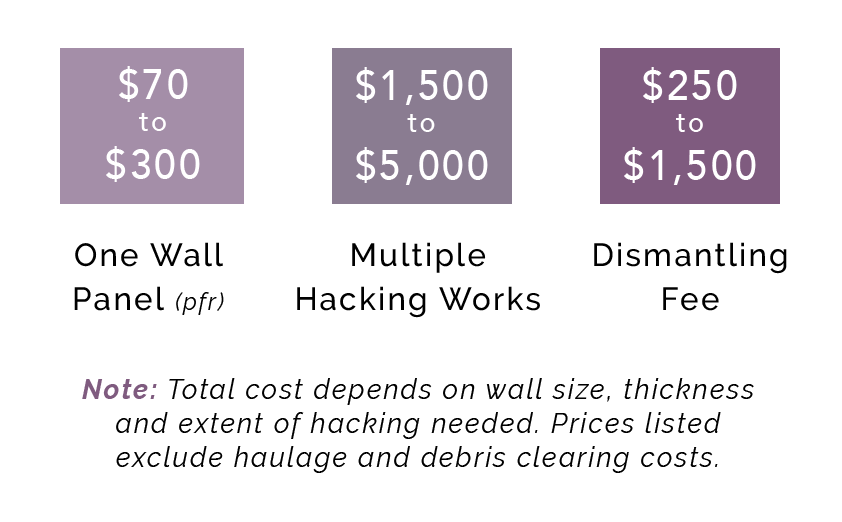 All that can really pile on costs – but of course, hacking in general is costly work, so if you're tight on budget, try keeping your walls intact. This is one of the renovation hacks we recommend – if it ain't broke, don't fix it!
Hack 4: Go for Vinyl Flooring
 Taking a significant portion of your renovation budget, the right flooring material and finish can define your home's overall look. With so many choices to choose from, we wonder, what's the most cost-effective? Vinyl flooring, say both William and Eric. While it does have a plastic feel, vinyl is hardy and waterproof – perfect for wet areas.

If you don't plan to spend much on flooring at all, William suggests grinding or polishing existing flooring for a sparkly new look.
Hack 5: Don't Hack, Just Overlay
And while we're at it, the best part about vinyl flooring is that they can be overlaid on top of existing tiles! As you'll know by now, hacking is expensive, and that's even more so for wet areas like the bathroom where waterproofing works are needed.
Hack 6: Avoid Circular, Angular or Odd-Shaped Carpentry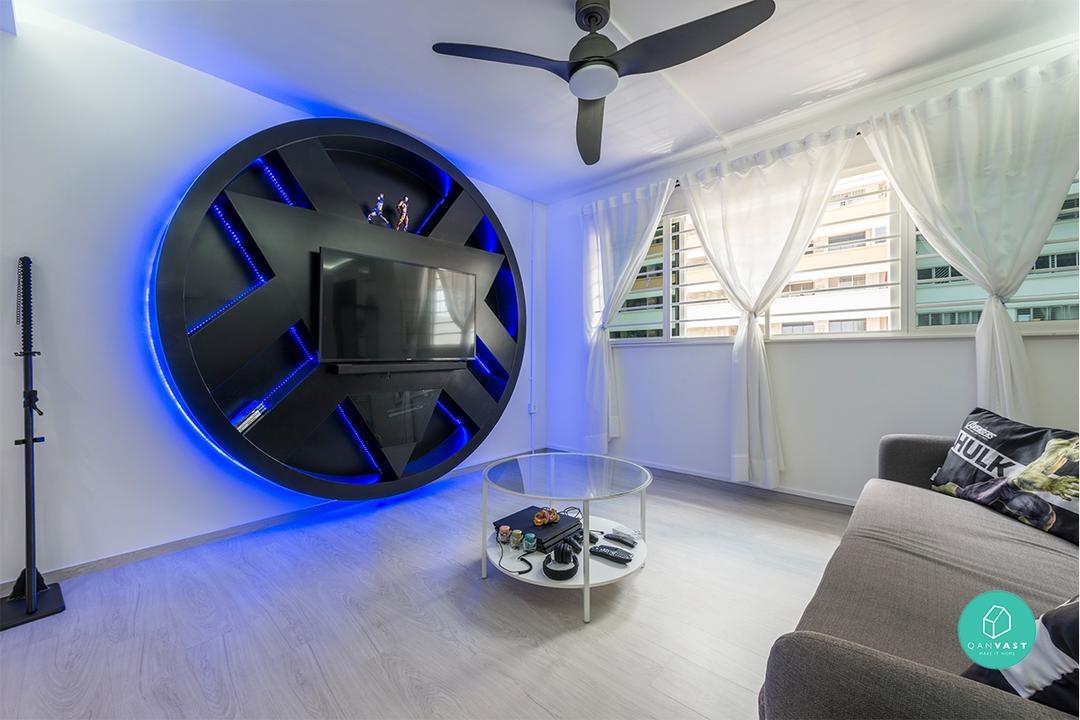 Opting for built-ins with a unique design and silhouette are sure to make a statement at home – and on your bank account as well. "Odd shaped, circular or highly detailed carpentry designs require a lot of workmanship and are understandably more expensive," explains Eric.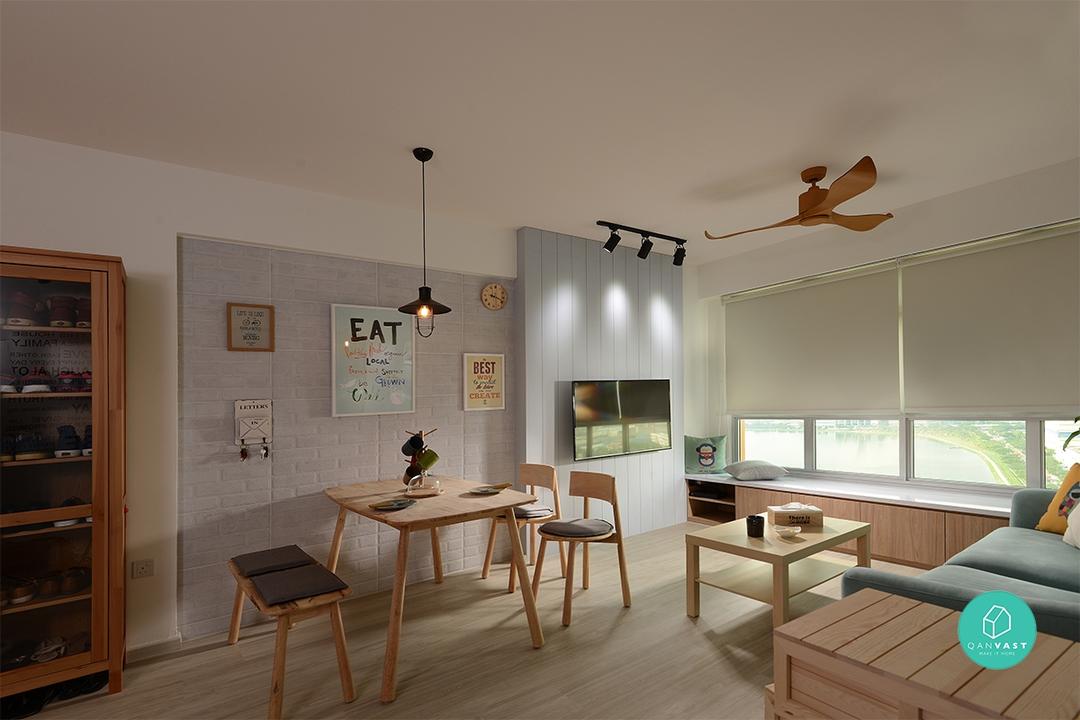 For a more pocket-friendly choice, opt for built-ins that have a clean, linear design. Otherwise, cut down on your built-ins in general and install loose furnishings instead. "Also, try to avoid doing carpentry on your ceiling, like making a faux exposed beam", advises William.
Hack 7: Go Scandinavian

Not too particular on what your interior theme should be? Then pick the ever-affordable – and popular – Scandinavian style.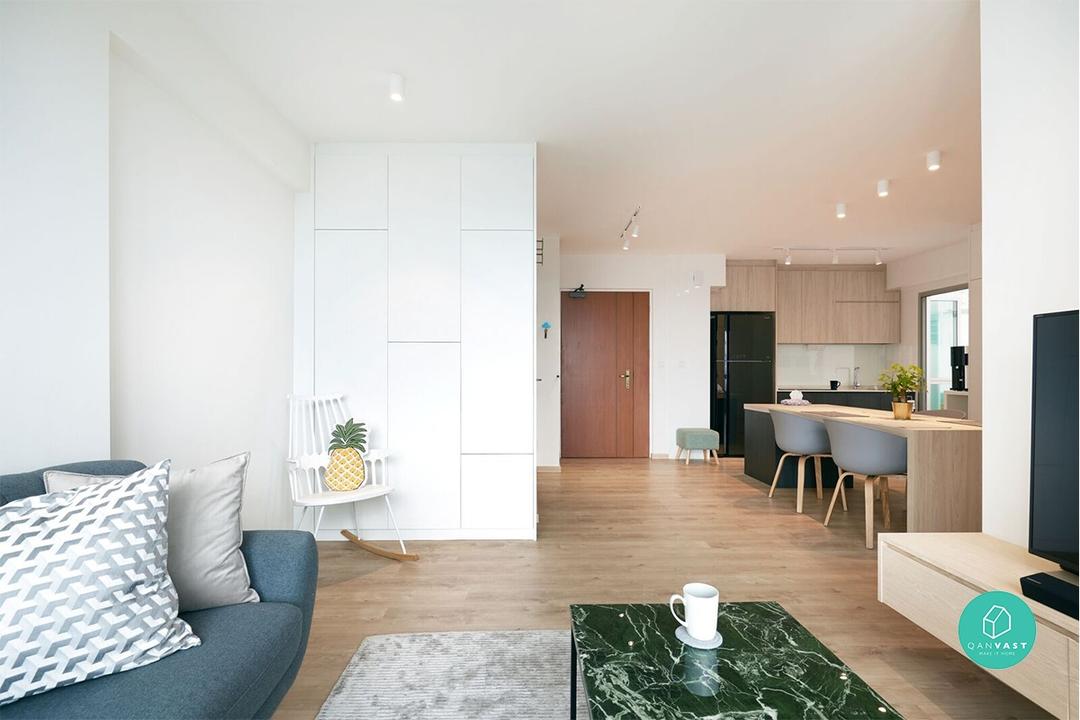 Here are three reasons why it tends to come at a lower price point: 1. Clean, simple lines and carpentry are key (point 6!), 2. Emphasis on loose décor and furnishings, 3. Lots of affordable Scandinavian furniture available (think Taobao and Castlery).
Hack 8: Paint Your Feature Wall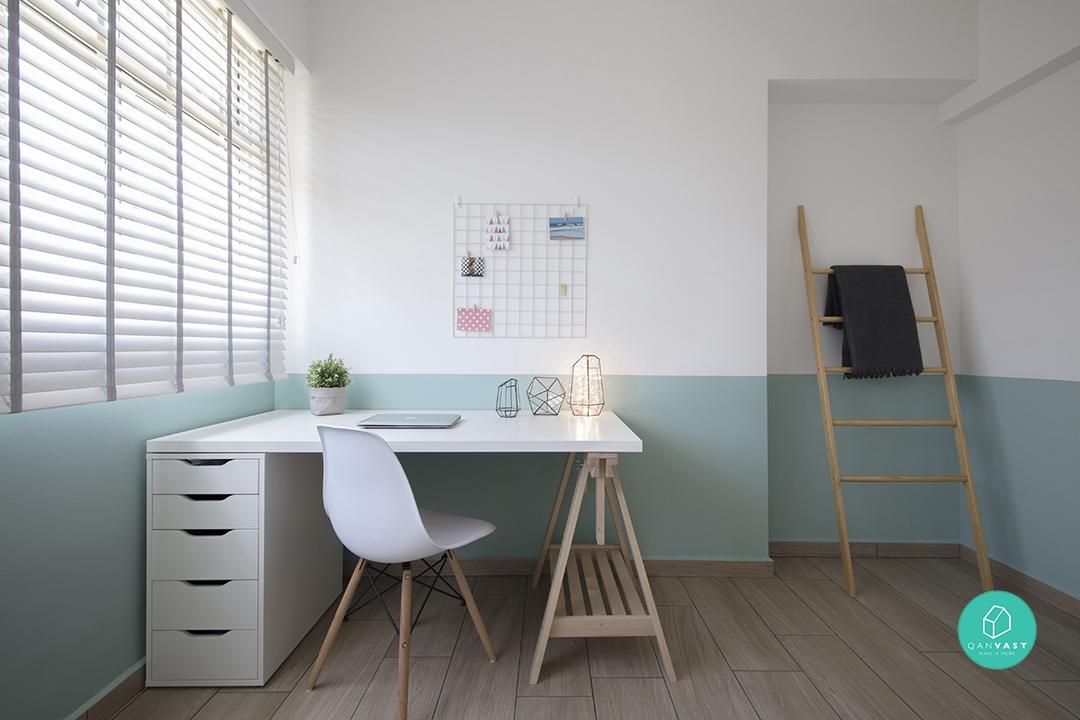 No fuss, easy to maintain and doesn't burn a hole in your pocket; paint's the ultimate choice for anyone on an ultra-tight budget. "Instead of spending thousands on troublesome wallpapers or fancy craftstone, homeowners can simply top up another a couple of hundreds on their painting package for a unique painted graphic wall." recommends Eric.
Hack 9: Don't Go Overboard with Lighting Points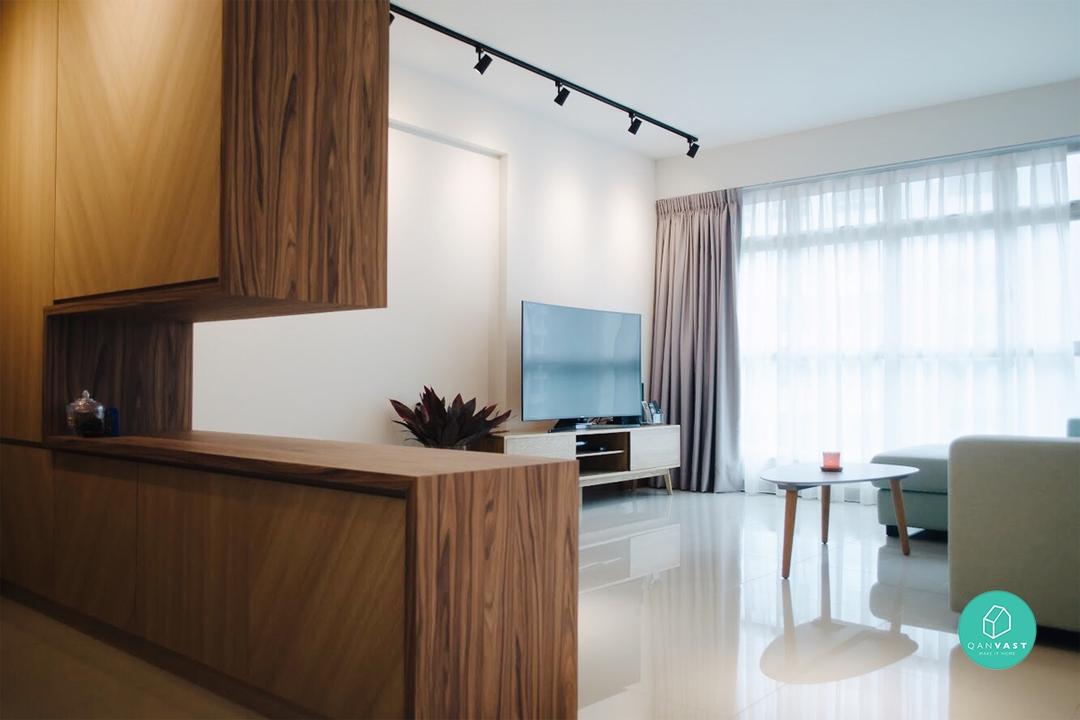 "We are all for the bright and airy look, but lighting (and electrical works in general) can add up to a princely sum during renovation and after in terms of electricity bills," says William. Recessed and cove lights can really break the bank, with all the workmanship required and lighting components used. Try cutting down on the number of lighting points and swapping them for these tricks to bring in some natural light.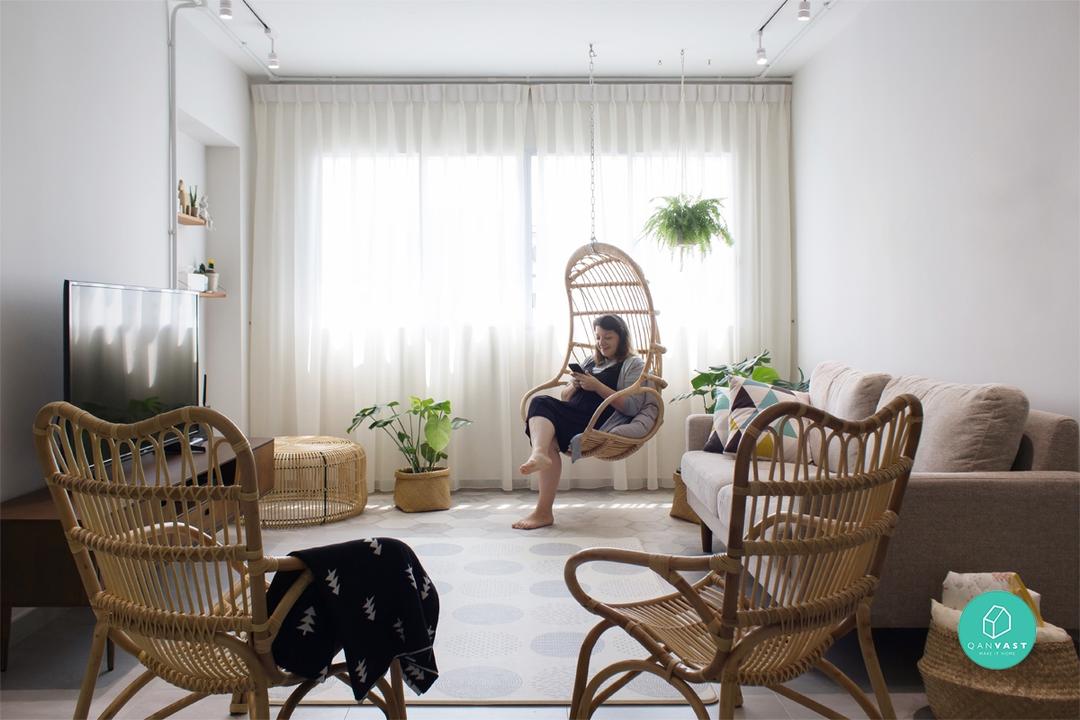 Use mirrors and glass panels near windows to reflect light to the rest of the space as it bounces off.
Use lighter wall colours like white and cream to brighten up your interior.
---
This article was contributed by Qanvast, a local interior design platform for homeowners passionate about their home design. Download the free app to get inspired by thousands of local home ideas and connect with interior designers.
Which interior design style did you like the best?

 Let us know in the comments section below or on our Facebook post.

Looking for a property? Find the home of your dreams today on Singapore's fastest-growing property portal 99.co! If you would like to estimate the potential value of your property, check out 99.co's Property Value Tool for free. Also, don't forget to join our Facebook community page or Telegram chat group! Meanwhile, if you have an interesting property-related story to share with us, drop us a message here — and we'll review it and get back to you.
About Qanvast
Qanvast is a trusted platform that connects homeowners and home professionals. Discover over 10,000+ home inspiration ideas, with renovation cost. Simplify your renovation journey by downloading the Qanvast app (available on iOS or Android).
Looking to sell your property?
Whether your HDB apartment is reaching the end of its Minimum Occupation Period (MOP) or your condo has crossed its Seller Stamp Duty (SSD) window, it is always good to know how much you can potentially gain if you were to list and sell your property. Not only that, you'll also need to know whether your gains would allow you to right-size to the dream home in the neighbourhood you and your family have been eyeing.
One easy way is to send us a request for a credible and trusted property consultant to reach out to you.
Alternatively, you can jump onto 99.co's Property Value Tool to get an estimate for free.
If you're looking for your dream home, be it as a first-time or seasoned homebuyer or seller – say, to upgrade or right-size – you will find it on Singapore's fastest-growing property portal 99.co.
Meanwhile, if you have an interesting property-related story to share with us, drop us a message here — and we'll review it and get back to you.
Join our social media communities!
Facebook | Instagram | TikTok | Telegram | YouTube | Twitter